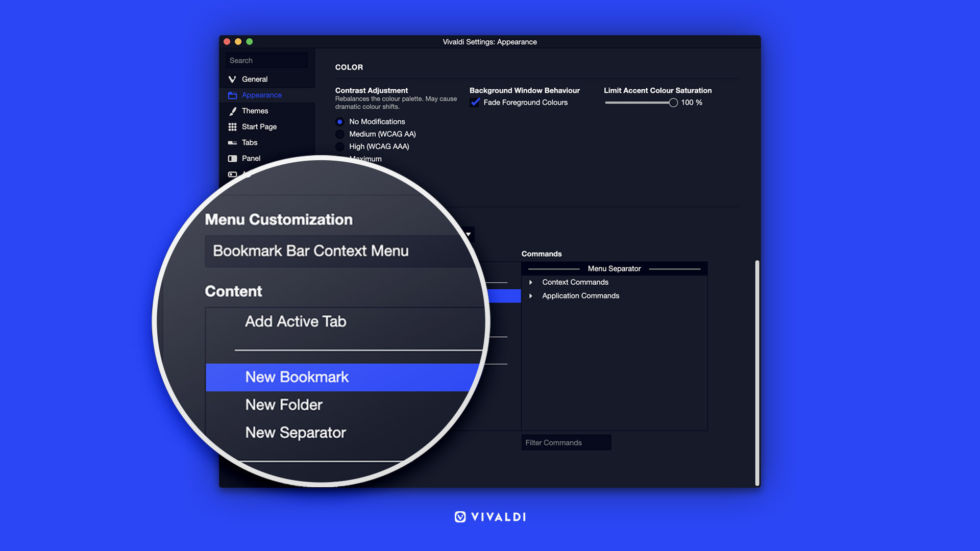 Our new version – Vivaldi 3.4 – on desktop and notebooks has arrived.
And this time we've packed powerful features with a lot of fun. You can configure context menus, reload pages automatically, capture screenshots directly into a new note, and more.
We are also thrilled to introduce to you Vivaldia, our pixel-perfect arcade-style runner game. For the first time, you will be able to play a real 80s arcade-style game directly in your browser on both desktop and Android. We've got more about Vivaldia here.
Also today, we've released Vivaldi 3.4 on Android devices, Chromebooks, and tablets. Look out for an improved layout for Speed Dials in the Start Page, and – of course – Vivaldia!
The Vivaldi browser is about productivity and flexibility, but it is also all about fun. It puts your individuality and preferences first with playful and endlessly customizable set-ups in the browser. We want to capture your imagination by adding both useful and fun elements in the browser.
Vivaldi 3.4 is ready to download for free on Windows, Mac, and Linux computers.
What's new in Vivaldi 3.4 on desktop

More is more: configure context menus, add custom links
Configurable menus, a functionality that Vivaldi introduced recently, lets you move your most frequent actions to the top of the menu in the vertical menu, facilitating quick access, and adjusting to individual workflows.
Now menu customization goes up a notch and you are able to configure context menus (right-click menus). Rearrange, add or remove the actions needed and tailor the browser according to your preferred workflow.
For example, move "Open in New Background Tab" to the top in the Bookmark Bar Item Context menu, add a direct link to the Vivaldi Forum in the main Vivaldi menu or make the menus compact by removing all the menu items that are not used.
With no limit to customization, you can even add fun elements by renaming the menu items with emojis.
Furthermore, custom entries can also be added to menus. For example, add the new Vivaldia game or any preferred site to the menu via an "Open link" command.
Adjust the menu via "Settings → Appearance → Menu".
Periodic Reload of Tab: Stay up to date
Vivaldi's comprehensive tab handling gets even better with Periodic Reload of Tab – ensuring you are on the latest version of the site when you switch to a tab.
To enable Periodic Reload of Tab, right-click on a tab, move the mouse over the Periodic Reload menu entry, and select one of the available reload intervals.
The reload values for the tab can be set via a fixed list on the context menu of the tab or through quick commands to set an interval value (in seconds, with a minimum of 60).
There's also a small countdown animation – a progress bar displayed underneath the tab to show the remaining time until the tab is reloaded automatically.
Periodic Reload of tabs is particularly useful while using other features in the browser. For example:
Set a tab with a news site on period reload when using Tab Tiling.
Or while working on another tab.
Or while refreshing a page that displays random content on every load.
Or simply to limit the memory usage of a site if it increases over time.
The Periodic Reload feature can be easily moved into a more convenient location or removed courtesy of the new context menu editing options.
And there's more:
Capture directly to a new note: Capture options now include the ability to capture a screenshot directly into a new note. You can highlight the part of a page or choose a full page capture and create a note, a very helpful feature for doing research.

Choose a new avatar: You have the option to select a custom image for non-synced profiles via a new plus icon in the top left of the profile manager.

Easier Speed Dial folder creation: Simply drag one item onto another to create folders within your Speed Dial, making it even easier to reorganize and optimize access to your favorite web sites.

Simpler tiling: All tiling commands now take into consideration your previously active tab. So that your current and last accessed tab will be tiled, when not working with selections or stacks. You can activate tiling commands via Quick Commands, keyboard shortcuts or even map your own mouse gestures.
Vivaldi 3.4 is ready for you
While you enjoy browsing with Vivaldi's new version, we'd like to remind you that we want to create new exciting milestones this year and continue building a strong and user-driven browser. As always, we look forward to your continued feedback.
Head over to a detailed changelog below.
Enjoy!
P.S. Take a look at how you can enter the Vivaldia giveaway.
Changelog – Vivaldi Browser 3.3 to 3.4 on Desktop
New Features
Vivaldia game (VB-70893)
[Menus] Add support for custom links via an "Open link" command (VB-72316)
[Menus] Support for configurable context menus (VB-71660)
[Notes][Capture] Option to directly attach a screenshot to a note (VB-71725)
[Quick Commands][Keyboard][Gestures] Improved tiling commands: prioritizes 1) current tab selection, 2) current tab stack, 3) active + last visible tab (VB-71223)
[Speed Dial] Drag one item onto another to create a folder with both (VB-29880)
[Tabs] Periodic reloader with custom intervals (VB-7524)
[User Profiles] Allow for using a local image as avatar image (VB-71849)
Address Bar
Focus removes double slashes after URL scheme in extension URLs (VB-71625)
Need to double tap delete when editing a suggested URL (VB-72426)
Search fails when clicking "Go to address" (VB-71346)
Search parsing breaks with Google's 'site:' search (VB-72423)
URL gets cleared when moving the tab between windows (VB-71907)
[Settings] "Include Browser History" option reverts to unchecked (VB-71350)
Bookmarks
Focus styling bugs in the bookmark bar (VB-71597)
"New Folder" in Bookmarks not selected on creation (VB-71397)
[Address bar][Themes] Add bookmark in address bar becomes "invisible" (VB-64131)
Break Mode
End break when closing browser (VB-71530)
Make it easier for user to exit: allow the user to click play to resume (VB-72861)
Popout Video
Allow PiP window to be larger than half the monitor size (VB-72508)
Now available for Dailymotion videos (VB-69364)
Tabs
Small tab internal page favicons disappear when hovered (VB-71602)
Tiling button sets incorrect default layout (VB-71508)
"Hibernate background tabs" hibernates visible tabs (VB-13680)
Themes
Accent Color from active page still not working reliably (VB-72133)
[Tabs] Use "highlight" color for selection (VB-57784)
Others
[Blocker] Format blocking exceptions and warn if invalid (VB-69511)
[Chromium] Upgraded to 86.0.4240.101
[Clock][Toolbars] Drop-down arrow starts over button instead of underneath (VB-71654)
[HiDPI] Find in Page match highlight duplicated with wrong offset (VB-72127)
[Linux][Media] Update proprietary codecs to 85.0.4183.121
[Menu] Update Help Menu (VB-71846)
[Notes][Themes] Notes Editor in Private Window has wrong text color (VB-71077)
[Permission notifications] Default Permission for "Popups" reverts from "Ask" to "Block" (VB-71357)
[Screen capture] Not possible to cancel capture with mouse or on touch screen (VB-44466)
[Settings] Remove defunct buttons in Startpage background settings (VB-70509)
[Spatial Navigation] Problems with scrolling and indicator init: handles cases when scrolling and no elements are available
[Speed Dial] "Paste & go" option in search opens two pages (VB-58834)
[Web Panels] Download links don't work (VB-53443)
[Welcome page] Updates (VB-71601)
[Windows] Vivaldi taskbar icon targets vivaldi_proxy.exe (VB-72821)
[macOS] Will not maximize on double click (VB-71676)