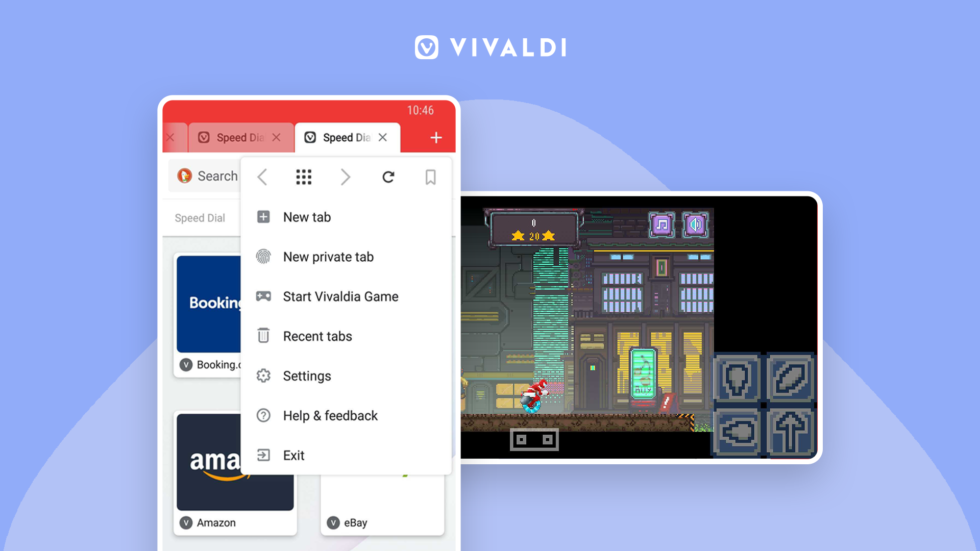 The new version of Vivaldi on Android devices, Chromebooks, and tablets today gets an improved layout of Speed Dials where you can view and choose between different layouts in the Start Page.
The new version brings in design enhancements across the board including icons on all menu items which makes browsing more visually appealing.
And for the first time, you will be able to play a real 80s arcade-style game directly in your browser on Android (as well as desktop). We are thrilled! Vivaldia, a pixel-perfect arcade-style runner game makes its debut.
Also released today, the new version Vivaldi 3.4 on desktop and notebooks brings in powerful features that include the ability to configure context menus, reload pages automatically, capture screenshots directly into a new note, and – of course – includes Vivaldia, the new arcade game. Find out more about Vivaldia.

New and Refreshed Speed Dial Layouts

Vivaldi's Start Page allows you to access your favorite sites and organize bookmarks more quickly using Speed Dials.
With significant design improvements, the large thumbnails now have a favicon in addition to the title, by default. Vivaldi goes a step further and adds more options for users to view and choose from a variety of new layouts such as:
Large Speed Dials.
Small Speed Dials.
Speed Dial List.
The preferred layout can be chosen via "Settings – Start Page".
Arm yourself for Vivaldi's built-in arcade game
Vivaldi browser is very much about productivity and flexibility, but we are also all about fun. By adding Vivaldia, we are adding a lot of fun! The game is easy enough to get started with, but hard enough to make it interesting. Sometimes you just want to have a short break and play a game. Now you can.
Partnering with Icelandic game development company Porcelain Fortress, we are adding a gaming dimension to the browser.
Set in a world where humans and technology collide, the hero of the game, Vivaldia, fights to overcome evil and claim her city back.
Inspired by the Future Noir and CyberPunk genres, Vivaldia is available both online and offline on Android devices, Chromebooks, and tablets as well as on Windows, Mac, and Linux computers. The game also includes gamepad support.
Help Vivaldia fight evil
In the game, Vivaldia wakes up to discover that her peaceful city has been taken over by the big evil machines who want to steal everyone's identity and turn people into numbers. If humans don't fight back, their future looks bleak.
In the face of adversity, Vivaldia grows strong and takes on the enemy. She fights to save the humans of the city.
Riding her cybernetic ninja one-wheeler called the CyclePunk, Vivaldia outruns and outsmarts the big evil machines. At times, it looks like an impossible battle to win but through courage and strength, Vivaldia triumphs. The evil is overcome and the humans can claim their city and future back. Vivaldia has won the hearts of the people.
Our goal with Vivaldia is not only to give you a great fun game in the browser but to tell our own story – about how Vivaldi is taking the technology behemoths head-on and continues to crusade against the concentration of power that lies in a few global corporations.
Game on: How to access Vivaldia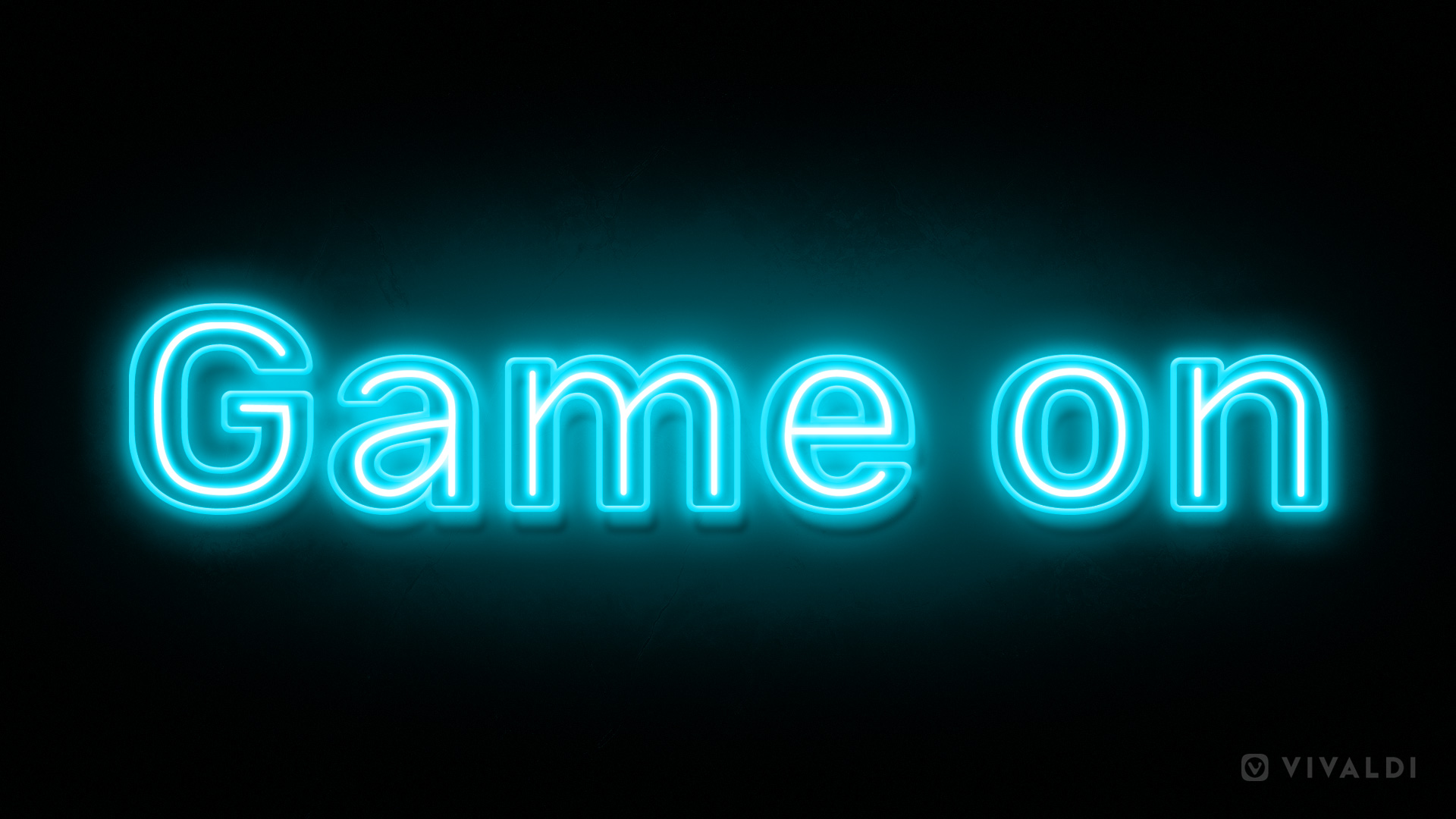 On Android devices, access Vivaldia through the Vivaldi Menu or a dedicated gaming Speed Dial in Vivaldi's Start Page.
Alternatively, you can simply type vivaldi://game in the browser's address field.
Designed to win: How to play Vivaldia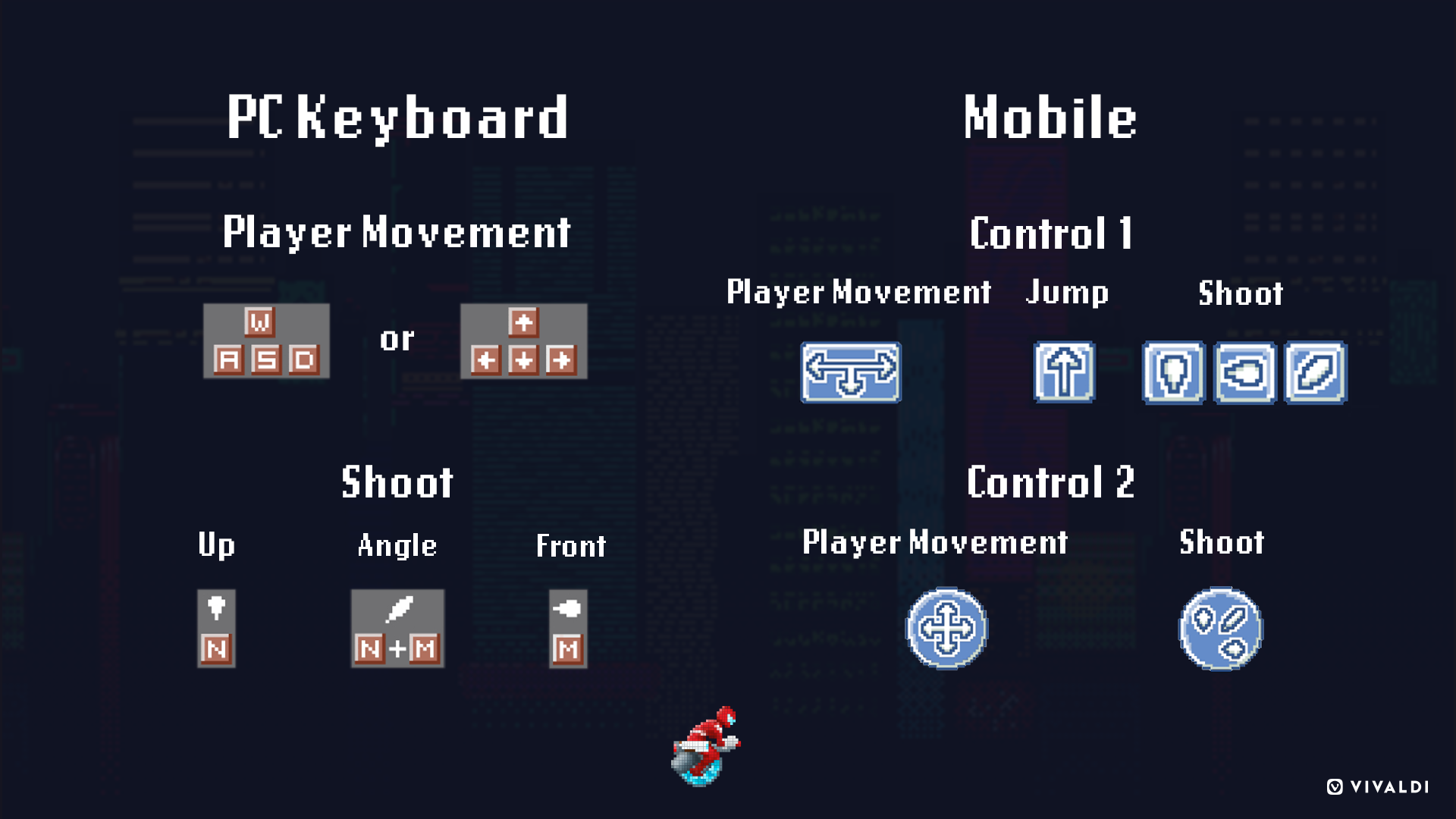 Vivaldia offers user-friendly design for intuitive gameplay on both desktop and Android. You will feel comfortable playing Vivaldia in both long and short gaming sessions allowing you to try harder to achieve higher scores.
Android devices: Use the arrow controls to move, the arrow up button to jump, then the three-shot buttons to aim up, up-right, and straight to shoot. Change the controls to get a different control with the button in the center bottom. Take a look at the help page for Vivaldia.
Download Vivaldi 3.4 from Google PlayStore 
Private, fast, easy to use, flexible, and with ample features, the Vivaldi browser on Android has a lot going for it. And that is possible with your regular feedback, suggestions, and encouragement. Thanks and keep them coming!
Download, review, and rate us with ⭐️ ⭐️ ⭐️ ⭐️ ⭐️  stars.

Hope you'll enjoy the new version and catch a bit of a break with the Vivaldia game. More details in the changelog below.
Enjoy!
P.S. Take a look at how you can enter the Vivaldia giveaway.
Changelog – Vivaldi Browser 3.3 to 3.4 on Android
New features
Vivaldia game VAB-2373
Improved Speed Dial Layout VAB-1693
Adapt the main menu to new design VAB-2317
User Interface
Address-bar doesn't fully disappear while scrolling VAB-2421
Back button doesn't close tab switcher in private section VAB-2134
Clicking area for x button is too big VAB-2178
Navigation buttons inside V-menu should also be at the bottom VAB-2202
Pull down to refresh switches tabs when address bar is at bottom VAB-2341
Tabs opened in background scroll the tab bar VAB-1824
Start Page
Adjust Speed Dial title text margin and spacing
Incorrect distance from Speed Dials to top of page VAB-2386
Incorrect elevation shadow for Speed Dial List View and distance VAB-2387
Speed Dials border thickness and title misaligned VAB-2347
Others
[Android 11] Exiting Vivaldi makes inaccessible items on the home screen VAB-2227
[Tablet] Not visible bottom part of downloaded file notification when bottom address bar VAB-2359
Upgraded Chromium to 86.0.4240.77
Updated translations