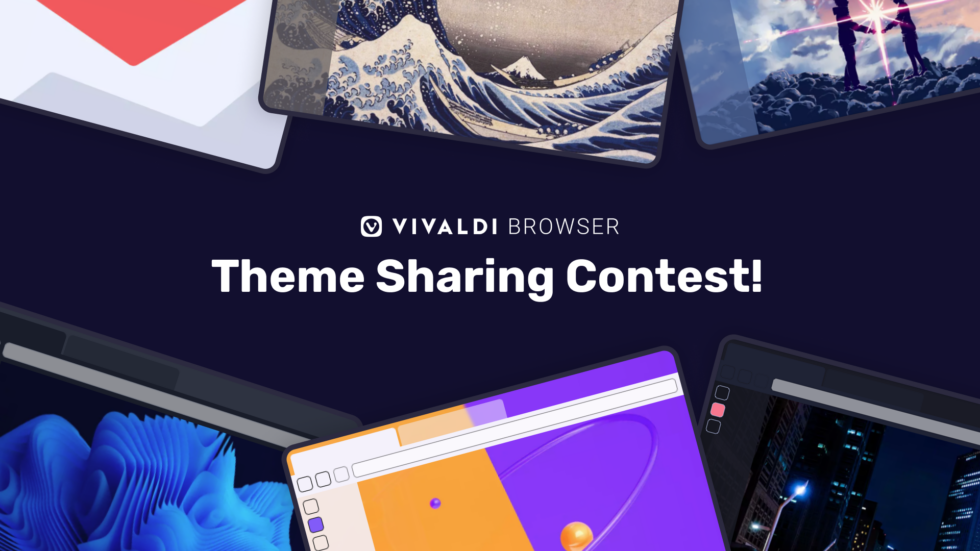 Read this article in Deutsch, Español, Pусский.
Vivaldi 5.0 on desktop marks the arrival of our signature Vivaldi Themes in its new, powerful form. Now you can kick up the customization for desktop and notebooks with a brand new editor, share them with the world, and install themes from the community in a click.
To inspire you to start creating and sharing new Themes, we're announcing our Theme Sharing Contest, which runs from today, December 2nd through December 13th.
Before getting into the contest specifics, here's a little background on Vivaldi Themes for the uninitiated.
Give your browser a look that is uniquely yours.
The browser's adaptive interface gives you flexibility from the ground up. Create custom Themes from scratch, tweak the defaults that come with Vivaldi, and even schedule them to change throughout the day.
We've overhauled Vivaldi Themes to make it more fresh, powerful, and dynamic. Here's an overview of the improvements you will find:
Theme Editor, new color and customization playground: This is where you can let your imagination run wild. Edit Colors, Settings and Background, until you have your browser looking just the way you want.
Themes editor with background image: You no longer have to edit your theme and background image separately.
Streamlined interface and truer previews: Click a Theme in your Settings to apply it to your browser instantly. Delete your themes as needed by clicking the 'minus' button. Previews show proper corner rounding and colors that match the theme to the hilt.
Easy discovery and creation of "New Themes": At the bottom of the pre-installed list of Themes, you'll find two options for adding a theme: a shortcut to create your own new Theme and a link to vivaldi.net, where you can download Themes created by other Vivaldi users.
Greater control over Theme settings: Multiple dedicated settings allow you to fine-tune adjustments as you visualize and create your Themes.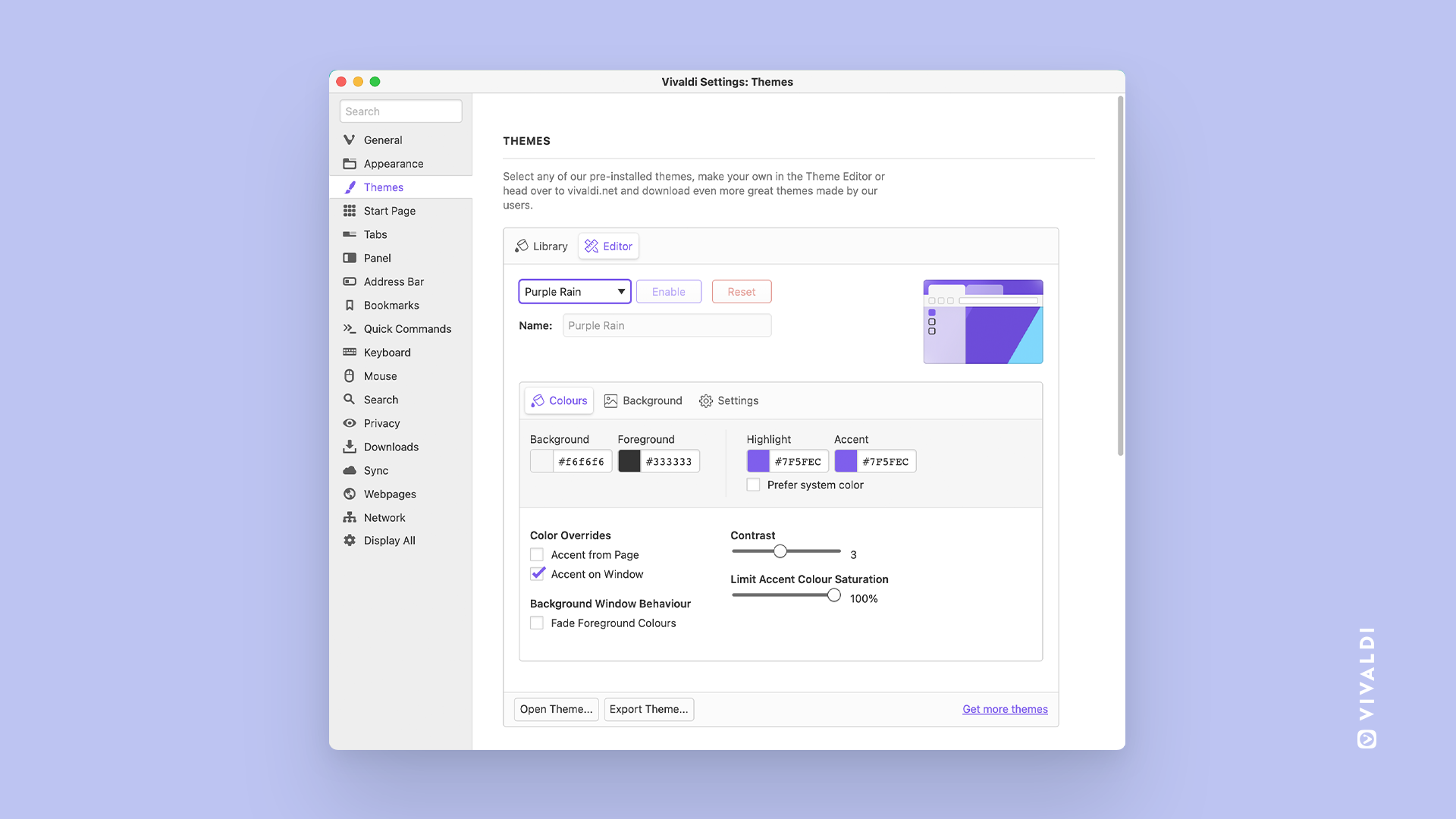 But there's more. Now you can share and discover Themes in our new Themes Gallery:
Share your "Wow!" easily: Themes aren't just a way of expressing your personality, they're a way to connect with people. Import and export Themes from and to your friends or upload your themes to our brand-new Themes Gallery to share your creations more widely!
Vivaldi Themes Gallery of colors, ideas, and creativity: Go to themes.vivaldi.net, to browse a collection of themes made by Vivaldi and your fellow users. Click "Install theme" to install as many themes as you want to the library in your browser settings. Prefer not to install Themes from the web? The "Open Themes" button lets you open zipped themes from your local machine.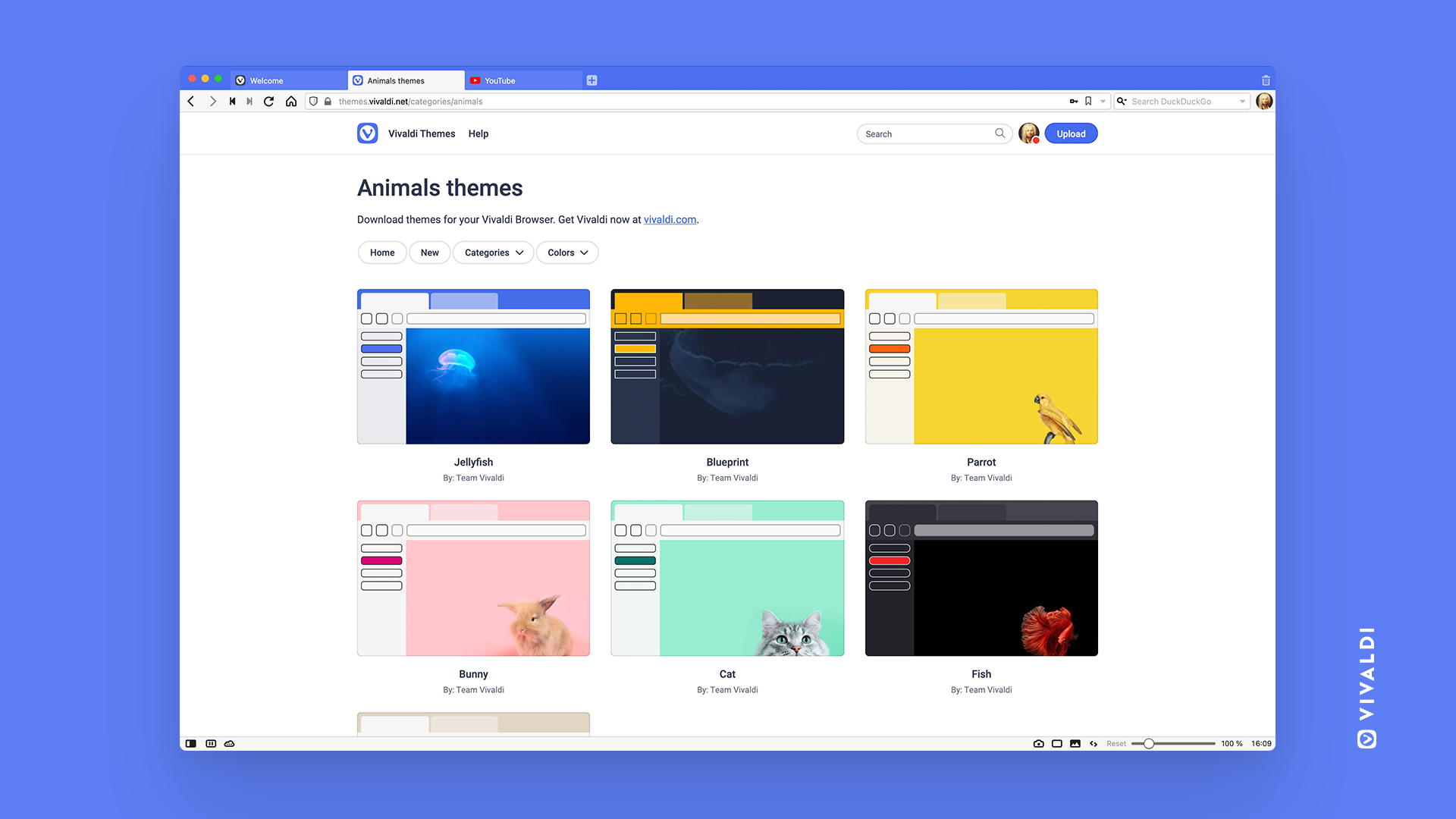 Theme Sharing Contest details.
And here's where you come in. Because we're ringing in the new era of Theme Sharing with a special contest. Ready to show off your mad theme-making skilz?
How do I enter?
Themes already uploaded to the Themes Gallery (excluding official themes or those created by Vivaldi Team members) have been automatically entered in the contest. To add yours to the mix, just sign into your Vivaldi account and upload a theme before the 13th of December.
You can enter with as many themes as you like – so, let your creativity flow!
Who's picking the winners?
Our jury consists of Vivaldi's designers Atle, Miky and Fredrik, who will choose their 10 favorite themes.
Winners will be announced on Wednesday, December 15th.
What's in it for me?
Apart from the pride and glory of having your artistic creation(s) praised and shared widely, the 10 winners will receive a Vivaldi goody bag with merch and a few other surprises.
You can find more information about working with Themes in our help files. For inspiration, check out the new Vivaldi Themes video below and head over to the Themes Gallery to check out your competition. Then let the games – and the color riot – begin!
We always welcome your feedback. What's your take on the revamp of Vivaldi Themes? Let us know in the comments below. 👇