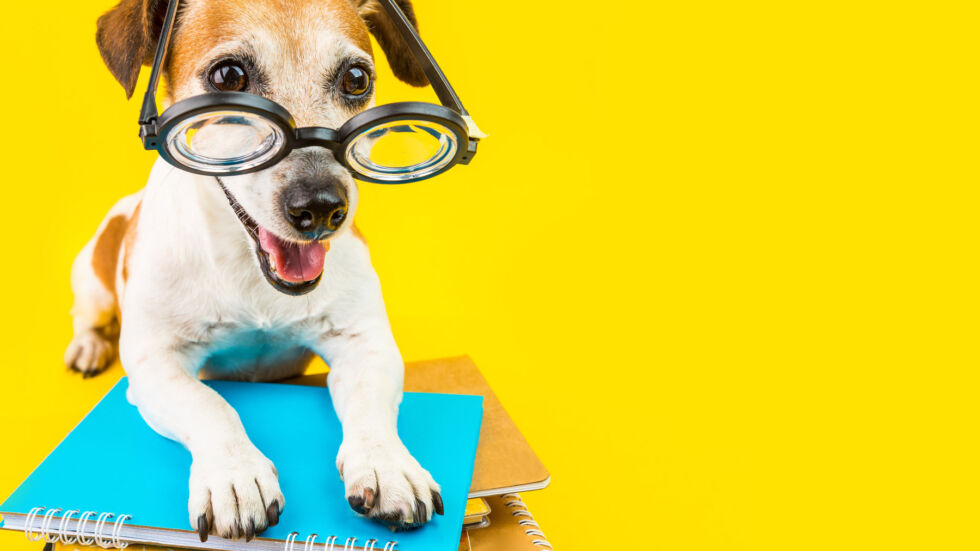 Read this article in Deutsch, Español.
Last week we unleashed Vivaldi 4.3 on desktop and Android, giving you new and improved features to boost productivity, stay in sync, and get more from your browsing.
Among the updates, there are some can't-miss features we wanted to tell you more about, so you can up the ease factor in your online life.
Capture lets you snag and resize your screenshot images in an instant. 📷
Sync helps you access your data across devices, securely and more efficiently. 🏄
Download Panel helps you track the speed of your downloads at a glance. 📈
Tab Stack Toolbar on Android lets you change tabs within a Tab Stack, even when the Tab Bar isn't activated. 🛠
Ahhh, that's better – revamped and refreshed Capture.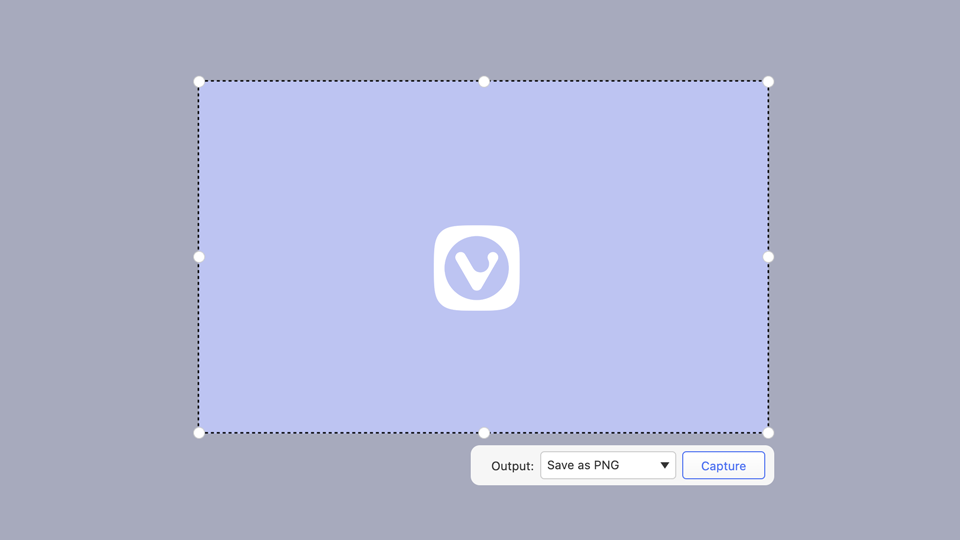 We've all been there – hitting upon something interesting while browsing that you want to share. Maybe a meme that you know will brighten someone's day or a graphic that will help you nail that monthly report. Whether on your phone or computer, screenshots can be a handy way to jazz up your work and personal communications.
Using your device's built-in screenshot tool will only get you so far – it only captures what you can see on the screen. This is particularly frustrating on phones, given screen size. To grab the full page, you could use a screenshot tool or a browser extension, but many of these just add more steps, slowing you down, when what you really want is to grab and go.
Our Vivaldi developers knew there had to be a better way to capture and share than the tedious process of taking, saving and editing a screenshot, then forwarding it. The result of their hard work was Capture. And over time it has proven to be one of our more popular features.
This built-in feature has productivity – and flexibility – at heart. With Capture, you can snap a selected area of the screen in an instant. Or, as a Vivaldi exclusive, you can take a screenshot of the full page even outside of the viewable area. So you can grab and share that perfect example for your team presentation, school report, or social-media post.
But at Vivaldi, we are always looking for ways to improve your experience while browsing. Capture's new, more intuitive look and feel makes the tool easier and more efficient to use. And it looks amazing, with brilliant new icons to guide the way. You can choose to capture an area of the page or the full page and either save as a file or to your clipboard – making it a cinch to paste wherever you want.
And the improvements aren't just skin deep. We've also added the resize option that so many of you have requested. So, now you can snag those perfect screenshots the first time, every time.
Here's an example of Capture in action.
Let's say I come across a mouth-watering pie recipe I want to add to our Thanksgiving menu this year. Since my husband is the master baker in our family, I need to get the details to him. So, I just click the camera icon at the bottom of my browser window. Next, since most of the actual recipe is out of view, I select Full Page, and the format I want (in this case, copy to clipboard), and then click Capture. From there, I paste it into our running Skype chat with a "Hint hint ;)". A quick and easy way to get a few steps closer to pie.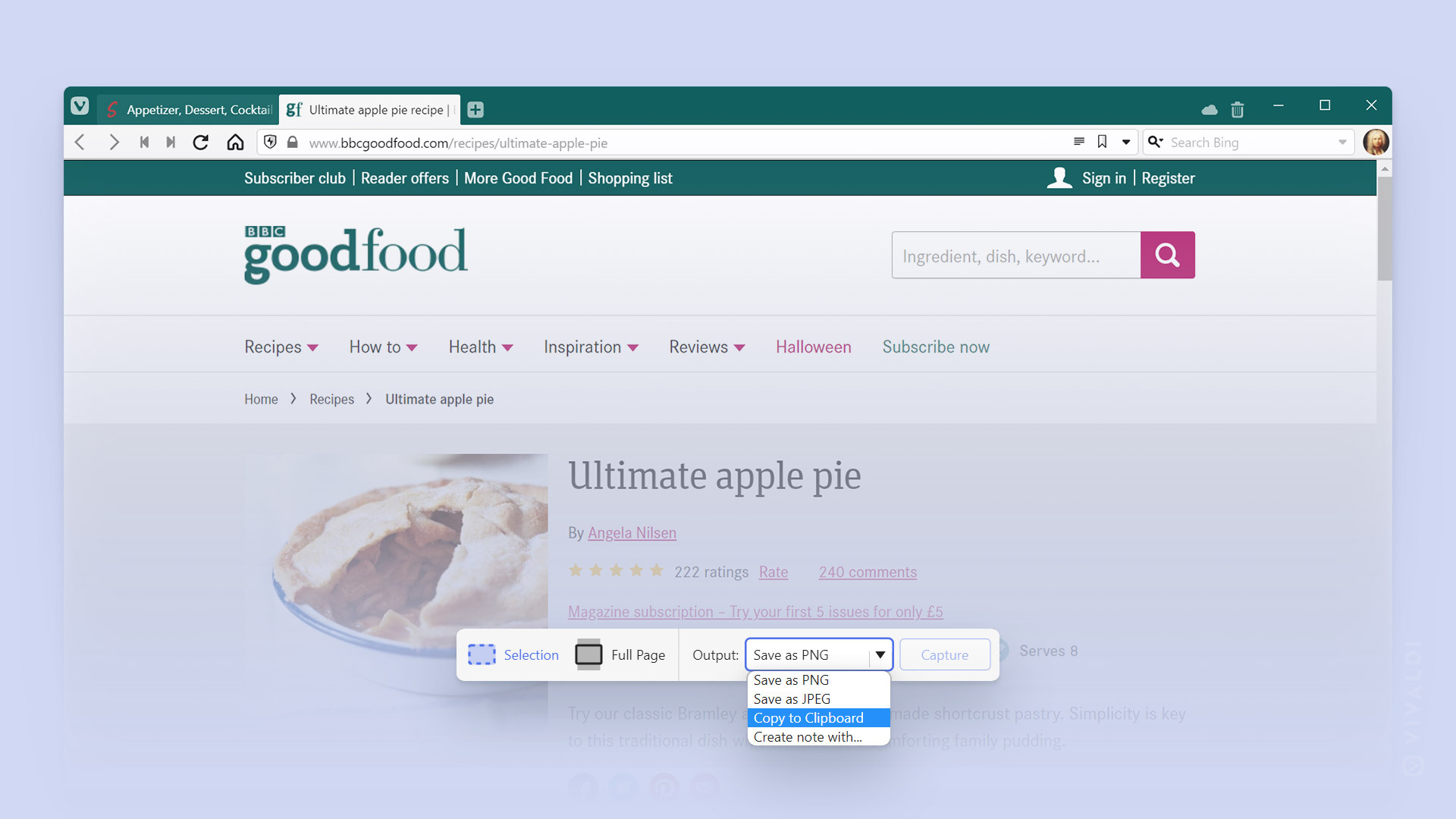 On desktop, you can quickly access Capture from the Status Bar via the camera icon or activate it using Keyboard Shortcuts, Quick Commands, and Mouse Gestures.
On Android, start by tapping the 'V' icon at the top of the screen and select "Capture page". Then choose whether you want to take a full page screenshot, or just capture the "Visible Area" (which is, a screenshot of what you can currently see on your screen). The image will be saved to your device.
Staying in Sync just got easier than ever
Let's face it. Many of us spend vast chunks of each day online, whether on our computers or phones. So anything that can save time and provide a smooth experience cross-device is a welcome addition.
That's where Vivaldi Sync comes in. With Sync's powerful functionality, you can sync your bookmarks, settings, passwords, browsing history across multiple computers and Android devices. And when it comes to how we approach our development of Sync, three words come to mind: private, easy, and seamless.
With Sync's end-to-end encryption, you can rest assured that your browsing data will remain safe.
As for the "easy" and "seamless" parts of Sync, the arrival of 4.3 delivers further improvements, making set up and recovery even easier. It also has a more polished and intuitive design, with eye-catching icons and colors that make the key features and options pop.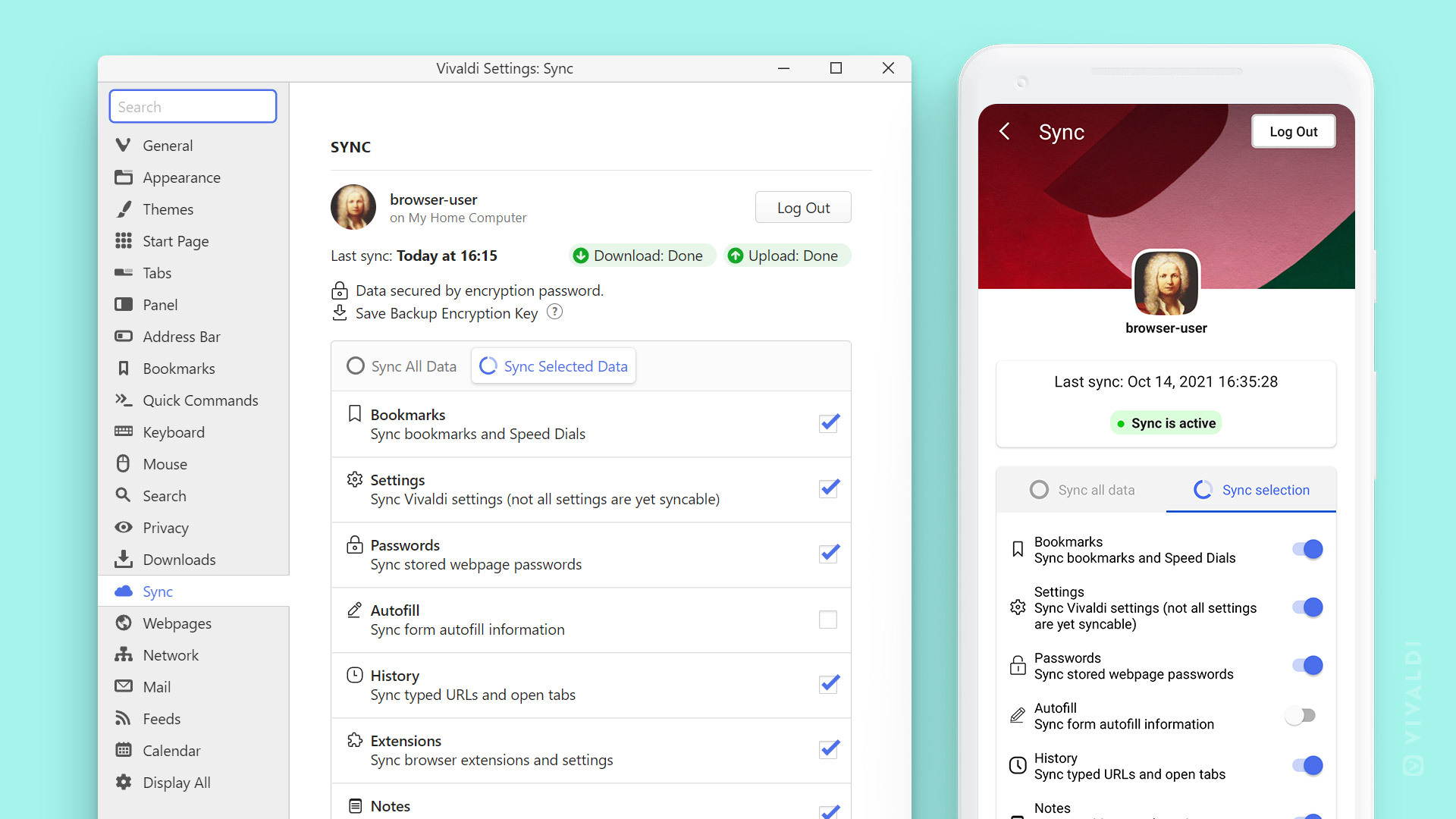 As always, you can download the backup encryption key in Sync settings and store it in a safe location for peace of mind. That way, if you ever forget the encryption password, you can use the backup key to decrypt your synced data.
Are you a Sync newbie? You can learn all about accessing Sync here.
All eyes on the upgraded Download Panel
Downloads are another fact of online life – daily for some of us. It is one of those things we count on to "just work". From the beginning, Vivaldi's Download Panel has been there to help you track and manage your downloads, but we are always on the lookout for ways to make it better and better.

With the recent Vivaldi 4.3 desktop launch, we have introduced further improvements. Want more than just a file's basic download details? No problem! Now, while downloading you will also see a clear graph displaying your download speed over time. We have also added new buttons to make restarting or finding downloads on your system easier.
And for quick, at-a-glance monitoring, key statistics are now bolded.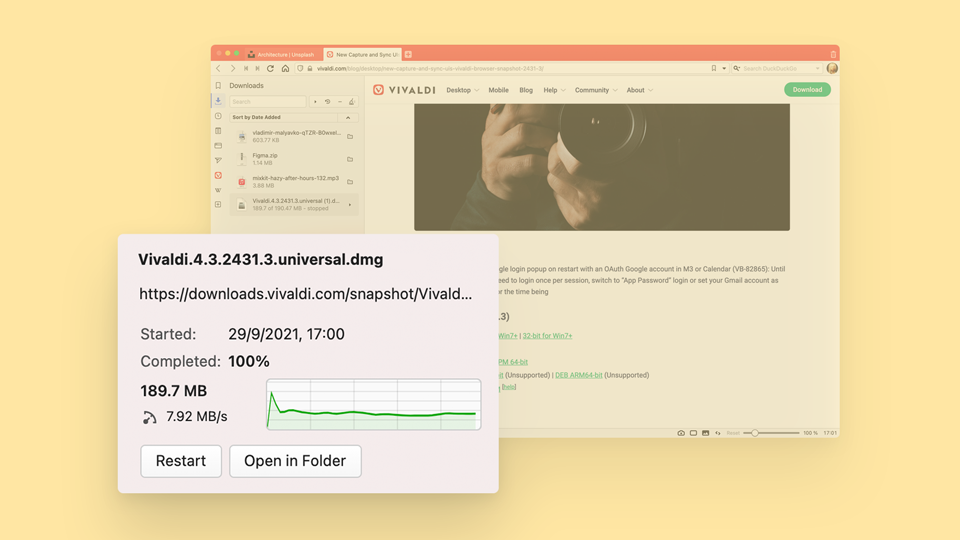 Because it's Vivaldi, you can easily access the Download Panel in multiple ways:
Click on the Downloads Panel button in the side Panel;
Go to Vivaldi menu button Vivaldi menu > View > Downloads Panel;
Use the Keyboard Shortcut Ctrl Shift D / ⌥ ⌘ L;
Type "Downloads Panel" in Quick Commands;
Use a Mouse Gesture (create the gesture for the action in Settings > Mouse > Gesture Mapping).
For more details on download settings and organizing your files, check out the help pages.
Keep tabs on your tabs with Tab Stack Toolbar.
As you may have noticed, we love tabs. A lot. Or more precisely, we love coming up with new ways to make it easier for you to manage tabs in a way that meets your needs. For an overview of the abundant desktop options, go here.
When it comes to Android, an example is the recently added Tab Settings, as well as the ability to enable Tab Stacks (tab groups) easily.
With our Vivaldi 4.3 launch, we have expanded our tab-management love in Android's direction, giving you a new way to work with tabs on your mobile Android devices: the brand-new Tab Stack Toolbar.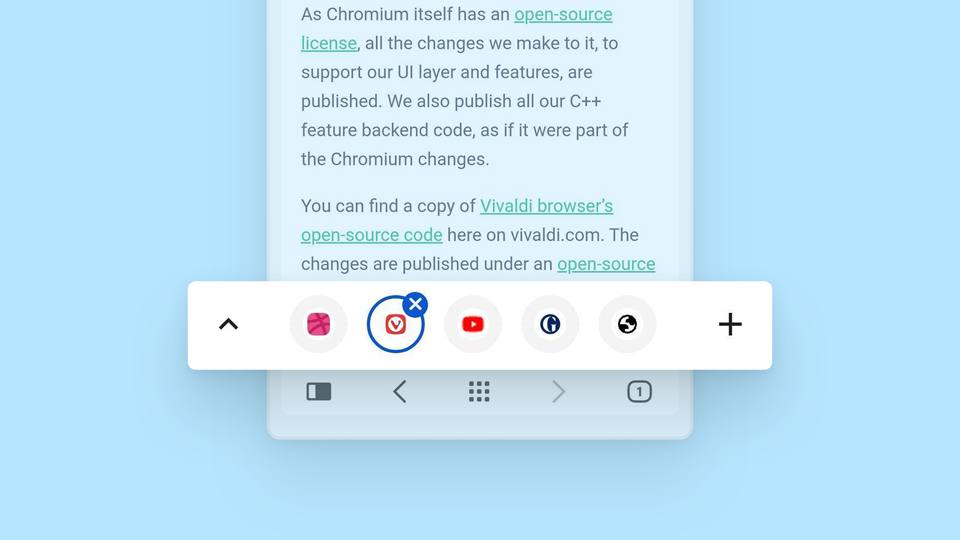 This super handy feature makes it easy for you to change tabs within a Tab Stack while browsing any web page, even if the Tab Bar isn't activated.
With the Tab Stack Toolbar, you can also quickly open and close tabs within a stack, as well as previewing grouped tabs. It's an ideal, streamlined way to get the most from using tab stacks on smaller screens.
---
Download Vivaldi 4.3 today, to take advantage of these latest features and more. For more details, see the full launch posts for desktop and Android.
As always, we value your feedback to help us make your Vivaldi browser even better. Let us know what you think about these latest improvements in the comments below. 👇