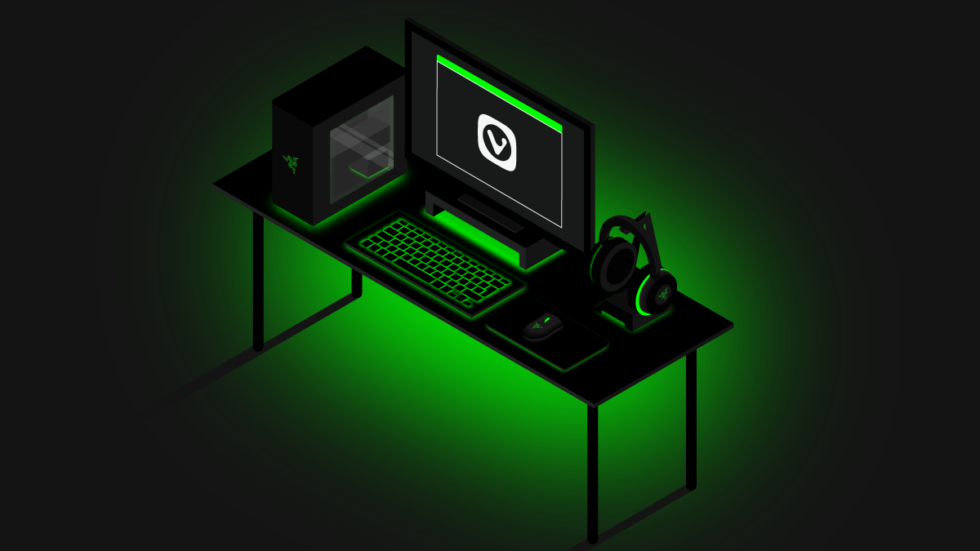 Read this article in Русский.
The "stay at home" lifestyle is shaping before our very eyes. But it's not only sleeping and family time that has gone up. Internet usage has gone up too.  People are staying connected online, pursuing old-forgotten hobbies, discovering new ways to be productive or creative. 
And it comes as no surprise that one more area has spiked massively. Gaming.
Gaming has always had a solid fan-following and now it's proving a great way to keep people indoors and help stop the novel coronavirus.
Many governments and gaming companies are sharing innovative ways to spread awareness through joint efforts.
Vivaldi and Razer: game on
If you are a hardcore gamer looking for a new form of entertainment, if you are over your usual go-to's – we've got something for you. 
One year ago we teamed up with our friends at Razer Chroma, the world's largest lighting ecosystem for gaming devices, to give you cognitive engagement and, of course, fun.
We introduced a first-of-its-kind integration with Razer Chroma that allows you to take your browsing to a whole new level.
With this integration, your Razer Chroma devices adapt and light up with the colors of the websites you're visiting with Vivaldi.
At Vivaldi, we like to take the lead and add more customization options to your everyday browsing. And our association with Razer is one of a kind.
Our friends at Razer think no differently and want you to make the best of your time staying at home – gaming and browsing.
Vivaldi was the world's first web browser to be integrated with Razer Chroma RGB. Gamers can experience their Chroma enabled devices natively integrated with the websites they visit, syncing in real-time for a truly personalized browsing experience. 

Kushal Tandon, Director of Marketing and Business Development (Software)
How to turn on the lights!
You can get a fully immersive experience with your Chroma-enabled devices. Unlock this dynamic browser immersion by heading to Vivaldi Settings > Themes.
Tick the box to "Enable Chroma" and pick which devices should be synced. And you will see the lights of your Razer Chroma devices adapt to the color of the site you are browsing with Vivaldi.
And if you are running Windows, you are in luck – this integration is fully compatible with a PC running Windows.
Here's a fun video by TechBlock about this exciting integration.
We have Razer "Game On" posters to give away!
As the COVID-19 situation continues to unfold, Razer is doing their bit to help fight the outbreak.
They've come up with a limited-run "Game On" posters you can buy. All proceeds from the sale will go to a select foundation fighting coronavirus.
We're happy to support Razer's poster drive to fund efforts against the outbreak.
We have teamed up with Razer once again and have five posters to give away!
To win, share an image of your Vivaldi-Razer set-up in the comments below or on social media (don't forget to tag Vivaldi and Razer). 
On Monday, 20th April, we will choose 5 lucky winners. 
Are you one of the lucky ones?
We are waiting! Good luck!