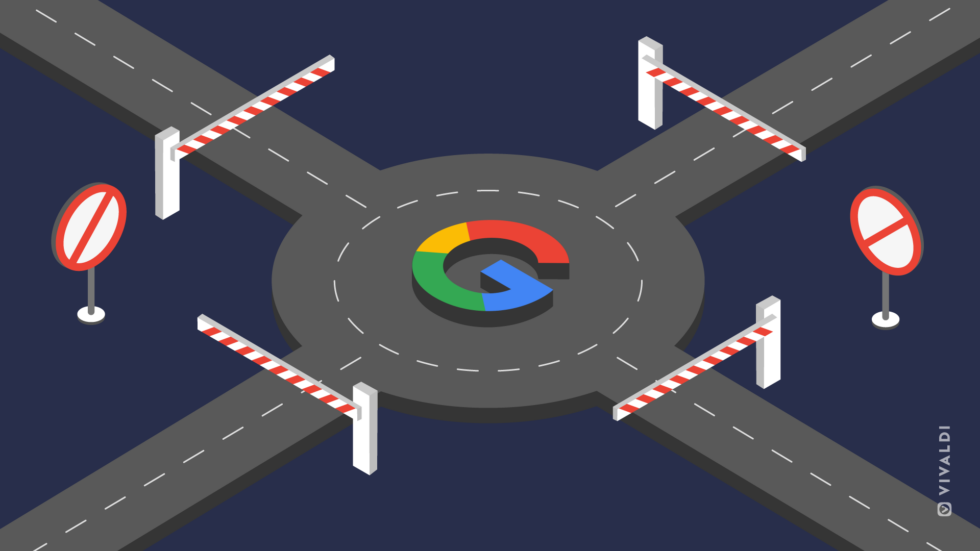 Read this article in Español, Pусский.
Recently, there have been stories floating that Chromium-based browsers will lose the ability to remove search engines from the default list they include as part of the installation.
This change impacts browsers including Google Chrome, Microsoft Edge, Brave, and Opera.
But not Vivaldi.
Despite the new development related to default search in the open-source Chromium project that we use. We will continue to give you the choice to remove default search engines.
Your browser, your choice.
This is because we believe that you have the right to choose when it comes to your browser. This is pretty much the fuel that drives Vivaldi – choice, options and customization. So everyone can have their browser their own way.
But let's get back to the basics. What is choice? In its simplest form, choice is the ability to make a decision when you have two or more possibilities.
We understand these basics. Previously, you have been able to add, remove and stick to your choice of default search engine. And you will keep this option now, thanks to our custom UI for configuring and interacting with search engines, regardless of what happens on the backend.
With so much flexibility and endless possibilities under one roof, this latest change is just one example of how Vivaldi delivers you choice. From a focused, minimalist experience to building a command center for life online – we've got you covered.
In fact, when new to Vivaldi, our welcome page greets you with "how much browser do you want"? This kind of flexibility is unheard of in other browsers.
You have your choice of three carefully crafted layouts filled with varieties of features — helping you get started on your perfect browser.
So, from the very start, you know that your Vivaldi can be what you want and need it to be.
Searching with purpose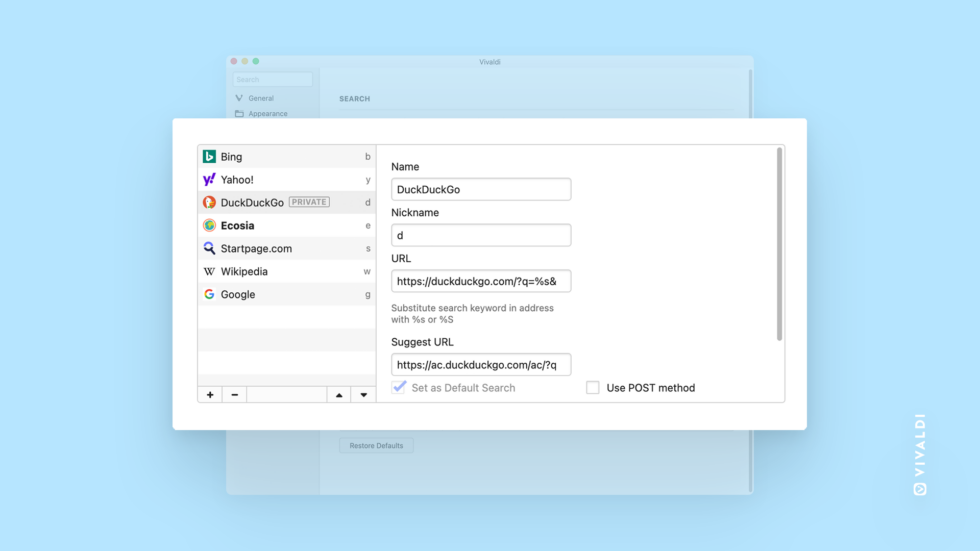 You might have heard this before — search is about organizing the ingredients, choice is about having a recipe. Search is functional, choice is magical.
So choosing your search engine should not be taken lightly.
Today's search engines provide more than just 'results', helping us get from point A to point B. You can protect your private data such as search history by using search engines that don't track you. It's no surprise to us that our users prefer search engines with greater respect and reputation for privacy.
But the value you can receive from a search engine can align with your personal values, while also respecting the enormous importance of privacy and trust with data. The emergence of unique, value-based search engines have surged in recent times.
You may have different reasons to choose a search engine, whether to give back to communities, to charities, to receive gift cards, or to be more sustainable.
This is why we have a range of search engines to choose from. This way you can continue to find what you need online, while getting more from the experience.
A bounty of options.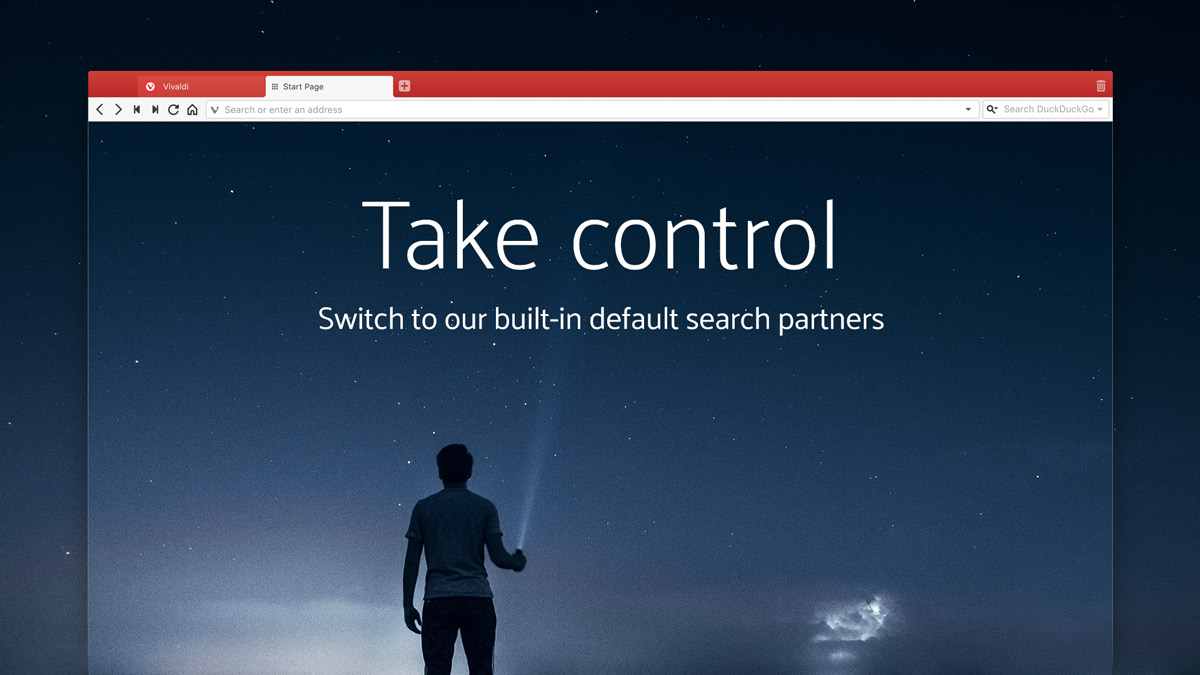 There are so many considerations with searching for your perfect different search engine. For example, if you like to visualize your searches, Bing's Video allows you to do that more intelligently and is far more visual than other search engines.
On the other hand, there are privacy-focused alternatives that have a lot on offer not only in terms of privacy, but also useful, unique features. For example, Startpage with its new privacy extension, ad-free Neeva with a free basic or a premium plan, DuckDuckGo and its Filter Bubble, Mojeek's ground-up technology, or Ecosia's simple Tree Counter.
Some are more than a standalone search engine such as Yahoo, offering a web portal that includes a variety of services ranging from sports to travel that could be worth checking out. And then there are others like the more region-specific Yandex search.
Some prefer to use Google search, so we also give you the ability to add that to (or remove it from) your default list. Its track record of profiling your online behavior is well established. But for people willing to make that trade-off, we provide it as a choice, though – hopefully – a more informed one than most browsers offer.
In a sea of search, giving options in the browser is our business. What you search for is not.
Vivaldi: more than a magnifying glass for your searches.
No other browser gives you as much fine-grained control over your searches as Vivaldi. Our privacy-focused approach to search suggestions is at the top of the list – powerful but also unique.
In other browsers, when you start typing in a search term, your chosen search engine will offer to autocomplete it before you've even finished typing. This has significant privacy implications. Everything you type is sent to your selected search engine – and this can be quite revealing.
So we have turned this off by default. This in-depth article goes into detail on the impact and benefits of the search suggestion feature.
We also recommend that you enable our built-in Tracker blocker in Vivaldi. When activated, it blocks creepy trackers in the background, as you browse the web.
Is that it? Far from it. Our search settings offer incredible ways that help you browse differently and consciously. Explore them here to benefit from some smart browsing tips. You can also create your own custom search engines to make it even easier for you to get to the information you need in a flash.
And if there's anything that stands out from our vast search options, we'd love to hear more about how you made your choice.

Updated to highlight this brilliant community contribution from stardepp:
by the way…See also my search engine collection:
https://forum.vivaldi.net/topic/46609/guide-vivaldi-search-engines-collection

…and the possibility of backup search engines:
https://forum.vivaldi.net/topic/35443/backup-search-engines