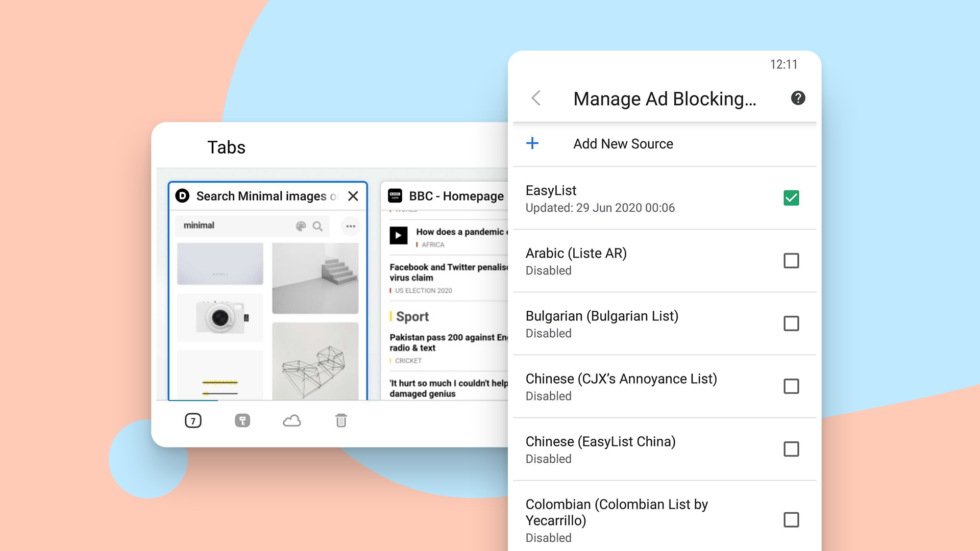 Read this article in Deutsch, Español, Français, polski, Português Brasileiro, Русский, 日本語, Türkçe.
We are thrilled to announce the new version 3.2 of the Vivaldi browser on Android.
In our first update after the summer break, we've expanded the functionality of Vivaldi's integrated Tracker and Ad Blocker.
Now you can enable and manage more blocking lists and even add your own custom lists of websites that you want to block or unblock while browsing online.
And we've also moved more functionality to the bottom for easier one-handed access. You can view and switch between normal, private, synced, and close tabs from the bottom.
The new version also has various improvements including stability fixes for your Android devices (5 and above), tablets, and Chromebooks.
Enhanced Tracker and Ad Blocker for more control
When we launched the first beta of Vivaldi on Android, the most requested feature was a Tracker and Ad Blocker.
The number of web trackers has skyrocketed. And is still on the rise. Many of you want to limit unnecessary tracking and want a cleaner, faster web without trackers and ads.
The sheer scale of web tracking and data collection made us launch Vivaldi on Android with a built-in Tracker and Ad Blocker – a perfect solution for you to protect yourself from the ubiquitous trackers and unwanted ads.
Now we take a step further.
We let you enable more blocking lists in Vivaldi and even include your own custom lists.
This is because we believe that you should always have the final say – how you want websites to display and what you want websites to know about you should be ultimately your choice.
The blockers in Vivaldi are based on blocking lists of well-known tracker URLs. Vivaldi stops requests to those URLs before they are sent.
A series of preinstalled blocking lists/sources in Vivaldi offer you more choice and can be easily enabled/disabled with a simple tick.
Furthermore, you can even opt for a country-specific listed source depending on your region or preference.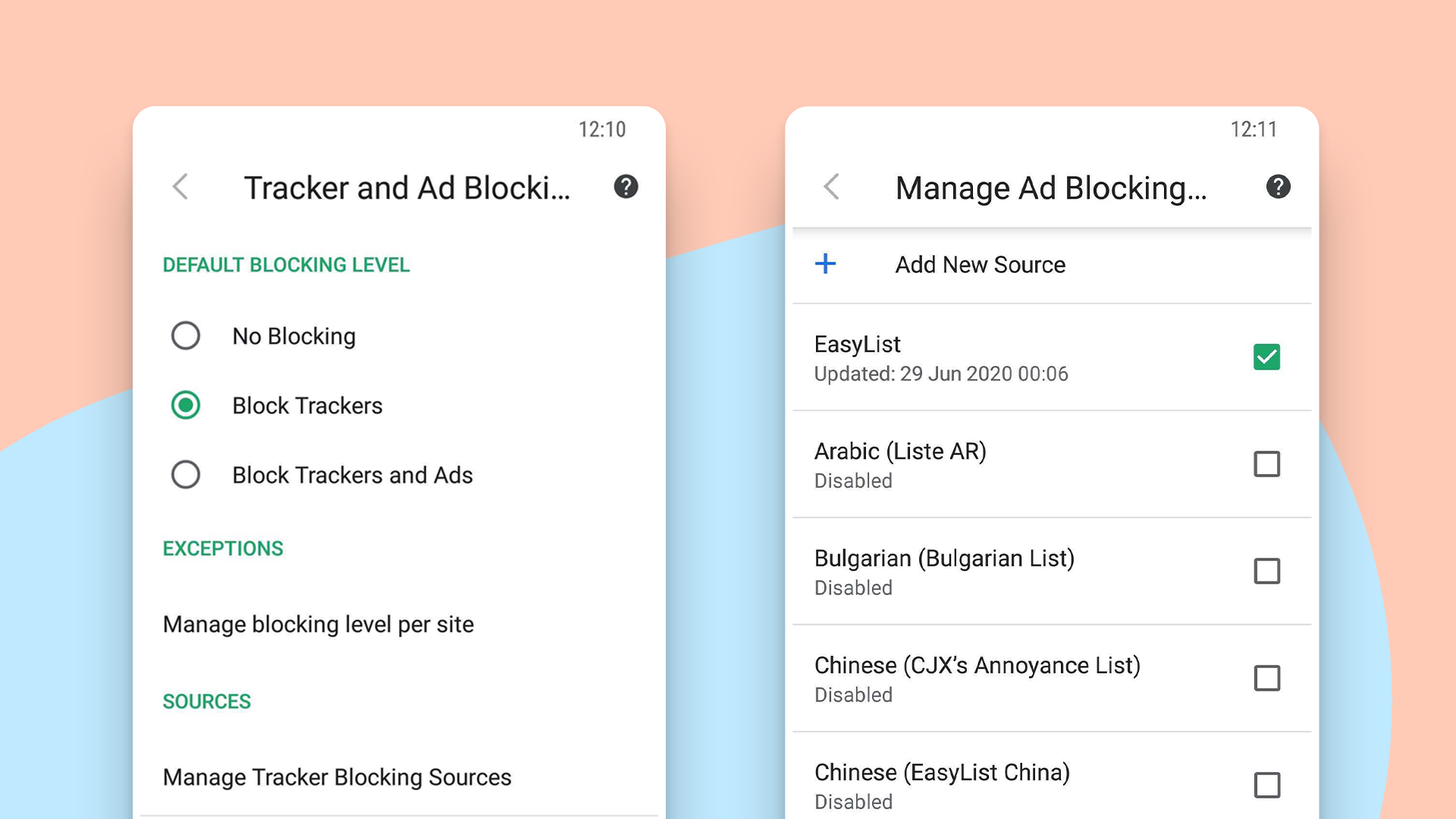 Importing and adding a custom list into the feature is simple and very similar to Vivaldi's desktop counterpart.
With a quick set-up in Vivaldi Settings, you can activate/deactivate or remove an already provided custom list and make exceptions including addition or change in the blocklists.
Head to Vivaldi Settings and manage custom blocking lists under Privacy → Tracker and Ad Blocking → Manage Tracker Blocking Sources and Manage Ad Blocking Sources.
For the uninitiated, the integrated Tracker and Ad Blocker – one of the many built-in features in Vivaldi browser – can be easily enabled and disabled for websites through the shield icon at the left end of the Address field or globally in the Settings.
Enable/disable blocking for specific sites according to your preference, and further manage blocking levels per site either from the Address field or Settings.
Discover improved tab functionality
The feedback from people using Vivaldi has been fantastic. Inspired by it all, we are set on improving every aspect of mobile browsing for you.
We want you to browse with ease and flexibility with our built-in features on your mobile devices.
Some of the feedback we received was a request to add more functionality at the bottom.
Thus, in the previous version of Vivaldi, switching between Panel functions, Bookmarks, History, Notes, and Downloads was moved to the bottom of the user interface.
In this new version, we've moved similar buttons for enhanced tab functionality to the bottom. These buttons will allow you to switch between open, private, recently closed, or even synced tabs.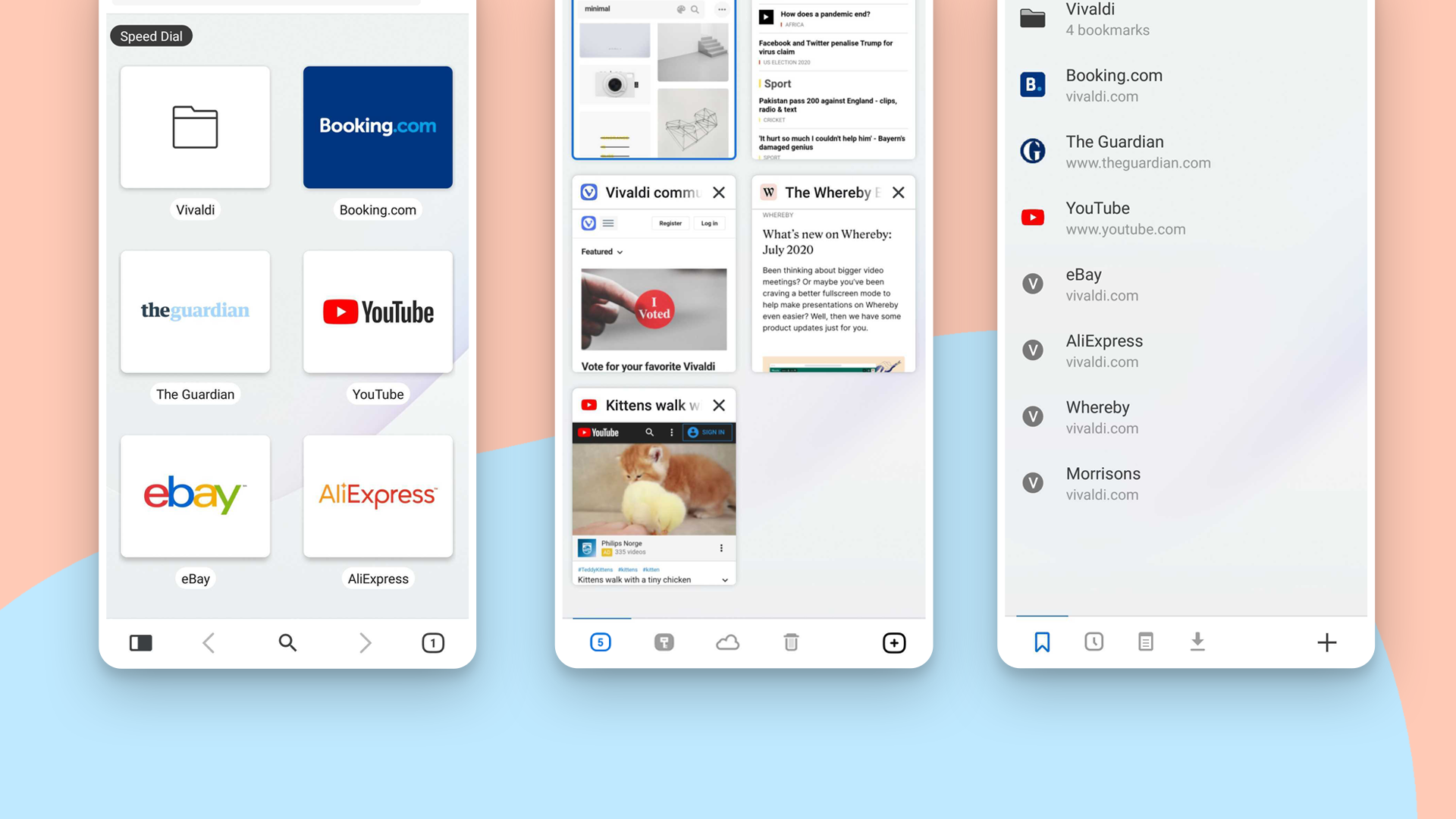 You'll find this enhancement useful as many of you rely on one-handed access to the main functions of the browser when browsing on your mobile devices.
The bottom of the screen is often easier to reach especially on large screens. Our aim is to put all the navigation bars at the bottom so that the key functionality is just a thumb away.
Based on user feedback, we are working towards an even more consistent layout across the entire application.
Hello, 'Tab Bar'!
The Tab Strip (Vivaldi's real desktop-style tabs) has a new name – Tab Bar. We're thus offering uniformity in addressing features across the desktop and mobile versions of Vivaldi.
Breaking conventions, Vivaldi's Tab Bar enabled by default lets you view, open, and switch between tabs easily, just like on desktop browsers – a functionality that stands out in Vivaldi.
If you do not find this useful or need more screen space, disable it in Vivaldi's Settings.
More improvements
There is something for every user in this Vivaldi release including small but noteworthy improvements and fixes:
Colour happy: Background theme for Speed Dials will now change easily to dark mode – some cheer for users on Huawei devices.
Browse better in landscape mode: The bottom bar will now not appear when starting Vivaldi in the landscape mode – giving more screen space.
Sync with a picture: Sync Settings will now display the profile picture of the user when logged in while using Sync across installations of Vivaldi on other devices.
Notes, more improved: 'Copy to note' in Vivaldi's unique Notes feature is now glitch-free for users experiencing difficulties – a big stability fix.
Download now
Vivaldi is all about creating personal experiences with its built-in features. And with this new update, it's even more powerful and easy to use on your Android device.
Hope you'll enjoy our new version.
Download it right away! And do leave us a review and ⭐ ⭐ ⭐ ⭐ ⭐ on the Google Play Store.
Here's the changelog. Take a look and let us know your feedback.
Changelog – Vivaldi Browser on Android 3.1 to 3.2
New features
[New][Blocker] Custom blocker lists VAB-1495
[New][Blocker] Allow ads from Vivaldi partners VB-69655
[New][UI] Tab Switcher navigation to the bottom VAB-973
Fixes
[Bookmarks] Crash in moving two bookmarks to the same folder VAB-1880
[Notes] Copy to note crashes Vivaldi sometimes VAB-1276
Settings
[Settings] Add Sync Profile Avatar to Settings main menu VAB-1617
[Settings] Category titles not consistent VAB-1742
[Settings] Rename 'Tab Strip' to 'Tab Bar' VAB-1744
Themes
[Themes] Speed dial background changes to white in dark theme VAB-1569
User interface
[UI] Jump when opening the tab switcher VAB-1706
[UI] Non-merged navigation bar on horizontal view VAB-1970
Others
[Tablet] There should not be bookmark icon for empty tab VAB-1797
[Tabs] Tab bar initiates in the wrong position – does not scroll to the active tab VAB-1237
[Crash] Crash in bookmark sync VAB-1985
Upgraded Chromium to 84.0.4147.108
Updated translations