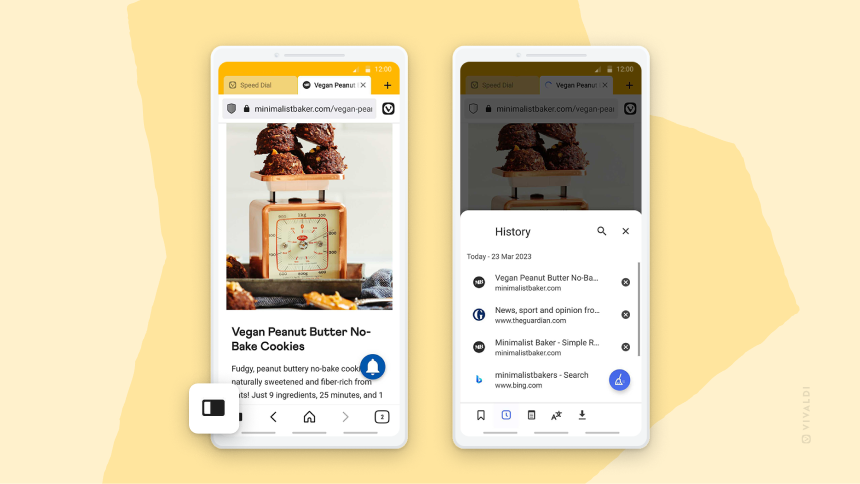 Read this article in Deutsch, Español, Français, 日本語, Русский, polski.
With this new update, our powerful Vivaldi on Android browser shines even brighter, thanks to its features, a first-of-its-kind UI, and flexible design that keeps it ahead of other browsers.
We've come a long way on Android. And along this ride, we've packed unique and interesting capabilities, such as greater customization, enhanced privacy, and a variety of browsing tools – all to give you a fast and fun experience on your mobile phones and tablets.
Today, we also launched Vivaldi 6.0 on desktop, which gives you the ability to change the entire look of your browser with Custom Icons and Themes. And we have introduced Workspaces that let you organize your tabs into different categories and switch easily between them.
On Android, let's take a look at the significant additions from Vivaldi's version 5.0 to its newest, version 6.0:
Is working with tabs boring? Definitely not in Vivaldi.
We love to make working with tabs seamless for you.
The tab interface is more flexible, snappy, and fun! View and manage your Tabs and Tab Stacks way better, with this series of additions:
Two-Level Tab Stacks (groups): This unique, double-decker Tab Bar solution helps manage your tab woes on the go. Access these Tab Stacks faster by renaming them to browse websites with similar content, be it travel, shopping, or social media, with great ease.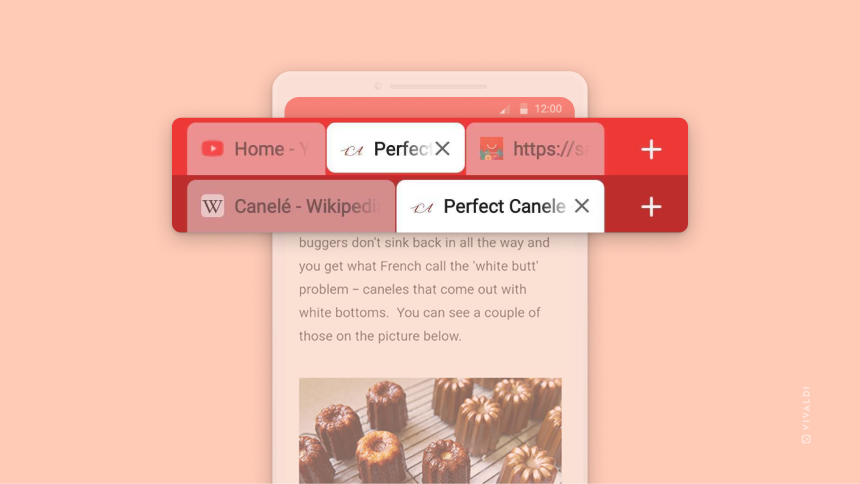 Configurable Tab Bar: Gives more room for tabs, as you can tweak it to your liking! The tabs appear smaller for quicker access. And, by removing the close button on all but the active tab, each tab becomes as small as a favicon.
Adjustable tab width: Defines the minimum tab size, if your tabs are too small for comfort. A finer detail – the width of the tab gets calculated dynamically.
Close other tabs: Cleans up your Tab Bar by closing all other tabs, except the currently open one. Easily accessible from the Tabs Switcher and Tabs menu.
Automatically Close Tabs: Closes all inactive tabs automatically without the need to cycle through different tabs and close them one by one.
Address Bar swipe-down gesture: Opens the Tab Switcher for viewing all tabs – all open, private, synced, and recently closed tabs — faster.
Auto-focus on the Address Field: Puts focus on the URL field when opening a new tab, and displays the keyboard, so you can start typing immediately and save time.
How many trackers and ads follow you? Get up close with the Privacy statistics.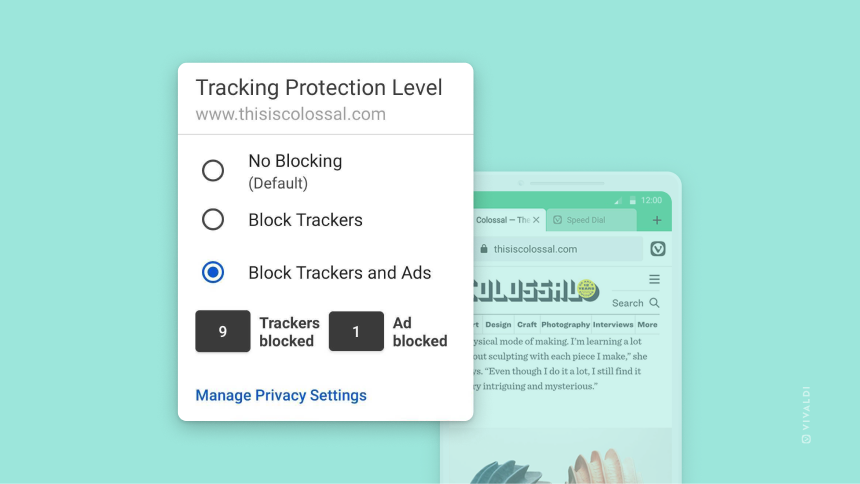 Because we care about your privacy, our built-in Tracker and Ad Blocker help you protect yourself from trackers and unwanted ads.
And just so that you know how many trackers and ads actually follow you, the counters in the Tracker and Ad Blocker dialog show the collective tracking information about the trackers and ads blocked on the sites you are browsing.
Want to save more time? Get smarter tools with Vivaldi
If it's useful, we get that feature in! And, we improve existing ones at every step, so you can access information easily and work faster.
Reading List: Saves pages that you want to read later. Plus, your Reading List can be synced across multiple devices using Vivaldi.
Configurable Menu Bar: Allows you to edit, rearrange, add, or remove functions in the Menu Bar as per your workflow.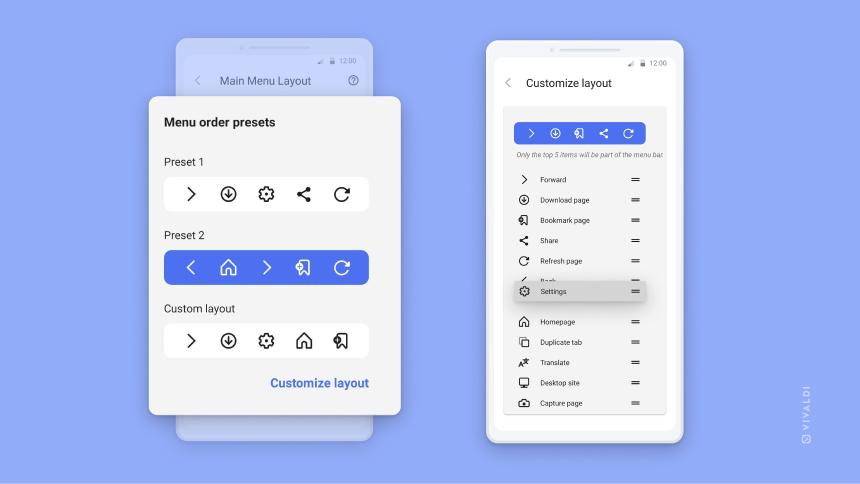 Append to Note: Adds additional text to the notes created with the built-in Notes feature. Unique to Vivaldi, Notes help you do more, faster.
Need more personality in your browsing? Vivaldi is more colorful than ever.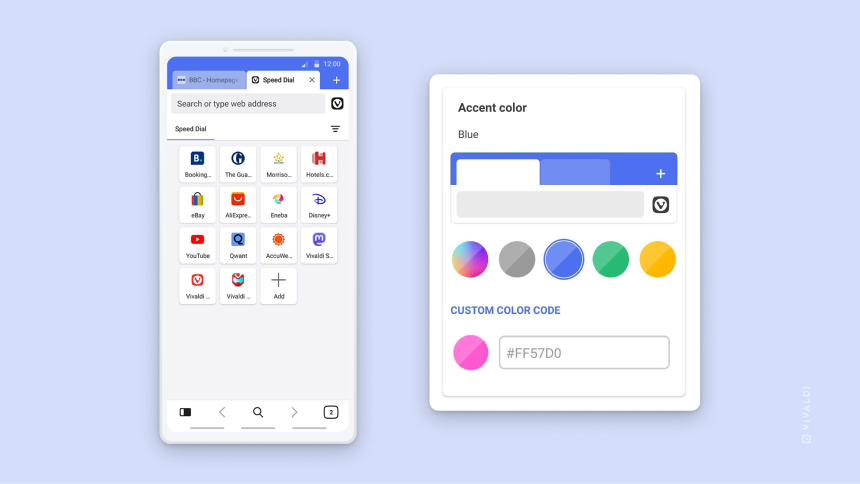 Change the accent color to suit your mood or let your imagination go wild.
The accent color setting in Themes, lets you pick from adaptive, 4 presets, or your own custom color.
You can also enable/disable "dark mode for webpages".
Tired of auto-play videos? Or prefer to have audio play in the background? You have it all.
Keep any site with audio playing in the background, including YouTube. You can continue to play videos/audio even when YouTube is minimized. And even if not subscribed to YouTube Premium.
With the option of "no autoplay video" enabled by default, you can browse without disruption from videos that start playing automatically and are often associated with ads.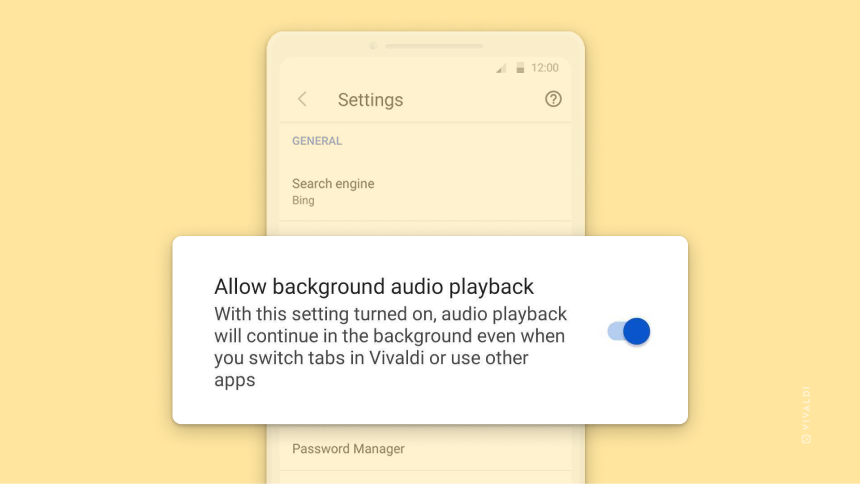 Looking for an alternative social network? Try Vivaldi Social, our instance on Mastodon.
We became the first browser to have a Mastodon instance, Vivaldi Social, and we've also integrated it into the browser.
To give you quick access to Vivaldi Social on the move, there's a Vivaldi Social Speed Dial. Log in to Vivaldi Social with your existing Vivaldi Account credentials or head to vivaldi.net to sign up for a free account.
New to Mastodon? Learn more about it here.
Does your tablet need the X-factor? Vivaldi is designed for big screens.
We take tablet browsing seriously. That's why we continue to put in a lot of love, care, and attention to make Vivaldi on tablets, Chromebooks, and screens in cars, just right for you and your device! The distinctive side Panel in the UI, a great example of Vivaldi's flexible design, helps you make the most of the available screen space.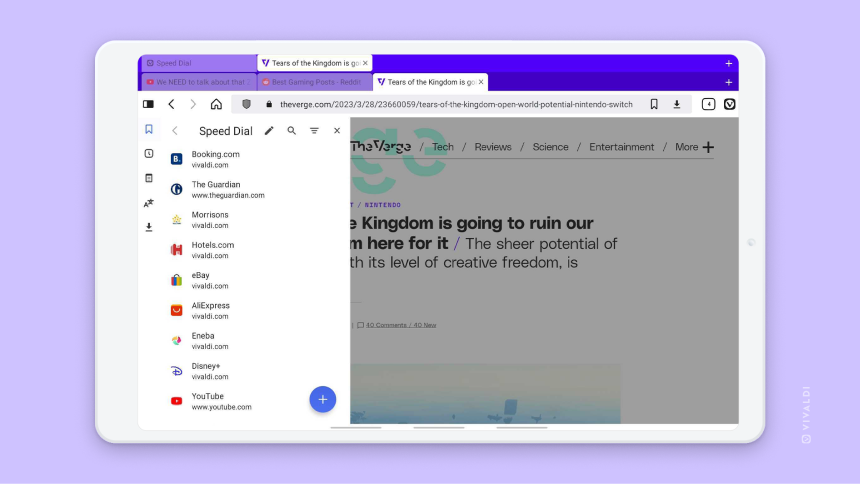 And the UI is not only flexible but also scalable, which fits the context better, with an improved zoom.
This works well on phones and tablets, but is particularly useful for cars – something we have experienced as the only browser available on Android Automotive in Polestar 2 and 3, the new Mercedes E class, new cars from the Volkswagen Group, Renault's Megane E-Tech Electric, All-New Austral, and ​​all future cars with the OpenR Link system.
Every pixel matters. That is why a lot of our work is focused on screen optimization and usability:
Panels: Optimizing your available screen space.
All go-to tools in easy reach in the sidebar: Allowing you to work with your History, Downloads, Bookmarks, and Notes in split-screen with your main window.
Configurable Address and Tab Bars: Keeping the browser functionality within easy reach.
Real, desktop-style tabs: Keeping you on top of open tabs, improving usability. Plus, the Two-Level Tab Stacks keep you more organized.
Status Bar: Freeing up more screen space by being easily hidden.
Intuitive and fully-optimized UI: Providing a smooth experience in both portrait and landscape modes.
Want a faster Vivaldi? It's right here for you.
Through our continuous under-the-hood work, we've improved the browser's speed significantly. For example, you can start Vivaldi much faster, even with hundreds of tabs open. We aim to give you a faster, improved user experience, with the help of our refined features, UI, and improved performance. For example, our Panels on phones now have a fancy bottom-sheet look.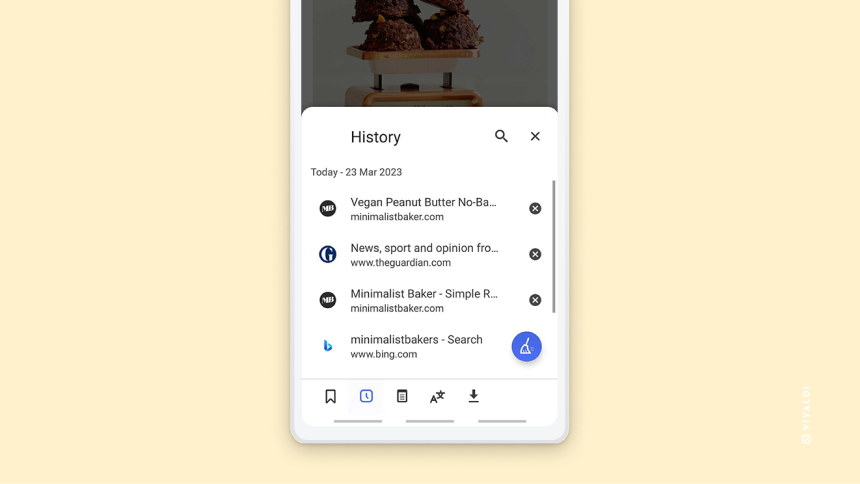 Download Vivaldi on Android and take it out for a spin. We always look forward to your feedback and your 5-star ratings on the Google Play Store and Uptodown.
Enjoy!

Changelog from 5.7 to 6.0
[New][Phones] Bottom sheet panel (VAB-7075)
[Address bar] Show typed history in URL-bar drop-down (VAB-7120)
[Panel] Title vertical alignment (VAB-6517)
[Search] Update the search engine icon for Qwant (VAB-72569)
[Settings] Allow background audio playback cannot be disabled for non-youtube sites (VAB-7161)
[Settings] UI scale does not work for languages different from the default language (VAB-7172)
[Start Page] Opening multiple speed dials can cause all to get the same thumbnail (VAB-7081)
[UI] Main menu does not expand to the full height sometimes (VAB-7214)
[UI] Make the reading list folder works inside bookmarks in the panel (VAB-7039)
[UI] New button should not show in the root of notes and bookmarks (VAB-7162)
Updated translations
[Chromium] Upgraded to 112.0.5615.132