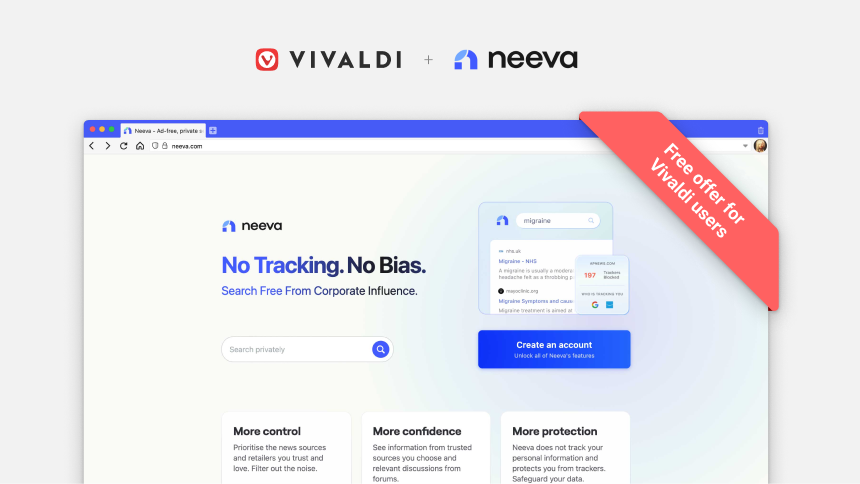 Read this article in Deutsch, Español, Français.
In 2021, we were happy to add Neeva, an ad-free, private search engine, as a default search engine option in Vivaldi 4.2 on desktop and Android. Initially, Neeva was only available to our users in the United States but now we are pleased to announce that Neeva has gone global. So, all Vivaldi users can try Neeva, the brainchild of ex-Google executives, who had a vision of giving users a better way to search and experience the internet.
As a company that has always championed your right to privacy, we support Neeva's mission to provide you with an alternative to search engines that profit off your private data. Their subscription model ensures that they don't need to rely on ad revenue or selling your data. This results in superior search results without any privacy trade-offs. Also, Neeva puts you in control of your search. Whether it's news preferences or shopping, you get to decide what is best for you.
In addition, Neeva is leading a new frontier of AI + Search. Available to all U.S. users and soon worldwide, NeevaAI gives you a synthesized, single answer with linked sources pulled together from the most relevant sites allowing you to determine the authenticity and reliability of the cited sources. It offers up-to-date information by crawling hundreds of millions of pages per day and serving from its independent index of billions of pages. By combining AI with Neeva's in-house search stack that shuns ads and advertisers, you will see results that are fast, timely, bias-free and relevant.
Neeva offers two subscription levels:
Free (a limited numbers of searches, limited features like Neeva AI, Connected apps)
Premium for $5.99/mo (unlimited searches, unlimited features, plus other exclusive 3rd-party benefits such as a VPN and a Password Manager)
To celebrate this partnership, Neeva is offering all Vivaldi users a 3-month Neeva Premium subscription completely free. Redeem here and sign up for your new Neeva Premium account.
Then, to set it as your default search engine in Vivaldi, go to Settings > Search and Select Neeva from the drop-down menu. If you aren't already signed into Neeva when searching, you will be briefly directed to a sign in page before getting your search results.
Currently Neeva is translated to Spanish, German, and French, with additional languages coming soon.
Check it out and let us know what you think!
Vivaldi and Neeva share a desire to build privacy-friendly products that put people first. To hear Vivaldi's CEO, Jon von Tetzchner, and Neeva's CEO, Sridhar Ramaswamy, share some of their perspectives on privacy, click the video below.