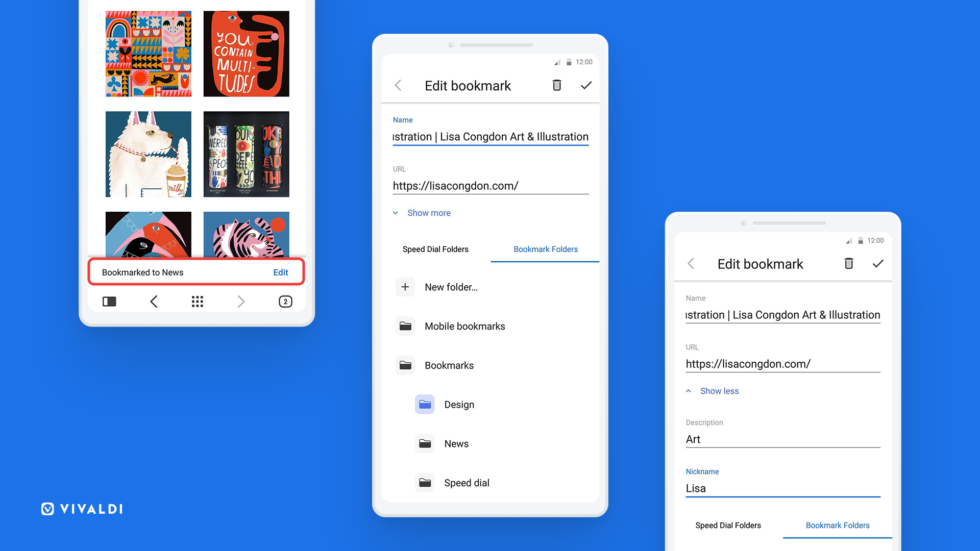 Our new update is a reminder that Vivaldi on Android has a lot to offer. Vivaldi 3.7 makes it easier to add bookmarks – the improved Bookmark Manager helps you access your favorite websites with as little hassle as possible.
It also lets first-time users of Vivaldi explore its flexible features through a friendly Welcome page.
If you already use Vivaldi, you can find out more about browsing options on a What's New page which is updated with every release.
Vivaldi 3.7 also offers improvements across the board, in particular in the user interface. 
Vivaldi also released its new desktop version today that fires up performance.
Download it for free on mobiles and tablets running Android 5 or higher, and on up-to-date Chromebooks.
Bookmark the easy way
Vivaldi likes you to stay on top of things with the help of an already comprehensive Bookmark Manager that helps you manage what can easily become a disorganized mess while browsing.
In this update, we have made it easier to add your bookmarks into a Speed Dial folder or Bookmark folder, with both categories easily available – no need to go looking for that particular Speed Dial folder deep in your Bookmarks tree anymore!
You can choose an existing Speed Dial or Bookmark Folder or create a new one. This way you can bookmark pages directly onto the Speed Dial in order to access your favorite site quickly from the Start Page.
Furthermore, you can add and edit descriptions and nicknames to websites that are searchable from the Address Bar – a rather unique way to stay organized.
Bookmarks and Speed Dials can also be sorted by title, address, nicknames, description, and date per individual preferences – helping with quick access and navigation.
Welcome to Vivaldi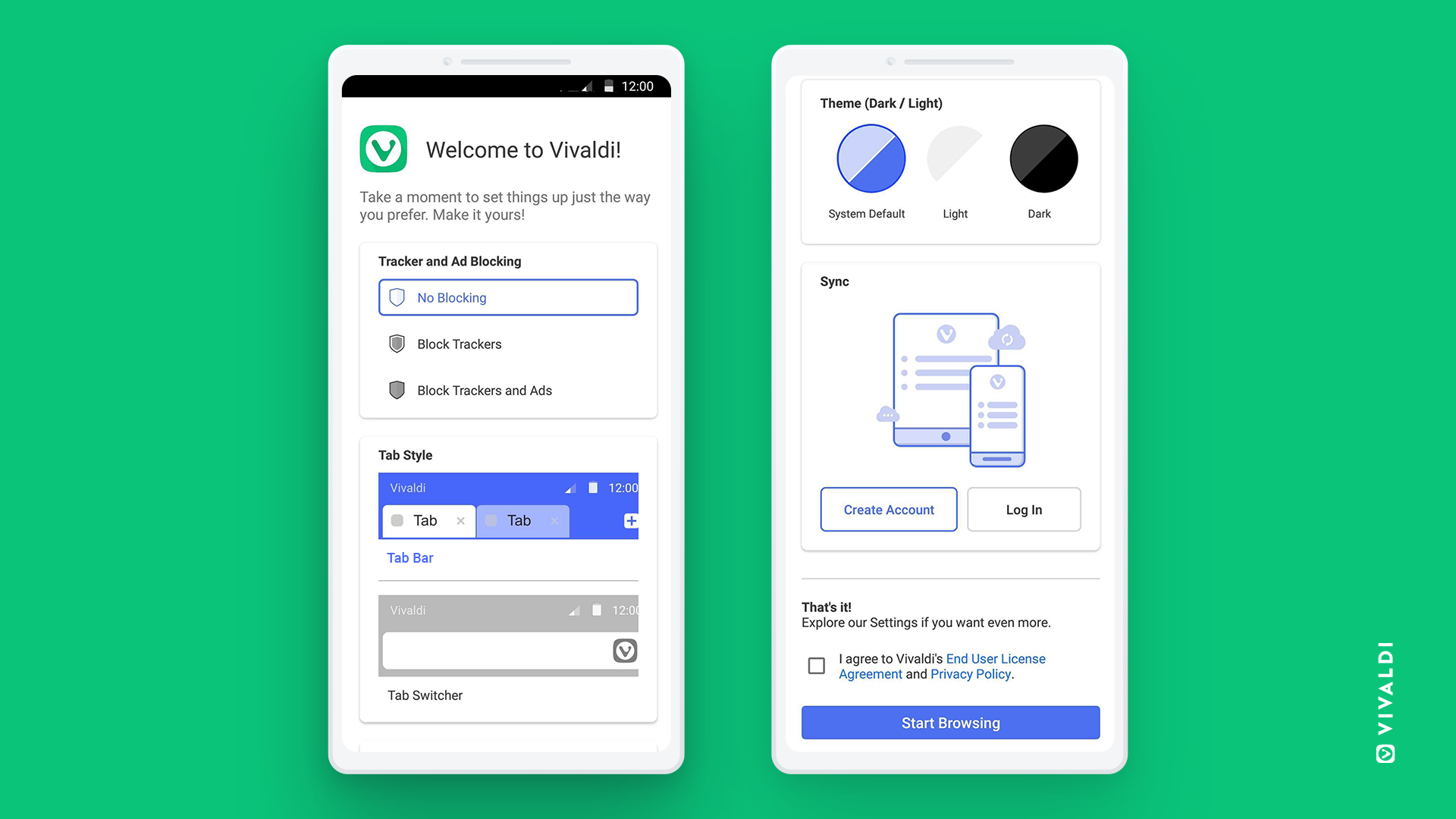 Discoverability and a better user experience are something we'd like to give you from the very start.
If you already use Vivaldi, this is not for you. But if you're about to download the browser, we've made it easier for you to feel at home right away.
When you launch Vivaldi for the first time, you will meet a Welcome screen to help you get started with some fine features:
Our Tracker and Ad Blocker helps you stay away from annoying ads and unnecessary tracking. Off by default, it takes just a tap to get activated.
Vivaldi's flexible Tab Bar offers unconventional, real desktop-style tabs – a fan-favorite that gives the same look and feel as Vivaldi on desktop. When you start browsing, you can also configure the Tab Bar per your browsing style by moving the Tab Bar either to the top or bottom.
Vivaldi Themes gives you a choice to browse with your preferred modes – dark or light.
Our Sync functionality keeps your browsing data safe and only within your reach. With a simple process, browsing data can be synchronized between installations of Vivaldi on other computers and more Android devices that have Vivaldi installed on it.
What's New and a little bit more, every time
We are building Vivaldi so that you can stay organized and efficient but also have fun. It only gets better when you start exploring its various features.
After every update, you'll now find a What's New page when you open the browser. This page will greet you every time with useful things to try out, even if you are late to the party.
It will help you wiggle your way around easily with every new version.
Say hello to Vivaldi 3.7 on Android
Ready for download, Vivaldi's new version is improved and friendly. Give it a try and share your feedback. ⭐️ ⭐️ ⭐️ ⭐️ ⭐️. For more details, here's the changelog.
Changelog from 3.6 to 3.7
[New] Make it easier to add bookmarks VAB-1807
[New] Open What's New page in a new tab after major version update VAB-2837
[New] Welcome Page VAB-3466
[Settings ] Change the Theme UI in Settings similar to welcome page VAB-3541
[UI] Missing string with incorrect translation for "New private tab" VAB-1989
Upgraded Chromium to 89.0.4389.91