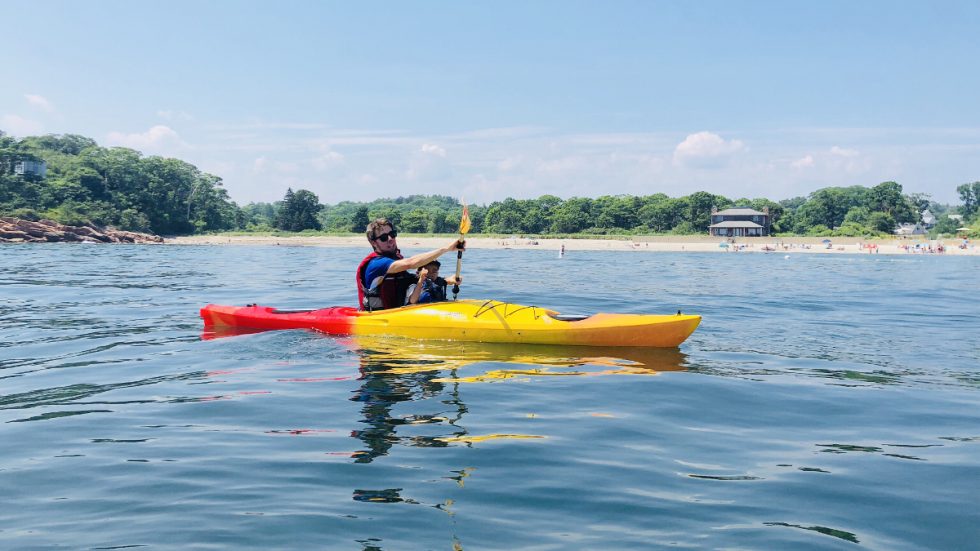 Our summer gatherings in Magnolia! You've heard us mention this before. Haven't you? Now that the last member of the Vivaldi contingent is back from Magnolia — a pretty little coastal town near Boston in the US — we've decided to take you on a short trip there through this blog post. Read on and make sure you scroll through the photo sliders below.
Every year in June and July, Vivaldi employees and their families gather at the Innovation House in Magnolia — a magnificent New England building with gilt-framed paintings, floral wallpapers and delicately carved mantels.
Our CEO Jon von Tetzchner lives in Magnolia and we even have some team members working from there. We are invited to work at the Innovation House for at least two weeks every summer. The attendance is not mandatory but – being a distributed team working across the globe – most of us like to join to interact face to face with our colleagues.
We know that strong, cohesive teams are more effective. But ordinary work days are busy, and even though we know it's important, it can be hard to dedicate time to interact with each other casually. This is where small rituals can have a big impact, and act as a kind of social glue to strengthen teams.
Hello, Magnolia
Our summer gathering is the right kind of workplace ritual — a break from the regular work routine in a relaxed and tranquil setting — offering us a common set of shared experiences to connect over.
The team-activities during the working day challenge our imagination and boost the atmosphere with new promising ideas that could find their way in Vivaldi going forward.
And as for our evenings and weekends, they are adorned with beach trips, backyard BBQs, social interactions and lots more.
Love for sports brings us together
This year it was exceptional with the football World Cup matches of Iceland and our regular post-work in-house basketball tournaments. Accompanied with a lot of zeal, we did well when it came to chanting the famous 'Viking War Chant' or merely cheering for our favourites.
Good food is good mood
The divine 'Magnolia gastronomy' made us laugh, bond and connect over food. Several of us turned into in-house specialist chefs and pelted out delicious recipes every other day and even shed light on some of our cooking nuances. Other than the lip-smacking American barbeques and the world-famous seafood from Gloucester, varied cuisines such as Icelandic, Indian, Mexican and even Japanese tickled the taste-buds of everyone and can happily share the blame for a few additional kilos.
Playground in the backyard
Vivaldi creche or 'kids playgroup' — the most adorable and brilliant idea — was an instant hit from the word go. This helped the parents focus on their work during the day while their children were at play. With proper attention and care, the kids and of course, the parents loved everything about it. Endearing!
Music has no barriers
Quite a paradox, the library during the day used to transform into the most popular part of the building in the evenings for the incredible Open Mic Karaoke Nights. These utterly uninhibited evenings allowed us to let our hair down where we tried every possible way to be the next singing superstars. Mind you, it's never easy when you have professional Opera singers and trumpet players in the team. The playlist boasted songs from every nationality in the Vivaldi team. (17, to be precise!).
Work in the wild
Working on your laptop or reading a book in the gardens of the Innovation House is as enjoyable as looking out for hours for wildlife in the vicinity. Squirrels, rabbits, chipmunks are a regular sight out there, but occasional appearances of snakes (absolutely harmless) could get our 'ophiophilist' colleagues excited.
Next, to enjoy even more nature, a weekend bike tour, hiking and kayaking, whale-watching or even a dip in the pool or the ocean depending on our preferences were the other activities that some of us indulged in. Apart from these, just hanging out also turned up being perfect.
Scenic ferry rides to Boston during the weekends caught up very fast with the team, and most of us ended up taking one. Round trips to the neighbouring quaint little towns in New England also attracted a few. The result – smartphones filled with memorable pictures.
Our Magnolia summer gathering is a great giveaway to show appreciation to each other. With memories to cherish and valuable takeaways from our time spent working together, we are already recharged to continue building a stellar browser for you.