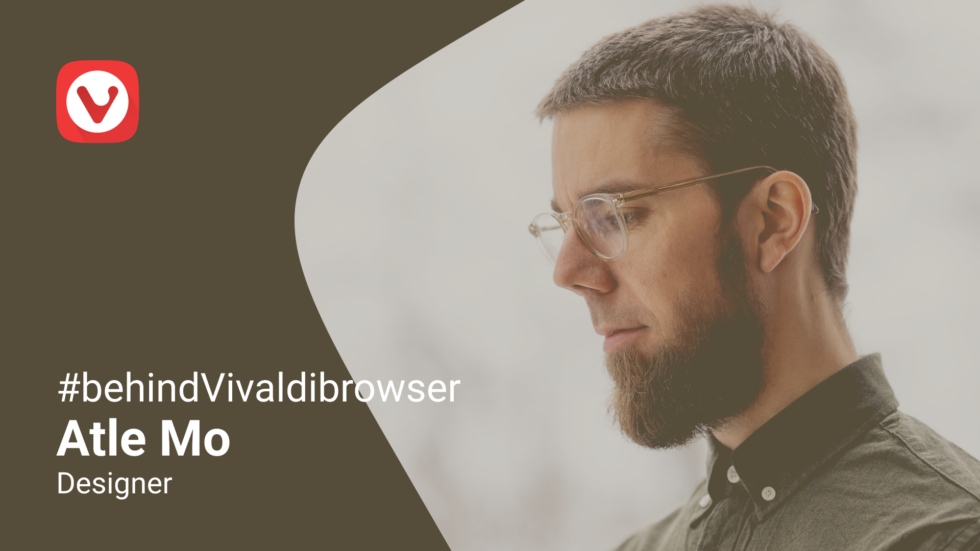 Designing a browser UI sounds like a pretty cool job, right? That's exactly what Atle Mo does each day at work. So let's ask him what life is like as a designer at Vivaldi browser.
📆When did you join Vivaldi?
My first day at Vivaldi was September 22, 2014. So it's been 8 years already – time flies!
🚀 What do you love about working at Vivaldi?
The people and the product! Getting to work with smart (and fun!) people who genuinely care about the web is an amazing privilege. And designing a web browser, for me, feels like a "full circle", since my entire career has been focused around the Internet in one way or another.
💪 What are your favorite productivity features in the browser?
I use the Web Panels and mouse gestures most likely hundreds of times per day. I keep my notes there, check the weather, follow postal tracking, stocks, calendar and email. And I use the mouse gestures to open and close the panel in one swipe. And then there's Tab Stacks. I use the Two-Level Stacks and group all my Jira issues in one big stack. This keeps my tab bar nice and tidy.
💡What is the biggest thing you have learned so far while working here?
Maybe not a learning, but a realization: designing a browser UI is far more complex than it appears to be, especially for one of the world's most customizable desktop applications.😅 The biggest lesson learned so far has to be the importance of always asking more questions. To fully understand the problem we're trying to solve or improve, you have to dig deep. You can't make anything better if you don't understand the issue!
🤩 What else should we know about you?
3 random facts:
🎯 I can hit a tin can with a bow and arrow from about 25 meters away.
🔥 My top track in Spotify for 2021 was "When the World Explodes" by In Flames.
☕️ I absolutely love donuts & coffee.
---
Thanks goes to Atle for sharing this glimpse behind the scenes at Vivaldi. He was also featured in a LoversMagazine article, so if you want to go more in-depth about what drives him, what gear he uses, and more, check it out!

We'll be sharing other interviews over the coming weeks. In the meantime, can any of you beat Atle's archery record? If so, or if you have other comments, tell us below!👇