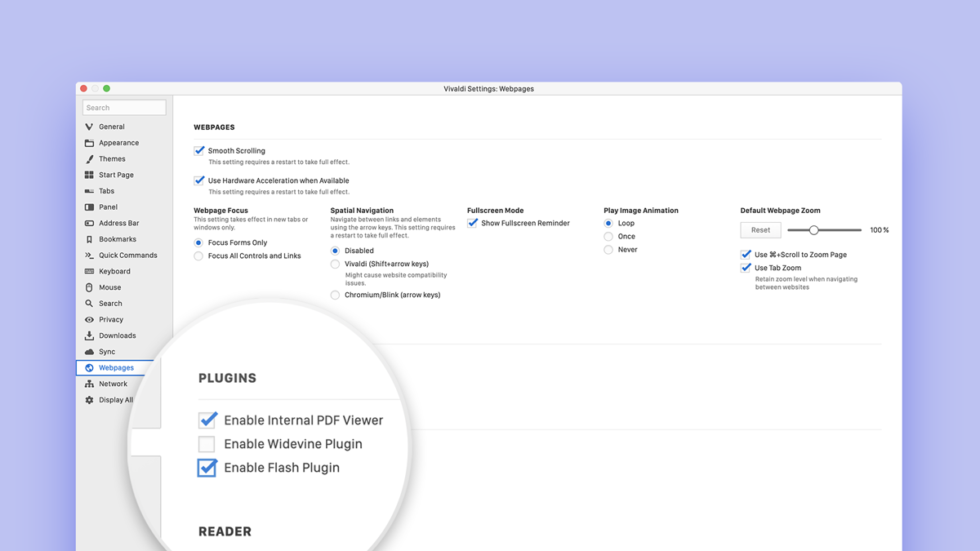 We've all known for a good couple of years that Adobe, the company behind the once-ubiquitous Flash plugin will be phasing it out by the end of 2020. At that point, Adobe will stop updating and distributing Flash. 
In the meantime, Adobe is offering security updates to browser makers and supporting their new versions (but not offering new features). 
Even though Flash is being phased out and browsers have started deprecating support, there are many sites that still use it and you have repeatedly asked us to add an option for the Flash player plugin. 
Flash may still be used by news sites in smaller countries, by educational sites that have not yet updated their infrastructure, and indeed it was used until very recently by HBO Nordic. 
Starting in Vivaldi 2.7, you can enable the Flash plugin under Settings > Webpages > Plugins. With this option, you don't have to manually install it to play Flash videos, animations, and games. 
Security issues with Flash  
Flash has been around for 20 years, all this time offering devs endless possibilities to create interactive content on the web. Microsoft once tried to compete with it with the Silverlight technology but had no chance to displace it.
But being so popular, it quickly became a target for hackers. Historically Flash has had numerous reported security issues.
While we're happy to give you the option to enable the Flash plugin, we'd say that you should only run it on websites you trust. Some websites might use Adobe Flash Player to harm your computer.
What's next
Fewer and fewer companies are using Flash and few websites don't use HTML5 (as Flash replacement) nowadays, even YouTube no longer relies on Flash. 
At this point, there's very little Flash can do that HTML5 can't handle. Basically, modern browsers and HTML5 have replicated Flash's functionality. 
Just in time for 2020. 
Do you still use Flash? What for? Tell us in the comments.