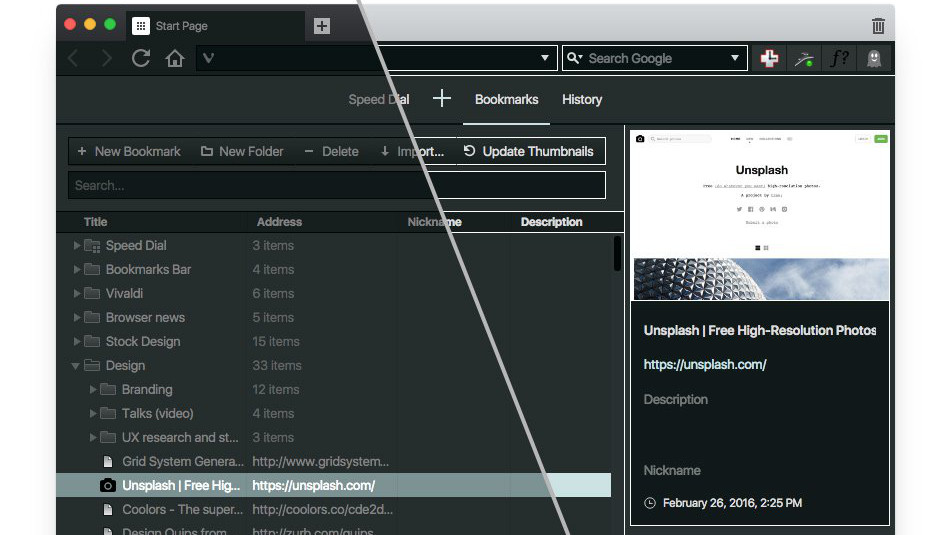 Vivaldi is the browser that puts you in control, and as we grow and move towards an increasingly feature-rich product, highlighting and improving features for the developer audience is becoming ever more possible.
It is curious how individuals go about choosing browsers that become the primary environment for browsing. In the case of web developers, designers, user experience and interface engineers, and other web professionals, it's where we spend the majority of our time doing the work we do.
To that end, Vivaldi's communications team would like to extend an invitation to all web professionals to share what's working for you in terms of developer workflow, and which features are truly useful to you.
We are also, of course, interested in knowing more about what we can do in the weeks and months to come to provide developers with richer, more useful features with which to get the job done!
We currently see three strong areas for Vivaldi in terms of existing developer tools including:
Complete implementation of developer tools
We currently support Chromium's developer tools. There is one well-known issue we've discussed with developers, and that's the lack of native docking for these tools. Interface work on this is in the planning.
Support for developer extensions
Most developers can easily switch to Vivaldi and not disrupt their workflow. Vivaldi supports many of the common developer extensions for testing accessibility, document structure, CSS cascade and, specificity, DOM and API activities, performance and speed tests for pages under development.
Accessibility features, Reader Mode and WCAG color themes
Vivaldi makes web accessibility a premium. We are working to improve not only the Vivaldi interface's accessibility using the Web Content Accessibility Guidelines (WCAG) color theming and contrast, as well as offering users a clean reader mode, but also to include Web Accessibility Initiative and Accessibility for Rich Internet Applications (WAI-ARIA) support in the interface. We will also be working with the community at large to advance the adoption and use of accessible practices in the Web developer workflow.
Given these three areas, it would be very helpful to Vivaldi Developer Relations to learn a bit more about our current developers. Please let us know how you are using Vivaldi tools in your work, and what we can do to ease up your work day and give you  a more enjoyable and fun developer process in the Vivaldi browser!
Please fill out this short survey (6 questions) to help us build a developer friendly and accessible web browser.
We are excited to be building our developer story for Vivaldi's ever growing colorful future! Your feedback will help us ensure we provide you the options and tools to keep Vivaldi as a primary, comfortable and very powerful option for our web design and development community and industry.
Looking forward to your insights!