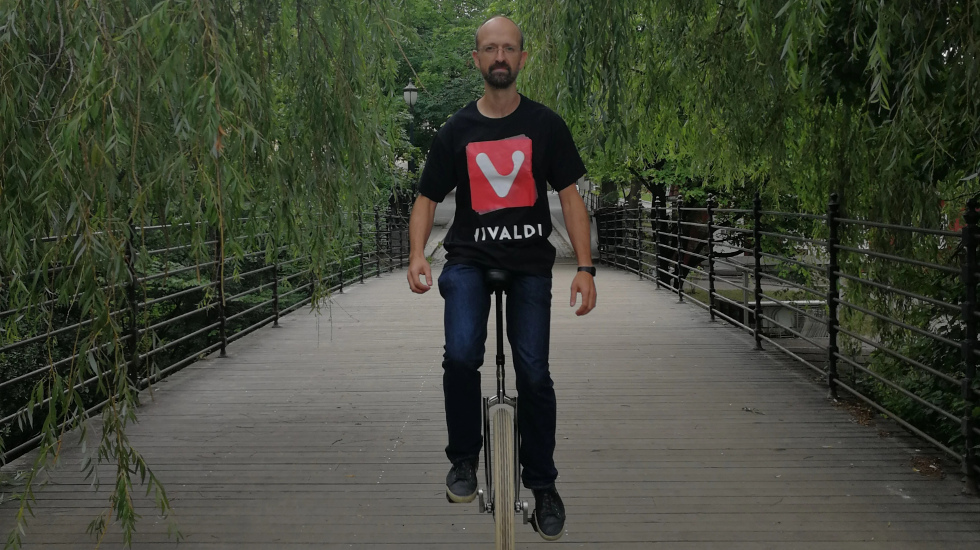 Like most people I fell in love with cycling as a kid but unlike many, I never really "grew out of it". Why would I? I have lived in cities my entire adult life, where cycling is still the fastest way to get around. In fact, I don't even have a driver's license. I just never saw the point of it.
I have owned a multitude of different types of cycles including a BMX, road bike, beach cruiser, folding bike, transport (utility), hybrid, path racer, electric assist and six different unicycles of various sizes from 16″ to 36″ wheels. I have yet to buy an "ordinary bike" (a.k.a. a Penny Farthing or High Wheeler) but it is a future goal, assuming of course I can get my wife to agree!
During the last winter I commuted most of my time on a hybrid bike setup specifically for the cold of Oslo Norway, most important of which are spiked winter tyres. On the back of this bike, I attached a bike trailer to bring my kids to kindergarten. The first 10 mins or so of my route was up a hill, that wasn't always particularly well cleared of snow. It was a great workout but not always particularly fun.
As summer arrived and we moved the kids to a new kindergarten (and school) within walking distance, so I figured I would try something different and a bit more enjoyable for the daily Vivaldi commute. I'm a unicylist, having taught myself over the course of two days as a kid (I have also taught others). I have commuted on unicycles before, including in the winter (with a spiked tyre of course!). They are great fun but can be a little slow. This is because on fixed wheel cycles (with no chain), gearing and hence speed is typically increased with wheel size and most of the unicycles you see have faily small 20″ or 24″ wheels.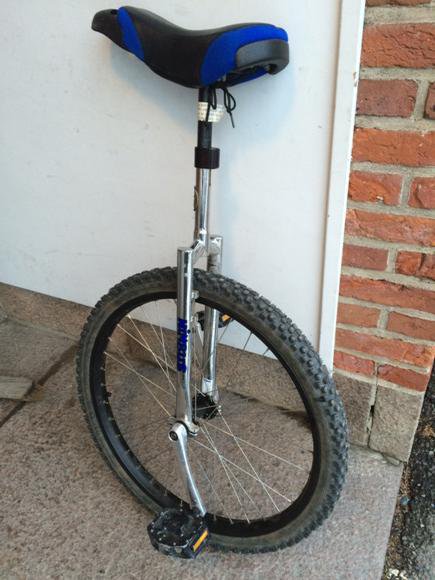 I spent some time debating with myself between buying a penny farthing and a large wheeled unicycle. In the end I decided almost entirely based on price, with the unicycle being almost a 10th of the cost. There are even less users of penny farthings these days than unicycles, hence pennys are often hand-built and require speciality parts (not least the wheel), which massively increases the cost of a new one. Unicycling on the other hand is a suprisingly popular sport with several distinct disciplines, including freestyle, trials and yes… mountain unicycling (a.k.a. "Muni").
So I bought a 36″ wheeled unicycle and it was even more fun that expected. I could now hit low bikes speeds (in fact I often overtook more casual bicylists). Sadly the fun didn't last. A fault with one of the bearings has taken the big wheel out of action for the time being, so I switched back to one of my smaller wheeled unicycles.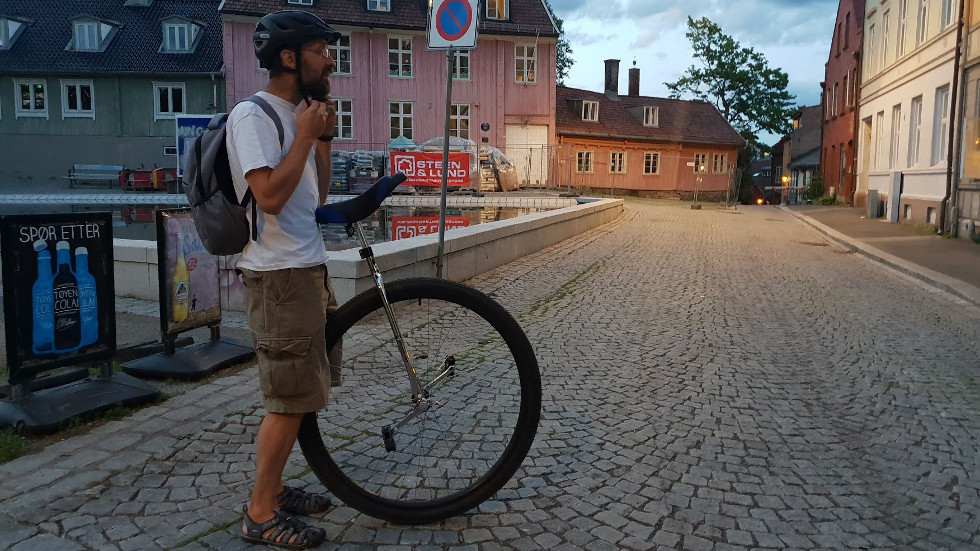 Today for "Cycle to Work Day" I came in on a 26″ wheeled unicycle. The commute took just under 24 minutes, without really pushing it. Based on the distance of my route that is an average of 15.4 km/h (9.6 mph), with fairly significant hills, traffic and crossing various roads. So that isn't too bad. 😉
So who else here cycled to work today (or plans to) and what are your stories? Also check out cycletoworkday and #CycletoWorkDay on Twitter for more.
P.S. The title image is from the bridge near our office.