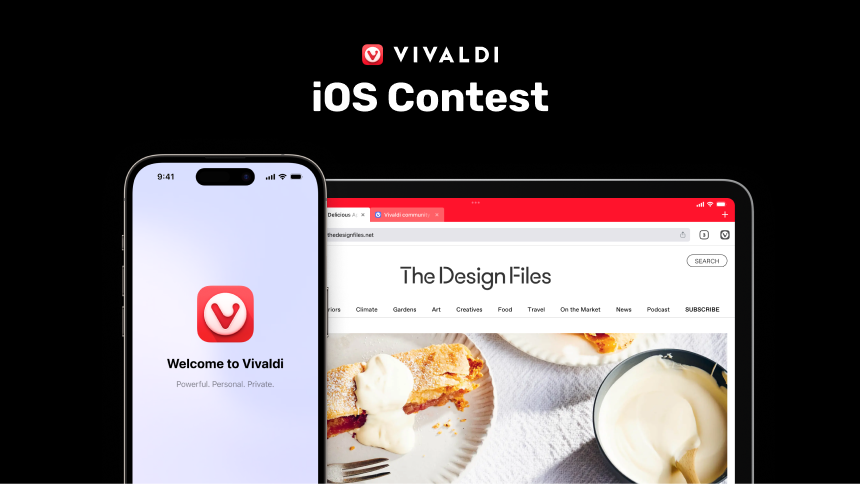 Read this article in 日本語, español.
Your feedback has always helped us improve our products, and Vivaldi on iOS has been no different. Since we released our preview of Vivaldi on iOS in May earlier this year, thousands of testers have been helping us fine-tune the app. Months of hard work have led us to where we are today, where we can finally say that the wait is over and Vivaldi on iOS is out!

We have learned a lot and faced a few challenges while building the app. But one thing is definite we have had a lot of fun too. Now we want you to join the fun and celebrate with us, and what better way to do it than by having a contest for you?
How do I participate?
It's quite straightforward. To participate, you just need to:
Follow us on Vivaldi Social, Twitter, Facebook or Instagram.
Upload a picture/video of yourself biting an apple (or just a picture of the bitten apple if that's what you prefer) on one of those four social media platforms and use the hashtag #VivaldiOniOS. Tag us so we don't miss it!
You can participate in all platforms to increase your chances of winning, but you will only be able to be selected once. If your profile is private, send us a screenshot with the post so that we can see it! 🙂
Need some inspiration? The Vivaldi team is here for you:
What can I win?
We're giving out five gift cards in value up to $40 to be redeemed at the Vivaldi Store, so you can pick your favorites! Oh yeah, we have some new iPhone cases! 😃
How long do I have?
The contest will run until the 10th of October 23:59 CEST time. A winner will be chosen from each platform and will be announced on the 11th of October.
Now it's time for you to head to the App Store, download Vivaldi, and show us that you have bitten the apple. We think it's the best thing that happened to Apple(s)! 😜

Updated 11th October.
Here are the winners!
The giveaway has now ended, and these are the winners:
Thank you all for participating and downloading Vivaldi on iOS and iPadOS. Do not forget to rate us! Your ratings will help others to discover our app in the store. Happy browsing!