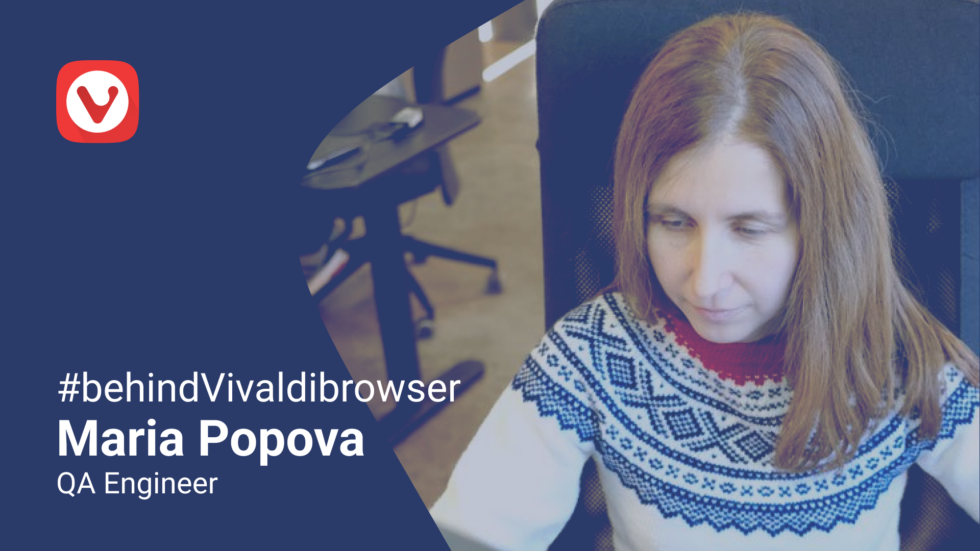 It's #behindVivaldibrowser time again! Today, we introduce you to Maria Popova, who has been working for Vivaldi browser as a QA Engineer since April 2017. Let's get to know her.
🚀 What do you love about working at Vivaldi?
My team is small but very strong, and I am proud to be a part of it. We rely on our community to report bugs and are grateful when users post on the forum or send us bug reports. We are also extremely thankful for the hard work our Soprano volunteer group does for us.
💪 What are your favorite productivity features in the browser?
I am one of those people who actually loves using and customizing Vivaldi on both desktop and mobile.
On desktop, my Tab Bar is on top, and I keep Web Panels on the right. There I have Vivaldi Translate, some local newspapers and the local weather forecast. I also rely a lot on Speed Dials. Other favorite features are Screen Capture and Image Properties.
On mobile, my choice is to have the address bar on top, with a light theme and enabled Tracker and Ad Blocker. I have several stacked tabs and use the translation feature a lot, as well. My bookmarks and notes are customized to meet my needs. And of course I sync my data in Vivaldi between all my devices.
💡 What is your biggest thing you learned so far?
Never stop learning and developing. The IT industry is rapidly growing and developing all the time. There are always new things to read, get familiar with, and apply in my job, in addition to the interests I have in my personal life. At Vivaldi, we learn from each other and many new creative ideas come from discussing topics around the coffee machine ☕️
🤩 What else should we know about you?
Outside of work, I have many interests! I love reading books, going to the theater, dancing tango, doing yoga and enjoying nature. But my biggest 'hobby' is my two charming daughters who bring an increased sense of meaning and purpose to my life.
---
What about you? What is your favorite pastime when you are away from Vivaldi? (Are you ever truly away from Vivaldi?) Let us know in the comments.👇