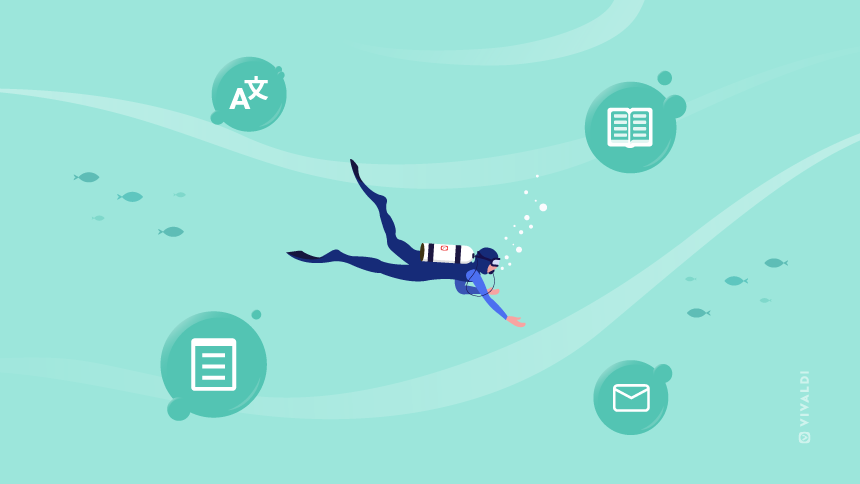 Read this article in Español.
Last year, when I had just become a freelance writer, I was on the hunt for a better browser to help with my productivity. The browser I was using felt somewhat limited, and I wanted a better way to organize and access the web apps I used frequently.
I looked at various browsers, as well as a few other tools, but nothing fit the bill.
Until one beautiful Friday, when I happened upon Vivaldi, and all my prayers were answered.
The Panels functionality, in particular, was exactly what I was looking for, and it has been an absolute game-changer for my productivity.
And it seems I'm not the only one who's impressed, as Chrome has recently launched its own version of panels, albeit in a much more limited capacity.
What the flip are Panels?
In a nutshell, Panels are tabs that you can access at any time alongside your existing tabs, without taking up any room in your tab bar. You have a panel bar that can either be on the left or right side of your browser, and all you need to do is click the panel you want to view.
There are two varieties of panels – one is a preset panel that contains Vivaldi functionality (such as Bookmarks, History, Translate, Notes, Download, Windows), and the other is a web panel that contains a webpage you've chosen to add.
You can configure whether the panel bar floats over the existing page, or displays side-by-side, and you can choose to include Vivaldi panels like email, notes, and translate.
You can add a panel in a number of ways, including dragging the tab into the panel bar, or clicking the + button in the bar and manually entering the URL you want to save.
This means that apps you use a lot can be accessed in the Panel, so you don't need to always use a bookmark, or have the tab bar cluttered with the same apps all the time.
Bellyflop your way to productivity
As I mentioned above, Web Panels are perfect for easily accessing sites you frequently visit, but there are many use cases that can make your life much easier. Here are a few examples:
Notetaking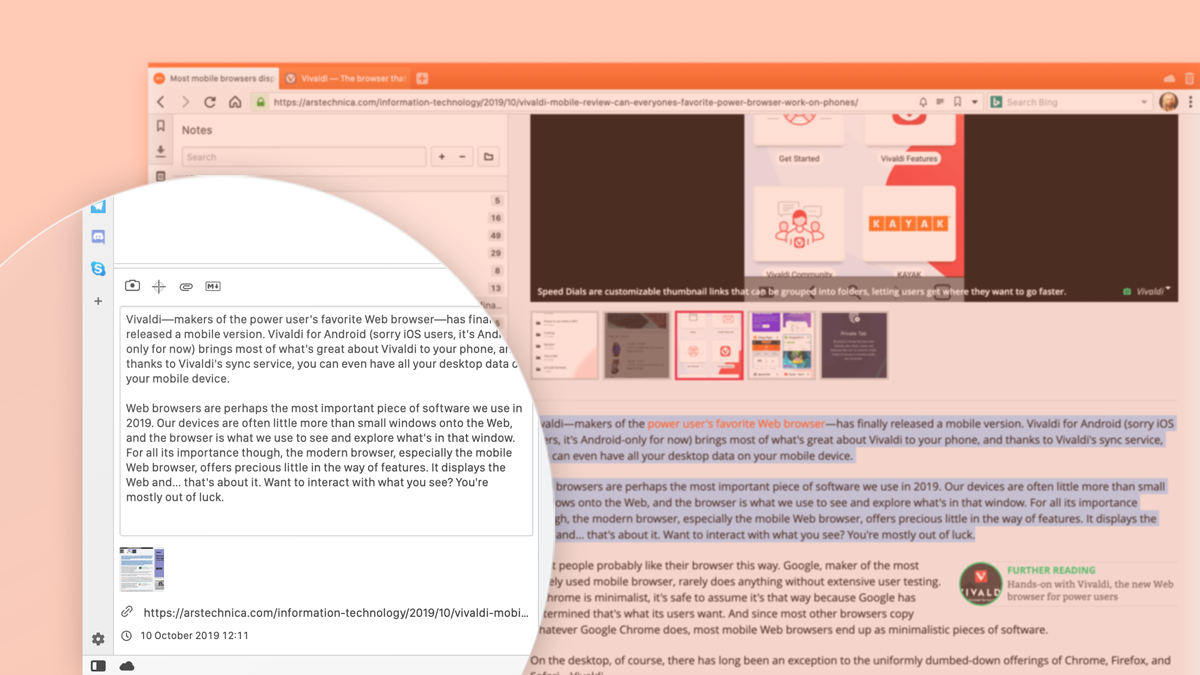 Whether you're studying, working, or doing some research, being able to easily take notes can be invaluable. In other cases, you either need to have a note-taking application open outside your browser, or you need to have a separate tab open for your tabs.
By having your notes as a panel, you can simply pop your notes open side-by-side with the page to make your notes when you need them. Once you've done, you just close the panel and continue.
You can either use the built-in Notes panel or save your note-taking web app of choice as a web panel (I use Notion).
At a glance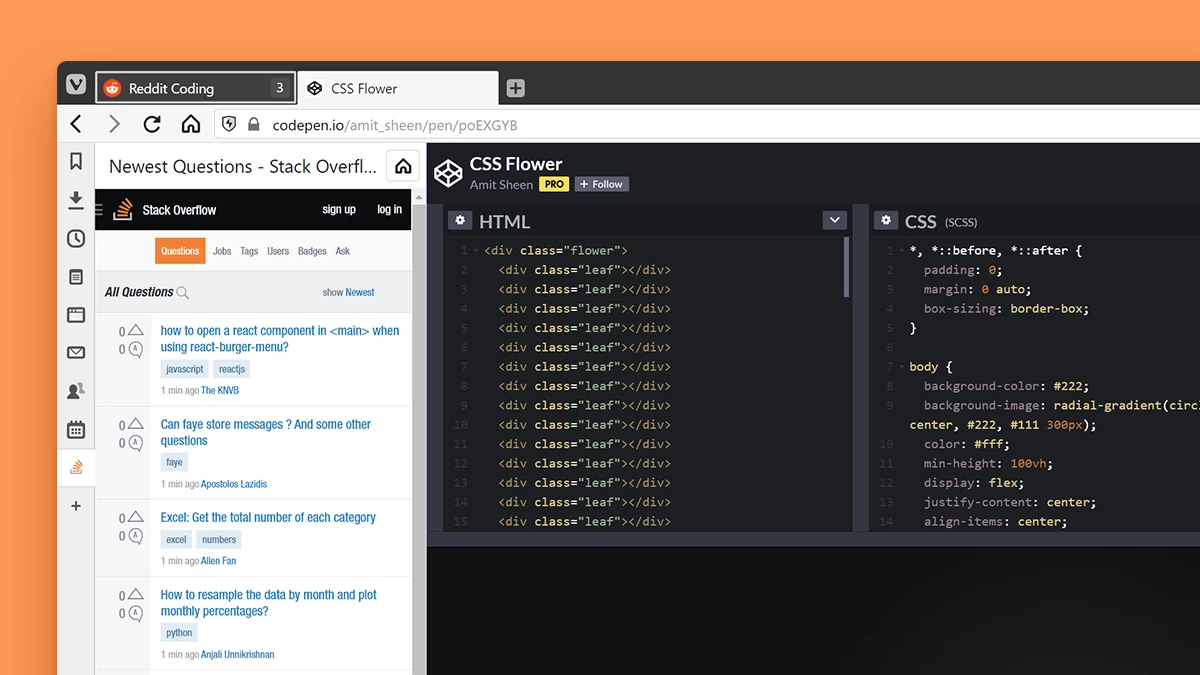 How often throughout your day do you take a quick glance at your email, calendar, to-do list, etc? Probably a lot, and that usually involves having a pinned tab constantly open in the tab bar, or manually navigating to that page each time.
By saving those sites as Web Panels, it becomes super easy to give them a quick look without having to go out of your way.
I organize my work using Todoist, so I've got it saved as a Web Panel so I can easily see my to-do list when I need it. This might not sound like much, but when you're glancing at these sites a few times an hour, the time saved can really stack up!
Messaging
Whether you mostly use your browser for work or play, you likely use it to message people throughout your day. Whether that's WhatsApp, Messenger, Slack, or something else, it's useful to be able to easily send and respond to messages without needing to pick up your phone, or manually navigate to a website.
By having these web apps saved as panels, you can easily access your messaging services. You just need to click on the panel bar and type away. You can then close the panel and continue working without distraction.

Reading List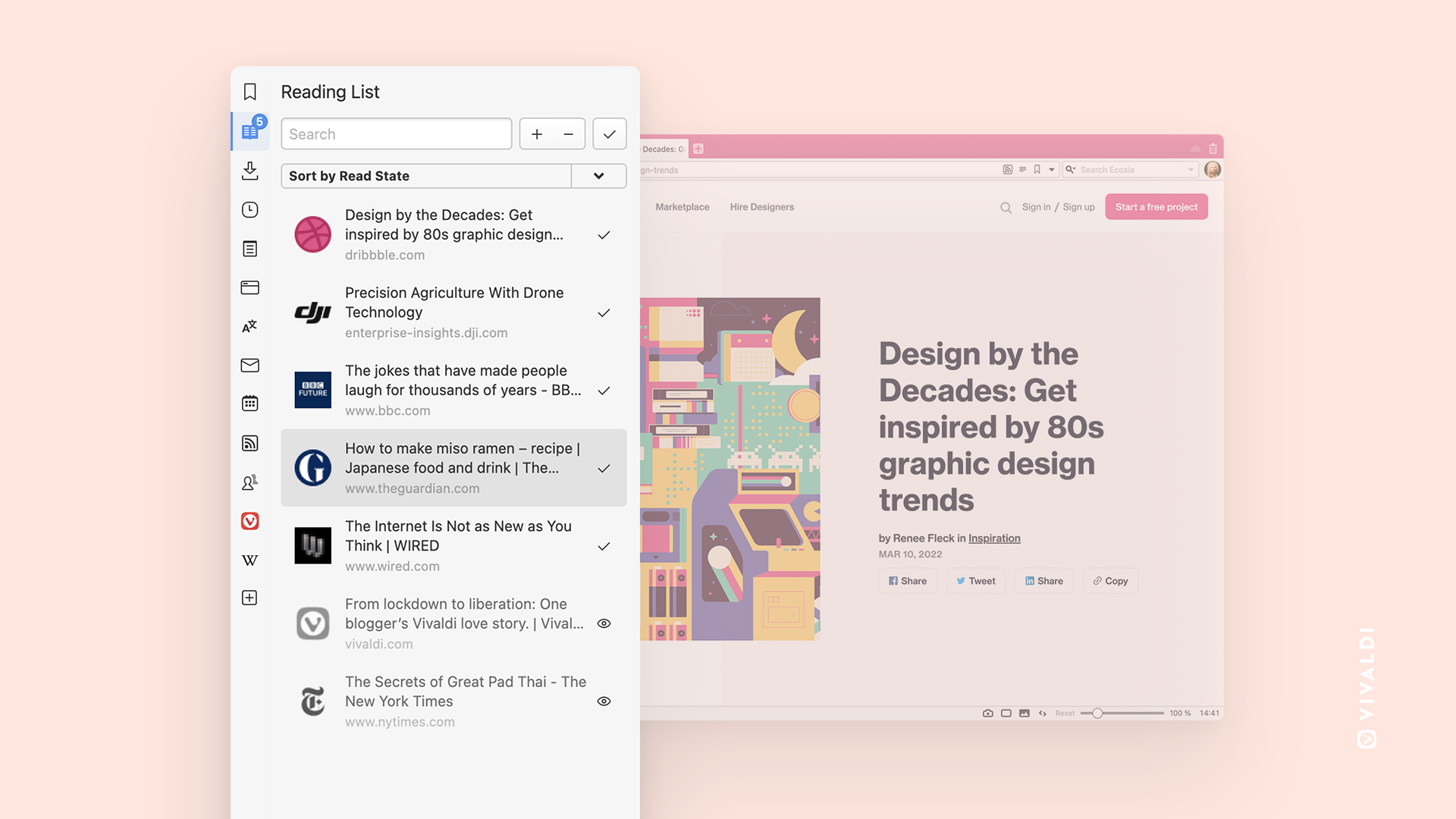 As someone who will often see an interesting-looking article or web page, bookmark it to read later, then completely forget about it, the Reading List functionality in Vivaldi has become a stand-out feature for me.
It was great before, but it's been supercharged since it was added to the Panel bar recently. Now it's super easy to see your reading list, mark pages as read, and search through your list. This makes it so much simpler to stay on top of the things I want to read, add new pages, and get rid of things I thought I'd read, but deep down I know I never will.
Features that make a splash
It's worth playing around with the Panel settings to see what works best for you, but here are my favorite features that make panels so powerful:
Periodic Reload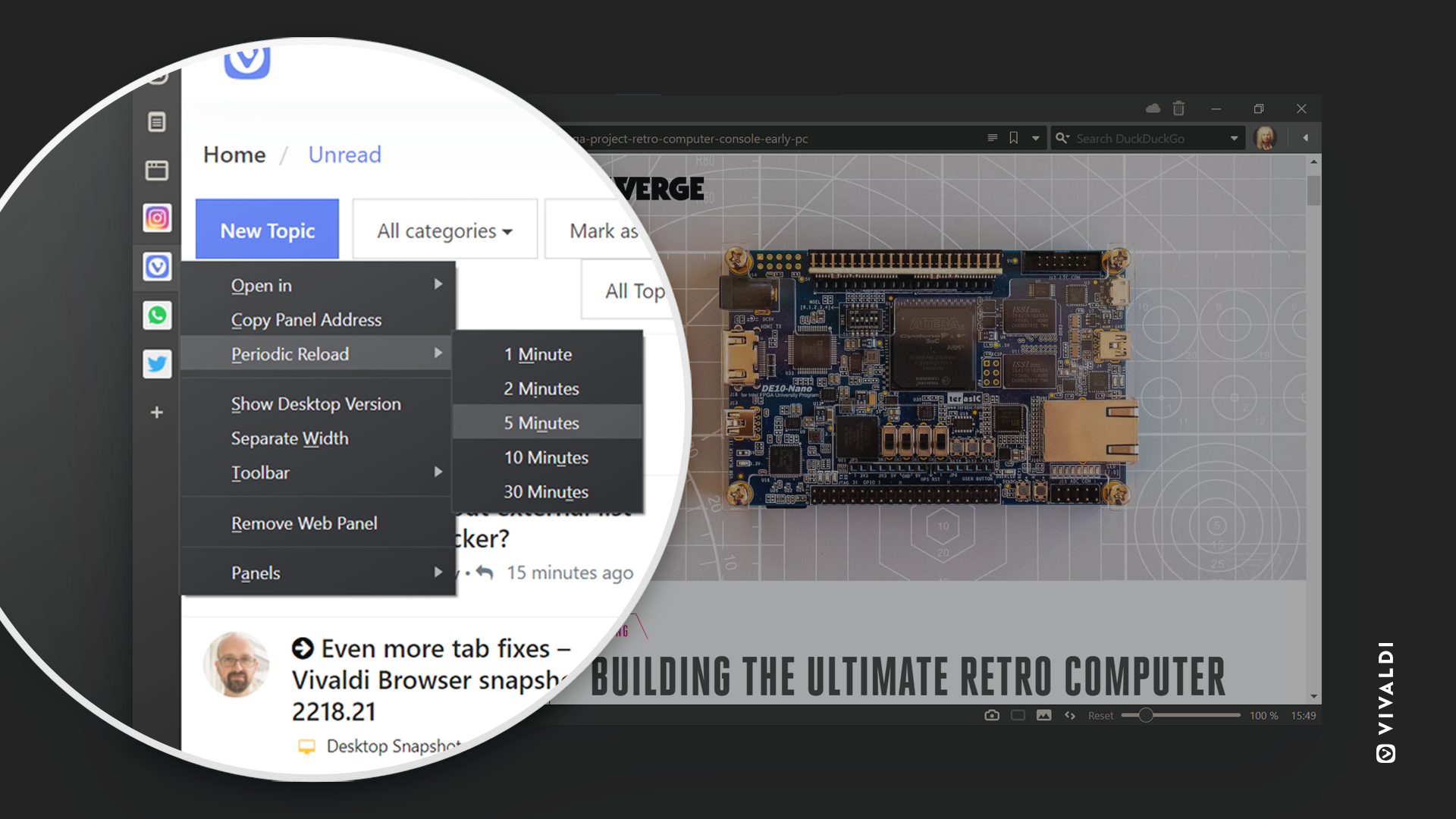 A great thing about Web Panels is that if you frequently access a site that doesn't automatically refresh with new content, you can add it as a web panel and configure it to automatically reload the page intermittently.
This means your content will always be up to date when you need it, and there are 5 different reload times available, which means you have control over how often it reloads the page.
To set this, you just need to right-click on the Web Panel, select 'Periodic Reload', and choose the reload time you want.
Separate Width
If you open a panel and resize it by clicking the edge and dragging, it will change the size for all of your Panels. This is useful if you want them all to be the same size, but sometimes you might want them to be different widths.
This is where the 'Separate Width' functionality adds some flexibility to your panels. If you right-click on the panel you want to resize, then click 'Separate Width', you can now change the size of that Panel independently from the rest.
As an example, I like to keep my panel quite narrow so I can still read what's on the page, but for my email, I have it much wider so that I can use all of the functionality.
Notification counter
I talked before about using Web Panels for messaging, and a brilliant feature that makes this easier is the notification counter. Just go to the Panels section in your settings and select 'Detect Page Title Notifications' and you will get a counter in your panel bar that tells you how many notifications you've received.
This is great to easily see how many emails, messages, reminders, etc you've got waiting for you, without having to open the panel itself.
Now it's your turn to freestyle
The biggest strength of Panels is that you can customize them to suit your needs. How I use panels will probably differ from how you use panels, and that's the beauty of them.
Play around with the settings, try different web pages as panels, and see what works for you.
Now it's your turn to climb the diving board and perform a triple twisting summersault into panels. Just make sure to let us know how it went in the comments below.