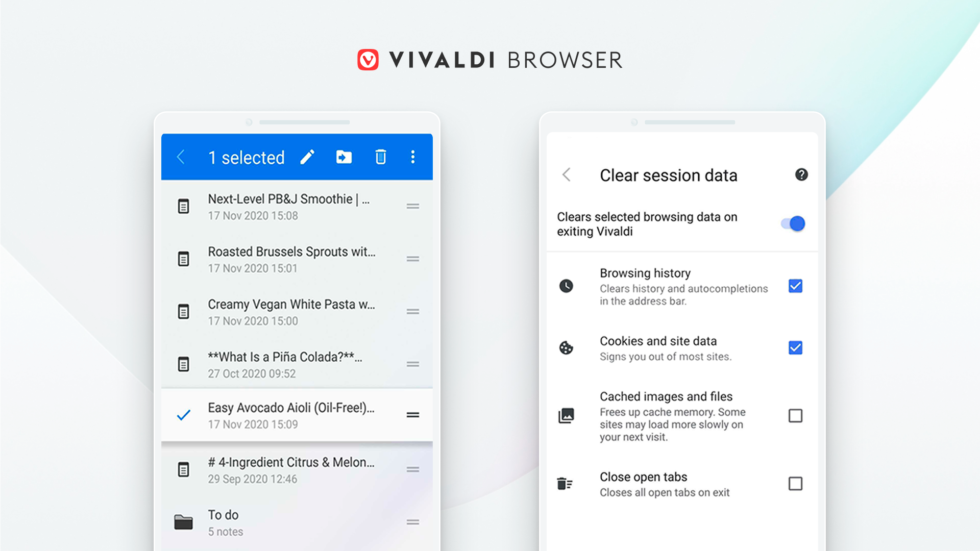 OSLO, Norway – December 3rd, 2020: Just ahead of the holiday season, Vivaldi Technologies releases a new update to its browser on Android devices – Vivaldi 3.5 – adding privacy options that allow users to delete their browsing data on exiting the browser.
Users can also turn off WebRTC (Web Real-Time communication) which prevents leaking their IP address when using an anonymized (private) VPN.
The update also lets users sort their Notes and Bookmarks an option available in Vivaldi on desktop as well. Users can also reorder Notes per their preference.
The new version can be downloaded for free on mobiles and tablets running Android 5 or higher. It also runs on up-to-date Chromebooks.
"Many of you want to browse with more privacy. Our features represent what our users want – privacy and efficiency", Vivaldi CEO Jon von Tetzchner says. "We continue to provide convenient solutions that our users appreciate."

Clear session browsing data on exit
Users should have more control over their data and browsing history. Hence, Vivaldi adds one of the most requested options – "Clear session browsing data on exit". This means users can choose to remove selected browsing data every time they exit the browser. Users can remove:
● Browsing history: Clears history and autocompletions in the Address Bar.
● Cookies and site data: Lets users sign out of most sites.
● Cached images and files: Frees up cache memory.
● Close open tabs.
While off by default, this function can be easily enabled. Tap the Vivaldi icon and head over to Settings → Privacy → Clear session browsing data on exit.
Once enabled, users can free up memory space, speed up the overall browsing experience, and of course, browse with more privacy.
Disable WebRTC Broadcast IP
WebRTC (Web Real-time Communication) is used primarily for peer to peer web applications. It allows users to use voice, video chat, and file-sharing applications without needing to install any plugins in the browser, but it has its drawbacks.
It leaks user IP address to websites when using a VPN. If users don't want to leave any fingerprints on the web, they can turn off broadcasting their IP address. All other parts of WebRTC will continue to function.
Vivaldi on Android has Broadcast IP for best WebRTC performance enabled by default. But now users can easily disable it and protect their privacy when they use an anonymized (private) VPN.
But turning off this option may result in issues related to performance and site incompatibility for the WebRTC based applications. Hence, users can decide to turn it on or off for the services they trust.
Users can enable this feature in Vivaldi browser Settings. Head to the Privacy section, and uncheck the option that reads "Broadcast IP for Best WebRTC Performance."
The desktop version of Vivaldi offers the same functionality. In fact, Vivaldi was the first browser to integrate this option, as this is critical functionality for user privacy.

Sorting of Notes and Bookmarks
Jotting things down or making lists while browsing and staying in the same app is functionality that only Vivaldi offers. Also syncing Notes with other phones or computers with Vivaldi installations is easy with our built-in encrypted Sync functionality.
In this update, there's more to the built-in Notes feature. Users can sort notes according to different criteria such as by title, by the date of creation, or even by content.
Additionally, Notes can be reordered manually.
Notes can be accessed in the Panel at the bottom left corner of the screen. Simply tap on the top right of the screen in the Notes function, and sort and reorder the notes.
Vivaldi aims to harmonize its experience across mobile and desktop products – with the look-and-feel and a familiar set of built-in tools.
Hence, like Bookmarks on desktop, users can now sort their favorite websites and bookmarks on Android according to their title, address, description, and nickname, the latter given to them for easy access from the flexible Address Bar.
Also, there's manual sorting for Bookmarks, if that's what users prefer. Sort them from the top right of the screen via the Panel.
Once again, Bookmarks can be synced allowing users to bring Vivaldi everywhere they go.
"Keeping track of all the information while you browse is overwhelming. The new additions in Notes and Bookmarks will make your browsing more organized and quick", Vivaldi CEO Jon von Tetzchner says.