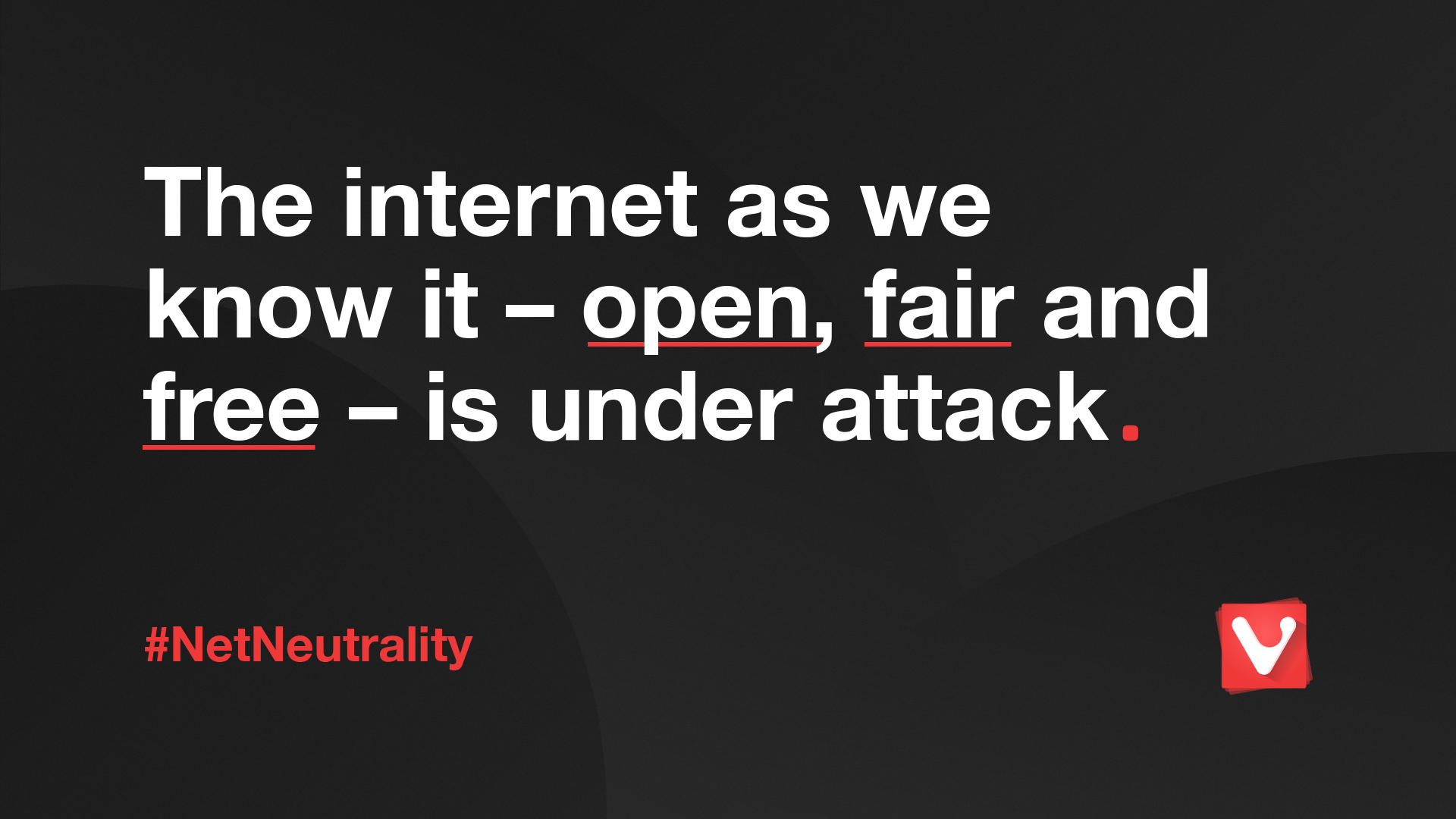 OSLO, Norway – 11 July, 2017 –  Vivaldi has announced that it will participate in the Internet-Wide Day of Action to Save Net Neutrality scheduled for July 12th to oppose the FCC's plan to slash Title II, the legal foundation for net neutrality rules that protect online free speech and innovation. Twitter, Reddit, Netflix, Amazon, Kickstarter, Etsy, Vimeo, Mozilla, OK Cupid, Imgur, Medium, and dozens of other major sites are also participating.
Vivaldi and other participants will display a prominent message to our users on July 12 and encourage them to take action by contacting Congress and the FCC.
"We need a thriving internet for the users – not a limiting space controlled by a handful of monopolists. This is a battle we can't afford to lose", says Jon von Tetzchner, CEO at Vivaldi Technologies.
Jon von Tetzchner, an industry pioneer has devoted his life in bringing internet to people. He speaks strongly for Net Neutrality and his full statement can be read here:
https://vivaldi.com/blog/dont-let-monopolists-call-the-shots-save-the-internet/
More than 50,000 people, sites, and organizations have signed on to the effort overall, and more announcements from major companies are expected in the coming days. Participants will display prominent messages on their homepages on July 12 or encourage users to take action in other ways, using push notifications, videos, social media, and emails.
See the announcement for the day of action here: https://battleforthenet.com/july12
The effort is led by many of the grassroots groups behind the largest online protests in history including the SOPA blackout and the Internet Slowdown.
"If we lose net neutrality, the Internet will never be the same," said Evan Greer, campaign director of Fight for the Future, one of the leading groups behind the protest, "No one wants their cable company to have control over what they can see and do online. Internet users know that their freedom is worth fighting for, and on July 12, we'll fight to win."