OSLO, Norway – 10 August, 2017 – Vivaldi, the most customizable web browser for power users, releases version 1.11 today with an improved Reader Mode, ability to easily turn off animated GIFs, adjustable Mouse Gesture sensitivity and a new icon.
"We at Vivaldi strive to make the Internet accessible for all by building a browser that adapts to the user," says Jon von Tetzchner, CEO at Vivaldi Technologies. "Catering for individual requirements is at the heart of our efforts."
Advanced Reader Mode
Vivaldi's Reader Mode provides a clutter-free reading environment by stripping off unwanted advertisements, videos and other distractions. With version 1.11, users can adjust the settings right at the top of the page they're currently viewing in the Reader Mode. Without having to navigate away from the page, they can choose the font type and size of the text, set the column width and line height, as well as select either dark or light background.
Vivaldi's custom Themes add another dimension to the improved Reader Mode. Users can choose their custom Theme and apply it to the Reader Mode. Custom Themes in Vivaldi have programmatic support to enforce minimal contrast, which makes the browser more comfortable for people with visual impairments.

Easy way to turn off GIF animations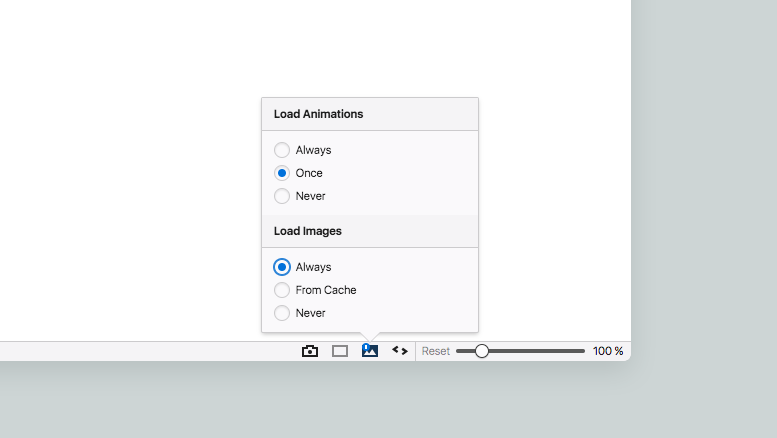 Vivaldi now offers a simple way of turning off GIF animations – a convenient option for people who react to flashing images and want to avoid them. Clicking on the Toggle Images icon in the Status Bar at the bottom of the screen reveals three options for loading animations – always, once or never.
Adjustable Mouse Gesture sensitivity
Editable Mouse Gestures in Vivaldi let users execute a command with a simple movement of the mouse. This accessibility feature lets users make their own mouse gestures at their convenience. In version 1.11, users get even more control over this feature with the ability to set the minimum stroke length for the gesture to be registered. The default minimum stroke length is set to 5 pixels and can be increased to up to 100 pixels, all controlled with a slider in the Settings.
Accessibility in Vivaldi
Other popular accessibility features in Vivaldi include:
Spatial navigation – the ability to quickly navigate to content with less input.
Quick Commands and keyboard shortcuts – controlling the browser from keyboard.
Zoom – ability to zoom on selected pages and set a zoom level on a per tab basis.
Meet the new V
Releasing version 1.11, Vivaldi updates its application icon to better reflect its innovative and yet playful side. The new icon with a rounder shape and a cleaner contemporary look has a friendlier appeal and makes the signature "V" stand out.
"As we keep redefining what a modern browser is, we want the Vivaldi icon – the first thing people see when they start up the program – to give a better, more pleasant visual experience to our users," says Atle Mo, designer at Vivaldi Technologies. "This update marks the beginning of a larger visual overhaul as we're working on our default themes and webpages. Stay tuned!"
###
About Vivaldi Technologies
Vivaldi Technologies is an employee-owned company that creates products and services for discerning web users. In everything it does, Vivaldi believes in putting its users first. Vivaldi is headquartered in Oslo, with offices in Reykjavik, Boston and Palo Alto. Learn more about our mission at vivaldi.com.
For more information, please contact:
Varsha Chowdhury

[email protected]
Margarita Sjursen
[email protected]
Follow Vivaldi
Twitter | Facebook | Instagram | LinkedIn | Google+