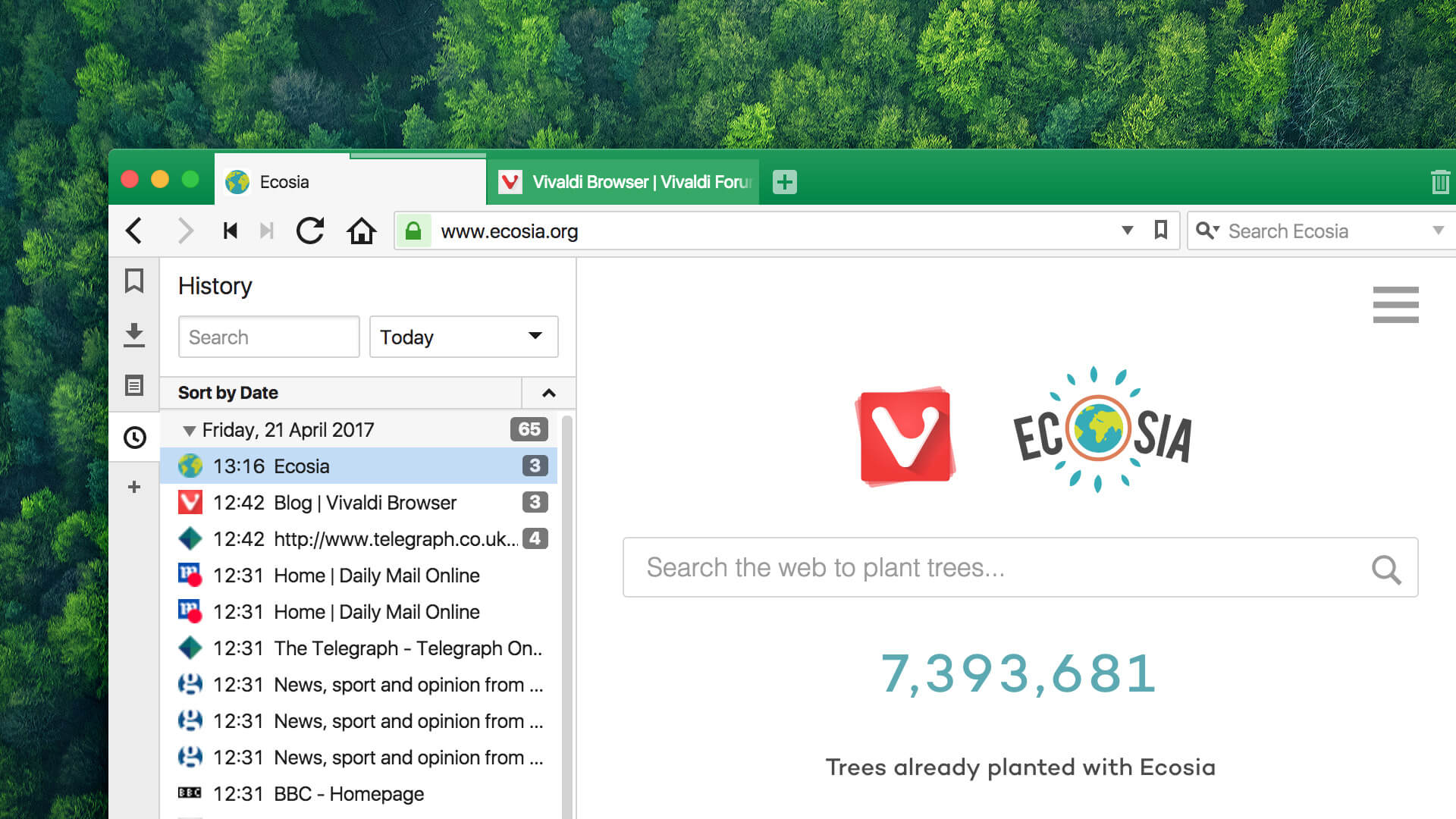 OSLO, Norway – 27 April, 2017 – Vivaldi, the most flexible and feature rich web browser, and Ecosia, the search engine that plants trees, join efforts to support environmental projects around the world.
As a result of this partnership, people using Ecosia in the Vivaldi browser can turn their web searches into trees planted in the world's most environmentally threatened areas. Ecosia donates at least 80% of its profits from search ad revenue to support tree planting programs around the world.
"We are proud to join forces with Ecosia and look forward to our users making a real difference to the environment by simply searching the web," says Jon von Tetzchner, CEO at Vivaldi Technologies. "At Vivaldi, we strongly believe in putting people in charge of their browsing experience, and by including Ecosia, we give our eco-conscious users easy access to a greener search engine option."
Searching with Ecosia, users will see a small tree counter appear in the top right corner of the screen. It will show a personal record of how many trees the user has helped plant using the environmentally-conscious search engine. Ecosia has planted close to 7.5 million trees since its launch in 2009 and is hoping to reach 1 billion by the year of 2020 – now with the help of Vivaldi users.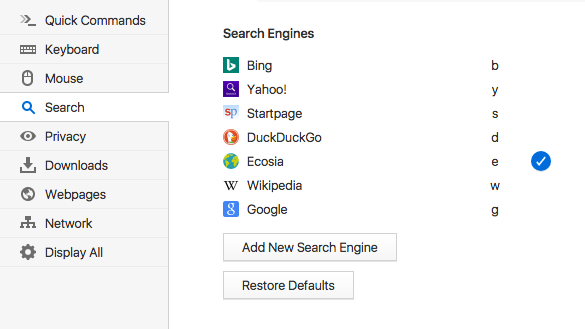 "We are delighted to be collaborating with Vivaldi and their users," says Ecosia CEO Christian Kroll. "This will be a huge step towards our goal of financing the planting of 1 billion trees by 2020, proving that technology really can empower millions to have a tangible impact on the planet."
Vivaldi, launched in 2016, is a flexible, fully customizable browser that adapts to its users and offers more features than any other modern browser. Some of the highlight features include:
Advanced tab handling – ability to group, tile, move and pin tabs.
Side panel with easy access to bookmarks, downloads, notes, browsing history and websites of users' choice.
Built-in screenshot tool that lets users capture entire webpages or selections.
Powerful history overview that lets users explore their browsing patterns, backed by statistics and visual clues.
Customizable look and feel of the browser interface.
About Vivaldi Technologies
Vivaldi Technologies is an employee-owned company that creates products and services for discerning web users. In everything it does, Vivaldi believes in putting its users first. Vivaldi is headquartered in Oslo, with offices in Reykjavik, Boston and Palo Alto. Learn more about our mission at vivaldi.com.
About Ecosia
Ecosia is a social business run by a small group of dedicated people. We work together to create tools that empower everyone to easily do good by planting trees. We believe our trees have the power to make this world a better place for everyone in it. Learn more at ecosia.org.
For more information, please contact:
Varsha Chowdhury

[email protected]
Margarita Sjursen
[email protected]
Follow Vivaldi
Twitter | Facebook | Instagram | LinkedIn | Google+