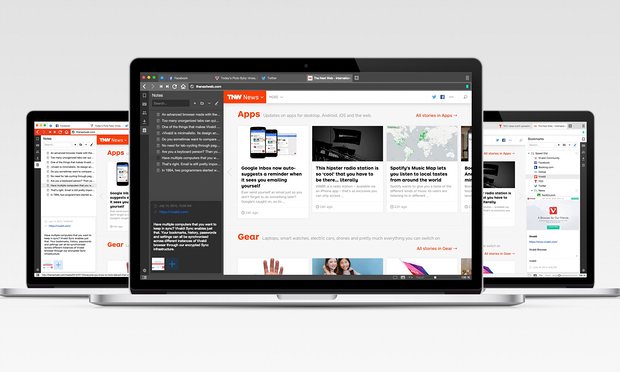 OSLO, Norway – 16 July, 2015
More customizations
You spend a lot of time with your web browser. It should look and feel the way you want it to. To help you do just this, Vivaldi features a number of customization options.
Select from our two color Themes to change the appearance from light gray to a dark charcoal, with or without tab colors. If the UI elements are too small, you can adjust them in size with UI Zoom.
Don't like your tabs on the top? Place your tabs – or even your bookmarks – on the top, bottom, right or left of the browser.
There are hundreds of other ways to customize your Vivaldi web browser, and you can do it with just a few clicks. It's what the Vivaldi team wants in a web browser and, based on your feedback, what you want as well.
"We have a saying, when in doubt, make it an option," says Jon von Tetzchner, CEO, Vivaldi Technologies. "Some people fear choices. But your web browser is something you use throughout your day. Shouldn't it look, feel and work the way you want it to?"
Von Tetzchner continues: "Of course, a browser has to be great out of the box. But today, browsers tend to restrict options and confine you to more pre-determined and locked settings in the name of simplicity. They want to protect you from the tyranny of choice. But always telling people we know what's best for you strikes me as another form of tyranny. When you choose Vivaldi, you take back the freedom of choice that other browsers want to restrict."
"At the end of the day, we're just a browser company. But every company should have principles and values, and one of ours is to give our users more options, and more control over our product," he concludes.
Beyond a strong ideology, Vivaldi also packs in even more features to a release. Here are select few of the hundreds of improvements made since the previous Technical Preview.
More mouse gestures
An incredibly powerful feature, mouse gestures allow you to execute common browser actions with a few flicks of your wrist. New mouse gestures in this release include gestures for tab switching. Also, touchpad users can now benefit from our extensive range of gestures – just hold down the Alt key while swiping.
Cheating is now allowed
But only when it comes to keyboard shortcuts. If you can't remember a particular key combination, a new cheat sheet in the browser puts it right at your fingertips.
Experimental Extensions
Work on extensions is not finished, but now users who install the AdBlock+ extension for Chrome will find that it works in Vivaldi.