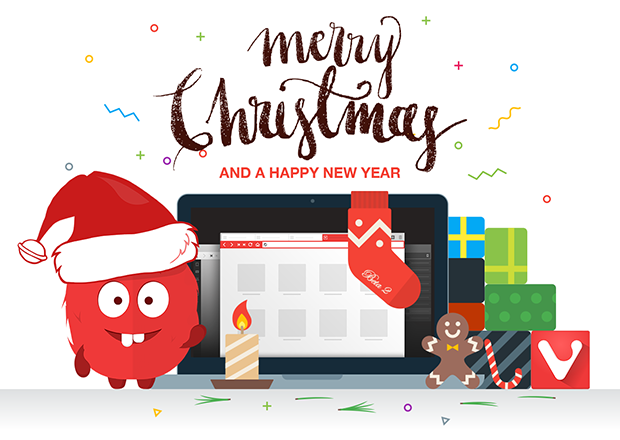 'Twas eight days before Christmas, when all through the web
Not a cursor was clicked, not even with a mouse;
The tabs were stacked so lovingly with care,
awaiting Vivaldi beta 2, soon to be there;
Users were nestled snug in their beds;
While visions of Web Panels danced in their heads;
And one team in Oslo, with another in Iceland
Submitted the last bug fix, elegant and grand;
Then on the web there arose such a clatter,
I used a Quick Command to see what was the matter.
Wait – first you must know – I like HTML5 but don't hate Flash
And my browser made with Web standards – and a few lines of Bash.
My UI so clean, like new-fallen snow,
Adapted to colors on the sites below,
Then what to my wondering eyes did appear?
At Vivaldi.com – a big download button, the new beta so near,
Packed with the many features I so dearly love,
I knew Vivaldi beta 2 would fit me like a glove.
It downloaded so fast, and I could remain in bed,
While co-founder and CEO @jonsvt said:
"Now with STFU mode, to silence tabs among us!
And Netflix support, so crucial and wondrous!
New options will let font sizes be changed,
A trash can so lost bookmarks can now be regained,
We thank our fans, who help us spread the word
And our Sopranos, whose efforts put bugs to the sword.
So this holiday, choose a browser with features that might,
Give happy browsing to all, a better browser is our right."
– Inspired by "A Visit from St. Nicholas", by Clement Clarke Moore