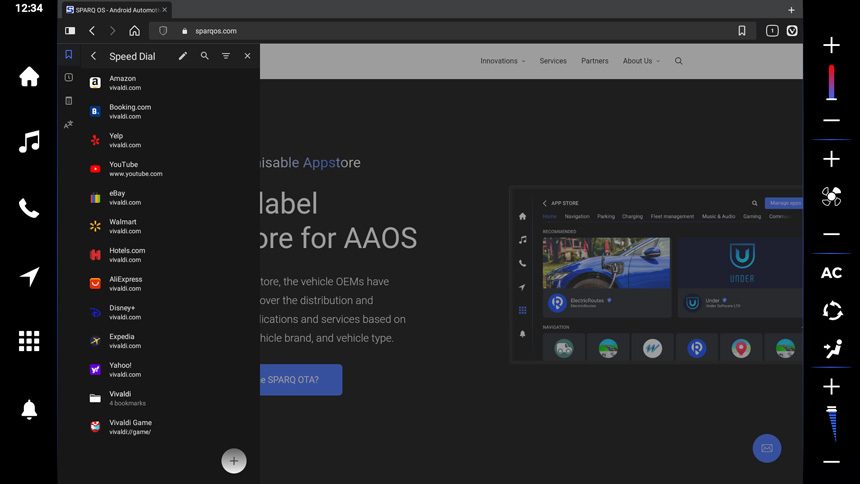 Stuttgart, Germany, and Oslo, Norway – 9 March 2023
Highlights:
P3 has integrated and gone live with leading web browser Vivaldi as part of its fast-growing SPARQ OS (Android Automotive operating system) IVI platform.
OEMs that deploy SPARQ gain flexibility, and accelerated time to market, with the opportunity to instantly offer state-of-the-art Vivaldi browsing to their customers.
Carmakers further benefit from economies in time, management, and technology resources through Vivaldi pre-certification.
Owners of cars with SPARQ-powered IVI get easy access to Vivaldi's superior and secure browsing experience, with no need to download or use other devices.
P3, a leading provider of in-vehicle Infotainment (IVI) systems based on Android Automotive, announces that it has integrated the latest version of Vivaldi into its flagship SPARQ OS (operating system) platform. By enabling Vivaldi, now live, SPARQ becomes even more versatile and user-friendly, with benefits for both OEMs and their customers.
Vivaldi is the de facto browser in the most advanced Android Automotive-powered IVI systems on the road today. It is available in Polestar 2 and 3 and Renault's next-generation cars – Megane E-Tech Electric, All-New Austral, and ​​all future cars with the OpenR Link system. It will also be pre-installed in the 2024 Mercedes E-Class and available in cars of the Volkswagen Group brands, beginning with Audi in July 2023.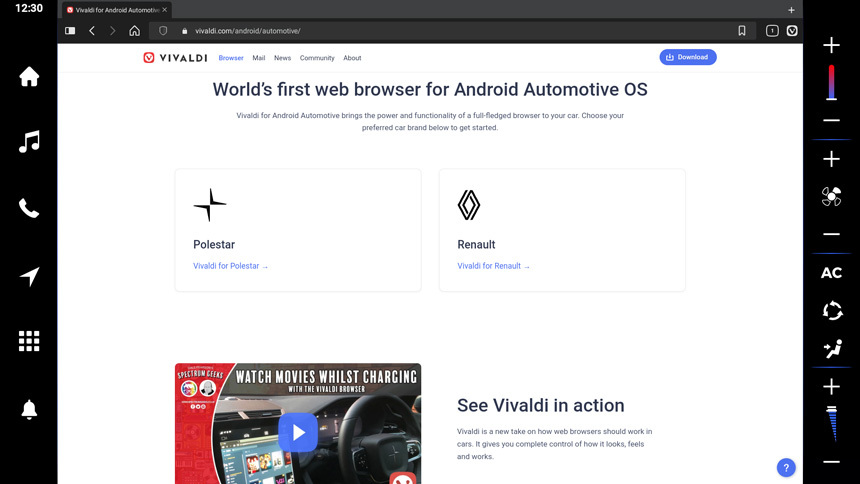 SPARQ is P3's turnkey in-vehicle infotainment solution is the world's fastest-growing in-car infotainment operating system. With Vivaldi as part of the SPARQ ecosystem, carmakers can benefit from extra flexibility, and rapid time to market, while the consumers who purchase their vehicles gain additional choices. OEMs who choose to deploy SPARQ can immediately offer Vivaldi as part of their IVI app store, without securing licenses and commercial agreements with Vivaldi. This results in faster time to market to offer the Vivaldi browser to car owners. Meanwhile, the carmaker saves on management and integration time and cost.
A leading Android Automotive OS partner, P3 creates customized IVI systems, enabling car manufacturers to differentiate by providing customers with advanced Android-powered services and superior UX (user experiences).
Vivaldi is the first full-featured browser available for Android Automotive; it offers a feel-at-home experience even when behind the wheel. People can watch, shop, and browse all from the comfort of their cars, with no need for a smartphone or tablet. With Vivaldi integrated into SPARQ, people will experience easy-to-use, customizable, and privacy-friendly browsing. Its unique user interface with a scalable zoom has been specially designed for both big and small screens.
Key user benefits of Vivaldi:
Stream favorites: Access streaming services easily, without the need for third-party apps. To ensure safety, the browser is functional only when parked. Streaming content will continue as audio-only if driving commences.
Start from where you left off: Sync browser data safely across different devices synced to Vivaldi on phones, tablets, Chromebooks, and computers.
Stay connected: Take video calls from the driver's seat and set up access to the go-to web apps.
Stay safe, browse fast: Block trackers and annoying ads with the built-in Tracker and Ad Blocker.
We are really excited to be working with P3, a true innovator, and to see the Vivaldi browser integrated with SPARQ OS. This is a great solution for carmakers and for car owners alike, and we are thrilled to be part of the fast-growing SPARQ ecosystem," says Jon Stephenson von Tetzchner, Co-Founder and CEO of Vivaldi.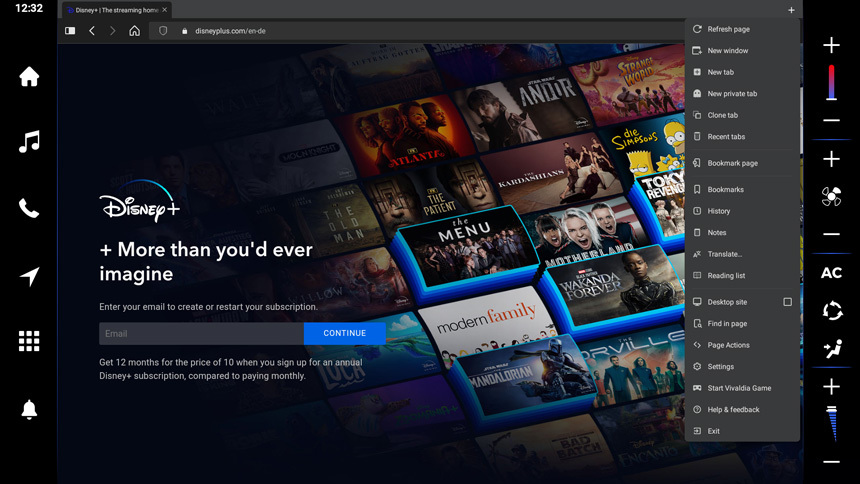 Vivaldi is at the vanguard of automotive infotainment today and delivers the superior in-vehicle user experience today's consumers' demand. Introducing Vivaldi is yet another key milestone in the dynamic evolution of SPARQ OS. Thanks to our growing partner ecosystem, our Android Automotive-powered infotainment solution just keeps growing and getting better, while delivering new opportunities for automakers," says Marius Mailat, P3 digital services Managing Director and CTO.
About P3 digital services
With 26 years of experience in automotive industry consulting and software development, P3 creates customized in-vehicle Infotainment (IVI) based on Android Automotive OS. SPARQ OS is P3's flagship IVI solution powered by Android Automotive OS, the fastest-growing in-car infotainment operating system today. P3 helps car manufacturers to differentiate by delivering advanced top-bottom custom Human-Machine Interface (HMI), service layer, and Vehicle Hardware Abstraction Layer (VHAL) integration. Major car and truck makers rely on P3 innovations, including Renault Trucks Oxygen.
P3 digital services are part of P3 group, a leading international technology consulting and software development company with a rapidly growing team of more than 1,600 consultants and engineers working to develop and implement innovative solutions to today's complex technology challenges. With customers spanning a wide range of sectors, including automotive, aerospace, telecommunications, and energy industries, P3 provides a broad portfolio of services and proprietary tools that add tangible value to businesses and the customers they serve. P3 works in close collaboration with network operators, equipment vendors, device manufacturers, public safety organizations, and regulatory authorities around the world. www.p3-group.com
For media information regarding P3:
Cynthia Ritchie
White Tiger Communications
[email protected]
+44 20 4518 7555