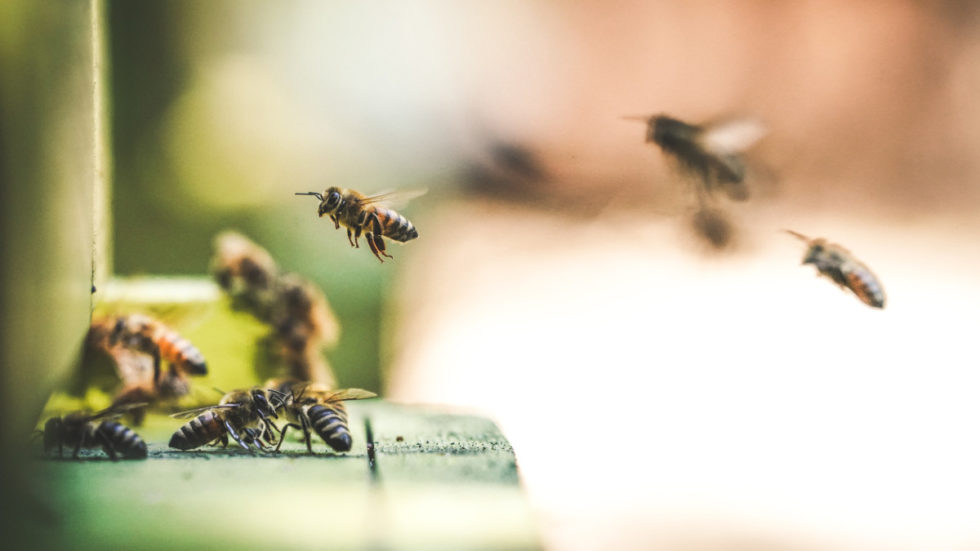 It's that (randomly-chosen) time of year, folks! The time we brag about what people are writing about us. Our excuse to do this today is actually nothing but to just share some of the wonderful buzz around Vivaldi. Got it? 
Well, the internet aficionados have quite a few insights and tips on why you prefer or why you should use Vivaldi, and more. Being talked about in various parts of the world is exciting and we'd like to take you on an absolutely free ride. 🛫
But first, fasten your seat belts! 
Our first stop is the land of Bigos and Pierogies. Delicious. 😋 You got it right! Poland, it is. 
If you are from Poland or understand Polish, then Dobreprogamy, a well-known tech website must ring a bell. They recently did a performance test on various browsers based on some benchmarks.
Like any hard-working student waiting for their results, we anticipated positive results.
We did well. Collars up. Yay! 😄
The results also gave way for us to keep improving on speed and performance. Trust us, we are on it!
Check what Dobreprogramy has to say about us here.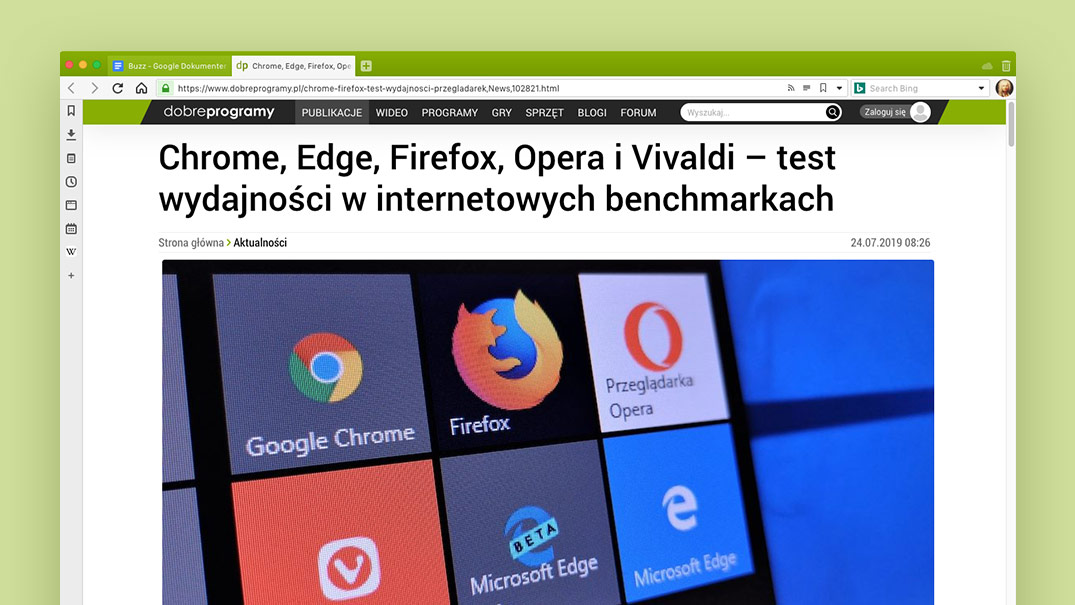 From Poland, we are off to France where one word rules them all – Bonjour. It is simply not just a greeting. It is a way of starting a conversation.
And on that note: "Bonjour, Logitheque! Thanks for a super recommendation of Vivaldi to your readers."
So what did Logitheque, the French tech website actually do? They simply asked: 
"What is really the best web browser?"
And they seemed pretty impressed by Vivaldi.
A gist of the story: "Very stable and fast, Vivaldi stands out (in our eyes) ……"
We can't tell you how much we love those eyes 👀 , and of course, the write-up. Merci. 🙏
Take a look right here.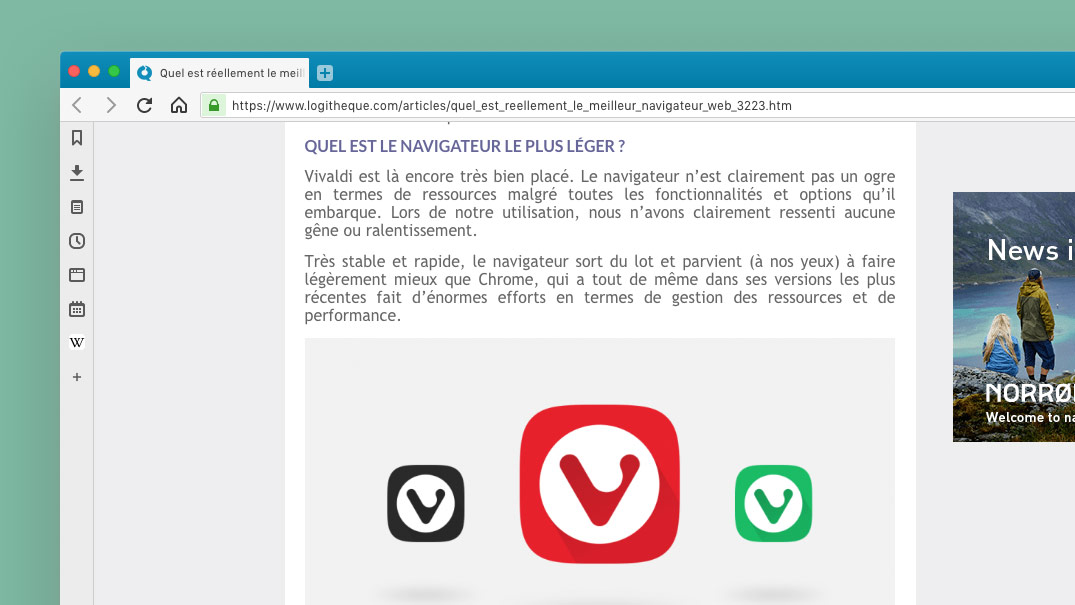 Now we head to Russia and if you happen to speak Russian, here's something for you.
BTW, our Russian friends love Vivaldi and their parentheses (which they use instead of smileys) – both are unique and the latter is a trendy thing in the Russian-speaking segment of the web. 🙂
Recently, Vivaldi CEO Jon von Tetzchner was interviewed by a budding Russian business media outlet called The Bell.
This tete-a-tete brings up something that Jon believes in, "When in doubt, make it an option", and if not then you are definitely using Vivaldi. 😉
But on a serious note, you will find a lot more about Vivaldi, its existence and some nice anecdotes here.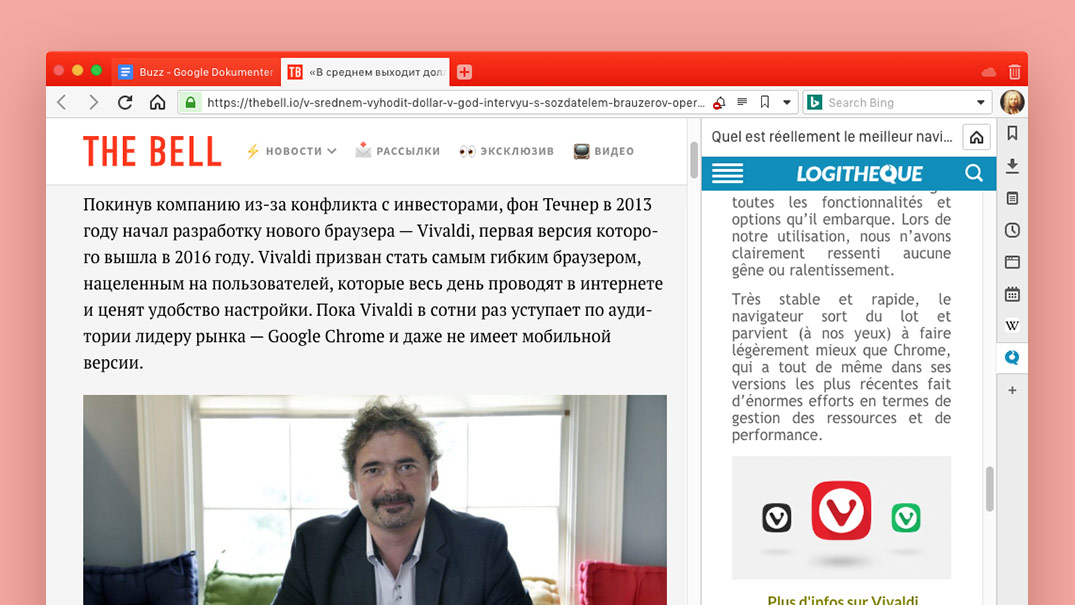 We continue with this tour with a little sprinkle from a story from the hugely popular Cnet:
"Vivaldi is a hyper-customisable browser that's expected to release versions for iOS and Android in 2019 (sans ad blockers, along with a stand-alone email module)."
Hmm, a slight correction: We will be out with the Android version first.📱 And the iOS version? That will follow later.
But wait, we aren't done yet, we've got a couple more to share before we finally wrap this! 
Browser discussions, everywhere and all the time! And very recently, The Register took our opinion on a very relevant discussion about hiding 'www' and 'https' in the URL bar of the browser. We'll stick to our opinion and we'll continue to enjoy the humor through the image in this article. Funny indeed. 😂 Check it out here. 
If you are a Medium patron, then we have something more for you which touches upon the famous Shakespearean quote  "What's in a name?"! 
Yes, where and how did Vivaldi get its name? 🤔
All this and more from our CEO Jon von Tetzchner in this interview.
* * *
People will no doubt continue to write about Vivaldi. 😊
Some will publish articles on tech sites and magazines, others will share how they feel about Vivaldi on social media and forums, and yet more people will blog or vlog about us. 
These are all phenomenal ways to help us grow! So continue to spread the word about Vivaldi, and we'll continue to give you a better browser.
Main photo by Eric Ward on Unsplash.