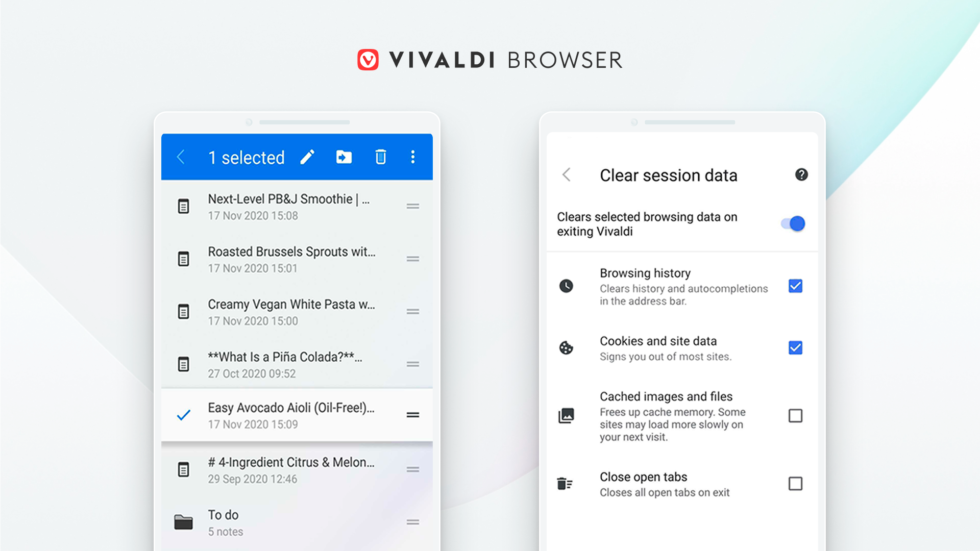 Read this article in Deutsch, Español, Français, polski, 日本語, Русский, Türkçe.
Just ahead of the holiday season, we have a new version on Android.
Vivaldi 3.5 has privacy options that allow you to delete your browsing data on exiting the browser. You can also turn off WebRTC (Web Real-Time communication) which prevents leaking your IP address when using a privacy VPN.
We also give you the ability to sort your Notes and Bookmarks, an option you'll be familiar with from Vivaldi on desktop. You can also reorder Notes per your preference.
The new version can be downloaded for free on mobiles and tablets running Android 5 or higher. You can also run Vivaldi on up-to-date Chromebooks.

Clear session browsing data on exit
We want you to have more control of your data and browsing history. Hence, we have added an option that has been highly requested – "Clear session browsing data on exit". This means you can choose to remove selected browsing data every time you exit the browser. You can remove:
✔️ Browsing history: Clears history and autocompletions in the Address Bar.
✔️ Cookies and site data: Lets you sign out of most sites.
✔️ Cached images and files: Frees up cache memory.
✔️ Close open tabs.
While off by default, this function can be easily enabled. Tap the Vivaldi icon and head over to Settings → Privacy → Clear session browsing data on exit.
Once enabled, you can free up memory space, speed up the overall browsing experience, and of course, browse with more privacy.
If you would like to use this option for privacy, you might also want to check out private browsing mode in Vivaldi, which might also serve the purpose you are looking for.
Disable WebRTC Broadcast IP
WebRTC (Web Real-time Communication) is primarily used for peer to peer web applications. It allows you to use voice, video chat, and file-sharing applications without needing to install any plugins in the browser, but it has its drawbacks.
It leaks your (user) IP address to websites when using a VPN. If you don't want to leave your fingerprints on the web, you can turn off broadcasting your IP address. All other parts of WebRTC will continue to function.
Vivaldi on Android has Broadcast IP for best WebRTC performance enabled by default. But now you can easily disable it and protect your privacy in situations where you use an anonymizing (privacy)VPN.
But turning off this option may lead to issues related to performance and site incompatibility for the WebRTC based applications that you use. Hence, we let you decide to turn it on or off for the services you trust.
To enable this feature, you must go to the Vivaldi Settings → Privacy, and uncheck the option "Broadcast IP for Best WebRTC Performance."
You'll find the same functionality in the desktop version of Vivaldi. As we consider this to be critical functionality, we were the first browser to integrate this customizable option.

Sorting of Notes and Bookmarks
Jotting things down or making lists while browsing, and staying in the same app, is functionality that only Vivaldi offers. Also syncing Notes with other phones or your computer with Vivaldi installations is easy with our built-in encrypted Sync functionality.
Now in this update, we've added more options to the built-in Notes.
You can now sort notes according to different criteria such as by title, by the date of creation, or even by content.
Additionally, you can reorder Notes manually.
You can access Notes in the Panel at the bottom left corner of the screen. Simply tap on the top right of the screen in the Notes function, sort or reorder Notes as per your preference.
We're working to harmonize the Vivaldi experience across our mobile and desktop products – with the look-and-feel and a familiar set of built-in tools.
Hence, like Bookmarks on desktop, you can now sort your favorite websites and bookmarks on Android according to their title, address, description, and nickname, the latter given to them for easy access from the Address Bar.
Also, there's manual sorting for Bookmarks, if that's what you prefer. Sort them from the top right of the screen via the Panel.
Once again, you can sync your bookmarks and bring Vivaldi everywhere you go.
More in Vivaldi 3.5
The update has overall improvements including enhancements in the Start Page and the User Interface. Did you notice a white background at the bottom of the Navigation Bar? Now this area inherits the same color as the theme color that you are browsing with.
Download Vivaldi 3.5 and give us 5 stars
We hope these new additions will make your browsing faster, easier, more efficient, and private. We want you to get things done in Vivaldi, just the way you want. So your feedback is important. Please keep it coming. For more details, take a look at the changelog below.
But before that, head to the Google Play Store and download the browser.
Alternatively, you can download Vivaldi from Uptodown, the Android app store.
Your rating for our browser matters. ⭐️ ⭐️ ⭐️ ⭐️ ⭐️
Enjoy!
Changelog from 3.4 to 3.5
New features
Add option to clear data on exit VAB-961
Allow disabling WebRTC Broadcast IP on mobile VAB-2293
Add option to sort notes and bookmarks in panel VAB-646
Make it possible to reorder notes VAB-1859
[UI] Navigation bar should inherit Theme Color VAB-2130
Settings
Browser Privacy Policy redirects to Google page VAB-2704
Help redirects to Google VAB-2702
'Unable to access the network' after re-enabling tap to search VAB-296
Some settings change places in signed builds VAB-2480
Start Page
Add padding for default text based speed dial thumbnails VAB-2559
Big Speed Dials in landscape mode don't fit screen VAB-2656
Center large Speed Dial Folder titles VAB-2481
Incorrect margin inside speed dial folders VAB-2470
Moving Speed Dial item out of subfolder not possible by hovering subfolder back view VAB-2576
New folder icon for small speed dials
New small card layout VAB-2559
Plus button (+) isn't properly aligned for small speed dials VAB-2495
Scale up Text thumb for large Speed Dial VAB-2559
[Tablet] Speed Dial List mode should show two rows in landscape VAB-2580
Thumbnail improvements VAB-1695
Thumnbnail size and margin adjustments VAB-2559
Tab bar
Clone tab properly VAB-2064
Long press on close tab not working when address bar at the bottom VAB-2789
Long press on the plus button opens a new tab VAB-2599
User Interface
Adding long press menu on new tab button in tab bar VAB-2048
Closing the last tab causes a lag VAB-1586
Expand close button clicking area VAB-2506
Swap the location of Reload and Bookmark buttons in the menu VAB-2578
Vivaldi search widget doesn't function properly, with the address bar at the bottom VAB-2589
Others
[Address bar] Search suggestions go out of the screen VAB-2579
[Blocker] Remove the 280blocker.net adblock list from preset adblock sources VB-71901
[Menus] History on long press of the back button in Vivaldi menu VAB-2688
[Notes] New notes are not saved if we don't close it VAB-1718
[Search] Bing (Reverse) Image Search Loads a Blank Page VAB-2614
[Search] Difficult to search for phrases starting with single letters correlated to search engines VAB-2715
Upgraded Chromium to 87.0.4280.66