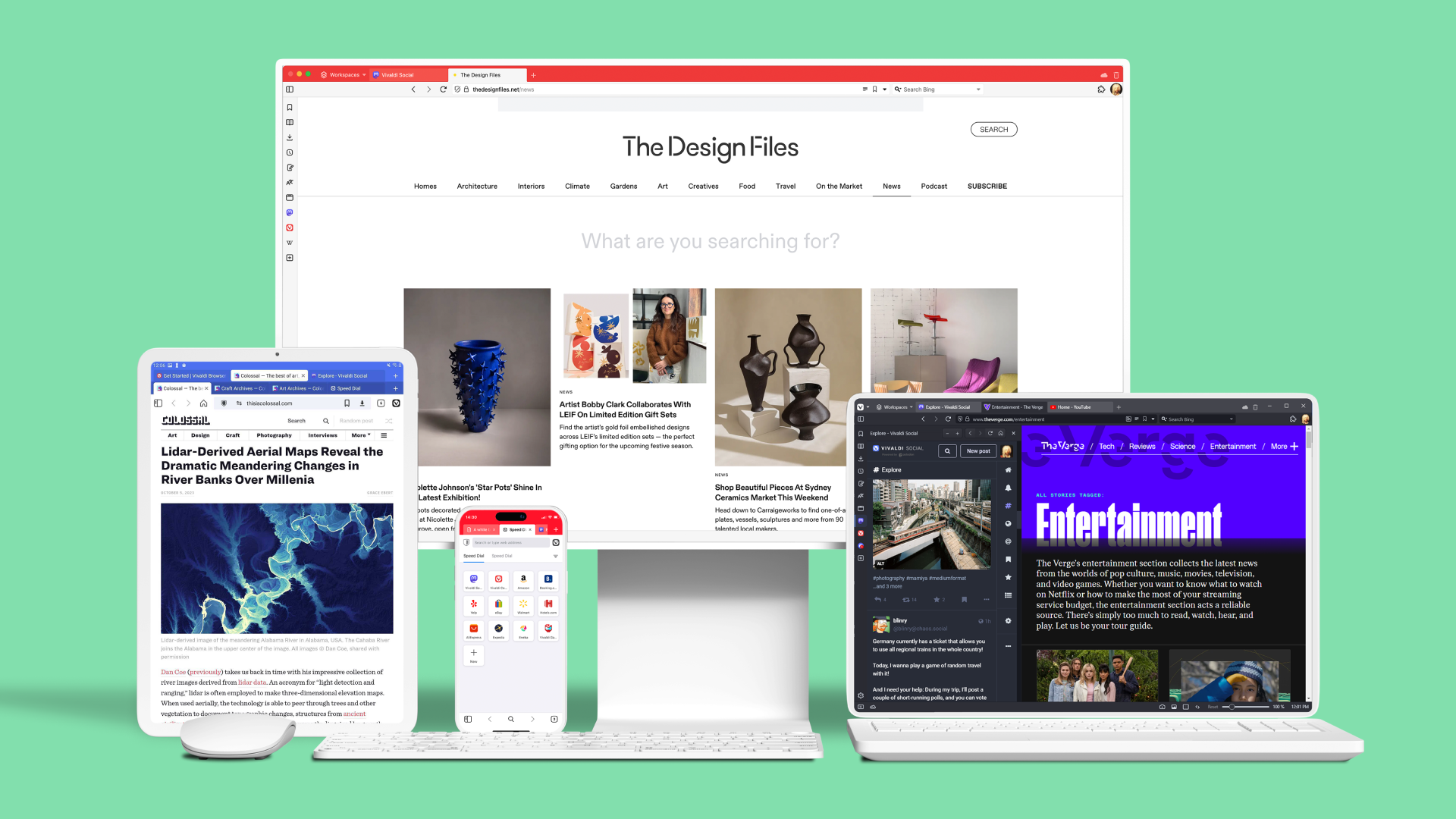 Read this article in español, 日本語, русский, Deutsch, język polski.
Recently, we launched Vivaldi on iOS. This means you can experience browsing that is powerful, personal, and private on all major platforms – Windows, macOS, Linux, Raspberry Pi, iOS, Android, and Android Automotive – making Vivaldi a truly cross-platform browser.
We are thrilled about our cross-platform expansion and to add to our excitement, our new update on desktop – Vivaldi 6.4 – releases with significant enhancements.
You can download the new version on your desktop and notebooks and enjoy the browser's unrivaled customizable functionality and powerful built-in features.
Browse on desktop, mobile, and in cars
We started building Vivaldi on desktop with a distinctive look and feel with the aim of extending the same design philosophy to multiple platforms.
Today, whichever platform you use, you will feel at home with Vivaldi's customizable user interface and a familiar set of built-in tools such as the Speed Dials, Desktop-style tabs, Panels, Notes, a Reading List, a Tracker and Ad Blocker, and Vivaldi Sync.
Sync your data, cross-platform
Vivaldi Sync keeps your data accessible between your computers, tablets, and smartphones. Whether browsing on desktop, Android, and iOS devices, or in a car, we ensure that your Bookmarks, Passwords, typed History, open Tabs, Reading List, and Notes are always in sync. You can also sync some settings such as search engines.
Keeping your data safe is our priority. That is why we store the Sync data on our own servers in Iceland. Even though we are using the Sync engine from Chromium, we have modified it to use our own server instead of Google's servers. This means you do not need to trust Google with your data. We have also added encryption to the data, using an encryption password that we do not have access to on our servers so that only you can access it.
Pop-out Videos and stay in control
We have heard you loud and clear: You need to adjust the volume level on the fly in the Pop-out Video (Picture-in-Picture) player.
In this update, we have added full volume level controls to the Pop-Out Video player.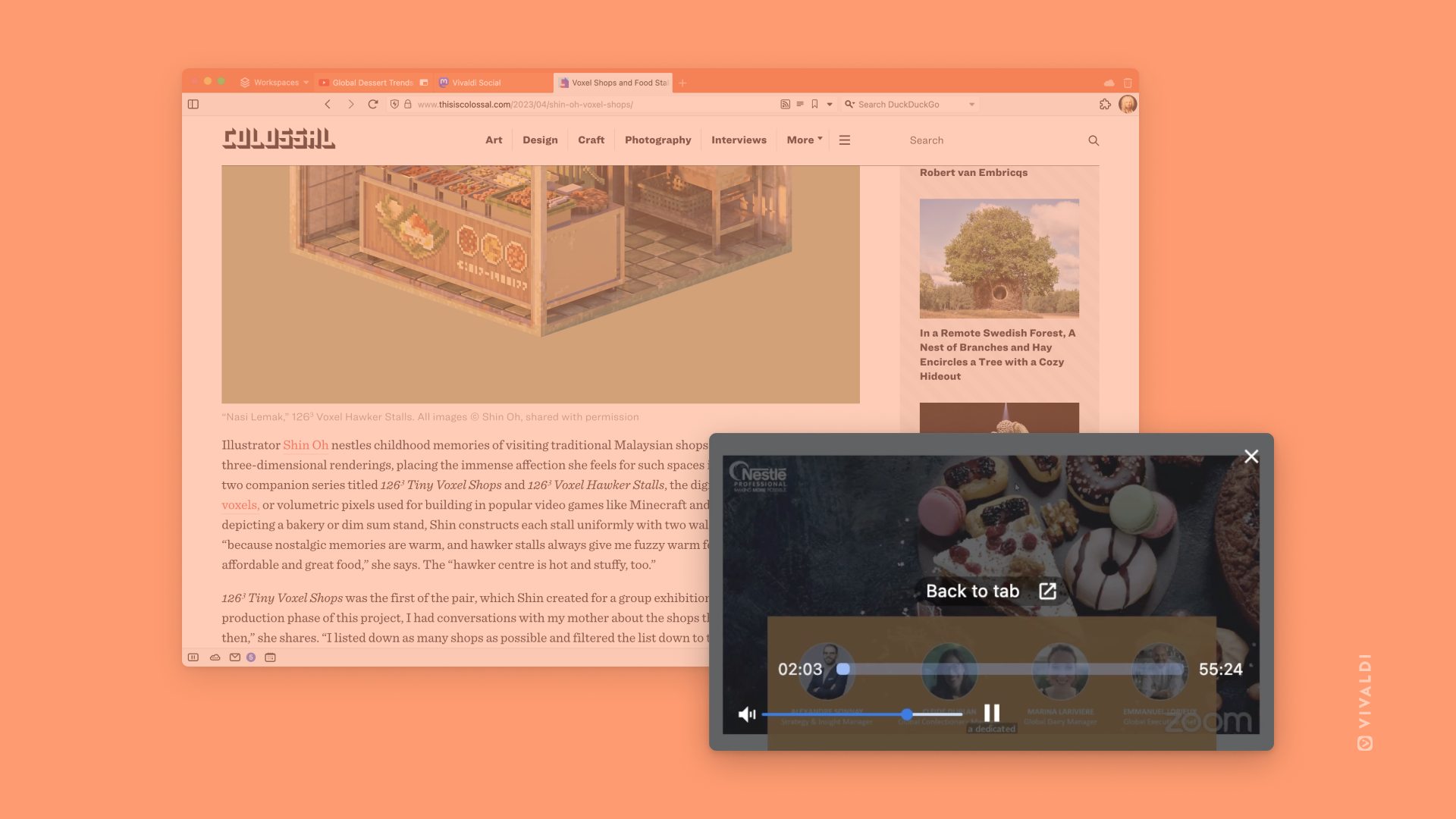 Vivaldi lets you pop any video out of its webpage and into a Pop-Out Video player. The Pop-out Video player is a small floating window you can place where you want on your screen to keep an eye on that cricket match you are totally not watching in the background while you work.
Whether you're catching up on your favorite YouTube channels, binge-watching Netflix, or enjoying live streams on Twitch, Pop-out Video ensures that you never miss a moment. Earlier you could only mute sound through Quick Commands or other shortcuts, and through Tab context menus.
Manage your emails and schedules effortlessly with Mail and Calendar
The combination of a built-in Mail, Calendar, and Feed Reader makes the browser unique.
Vivaldi Mail makes it quick and easy to handle multiple email accounts in a single browser tab. You can see all emails from all accounts in one view or filter and set up your own custom views. You can configure Vivaldi Mail to your heart's content! Just like the famously customizable Vivaldi Browser.
Vivaldi Mail makes all your emails available offline. You can respond to messages and manage them, and it will sync to your email account when you reconnect. Mails are stored locally on your device which means you can search through them instantly. Your offline message copies also serve as a backup, if you one day were to lose access to your email account.
You can filter messages based on rules you define and save them as folders. Vivaldi Mail also seamlessly supports labels from other clients like Thunderbird and Apple Mail, ensuring a smooth transition without losing your existing organization system.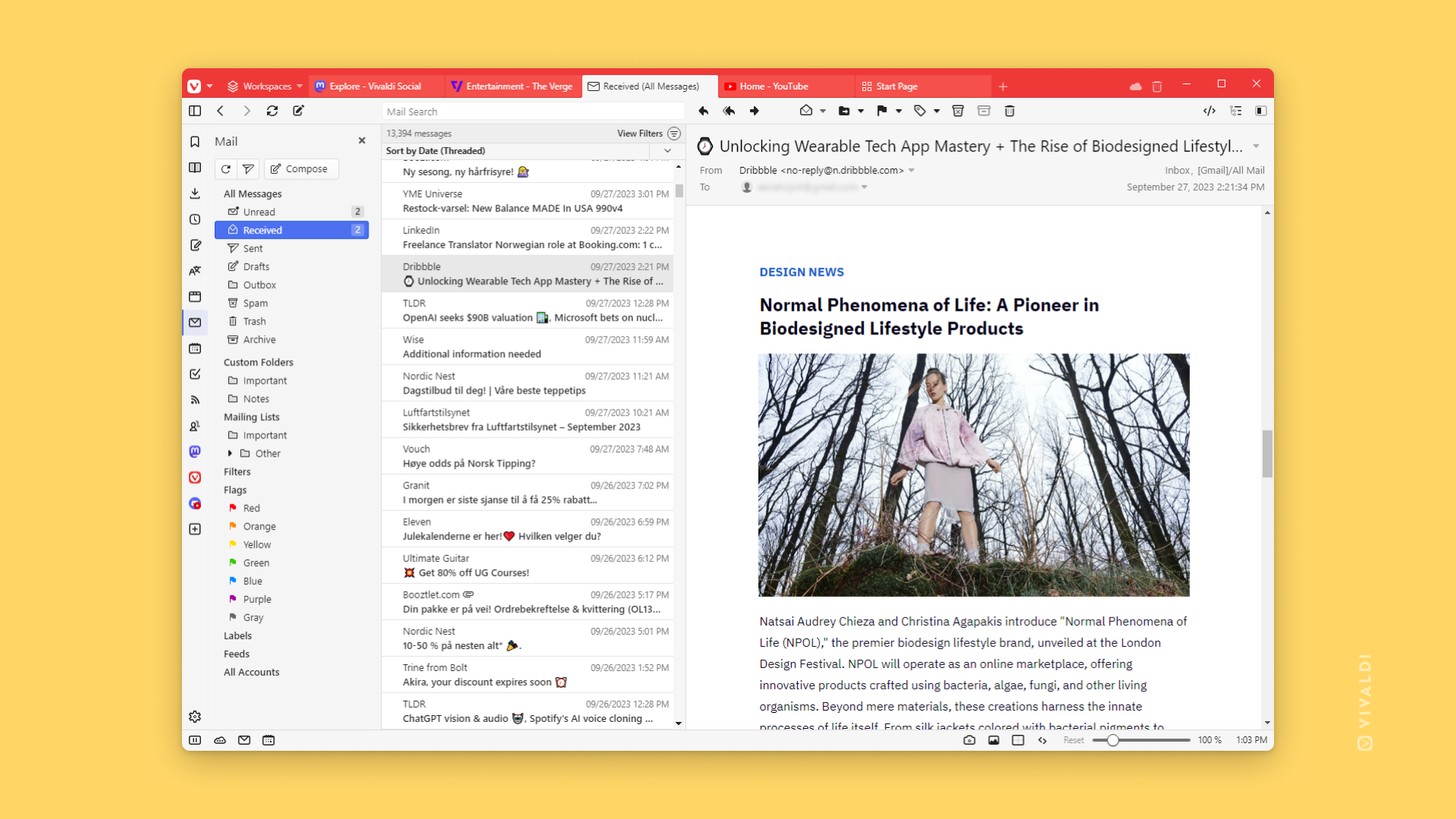 But that's not all! Vivaldi Calendar takes productivity to the next level. In this update, we have introduced calendar templates.
You can easily create templates for your frequently occurring events, including your meetings, socials, birthdays, doctor's appointments, and after-school activities. Templates make it quicker to create common events that may not fit a specific rule of recurrence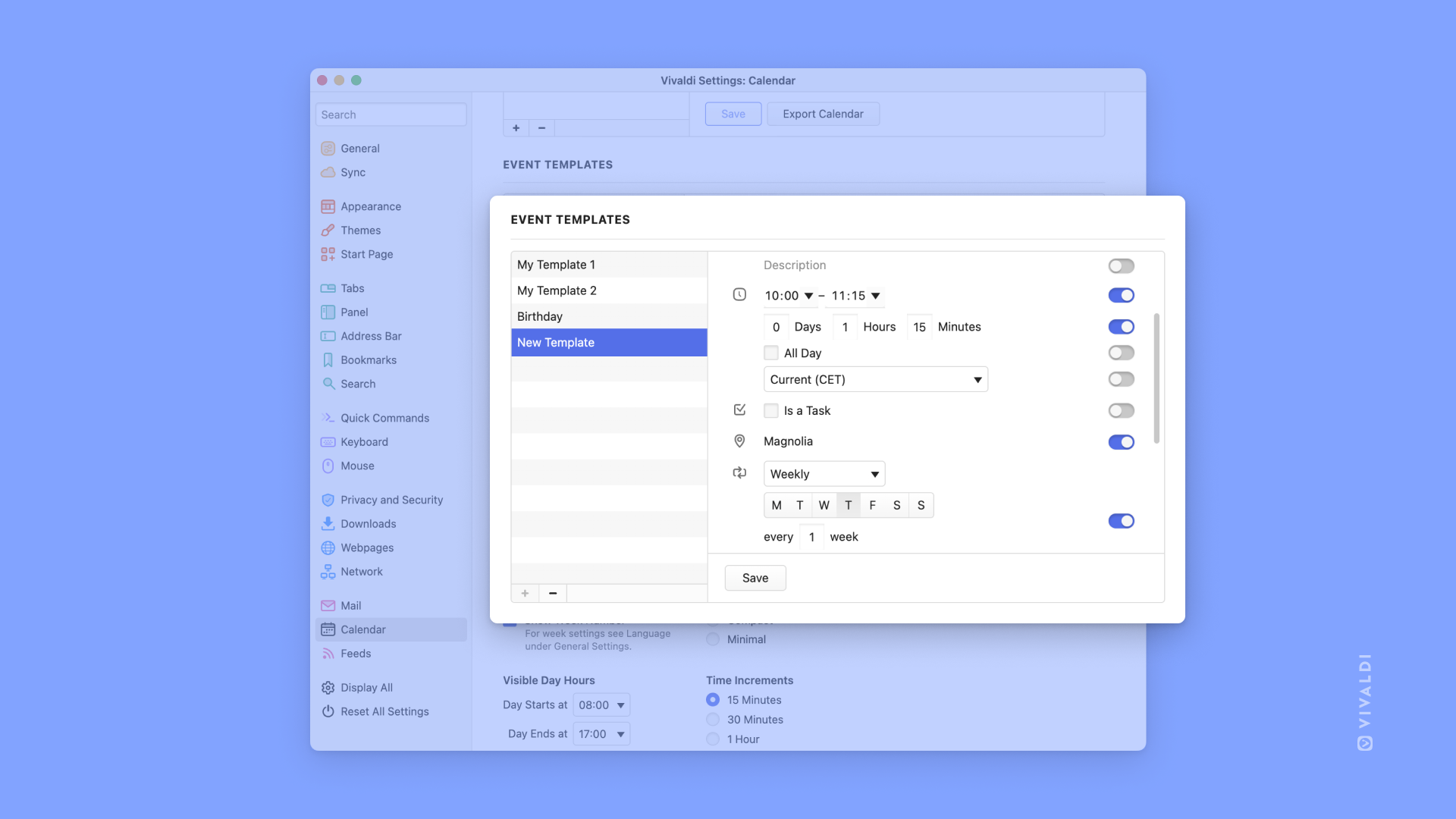 With these templates, managing your events is a breeze. Head to the Calendar Settings and create a new event in fewer clicks. Simply apply the template, fill in any missing details, and save.
For example, you can create templates such as birthdays that re-occur yearly, a 30-minute-long meeting, or even a reminder for a doctor's appointment. You can create a new template from scratch or reuse any existing event. This way you can save time and stay on top of your schedules.
Download Vivaldi 6.4
We want you to see Vivaldi as your home on the internet, so it should reflect your personality, preferences, and needs on whichever platform you use.
Whether you're at your desk, on the move, or even in your car, we'll continue to adapt to you! And that happens with your valuable feedback and ideas at every step. So keep them coming.
Download it right away if you are a Windows enthusiast, a macOS aficionado, or a Linux lover, and unlock a world of new browsing possibilities.
Head to the changelog for more details in this update.
Changelog 6.2 to 6.4
• [New][Calendar] Add default event templates (VB-100488)
• [New][Popout Video] Add volume controls (VB-63230)
• [New][Address Bar][Settings] Be able to order and show/hide all categories (VB-99661)
• [New][Direct Match][Speed Dial][Search] Suggestion integration (VB-96032)
• [Address bar] Dropdown wrong item activated when autocomplete is disabled (VB-99663)
• [Address bar][Bookmarks] Nickname not selected when exactly typing it (VB-100872)
• [Address bar][Bookmarks] Nickname quickly entered into address field launches search instead of opening the bookmark (VB-99254)
• [Address bar][Search Field] Provider keyword not stripped from suggestion query substitution (VB-99791)
• [Blocker] Text in privacy statistics is blurred (VB-91059)
• [Bookmarks] Shrink the Bookmarks file for existing users – move thumbnails to file (VB-100455)
• [Bookmarks][Keyboard] Focus lost in Bookmarks Panel search field on Ctrl+Backspace (VB-99994)
• [Calendar] Appointment series incomplete if created by another tool (VB-94014)
• [Calendar] Automatically enable template property when changing value (VB-99799)
• [Calendar] Changing the time in an entry in the panel, changes active pages zoom (VB-100459)
• [Calendar] Deleted event is resurrected (VB-100540)
• [Calendar] Don't save Calendar Accounts unless a successful login is performed (VB-95517)
• [Calendar] ICS import progress is not correct (VB-98474)
• [Calendar] In the status logs the the Clear button often does nothing (VB-100001)
• [Calendar] Selector in the Popup editor too wide (VB-99699)
• [Calendar] Template is named after the type of action unless the "title" field is selected before saving (VB-100350)
• [Calendar] Use the email recipient address when accepting event invites (VB-97343)
• [Calendar][Keyboard] Support Alt + wheel scroll in Calendar Manger to jump views (VB-99803)
• [Commands][Tabs] Stack Tabs doesn't work (VB-96867)
• [Crash] When opening the guest window (VB-100025)
• [Crash][Bookmarks] Adding Bookmarks (VB-99299)
• [Crash][Developer Tools] On undocking (VB-100361)
• [Crash][Extensions] Opening the extension options from the panel causes a crash (VB-99769)
• [Crash][Panels] Generating QR code from web panel (VB-100601)
• [Crash][Workspaces] Closing window with an open workspace with hibernating tabs (VB-99800)
• [Extensions] Popup appears shrunk (VB-99147)
• [Extensions] Privacy Badger options menu in a private window crashes the browser (VB-99589)
• [Feeds] Dropdown can display the name of a previous search term instead of the YouTube channel name (VB-100089)
• [Feeds] Duplicate feed from some sites (VB-100170)
• [Feeds] YouTube playlist feeds can show the name of a previously seen playlist (VB-100090)
• [Game] Link Vivaldia off the page displayed when the network is down(VB-99443)
• [History] Clear Browsing Data button wraps on a line of its own at certain panel widths (VB-98855)
• [History] Contains URLs after Clear Browser Data (VB-42540)
• [History][Keyboard] Ctrl+A followed by Ctrl+Click to unselect deletes all initially selected items (VB-91517)
• [Keyboard] Unassign the default shortcut for "Load Images" as it is confusing (VB-92932)
• [macOS] App menu in fullscreen video doesn't show window controls (VB-99829)
• [macOS] Menu doesn't change to "Hide Bookmarks Bar" (VB-91622)
• [macOS] Update Sparkle library to 2.5.0 (VB-100434)
• [macOS][Settings][Keyboard] "Show Quit Confirmation Dialog" option is broken (VB-99424)
• [Mail] Account status inaccurate in status and Panel (VB-100393)
• [Mail] Attachment icon is missing sometimes in the view (present in the mail) (VB-77629)
• [Mail] Attachment image shows up and overlaps mail view (VB-96239)
• [Mail] Avoid double highlight in composer autocomplete (VB-99995)
• [Mail] Connected to account message lingers in the status bar (VB-100485)
• [Mail] Connection attempts pending after hibernation trigger before the network is established (VB-100360)
• [Mail] Do not try to fetch the message twice on re-gaining network access (VB-100462)
• [Mail] Full/part body not shown in some messages (VB-83204)
• [Mail] IMAP accounts do not always reconnect after regaining network access (VB-100514)
• [Mail] Image rendering issue (VB-94214)
• [Mail] Incorrect rendering of attachment images and calendar invites (VB-100277)
• [Mail] Index failure key already exists (VB-99027)
• [Mail] Inline multiparts in messages from Spark Mail incorrectly believed to be attachments (VB-98592)
• [Mail] Logs in the status popup are strange when marked as spam (VB-98286)
• [Mail] Panel does not indicate a lack of network connection on startup (VB-100379)
• [Mail] Password changes not affecting the client (VB-100325)
• [Mail] Pops up a new oAuth dialog a few seconds after you close it (VB-97413)
• [Mail] Remove corner rounding in embedded videos
• [Mail] Replies are not indented correctly in the mail list (VB-99570)
• [Mail] Should not disconnect IMAP clients on losing network connection (VB-100630)
• [Mail] Top-level panel items lack spacing (VB-100321)
• [Mail] Wrong toolbar appears to restart [Compose instead of Mail Detail] (VB-100066)
• [Mail] multipart/mixed with HTML does not link to attached resources (VB-87381)
• [Mail][Performance] Caching UID list on startup is slow for big accounts (VB-99258)
• [Menus][Settings] Button in Native Window mode is not aligned when the window size is maxed (VB-100474)
• [Menus][Panels] Add 'Close window' as an option in Window Panel's right-click menu (VB-93897)
• [Menus] Toolbar editor is narrower and not centered (VB-99394)
• [Notes] All blank lines removed (VB-99882)
• [Notes] Drag and drop may not be able to reorder them (VB-99802)
• [Performance][History] Avoid slowdown while resizing history manager (VB-99702)
• [Performance][History] Don't animate in the history page if the tab is not visible (VB-99656)
• [Periodic Reload][Quick Commands] Support primes plus m and s suffixes for easier minute and second-time notations (VB-99313)
• [Privacy] Disable Privacy sandbox, and disable/remove Topics and Privacy Sandbox prefs pages (VB-99915)
• [Search] Add a "Thank You!" state if switch back from Google (VB-100267)
• [Search] Set Startpage as the default search for Private window in some countries (VB-100368)
• [Search][Address Bar][Search Field] There are no Yandex/Ecosia search engine icons (VB-94181)
• [Search][Address bar] Using a keyword search breaks the ability to search for the same thing in the default search engine (VB-100264)
• [Settings] When "User Native Windows" is checked the Windows Title and Windows Control Buttons become duplicated (VB-91670)
• [Spatial Navigation] Elements can not be focused with the zoomed page (VB-99170)
• [Speed Dial] Add navigation bar sorting (VB-41145)
• [Speed Dial] Bad view of the tiny thumbnails with title enabled (VB-79991)
• [Speed Dial] Navigation sorting update (VB-41145)
• [Speed Dial] Use 'Open Graph (og) image' or a higher quality image for the Speed dial size "icon" (VB-95956)
• [Speed Dial][Menus] Add undo/redo (VB-98410)
• [Speed Dial][Settings] Update the "Support Vivaldi" message for users that select Google Search Engine (VB-99651)
• [Sync] Account setup form rejects email from js2.so-net.ne.jp domain as invalid (VB-100453)
• [Sync][Settings] Make Use Native Window option non-syncable (VB-100293)
• [Tabs] Accordion tab stack selection overflows tab bar (VB-100621)
• [Tabs] Borders around the tiled website when in fullscreen mode (VB-94049)
• [Tabs] Dragging and Dropping a tab onto the title of the stack does not work (VB-99708)
• [Tabs] Stack on the left has the wrong outline (VB-99379)
• [Tabs] UI moves with side stacking and scrolling (VB-100660)
• [Tabs] Use recently viewed order when switching between related tabs after tab close (VB-99425)
• [Tabs] Visual tab cycler horizontally misaligned (VB-100674)
• [Tabs][Panels] The blur effect on the vertical background is not working (VB-98555)
• [Tabs][Sync] Show Cloud/Synced Tabs button on Tab Bar even when not logged in (VB-97074)
• [UI] Help link in type-squatter dialog points to Chrome help (VB-100730)
• [Web compatibility] Session store not shared with popups or new tabs (VB-98842)
• [Windows] Enabling native window removes window controls (VB-100623)
• [Windows] Vivaldi menu opens after selecting link text (VB-99856)
• [Windows][Settings] Wrong alignment of V-Menu button in "Native Window" mode (VB-98615)
• [Workspaces] Move singleton tabs to the active workspace (VB-99834)
• [Workspaces] Odd button rendering in Toolbar and Theme Icon editors (VB-99349)
• [Workspaces][Keyboard] Can not reach Workspaces button with keyboard (VB-96677)
• [Chromium] Upgraded to 118.0.5993.122