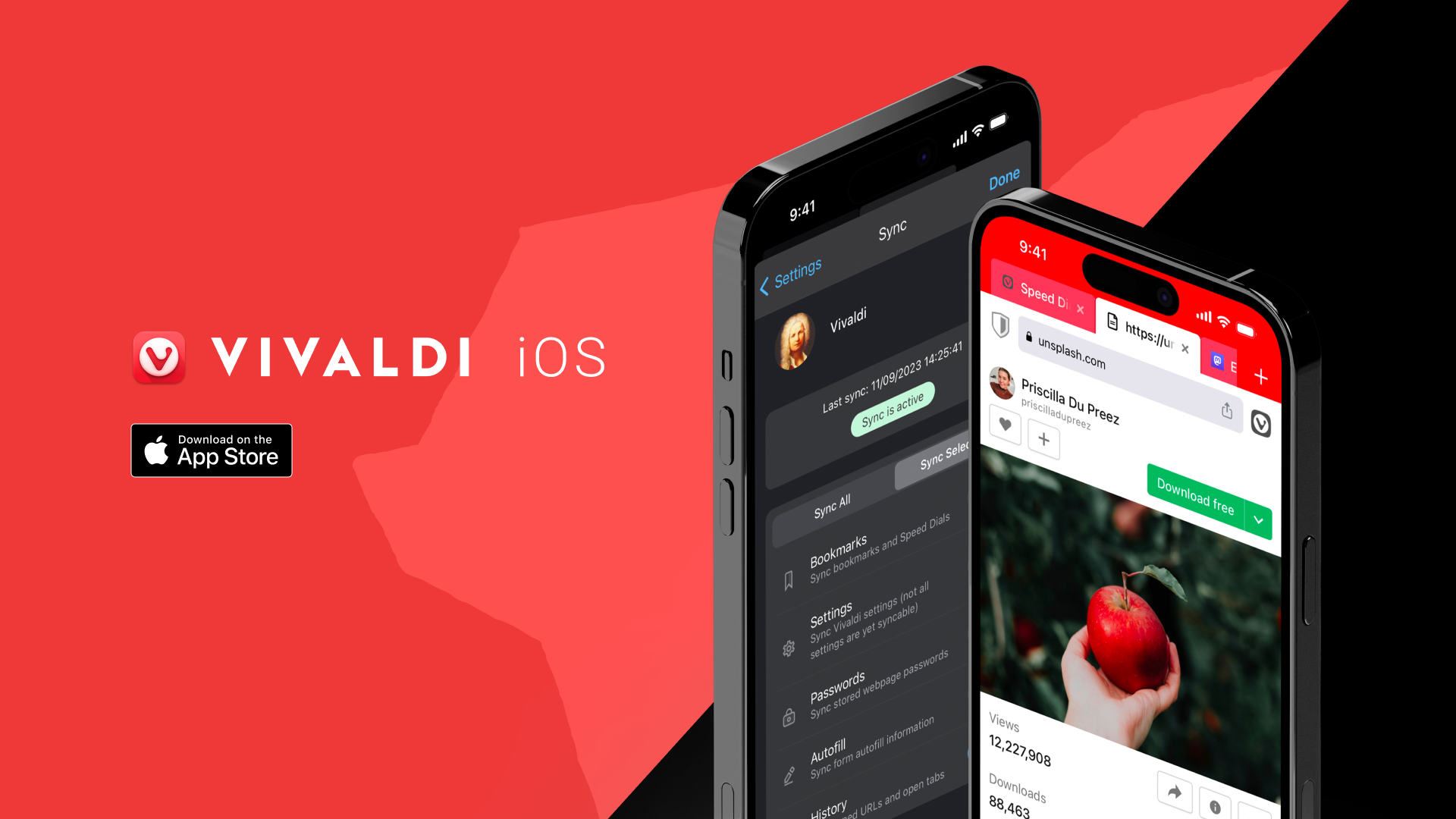 Read this article in español, 日本語, Deutsch, русский.
The wait is over! Vivaldi on iOS has arrived.
At Vivaldi, we believe that your browser should adapt to you, not the other way around. Now we bring this experience to your iPhone and iPad.
Whether you're a casual or an advanced user, you get the flexibility and versatility to browse the web your way with Vivaldi's powerful features and unmatched levels of personalization.
Vivaldi on iOS has our distinctive look and feel with a set of built-in tools that includes Desktop-style tabs, Speed Dials, Panels, Notes, a Reading List, and a Tracker and Ad Blocker. And, of course, with the Sync functionality, we give you a secure way to take Vivaldi – and your browsing data – with you.

Welcome to Vivaldi on iOS
As in our desktop and Android versions, when you launch Vivaldi on iOS you start with Speed Dials – your favorite sites organized the way you like them.
Here's how the interface will look when you open a new tab: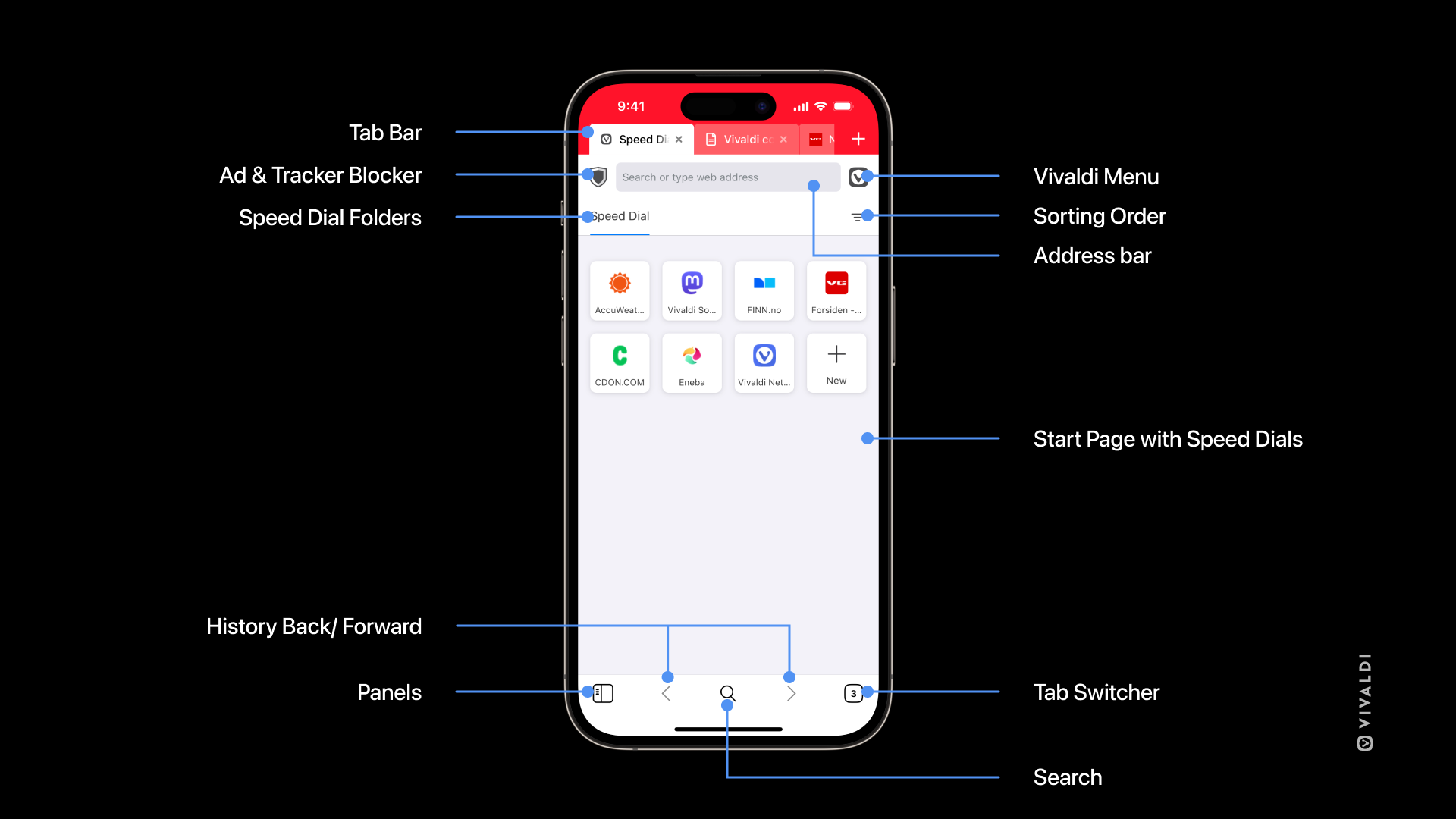 At the bottom-left corner of the browser, you'll find Panels, a quick way to access useful tools like Bookmarks, History, Notes, Reading List, and Downloads. To the right, the Tab Switcher lets you access regular, private, and synced tabs in addition to the trash can to retrieve recently closed tabs.
In the middle, you'll find Search and buttons for moving back and forth in History.
The Address Bar lets you search using any installed search engine or find a bookmark in an instant. The Tab Bar with desktop-style tabs helps you view and switch between tabs easily.
Let's get to the feature highlights and the unique ways in which you can browse on iOS:
Experience a reimagined tab interface with Desktop-style Tabs
In most browsers on mobile, it's difficult to keep track of many open tabs. But in Vivaldi, we have made it easy for you to view the tabs that are open and also switch between them without the hassle.
We've integrated an elegant desktop-style Tab Bar in the UI by default. This makes our Tab Bar unconventional and gives the same look and feel as Vivaldi on the desktop and Android. This unique feature improves usability significantly.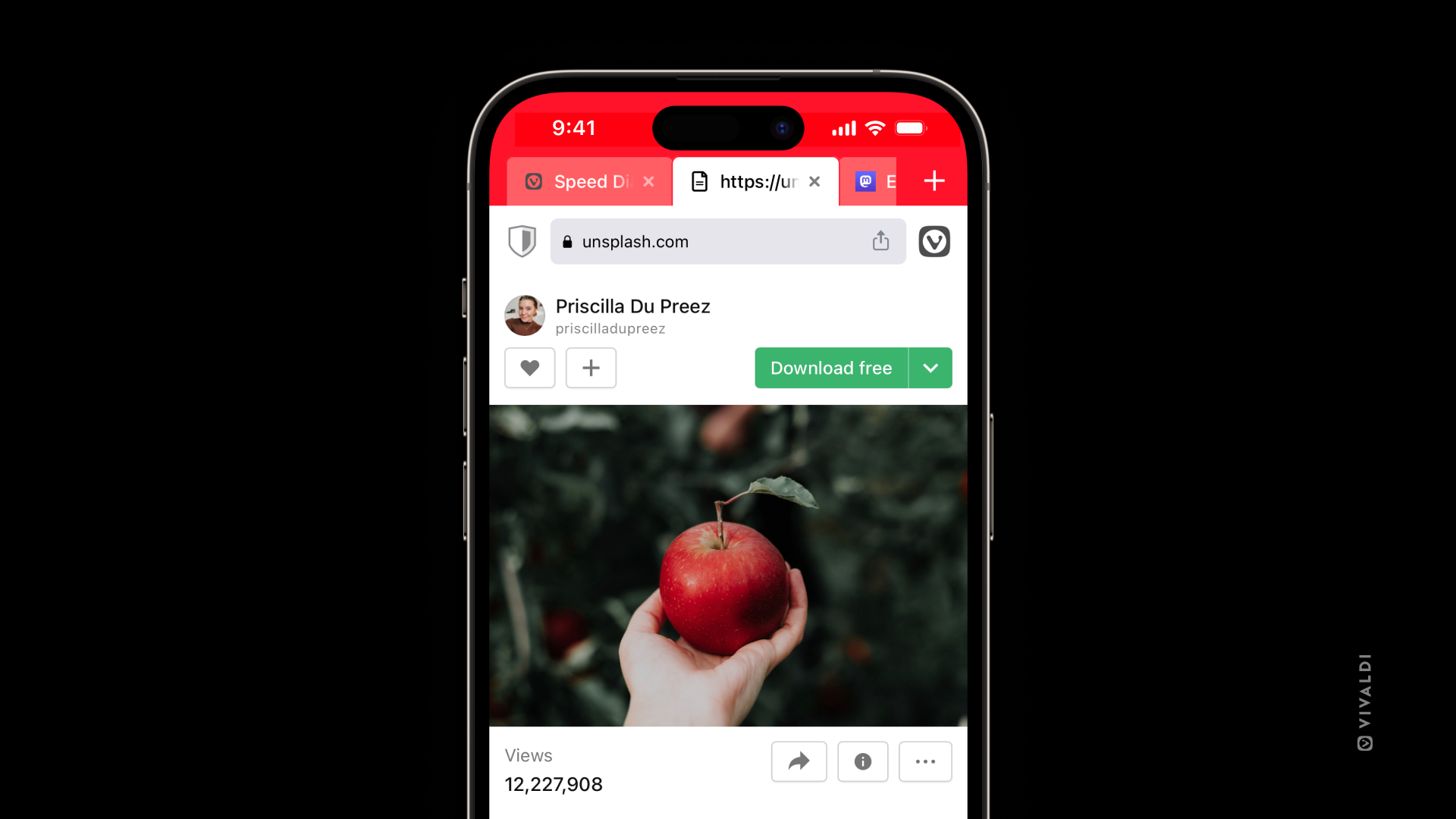 A gateway to Vivaldi's unique tab interface, the Tab Switcher gives you the ability to find open, private, recently closed, or synced tabs. This functionality makes finding and managing tabs a breeze.
The number in the Tab Switcher button (at the right side of the toolbar) indicates, how many open tabs you have. With a long press, you can open a new or private tab, or close the active tab.
The active tab will be displayed with a border around the Tab thumbnail. With a tap on the thumbnail, you can switch to the selected Tab. It is also easy to share selected tabs with a friend, mark them as a Bookmark, or add them to your Reading List – all with a long press.
Access sites faster with Speed Dials
We give you the power to make the Start Page more personal, unlike other browsers. You're the one who gets to decide how your Start Page looks, feels, and performs.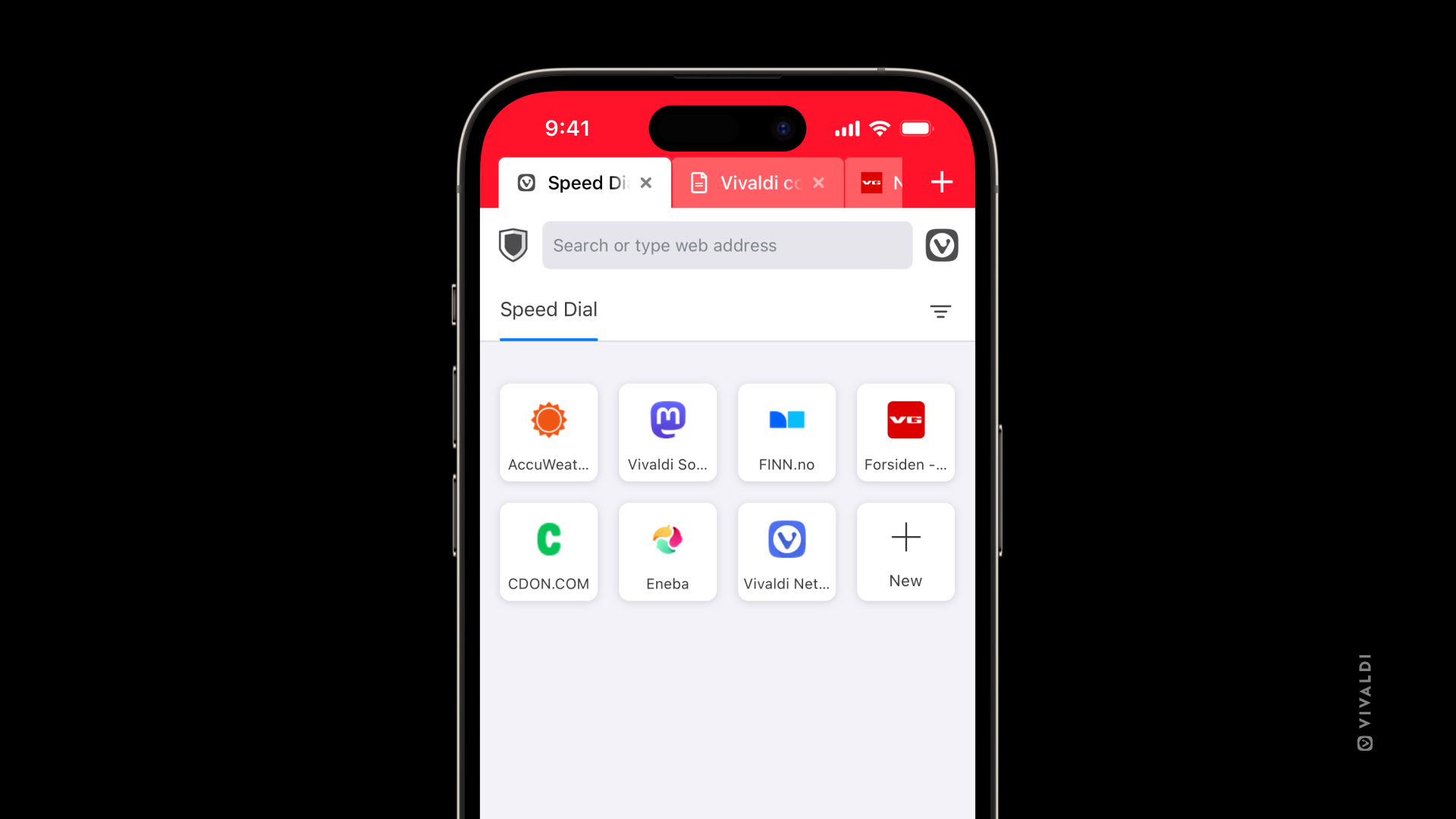 At the core of Vivaldi's Start Page are Speed Dials, displaying thumbnail galleries of bookmarks. With Speed Dials, you can access your favorite sites quickly and organize which bookmarks should show on your new tab page.
Thumbnails are generated by default, but you can create and customize multiple Speed Dials for different scenarios or categories. And even organize and manage bookmarks into nested folders.
Take Notes on the go
Unique to Vivaldi, built-in Notes help you jot down ideas, to-dos, and inspirations while browsing. What is handy here is that when you highlight any text, one of the options that comes up is "Copy to note" at which the text gets copied into the Notes section of the browser.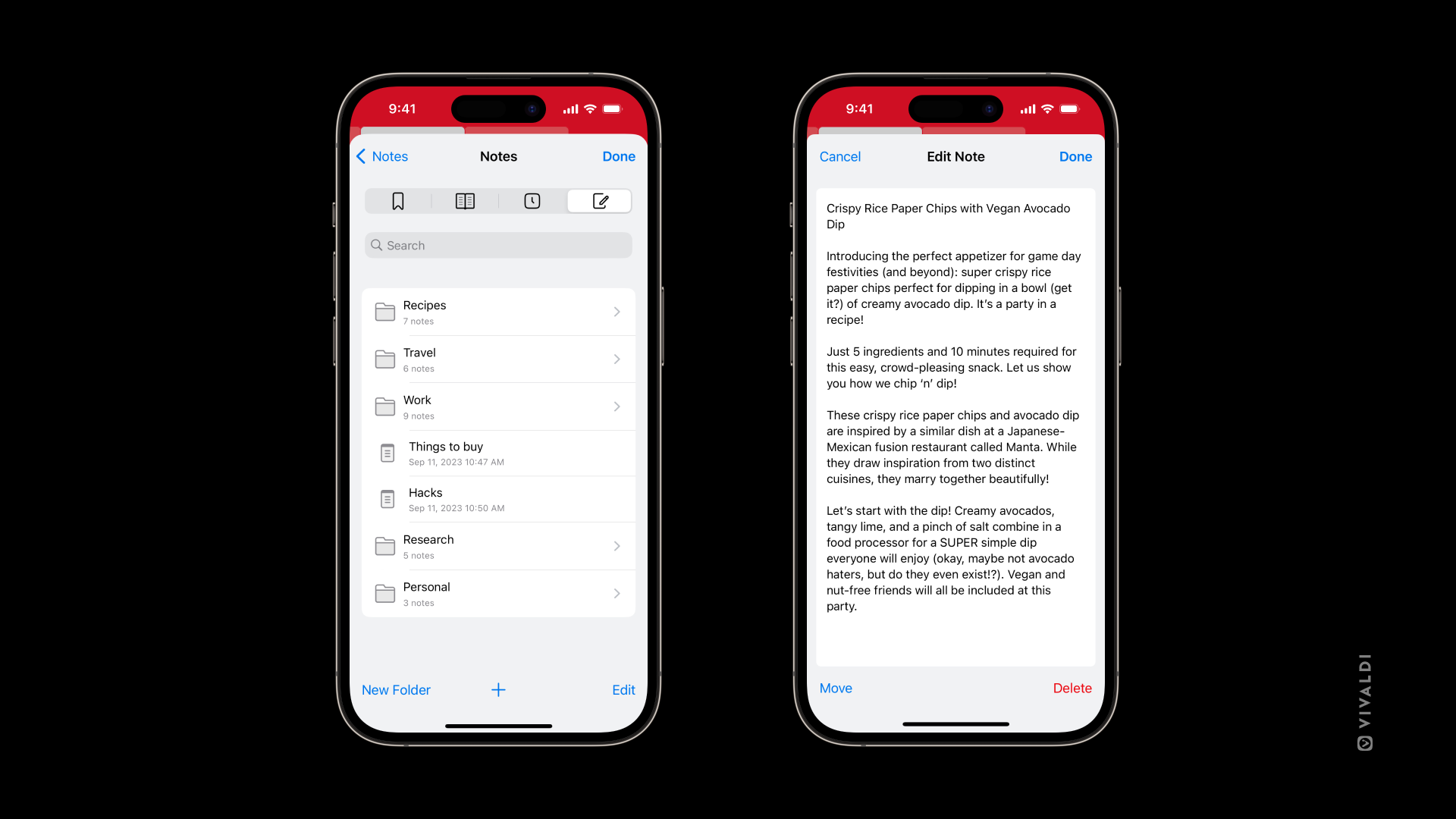 Plus, Notes can easily be synced between your phone, desktop, and car, so you can pick up where you left off.
Never miss a good story with the Reading List
Reading List lets you add web pages to keep it for later. It prevents endless tabs from accumulating on your Tab Bar/Tab Switcher and Bookmarks from being filled with entries you only need once.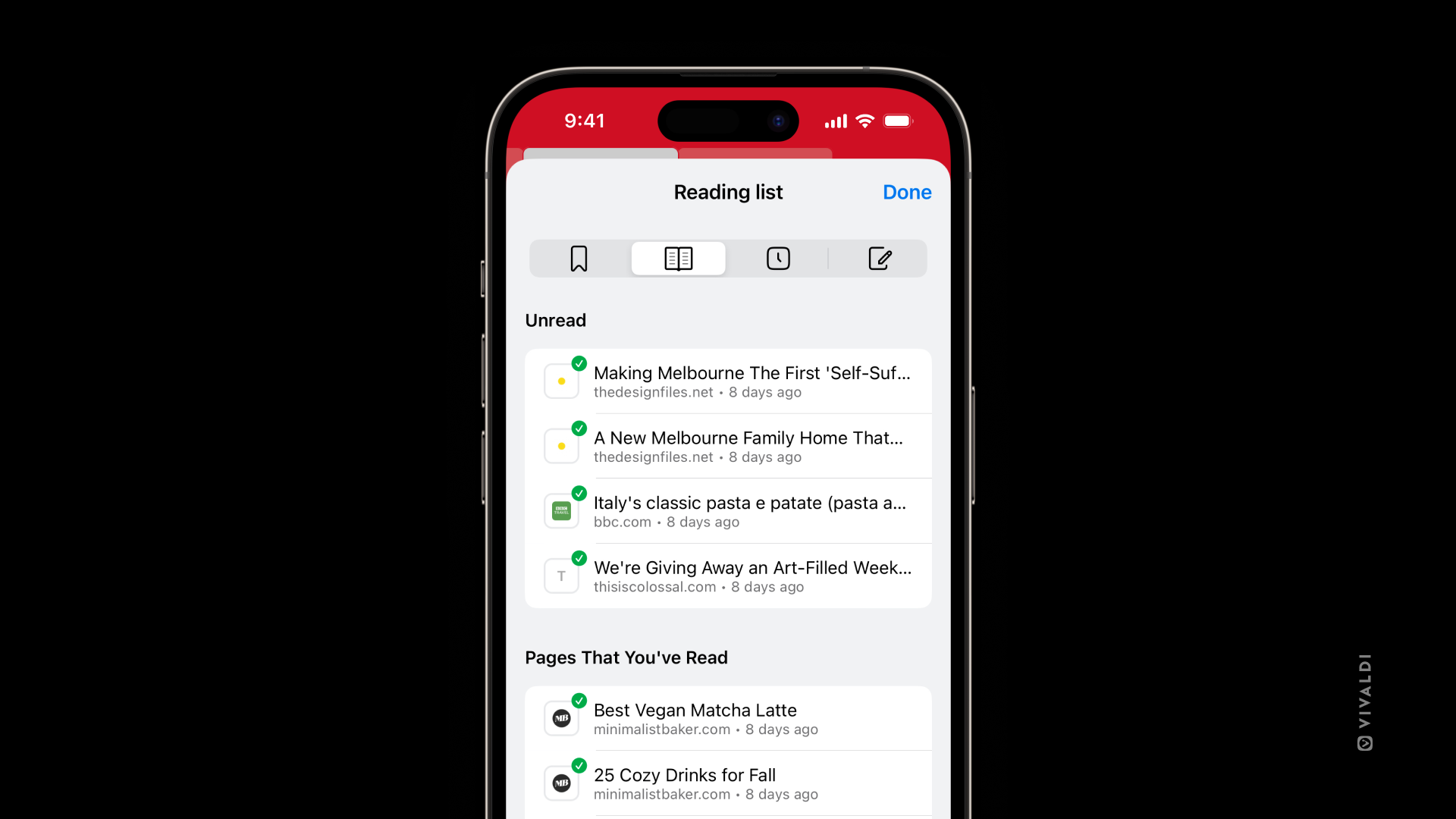 What's great about having a Reading List is that it does not require an external app and you do not need to sign up for an account. Bonus – they can be synced on any device with Vivaldi.
Sync browsing data, seamlessly and safely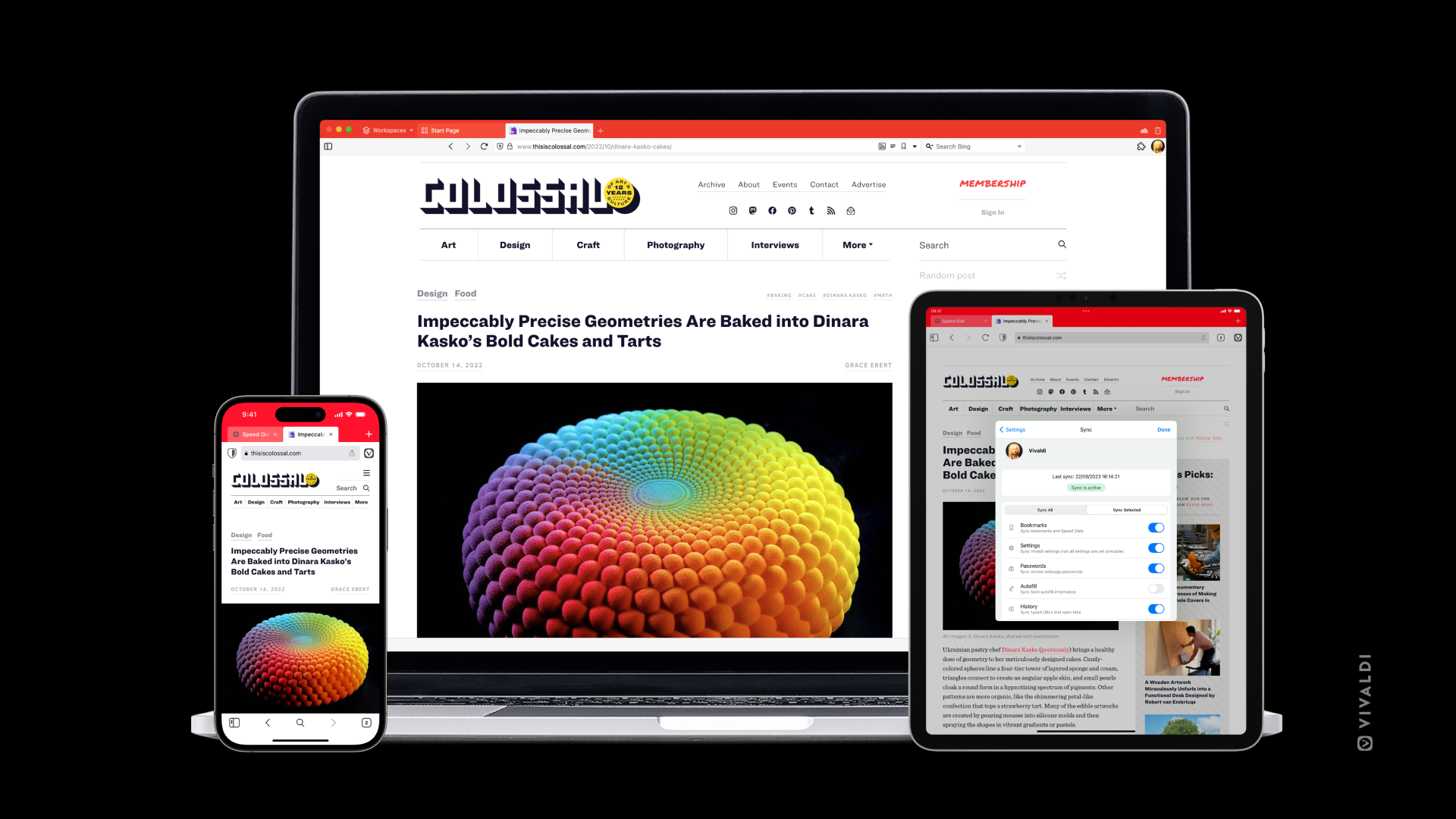 You can sync your browsing data – Bookmarks, Speed Dials, saved passwords, autofill information, typed History, and Notes – securely between installations of Vivaldi and other devices with our end-to-end encryption. Vivaldi is available on Desktop, Android, and in cars.
No third-party servers – Vivaldi stores Sync data on its own servers in Iceland.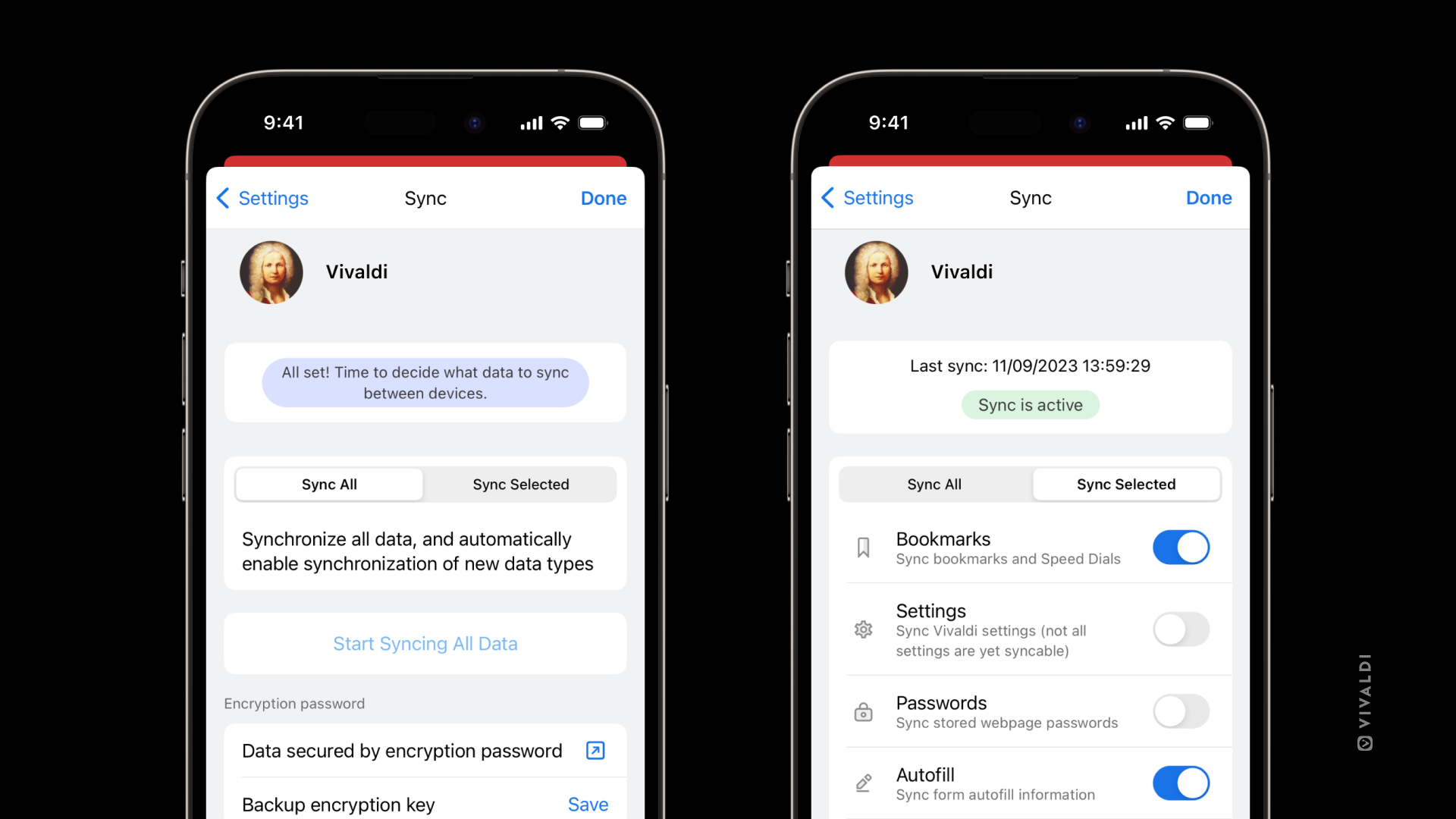 Enjoy speed, without ads and trackers.
Our built-in Tracker and Ad Blocker gives you the choice of how you want sites to display. We've always believed that what you want the sites to know about you should be your choice.
The Tracker Blocker protects you from web trackers that follow you around the web gathering your personal information. While blocking trackers provides enough protection, some of you prefer to block ads in addition to trackers.
The Tracker and Ad Blocker can be easily enabled for sites through the shield icon at the left end of the Address field or globally in Settings.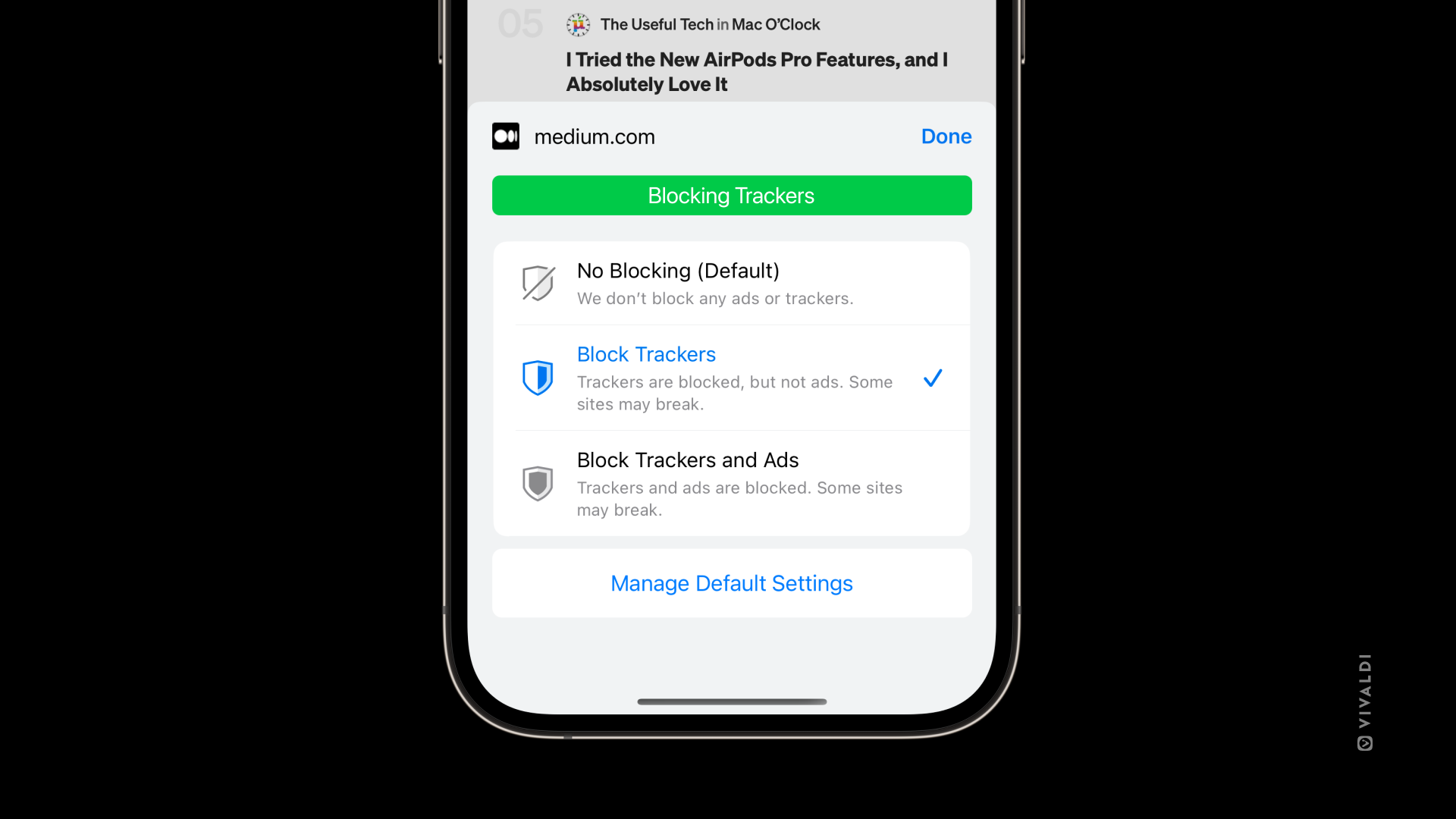 The shield icon indicates whether the Tracker and Ad blocker is active. It also helps to enable or disable blocking for specific sites if that's what you prefer. You can further manage the blocking level per site from here (or from Settings → Tracker and Ad blocker).
For enhanced privacy, you can also keep your browsing history discreet using private tabs – searches, sites visited, cookies, and temporary files won't be stored by Vivaldi.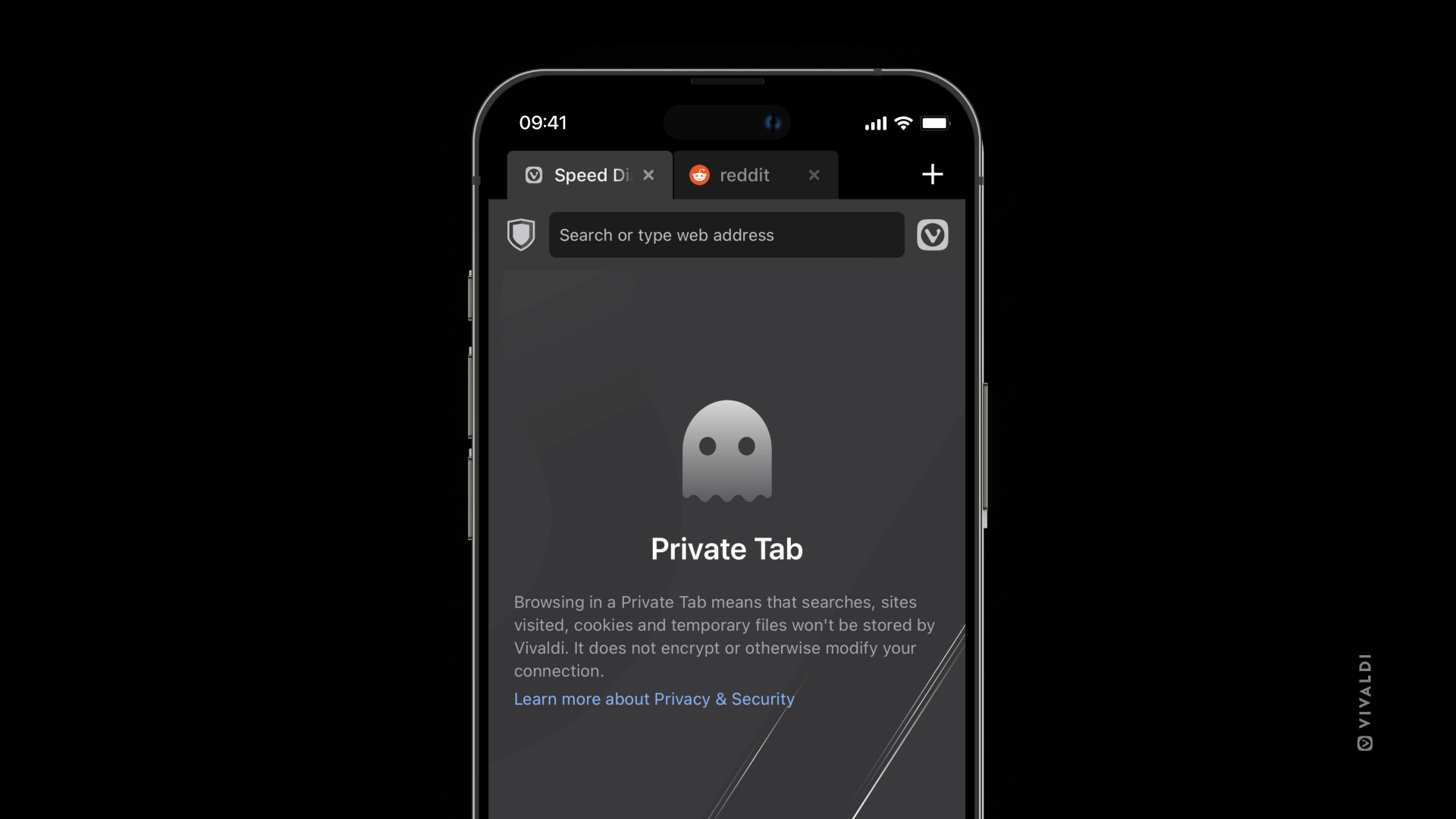 Search and switch Search engines
You can switch from one search engine to another instantly – another powerful feature that makes various search engines easily accessible.
We offer you several privacy-focused alternatives that protect you from surveillance and believe in the neutrality of search results.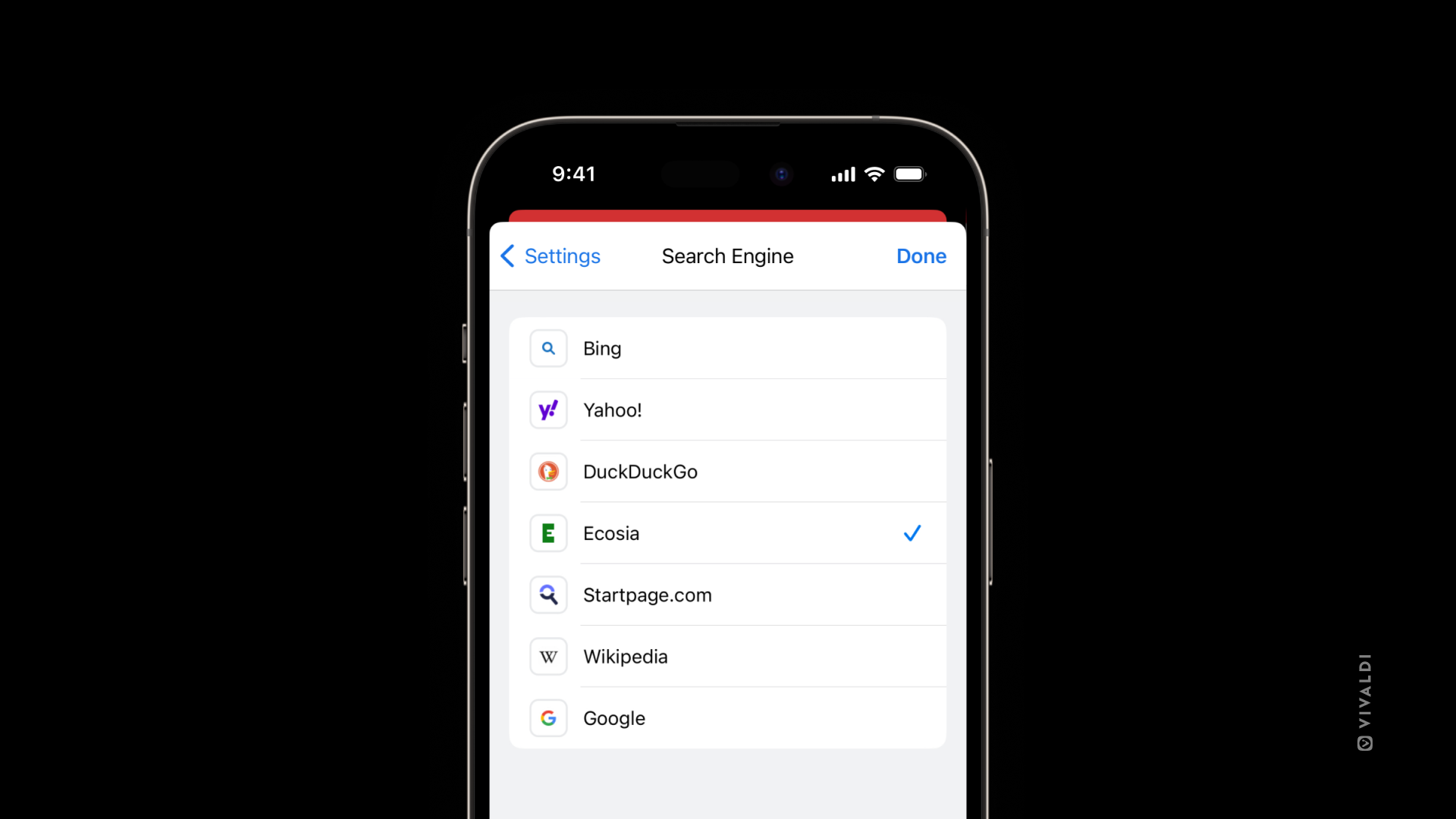 Make it personal with Custom App icons
Are you looking to add some flair to your browsing? Now you can simply select a Custom App icon to reflect your style or mood.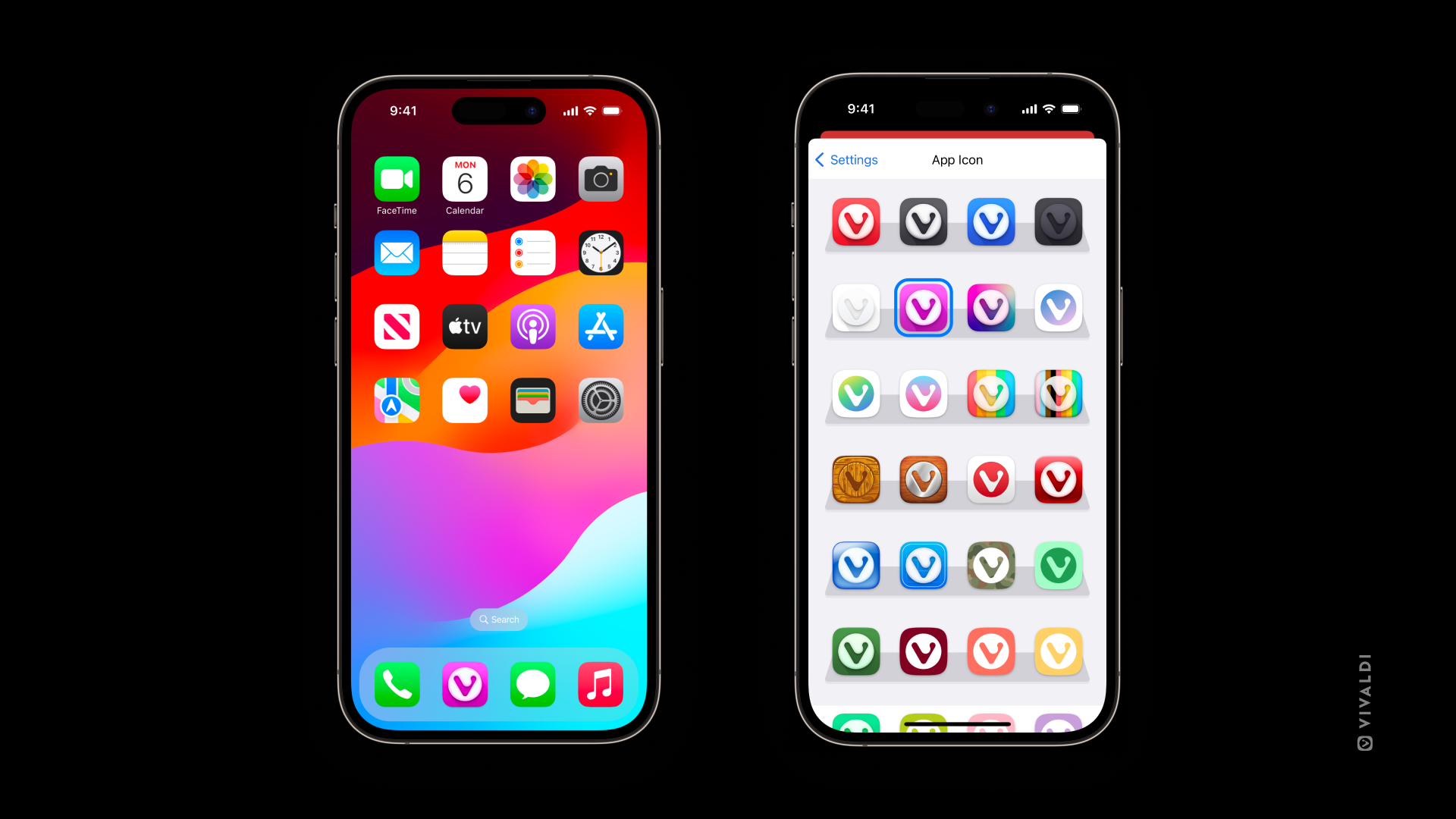 You can also add more Vivaldi to your home screen with a Vivaldi widget. The widgets let you quickly enter a private tab, search the web, and easily scan QR codes.
Go big with Vivaldi on the iPad and its big screen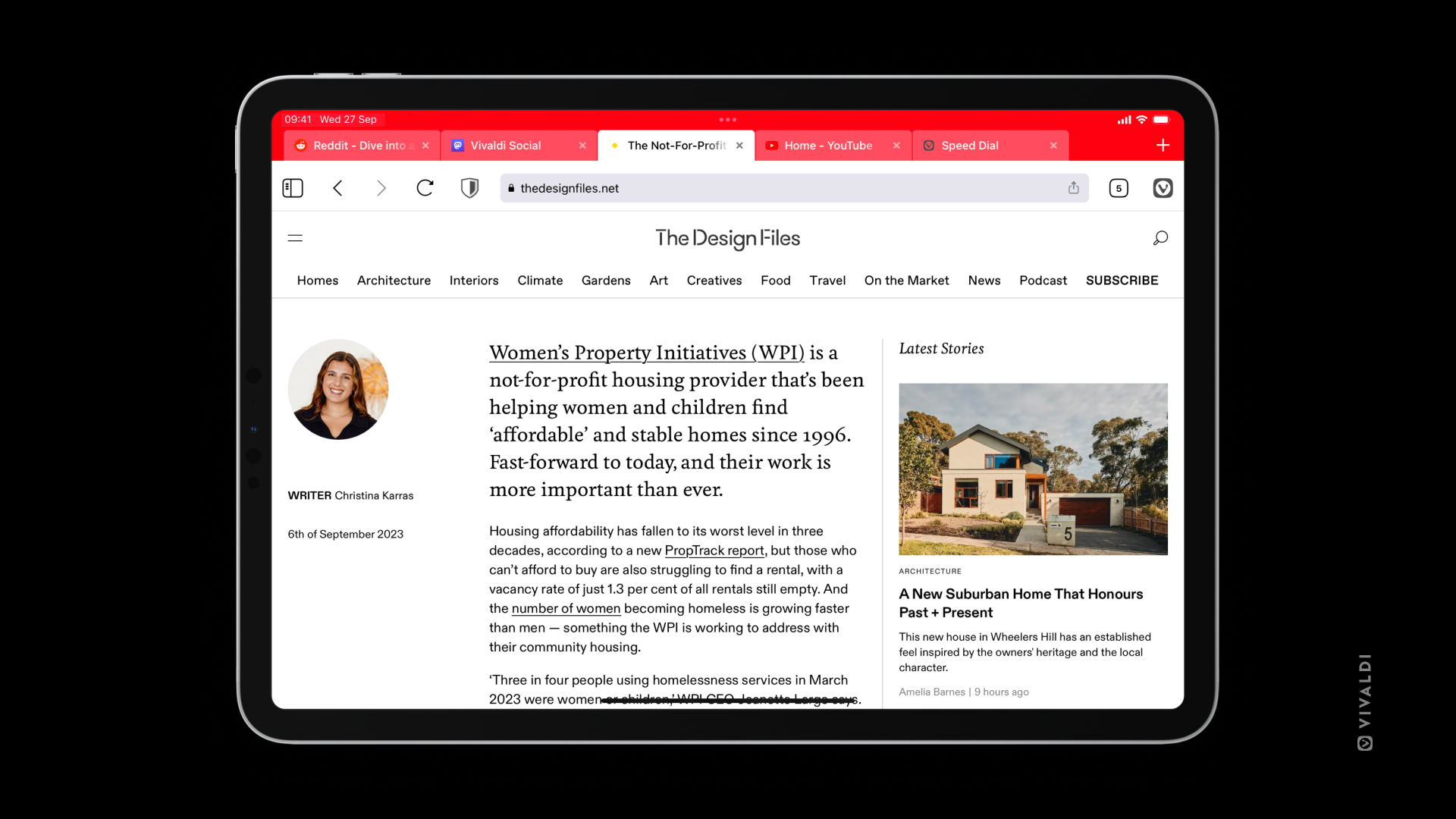 A bigger screen opens up a lot of possibilities for how the app's user interface (UI) is presented. That is why we have designed the browser's functionality for larger mobile screens so that it suits iPads — and you.
You'll find our distinctive Start Page with Speed Dials displaying thumbnail galleries of bookmarks. You can add multiple Speed Dials to your Start Page and use these to organize and collect links to your favorite web pages.
Panels now pop up on the left of the screen, just like Vivaldi's default desktop configuration. With Panels, you can optimize the available screen space on your iPad. Other buttons like the Tab Switcher History back/forward are on the top of the screen.
Your go-to tools are within easy reach in the browser's sidebar, and allow you to work with your History, Downloads, Bookmarks, Reading List, and Notes in split-screen with your main browser window.
Toggling the Panel on and off is as easy as tapping the panel button in the top-left corner of the location bar, allowing more screen space and facilitating efficient workflows.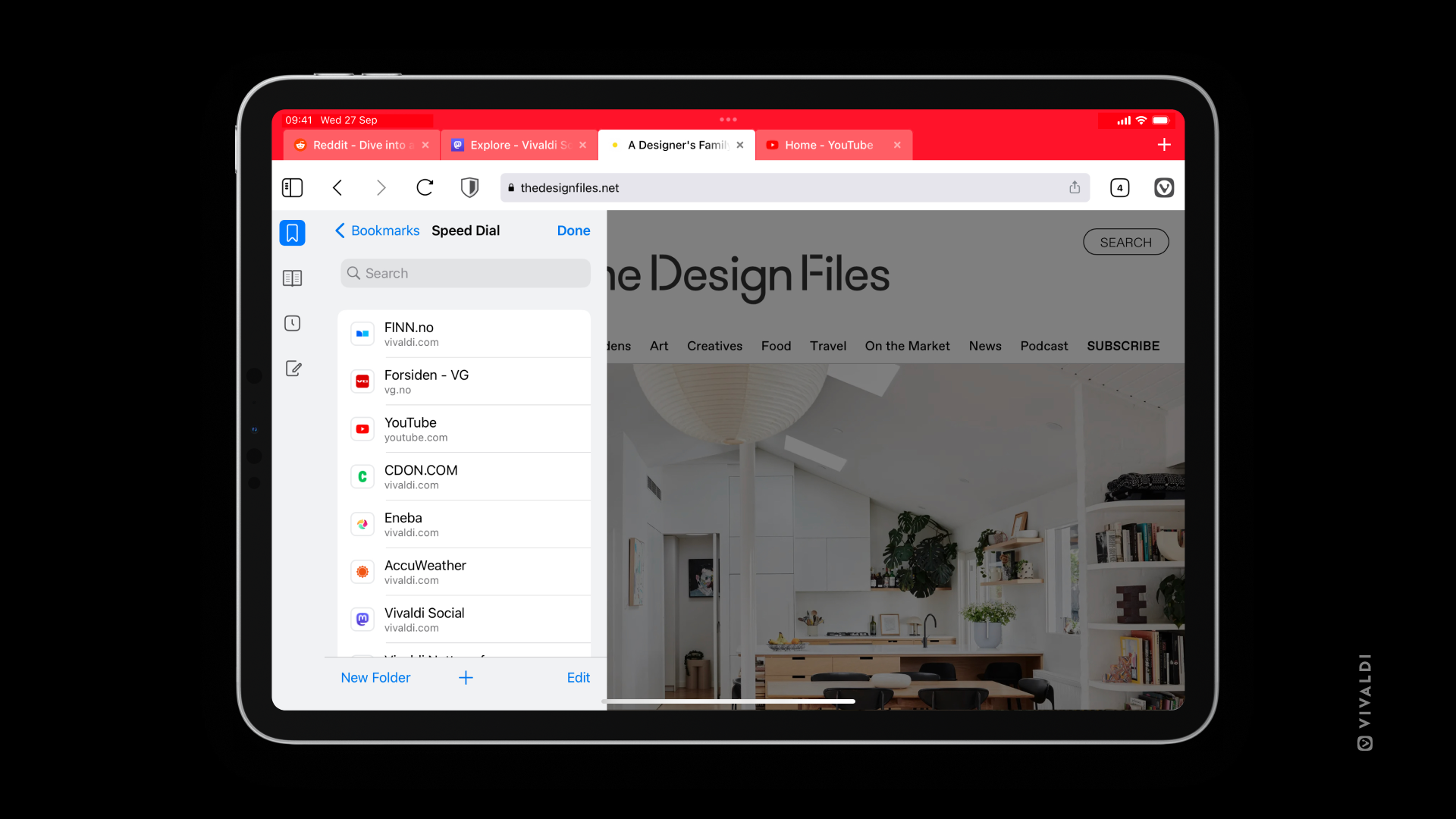 Watch how the browser works in this quick video
Ready for seasons to come
We're incredibly excited to bring Vivaldi to iOS. And this is just the beginning. To our whole community, thank you for your unwavering support on this journey.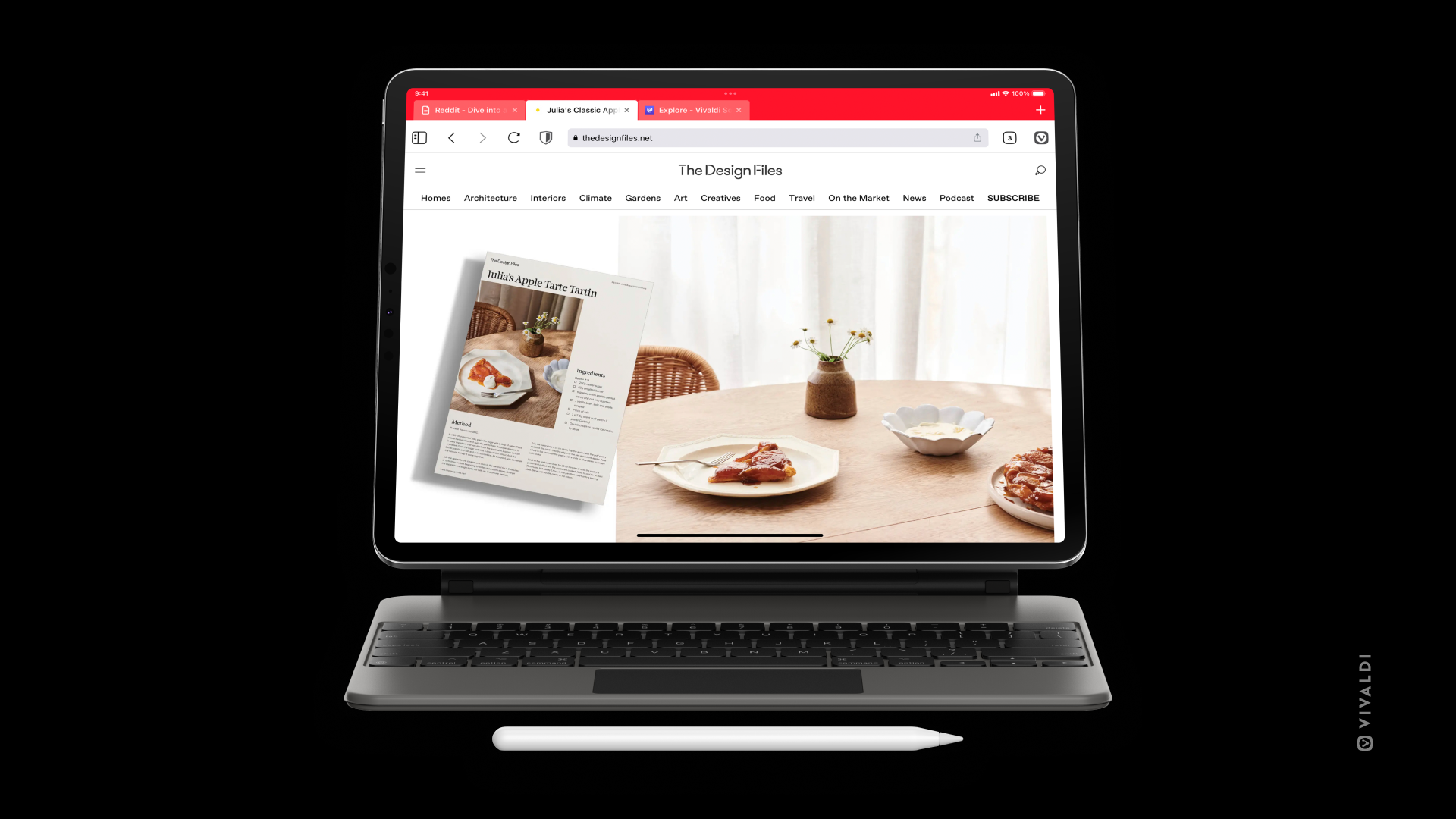 Stay tuned to our blog and social media channels for more updates, tips, and tricks about Vivaldi on iOS. And do subscribe to our newsletter.

We'll continue to build Vivaldi on iOS based on your feedback. We are eager to hear what you think about it, and we look forward to your experiences browsing with Vivaldi.
Pick it from the App Store
Want to give Vivaldi on iOS a try? Download from the App Store for devices running iOS/iPadOS 15 or above, and bring Vivaldi with you everywhere, and experience browsing that is powerful, personal, and private.
By setting up Vivaldi as your default browser, you also take a step to break free from Big Tech for an independent tech company that puts its users first.
Spread the word! And do not forget to rate us on the App Store.

Welcome to the world of Vivaldi on iOS!