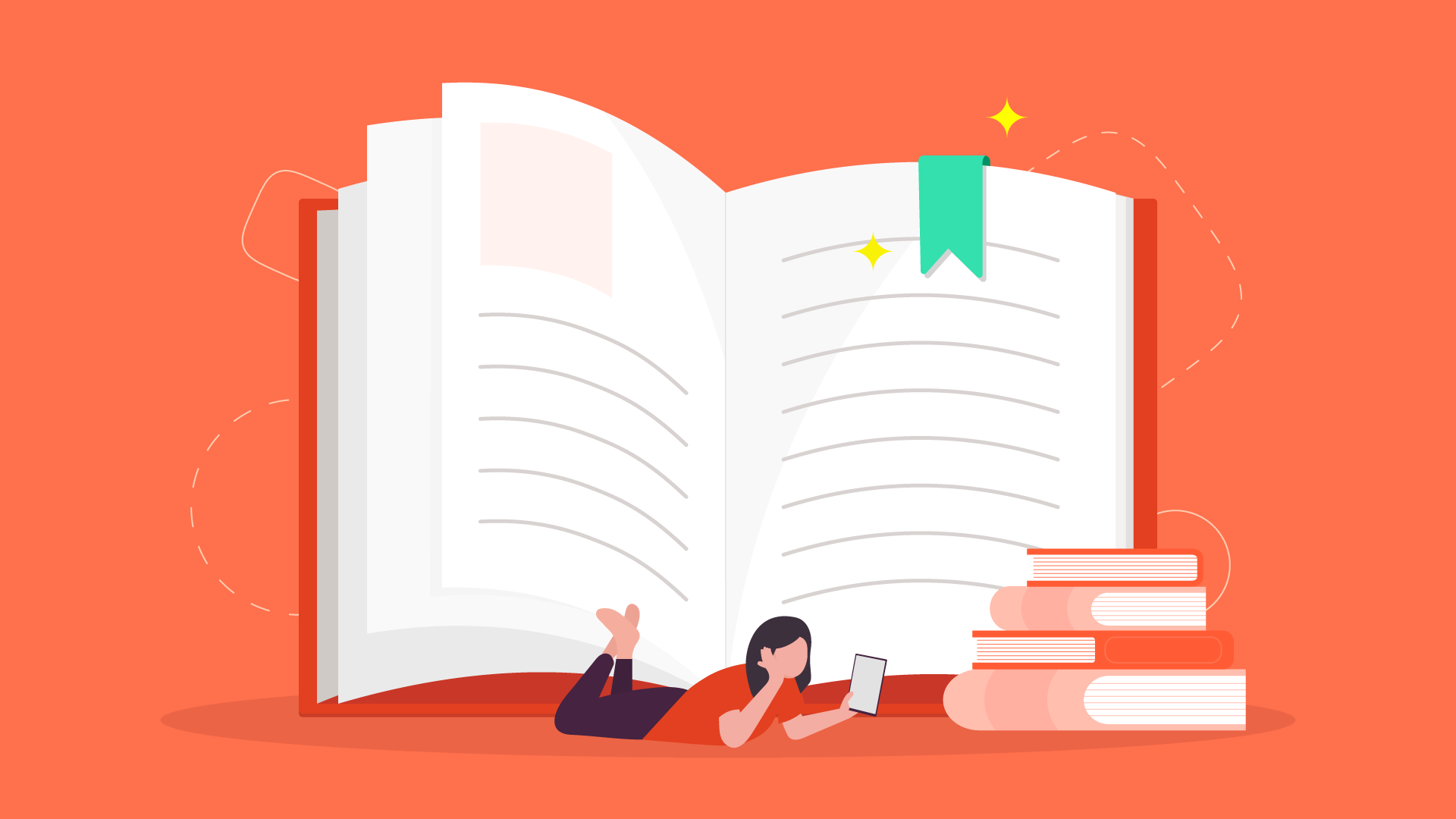 Read this article in español, Français, Русский, Deutsch, 日本語, język polski.

We are proud to announce the new Vivaldi 6.4 update on Android. Our focus has, as always, been to polish the features across the board. In this release, we have given extra attention to the Reading List and Bookmarks Manager.
In this new version, we have expanded Vivaldi's integration with the Android Share system. You can share links from any app directly to your Reading List.
We have also unified more of the user interface and icons across all our platforms to keep the experience familiar and consistent.

You can download the new Vivaldi for free on mobiles and tablets running Android version 7 or higher, and on up-to-date Chromebook laptops.


Save directly to your Reading List from other apps
The Reading List in Vivaldi is a great way to save pages for quick access later. In this update, in addition to saving pages you find while browsing in Vivaldi, you can also save pages from any app on your Android device that includes a sharing functionality.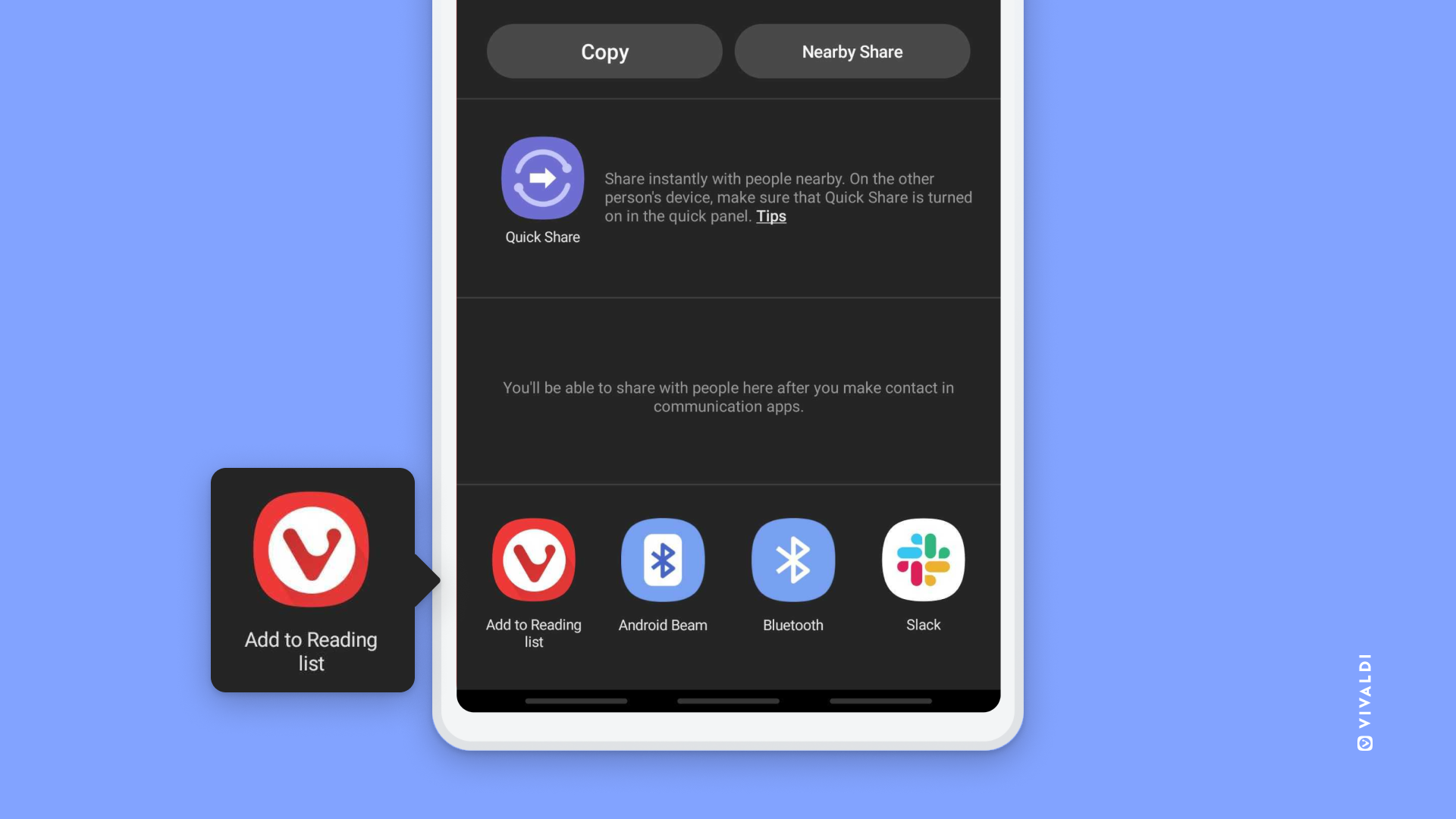 To save a page to Vivaldi's Reading List, use the sharing function in the app in which you found an intriguing article worth saving and look for "Add to Reading List" with the Vivaldi logo.
You can access your Reading List (Bookmarks, Tabs, and more) from all your devices through Vivaldi Sync. Save something to your Reading List from your laptop, and you can get back to it an hour later while you have some time to kill on the bus.
Say Hello! to Vivaldi 6.4 on Android

We are improving Vivaldi at every step so that you can stay organized and efficient, and also have fun. It only gets better when you start exploring its various features.

We have also added significant enhancements to our desktop version that you may want to check out.

Ready for download, Vivaldi's new version on Android is improved. Give it a try, share your feedback, and please leave us a ⭐️⭐️⭐️⭐️⭐️–star review on the Play Store

See the full change log for more details on this release.
Changelog
[New][Bookmarks] New bookmark and speed dial dialog design (VAB-6411)
[New] Provide an easier workflow to add a URL to the reading list (VAB-6474)
[Bookmarks] Add search to folder chooser dialogs (VAB-7787)
[Bookmarks] Move the new folder button to the float action button in the editor (VAB-7998)
[Reading list] Add to Reading list menu does not work from external apps (VAB-8139)
[Foldables] [Panels] [Notes] Remove the split-view editor and replace it with a centered editor dialog [VAB-7944]
[QR] Copy and Cancel buttons do not dismiss the QR reader (VAB-7983)
[Settings] Capturing screenshots of private tabs shouldn't be possible (VAB-7900)
[UI] Change layout to add the widget to the home screen prompt (VAB-7530)
[UI] Decrease the distance between items in the bookmark editor and update the folder icon (VAB-7942)
[UI] Download panels show two empty state icons (VAB-8024)
[UI] Improve contrast for background tabs (VAB-7025)
[UI] Rearrange onboarding flow to show Vivaldi as default earlier (VAB-7616)
[UI] Tapping outside prompts should dismiss the prompt (VAB-7929)
[UI] The theme setting is misaligned (VAB-7029)
[UI] Update UI icons to the same style as Desktop and iOS (VAB-7836)
[UI] URL is not fully visible after opening the panel when the bottom address bar (VAB-8208)
[UI] Wrong tracker blocker icon used in the address field (VAB-7877)
[UI][Tablets] Start page UI adjustments for tablets (VAB-7827)
[Webcompat] [WebPerf] [Regression] DNS-prefetch and preconnect not working (VAB-8111)
[Chromium] Upgraded to 118.0.5993.146