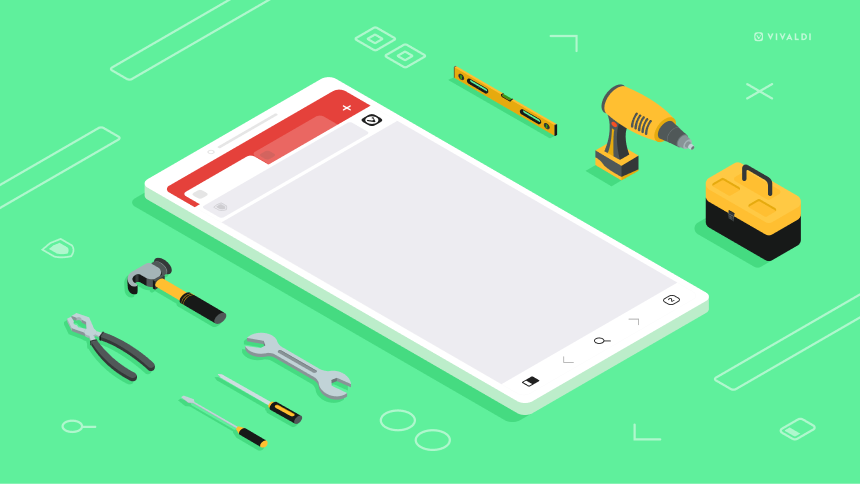 Read this article in español, Deutsch, 日本語.
Today, we rolled out the new version of Vivaldi on Android – Vivaldi 6.2.
Our typical release resolution? Simple: kill all bugs and improve the browser across the board.
And for this one, obviously, we stuck to it. The core user experience remains our highest priority. This lets us focus on squashing bugs that you may have encountered, and fine-tuning the browser so that your browsing is more fun and fast.
Talking about fast, our latest desktop version fires up the browser's performance due to massive refactoring of the Vivaldi code. Read more about it here.
Vivaldi 6.2 on Android is ready for download on phones, tablets, and Chromebooks. For now, let's take a look at the improvements in this update!

Improved Tracker and Ad Blocker.
We continue to improve our features with every release and this time, we've introduced a more visually appealing Ad and Tracker Blocker dialog that ensures the feature looks and feels even better.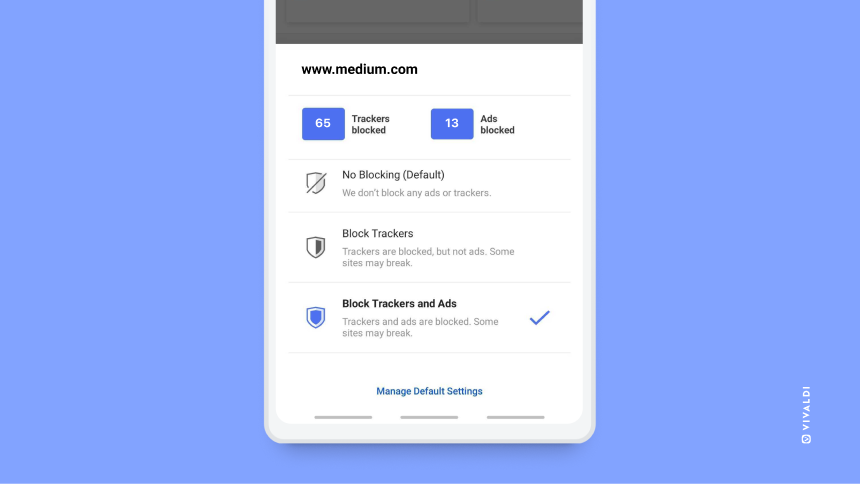 What's useful is that our built-in Tracker and Ad Blocker dialog includes visible counters showing the number of blocked ads and trackers. You can see the collective tracking information about all the trackers and ads blocked during your browsing session.
Bookmarks get better.
We've resolved the issue where the mobile folder was being set as the default save folder for bookmarks. Now, when you save a bookmark, it will be conveniently saved to the main bookmarks folder.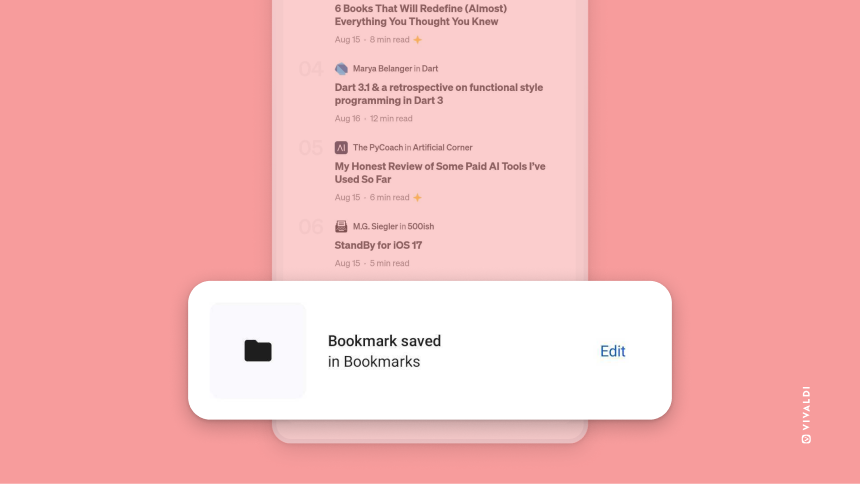 In addition, you'll find the checkmark retained on the highlighted selected item, after you drag a bookmark.
Sync multiple accounts with Vivaldi.
We've got an important fix done in our encrypted Sync functionality. Now the users' name and password fields will remain intact even when credentials are invalid. This fix prevents frustration caused by losing entered credentials during synchronization.
With the synchronization function, you can synchronize your Vivaldi browser data safely and securely across multiple devices including cars.
In case you don't have an account yet, create a new Vivaldi account in the Settings window or on Vivaldi.net. With a Vivaldi account, in addition to Sync, you'll get access to the Forum, Vivaldi Social, Themes, and Blogs.
More love to the tablet.
Using a tablet? We have ironed out issues that prevented the Speed Dial page from opening when the last tab was closed. Now, closing the final tab will lead to the Speed Dial, and will provide a consistent and intuitive experience.
And if you have experienced frequent crashes on tablets after disabling Tab Stacks, you'll be happy to know that this has been taken care of!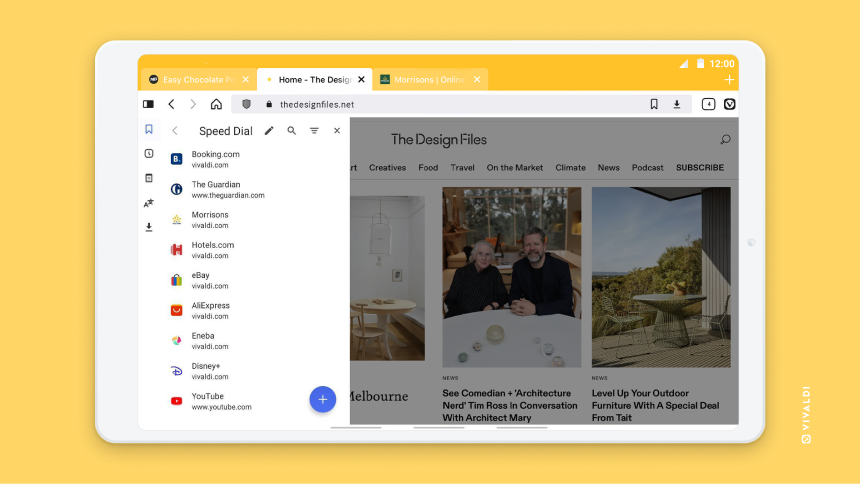 When it comes to tablets and Chromebooks, we've always given special attention to them as most of the browsers on the market are not typically built keeping them in mind. For example, in the past, we've included a side Panel to optimize screen space better.
Unlike other browsers, Vivaldi's interface on a tablet is styled to stand out with features such as real tabs, sync, built-in note-taking, optimized landscape and portrait mode browsing, built-in Tracker and Ad Blocker, and the unique Two-Level Tab Stacks.
Upgrade to the latest Vivaldi on Android.
We like to keep shipping, which means that we are invested in improving the product for you. Your feedback helps us tremendously. We enjoy this two-way process, so keep that going!
In the very near future, we will ask for your feedback on our iOS version as we are preparing for our first stable release. Sign up for the iOS newsletter to be notified.
For now, download Vivaldi 6.2, and hit us up with 5 stars on Google Play. Alternatively, you can download the browser from Uptodown.
Take a look at the changelog below. Enjoy Vivaldi 6.2.
Changelog Vivaldi 6.2
[New] Prompt to Add Search Widget to device's home screen (VAB-7129)
[New] Prompts to Set Vivaldi as default (VAB-7128)
[New][UI]Tracker Blocker dialog UI consistent style with SSL/connection dialog (VAB-6757)
[Bookmarks] Don`t use the Mobile folder as the default save folder (VAB-7614)
[Bookmarks] Wrong icons after dragging bookmarks (VAB-7454)
[Bookmarks][UI] Increase height of bottom panel (VAB-7755)
[Settings] [Sync] Don't empty the password field if credentials are invalid (VAB-7529)
[Tablet] Closing the last tab does not open the Speed Dial (VAB-7538)
[UI] Change the search widget logo to match the Vivaldi build (VAB-7610)
[UI] Scrollable translate panel view (VAB-7408)
[UI] Set as default browser banner icon changes (VAB-7813)
[UI] Use preset 2 as default for the Main Menu layout for new users (VAB-7736)
Updated translations
[Chromium] Upgraded to 116.0.5845.122