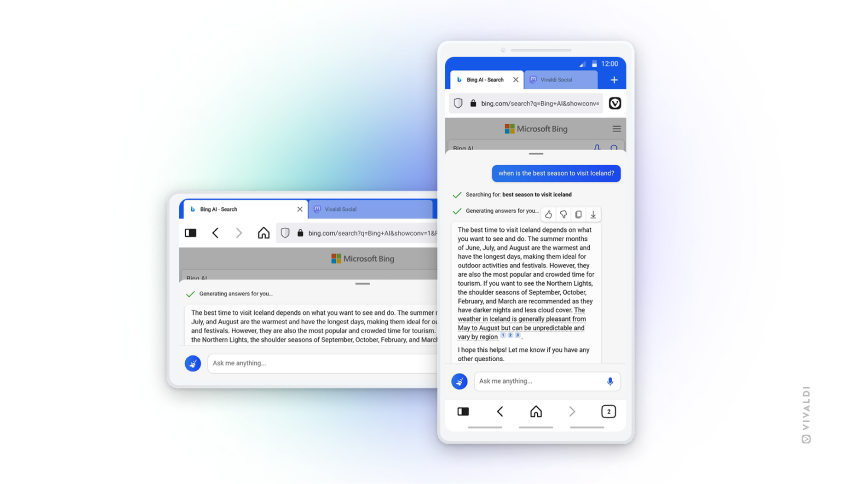 Today, we launch the new version, Vivaldi 6.1, on Android phones, tablets, and Chromebooks. It is now ready for download.
Vivaldi sends a clear hint to Microsoft Bing Chat.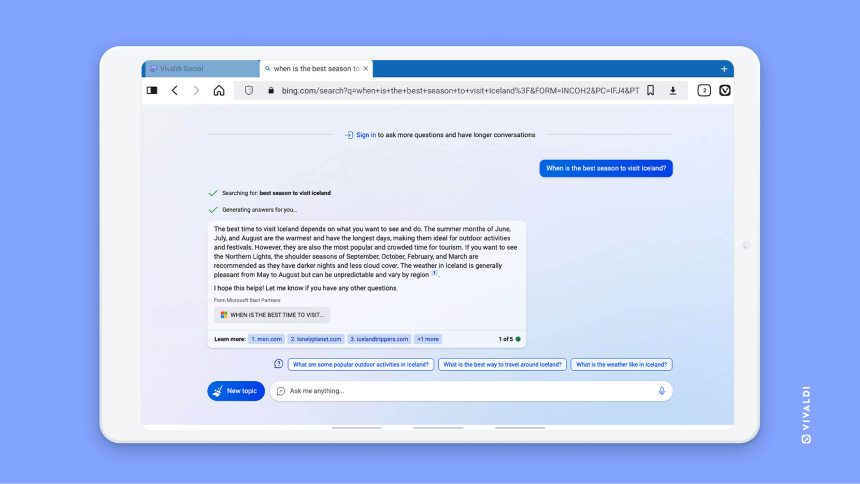 Vivaldi is built on top of the Chromium open-source project. It's the same core used in Microsoft Edge and Google Chrome. Websites that work in one Chromium browser should work in others.
Many websites worked perfectly in Vivaldi but were blocked when not included on the site's allowed list of leading browsers. To combat this, back in 2019, we were forced to change Vivaldi's User-Agent strings. The User-Agent contains the web browser's name, the name of the operating system, and other technical information.

Vivaldi began masquerading as Google Chrome for better site compatibility. We'd like to proudly announce ourselves as Vivaldi, but the current state of the web makes this difficult.
Fast forward to 2023: History is repeating itself. Now, we are getting reports that websites block Vivaldi based on its Client Hints. The new Client Hints standard is intended to replace the legacy User-Agent. Our developer, Yngve Pettersen explains User-Agent discrimination.
Having to find a solution to this also revealed something that many of you will be happy to learn. There are people who would like to try Bing Chat but have been unable to do so as they would need to use Microsoft Edge for that. Now, we have taken additional steps to ensure that you get to use Bing Chat.

Vivaldi masquerades as Microsoft Edge when visiting Bing. This means that you can access Bing Chat on your phone when using Vivaldi.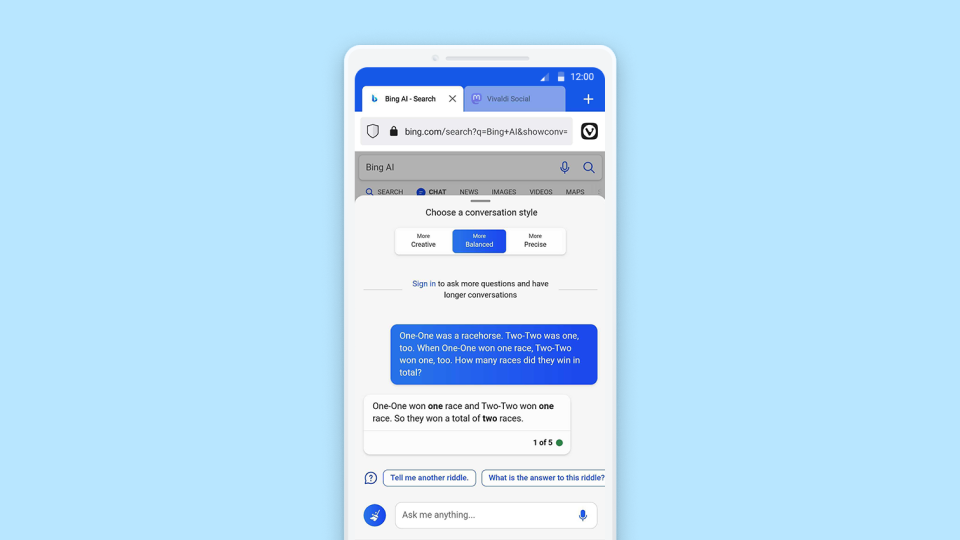 Download the new Vivaldi.
We continue to improve and polish Vivaldi on Android and value your feedback at every step. Get Vivaldi 6.1 from the Play Store, and don't forget to rate us there!
In case, you don't want to download from the Play Store, you can download from Uptodown or from the Huawei store.

Also, we recently released the preview of our browser on iPhones and iPads. We are inviting more and more people to try the new version as quickly as we can handle all the excellent feedback. Sign up for the iOS newsletter to be notified when it becomes available.
For more details on Vivaldi 6.1, head to the changelog.
Changelog from 6.0 to 6.1
[New][Client Hints] Bing chat only works if you manually identify as Edge (VB-96016)
[Help] Vivaldi Help link should open Android section automatically (VAB-7449)
[Notes] New notes aren't created inside the currently open folder (VAB-7366)
[Panel] Content lists don't scroll back once at end (VAB-7079)
[Panel] Button doesn't work while focusing address field (VAB-7313)
[Settings] Prompt to rate Vivaldi (VAB-6997)
[Sync] Typed URL is not synced(VAB-7447)
[Tablet] History panel does not get updated properly (VAB-7456)
[UI] Open Get Started page as last step of Onboarding (VAB-7488)
[UI] Toolbar is in the middle of the screen after rotating device (VAB-7484)
[UI] View cut off in menu settings in landscape mode (VAB-7267)
[Chromium] Upgraded to 114.0.5735.97