Read this article in Français, Deutsch, 日本語, Polski, Português Brasileiro, Русский, Español.
Today we release Vivaldi 2.10 – our last desktop update of the decade. Ending on a high note, we address a very significant issue that will provide you with the best website compatibility while browsing.
The new version also gives you an option to match and even schedule your browser themes to be in sync with your device's operating system. In addition, there have been overall improvements across the board.
No "strings" attached: Better site compatibility with User Agent changes
Being a Chromium-based browser, Vivaldi should work on any website that works on Chrome. Yet, we have faced the issue of "incompatible websites" far too often.
This is because many websites that work perfectly in Vivaldi, actively block us when we "announce" our true name. Vivaldi is often blocked by competitors, rivals and tech companies in positions of power. Blocking browsers has no technical merit in 2019, nor has it ever had.
Our users regularly encounter messages that they have to upgrade their browser or the site will not work. Although we have made workarounds for a few of these issues, this is happening on too many sites and some are hard to fix.
From this update onwards, you'll be able to browse smoothly all those websites that claim to be incompatible with Vivaldi. This is because we've changed Vivaldi's user agent string. Basically, the word 'Vivaldi' is being dropped from the user agent string.
For the uninitiated, a browser sends its "user agent" to every website you connect to. A user agent is a string – that is, a line of text – identifying the browser to the web server, including the version number and operating system.
Over time, the browser "user agent" system has been abused with the practice of "browser sniffing" and a lot of ink has already been spilled on the reasons why the user agent string should not be used for such bad practices. In short, instead of making the Web accessible to everyone, regardless of which browser or device they are using, this has worked the opposite way.
The primary reason to show Vivaldi in the user agent is a level of pride. That pride, however, is hurting us, as our competitors and others are using this to block us from their services. That is why with today's update, we've drawn a line in the sand so that you can browse more websites without a glitch.
Here is a video that will explain this further:
Note: You can also test these for yourself.
Colour-coordinated: Match your themes with your operating system
Vivaldi already allowed you to schedule the ultra-customizable Vivaldi themes to change at your preferred time(s) – a unique feature that gives your browser a look that's exclusively yours.
Now you'll find a new quirky option so that Vivaldi can work in concert with the themes of your operating system – to match light or dark theme (the latter being all the rage these days). Vivaldi can now follow the theme of your OS too.
To match the themes according to your OS, go to Settings → Themes → Scheduled Themes → Use Operating System Theme. You may pick any pre-installed or custom theme to be used in light and dark mode.
Or you can always set up your own time schedule, regardless of OS, using as many themes you want.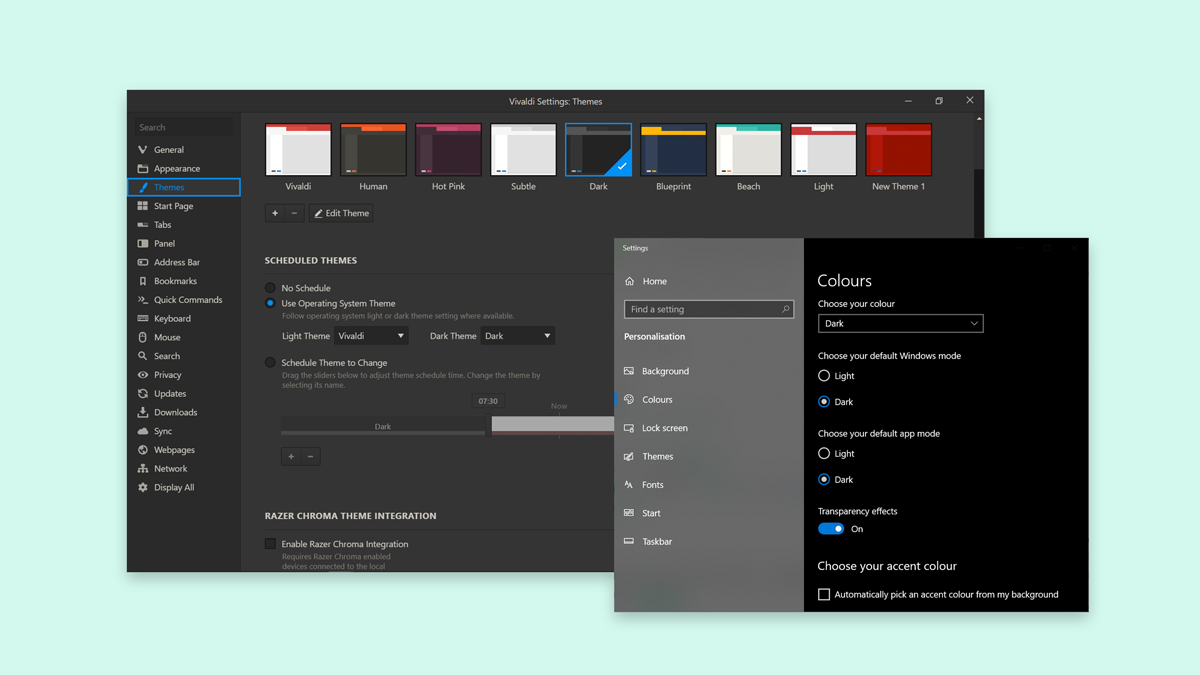 Other Improvements
Our focus on improving your overall browsing experience is an integral process of building Vivaldi. Here's more on the offer:
Improvements in the Address Bar layout along with some tweaks in keyboard handling.
If you are a heavy user of Extensions in Vivaldi, there have been improvements in the toggle to show or hide hidden extensions.
Significant performance improvements to Quick Commands.
We hope that you'll enjoy our new update. As we look ahead for the new year with many more exciting projects on deck, we know that your support has been indispensable. Keep your feedback coming in!
And of course, we won't wrap up our 'releases for this year' without wishing you a very happy and healthy holiday and a bright and hopeful new year. 🙂
Changelog from 2.9 to 2.10
New
[New][User Agent] Only set Vivaldi/Version for duckduckgo.com, ecosia.org|com, qwant.com, startpage.com and vivaldi.com|net VB-60585
[New][Themes][Settings] Add a theme scheduling option to follow operating system light/dark theme VB-59849
[New][Quick Commands] Keep text in input field if command not executed: Settings → Quick Commands → Keep Last Entered Value VB-58811
[New][Keyboard][Bookmarks] Support for focusing the bookmark bar: can be mapped as a shortcut VB-59807
[New][Extensions] Horizontal extension-popup instead of vertical extension-popup VB-60392
Accessibility
[Accessibility] Focus does not go to password popup VB-4077
Address Bar
[Address Bar] Context menu is delayed on right click with lots of notes VB-58379
[Address Bar] Hidden bottom address bar is on top (when focused) VB-59116
[Address Bar] Hostname with an appended slash is not recognized as URL VB-59972
[Address Bar] Nickname search requires two spaces to show nicknamed icon VB-55619
[Address Bar] Progress bar goes from right to left when adding content to existing page VB-60699
[Address Bar] URL is not focused when "Settings → Tabs → New Tab page → Specific Page" is set VB-59976
[Address Bar] Unsafe script references in the blocked content dialog are misleading VB-59357
[Address Bar][Mac] Right-click selects text in Vivaldi VB-37269
[Address Bar][Regression] Focus not in the address bar in private windows VB-59372
[Address Bar][Regression] Should support drag-and-drop editing VB-60069
[Audio] It is impossible to unmute an inactive tab playing a video (music on YouTube) VB-51450
Bookmarks
[Bookmarks] No "Date added" column/ "Sort by Date Added": it can be toggled from title row context menu VB-53043
[Bookmarks] Panel toolbar displays 'needs upgrade' VB-60695
[Bookmarks] Tree sorting button tab stops should follow Full Key Access VB-17472
Dev Tools
[Dev Tools] Audit is broken VB-47497
[Dev Tools] Undocked dev tools should have the URL of the inspected page in the title bar VB-60032
History
[History] Manager says 0:00:00 in List and Day Views when OS language is Japanese VB-60147
[History] Week number in manager should be locale aware VB-57025
[History][Bookmarks] Sorting arrows are the opposite of what they should be VB-25098
[History][Regression][Mac] Popup buttons move to left after hitting Delete VB-60549
Keyboard
[Keyboard][Accessibility][Panels] Allow use of use arrow keys to navigate the buttons on the toolbar VB-60201
Notes
[Notes][Themes] "Go to address" button has incorrect colors in dark theme VB-60605
[Popup] Title bar is blurred VB-45975
Quick Commands
[Quick Commands] Enabling both "Keep last entered value" and "open on nickname match" makes QC otherwise unusable VB-59872
[Quick Commands] History search can be very slow VB-60573
[Quick Commands] Text is kept after a command is executed VB-59965
Settings
[Settings] Gesture mapping column can collapse VB-8008
[Settings][Search] It is not obvious how to save the default VB-60550
Speed Dial
[Speed Dial] No immediate feedback after a link is clicked VB-58111
[Speed Dial] The border of the highlighted thumbnail is cut off when using rounded corners VB-60581
[Speed Dial] Unable to open an entry in a new private window using the context menu VB-59418
[Speed Dial][Sync][Regression] Loss of user-defined thumbnails VB-60519
Sync
[Sync][Settings] Sync button does not go to the sync section if settings is closed VB-59431
Tabs
[Tabs] Add "Alt-click to reopen last closed tab" tooltip to Trash button: middle click also works VB-28989
[Tabs] Unable to clone multiple selected tabs VB-58497
[Tabs][Regression] Can't close tab stack from the windows panel, not with the button, nor the right-click menu. VB-59341
Themes
[Themes] Scheduled themes UI selection issue VB-60416
Windows
[Windows] Update Notifier icon has empty context menu VB-53436
[Windows][Linux][Settings][Keyboard] Switch the default shortcut for Settings to Ctrl+F12 VB-60305
Linux
[Linux] Proprietary media and Widevine are not installed for users with a poor internet connection VB-60547
[Linux] Update Widevine to 4.10.1582.1 and proprietary media support to 78.0.3904.X VB-59903
macOS
[macOS] Too many window-tiling options displayed in window menu under Catalina VB-58755
Others
[Sound] Permissions to allow microphone access aren't being saved VB-59566
[Sound] Reopening tab results in incorrect muting VB-56449
[Sound] "Ask" is invisible in the sound permission popup VB-59326
[Start page] Focus stolen from beforeunload dialog opener VB-59225
[Crash] Crash on startup with old prefs/profile VB-60338
[Crash][Regression] Changing UI zoom while having undocked dev tools for UI open causes crash VB-60315
[Regression] Hang opening a background tab from a pinned tab when action would create a Tab Stack VB-57575
[Regression] Popup window doesn't close by window.close VB-59999
[Regression] Tab thumbnail doesn't get updated until you visit/open/close another tab VB-59669
[Regression] Tabs don't get detached when dropped inside the window VB-60807
[Regression] getDisplayMedia doesn't work VB-61112
[Regression][Panels] Floating panel + tabs positioned on the left side causes issues VB-59415
A new tab opened from with "no images" set should inherit "no images" VB-12945
Long file names make save dialog unreadable VB-60439
No warning before closing a window if exit confirm is off VB-54151
Upgraded Chromium to 79.0.3945.94