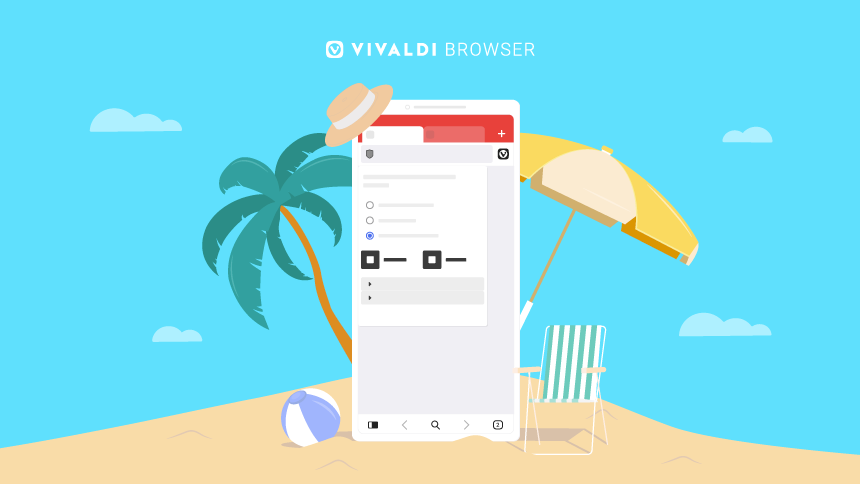 Read this article in Deutsch, Español, Français, 日本語, Русский.
Our new version on Android has arrived, with a bunch of new additions and improvements.
We know you love options. And we love listening to your suggestions. That is why we have been constantly working on improving the browser's user experience.
Our Tracker and Ad Blocker dialog is much improved. It now includes more visible counters that show the number of blocked ads and trackers.
We got feedback from some of you that the menus could be hard to navigate, so we have reorganized them to make them easier.
Just like on our desktop version, you can now close all other tabs except the one you are viewing.
There are also user interface enhancements to our built-in Sync functionality, making the process of syncing your data between various devices with Vivaldi installed even easier than before.
Download Vivaldi 5.4 on your Android devices (5 and above), tablets, Chromebooks, and automobiles. Recently, we also released Vivaldi 5.4 on desktop with new additions.
Privacy statistics in the Tracker and Ad Blocker, now more upfront.
Because we care about your privacy, our built-in Tracker and Ad Blocker helps you protect yourself from trackers and unwanted ads.
But do you know just how many trackers and ads actually follow you?
Before the numbers were not shown upfront but now they are more visible. With the new counters in the Tracker and Ad Blocker dialog, you'll see the collective tracking information about all the trackers and ads blocked during your browsing session.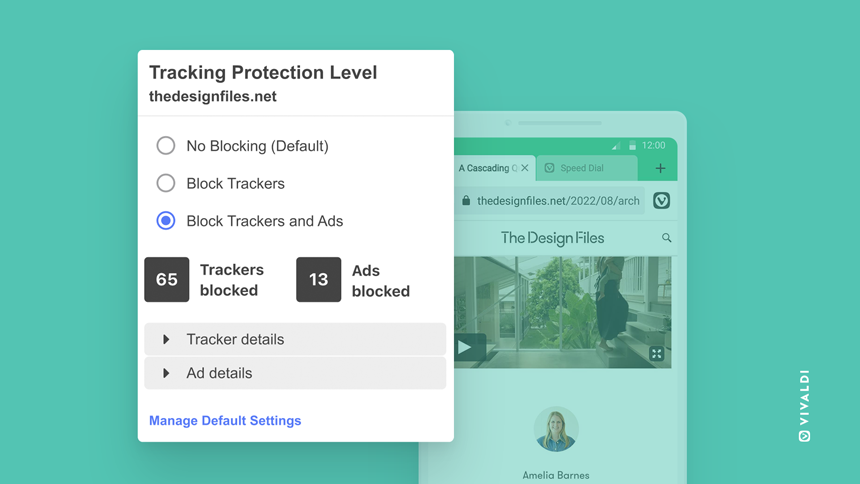 Some of you may not have really bothered to notice these numbers earlier. However, looking at the statistics can give you an overview of the sheer scale of tracking and profiling happening and help you gain insights about them.
Our desktop version also gives you this reality check on the number of trackers and ads being blocked from profiling you.
For the uninitiated, Vivaldi's Tracker and Ad Blocker does give you control over how you want websites to display and what you want websites to know about you. That is why you can enable preinstalled blocking lists in Vivaldi and also include your own custom lists.
One more Tab option. This time it is "close other tabs".
An open tab may reveal some secrets if you aren't browsing privately. You can, of course, with enough swiping and tapping, close each of your open tabs one by one. A faster way, however, is to close all open tabs at once – if you know where to look.
But we know that you love working with tabs so much that you often forget to keep tabs on how many of them are left open.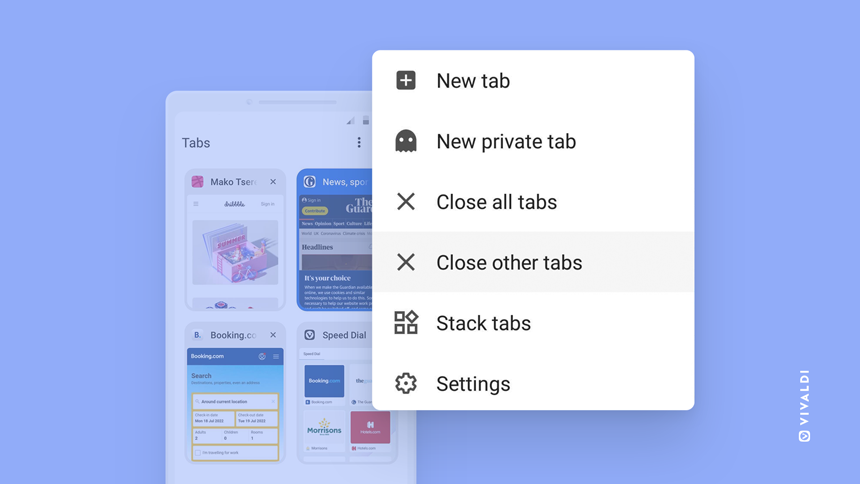 That is why we've added an option that will enable you to close other tabs that are not in use. This will clean up your Tab Bar by closing all other tabs, except the currently open one.
This option is accessible from the Tabs Switcher and Tabs menu, and is also available on our desktop version.
What's on the menu? Restructured and looking good.
It has been shown time and time again that people pay the most attention to the top of a web page and that they engage better with information placed there.
The Vivaldi menu has a collection of entries through which you can access Vivaldi's functionality. Based on user feedback, we set out to make the menu work better for you by restructuring and reordering its entries.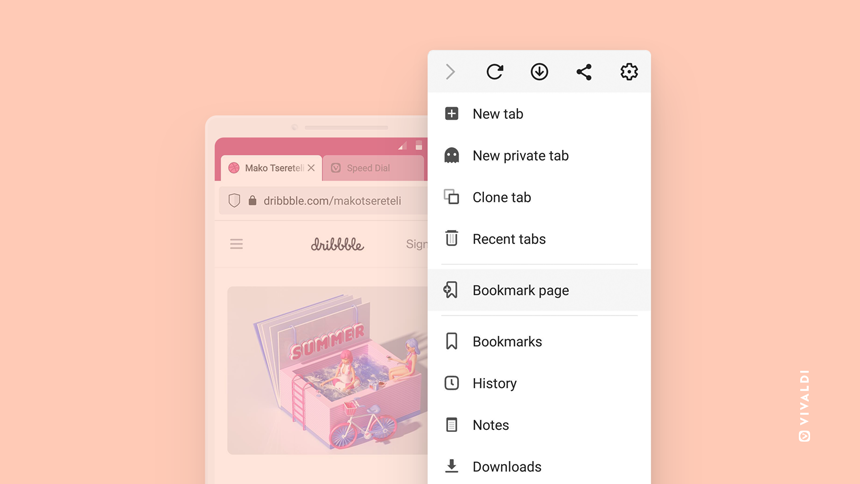 Now, you'll be able to spot how to bookmark your favorite page much more easily. You can also access the Panels from the menu and navigate easier.
More improvements
We aim to improve every aspect of the browser, including the minor details. For us, polishing even the smallest area enhances the browser experience. As a result, we have been improving the user interface of our built-in Sync functionality, so you can get started more intuitively and sync your data across devices – including cars.
So now it's time to download our shiny new Vivaldi 5.4 on your device.

Surprised by your blocked ad and tracker tally? Share your stats in the comments!
Let us know what you think and head to the changelog for more details.
Changelog from 5.3 to 5.4
[New][AdBlock] Update blocker dialog UI with counters VAB-5377
[New][Main Menu] Improve structure and make it easier to Bookmark current page VAB-5811
[New][Sync UI] Implement Sync UI & UX changes VAB-5905
[New][Tabs] Add Close other tabs option to the tab switcher and tabs menu VAB-5870
[Android 13] Themed Icon for Vivaldi (VAB-6059)
[Dark Theme] Start sync button states are not distinct VAB-5994
[Search] Preserve active status of prepopulated search engines on upgrade VB-90892
[Split window] Force orientation when in split window mode for phones VAB-6090
[Tabs] Blinking tab bar while restoring a lot of tabs VAB-6025
[Tabs] Flickering tab bar when opening a new tab while restoring VAB-6250
[UI] "Cached images and files" icon looks active even when "Clear session data" is disabled VAB-6094
[UI] Delete icon on the top right corner in history becomes invisible VAB-6148
[UI] Keyboard accessory toolbar misaligned when the toolbar is at the bottom VAB-6176
[Chromium] Upgraded to 104.0.5112.83