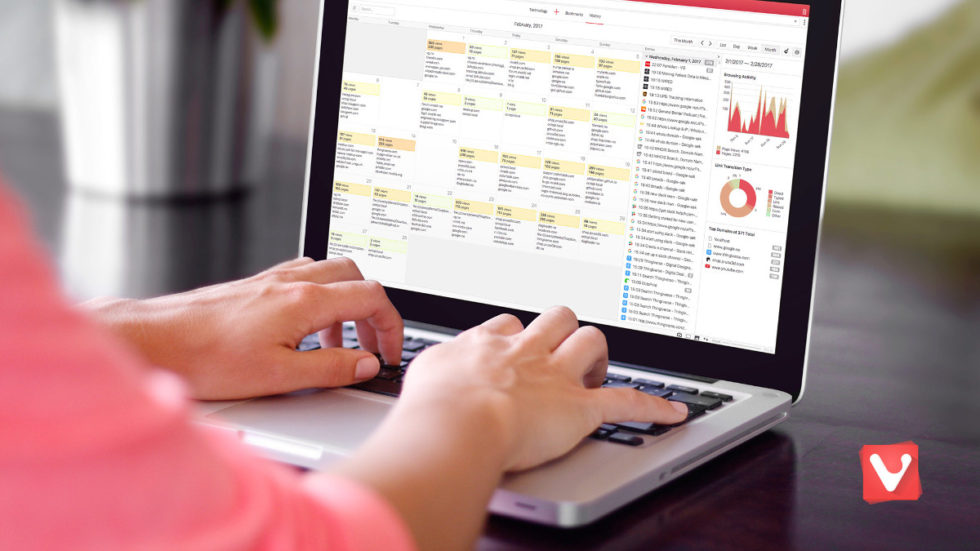 Releasing Vivaldi 1.8 today, we are proud to give you our new History – a powerful tool that lets you explore your browsing patterns and makes finding previously visited web pages easier than ever before.
Fresh look at History
Many of us rely on our browsing history to find visited websites. Yet, in most browsers, history is quite limited in its approach. You'd get a long list of pages visited and you'd need to search and scroll through hundreds of lines to find what you're looking for.
There is a reason for that – as a rule, browsers don't really want you to use history. They want you to search and find things multiple times because search royalties are part of their business model.
We're thinking differently and giving you an entirely new approach to history – a detailed overview backed by statistics and presented in a fresh, visual way.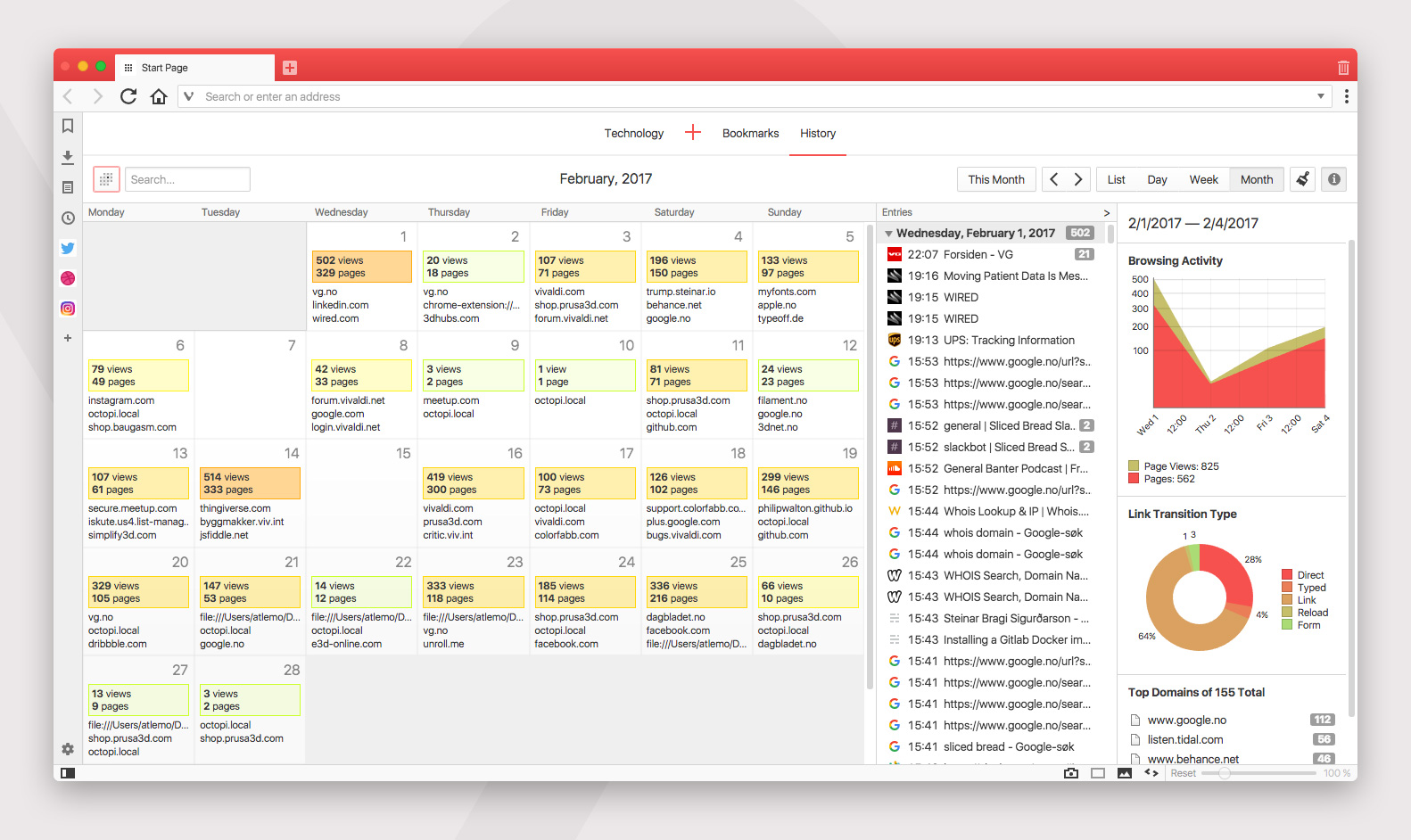 So many ways to find everything
At Vivaldi, we always want to give you the flexibility you deserve so that you can use the browser exactly the way you want. History is no exception, and there is more than just one way of working with it.
The bottom-up approach is through search where you'd get a traditional list of pages you visited. There is also the top-down approach with monthly, weekly and daily overviews, where you get so much more than just a list of links. Graphs and a color-coded heat map overlay add another dimension, showing peaks of online activity and key browsing trends. There is also an option to search with a specified date range.
Quite often, when you're trying to look for something in your browsing history, words escape you. And how are you going to search for something if you don't remember the name of the company or website that you're looking for?
Vivaldi's history puts searches in context. Let's say you're trying to remember where you saw that gift for a special someone, and you can roughly recall that it was on the day when you spent a lot of time reading news. Using the calendar view that shows a list of top domains visited each day, you can see the day with most visits to news websites and narrow down your search from there.
For your eyes only
Vivaldi Technologies doesn't collect your history data. All of this information is strictly private and local to your computer. What you get to see is the kind of data that could be tracked by third parties. Instead of trying to monetize it, we are giving you this data – for your eyes only. With the ability to analyze this information, you can decide if you want to adjust your online behavior or remove certain items from the list.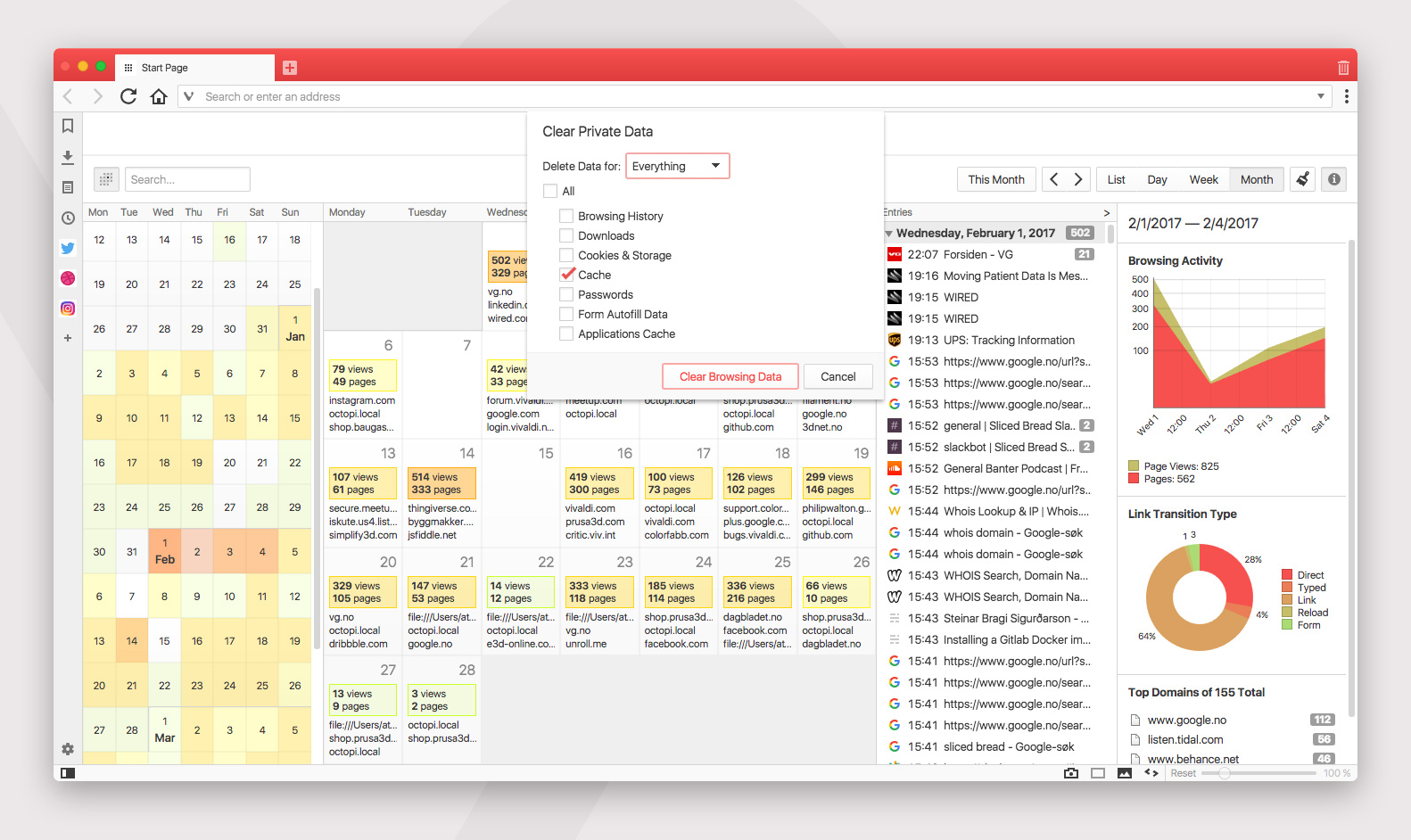 History on your side
We have also added History to the Side Panel where you can find your Bookmarks, Downloads, Notes and websites of your choice. Clicking on the History icon will reveal a list of previously visited URLs alongside the page you're currently viewing.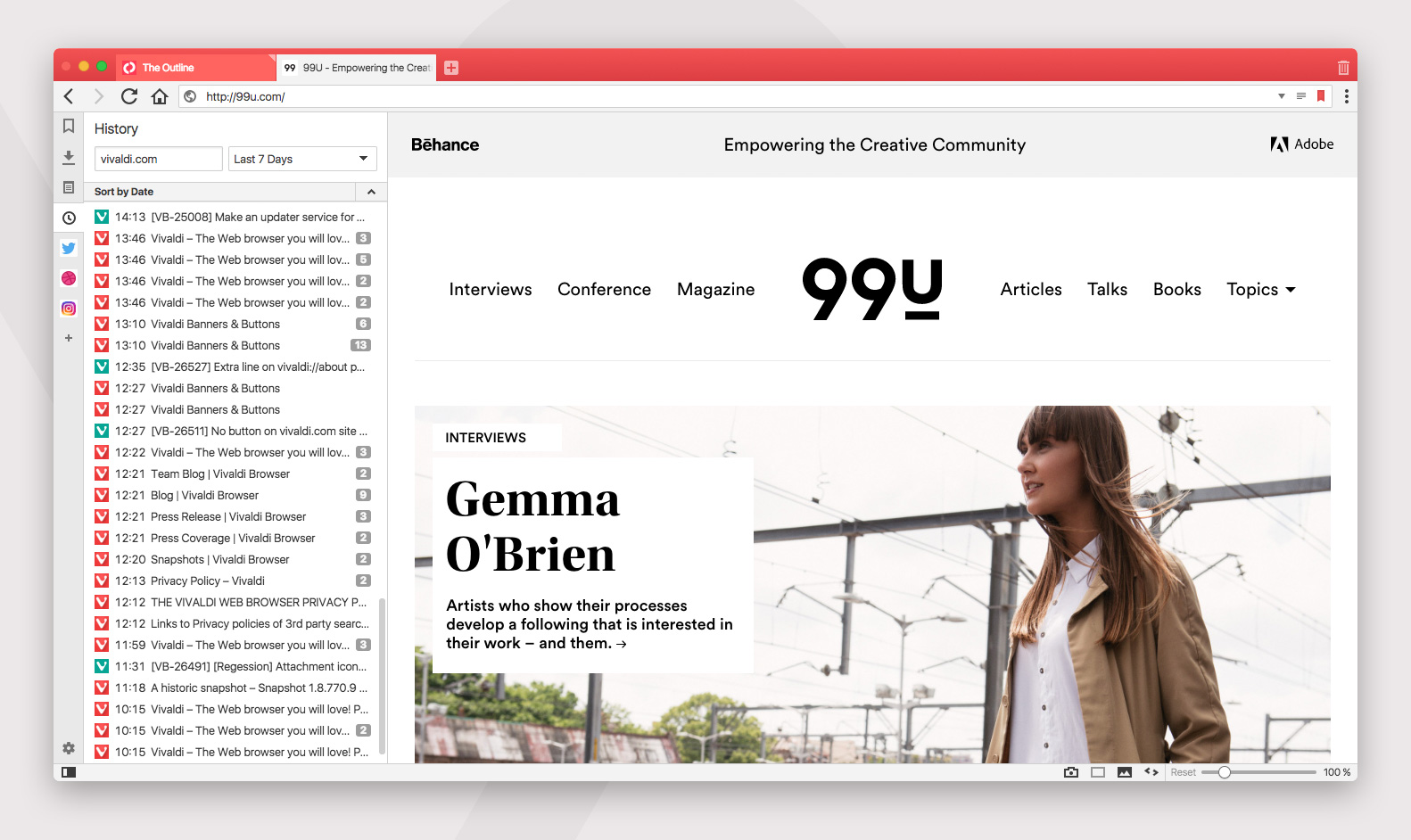 Always striving to give you more
History is not the only new thing in Vivaldi 1.8 With each release, we want to improve every aspect of the program, and 1.8 is no exception. Here are some highlights.
Create notes with drag-and-drop: you may already be using the Notes Panel where you can add your thoughts and even screenshots to the pages you're browsing. Now you can also create notes by simply dragging and dropping selected text into the Notes menu – not only from the browser itself, but from any other application.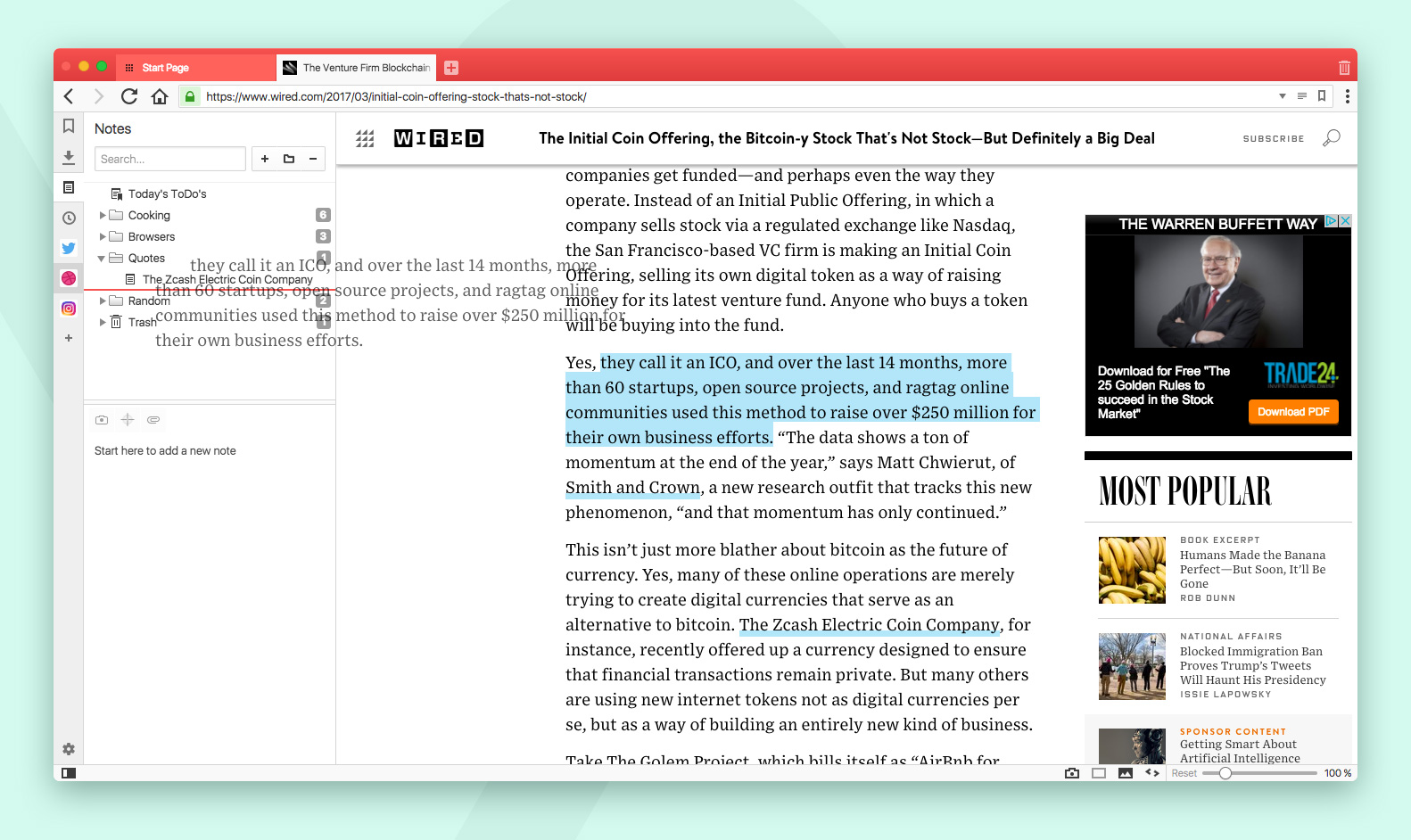 Advanced tab muting: we want you to have full control over what plays in your browser and what doesn't. You can now choose if you want to allow sounds in all tabs; only let the active tab play sound or let background tabs play sound as long as the active tab doesn't.
Other improvements: the latest release includes a number of other important updates that we hope you will find useful:
Preference to enable or disable auto-updates on Windows.
Option to set the home page to Start page.
Ability to open links in the current tab from the right-click menu.
An option to display hibernated tabs in grayscale.
Matches are highlighted in the address bar drop-down menu.
Translation improvements for Chromium.
Image search from the right-click menu.
What we always find interesting is finding out about how you use the Vivaldi browser. How do you think you will be using our new History and other new features? Let us know!
Changelog from 1.7 to 1.8
New features
Create a new and more advanced history (VB-627)
History panel (VB-25525)
Auto-muting options for tabs (VB-25474)
Add option to set home page to startpage (VB-25082)
Add "Open Link" (in current tab) to document context menu (VB-25175)
Make option for graying/shading hibernated tabs (VB-25337)
More visible highlight to use drop-down (VB-5827)
Allow creating a note from dragged text (VB-25402)
Add "Copy Selection to New Note" menu entry in Notes menu (VB-25379)
Add "Open Image" to image context menu (VB-25883)
Add new tab introducing to new features on update (VB-26270)
Context menu for image searching is needed (VB-13533)
Uninstall should open an uninstall page to help find out how Vivaldi can be improved (VB-26219)
[Windows] Allow notifications of new versions even if Vivaldi is not running
Fixes
Platform
[New feature][Windows][Settings] Add a preference to enable or disable auto-update (VB-25880)
[Mac] Crash using drop-down list in the options of extension ImprovedTube (VB-25511)
[Linux] Increase the reliability of working proprietary media (H.264/AAC/MP3) on Ubuntu (VB-26379)
Address field
Copy and cut encoded option in address bar setting is not respected (VB-26057)
Display help text/placeholder in URL bar (VB-26149)
First suggestion looks selected by default in the search field (VB-26096)
URL auto-complete does not consider typed history (VB-20375)
Bookmarks
Different behaviors in Bookmarks Bar after right/left click (VB-25806)
Search results are removed (VB-26034)
Editor in panel does not open when creating new item (VB-26596)
Always show details in the panel (VB-23752)
Notes
Convert character correctly using Korean IME (VB-25920)
Disable attachment buttons when no Note is focused (VB-25885)
Enter text to search for a note. Close panel and open => Search text is present but results are forgotten (VB-26052)
Folder name is not updated when switching between folders (VB-26084)
Folder name not working with Korean (VB-26060)
Screenshots open in active tab (VB-23244)
Settings
Allow disabling of Widevine (VB-26423)
Allow disabling of Flash (VB-24611)
Allow disabling of the internal PDF viewer (VB-24617)
Prevent focus from jumping when changing homepage setting (VB-26088)
Other changes
[A11y] Keyboard inaccessible Address Bar buttons (VB-25818)
[Reader] View button in address field fails when translated (VB-25861)
[Search field] Down key to open search engines list (VB-26098)
[Search field] Dragging text from address bar to search bar works (VB-26134
[Speed Dial] "Add Bookmark to Speed Dial" action always pre-fills last URL (VB-25860)
[Themes] Audio icon appears white with tabs on left/right side when in dark theme (VB-20846)
The new download confirmation dialog appears in all windows but disappears only in one (VB-23250)
Tabs should be marked as hibernated on cloning and optionally on startup (VB-24360)
Allow defining many TLDs for Ctrl+Enter expansion and cycling through them (VB-25031)
Reader mode grabs focus while navigating UI with Tab (VB-25179)
Populate Find in Page dialog with current page text selection (VB-25302)
Scroll to top/bottom gesture not working after reopen closed tab (VB-25306)
URL auto-complete does not consider Typed history with Prefer Bookmarks on (VB-25477)
[New feature] Allow for easier text selection within a link: bundle Select-Like-A-Boss (VB-9048)
Keyboard settings labels overflow (VB-25640)
Let Clear Private Data dialog remember state (VB-25581)
Confirm opening bookmarks over maximum did not work when hitting return button (VB-25798)
Drop-downs should handle modifier/middle click (VB-25826)
Find in page text overlap (VB-4941)
Find in page gets focused on some pages (VB-26160)
Let free area of panel bar accept drags to create web panel (VB-26076)
Put imported notes from Opera 12 in the main notes node, not the root node (VB-25809)
Remove full-screen entry from panel context menu (VB-26104)
Search Suggest URLs get copied between search engines in some cases (VB-25587)
Vivaldi crashes when deleting an app from Web Panel (VB-25867)
Auto-update window flickering (VB-25887)
Changing tabs by scrolling doesn't work with vertical tabs in overflow (VB-19062)
POST does not send data to new tab (VB-25688)
Audio icon is black when small (VB-26436)
"Open" action in document context menu is the first menu item (VB-26563)
vivaldi://newtab shows Google page (VB-3112)
"Clear download list" button inactive after restart of Vivaldi (VB-26083)
Remove document context menu entries that do not work in web panels (VB-26196)
Remember scroll position in bookmarks, history, etc. (VB-26724)
Can't write articles on Medium.com: lie to Medium and pretend to be Chrome (VB-25010)
Unable to unpin tabs by keyboard shortcut (VB-24177)
Bookmark properties cleared when preview is updated (VB-24725)
Crash in notification pop-up; when selecting allow/deny (VB-26626)
Updated Chromium to 57.0.2987.111