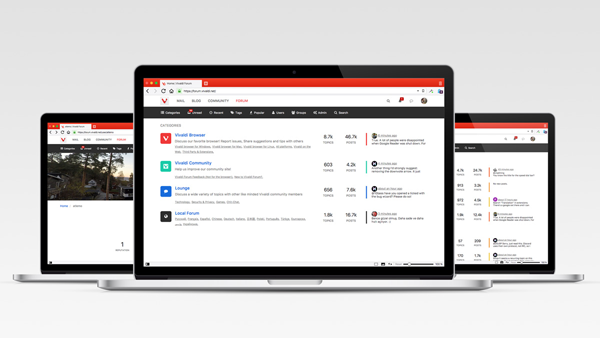 Since 2013 we've been running our whole community site on Joomla with various plugins, including Kunena for forums. It has served us well but we feel it's time to move on to more modern and flexible tools. We are starting with the forums and have switched over to NodeBB, which gives us a much faster, snappier and overall improved experience for everyone. NodeBB is built with javascript, expressjs and a long list of node modules. It shares some technology with our beloved browser!
GO TO FORUM
What's New
We're particularly proud of the improved design and additional features. Some of the highlights include:
New design
The first thing you'll see is the new forum design. It's a simple design which makes way for rich content to come first. Also, the profile pages have been revamped with a whole new look.
Mention other forum members in your post
Ever wish you could invite more friends to a conversation? Now you can with the new mention feature! Just use the now familiar @name construct and they'll be automatically tagged and can join in the chat.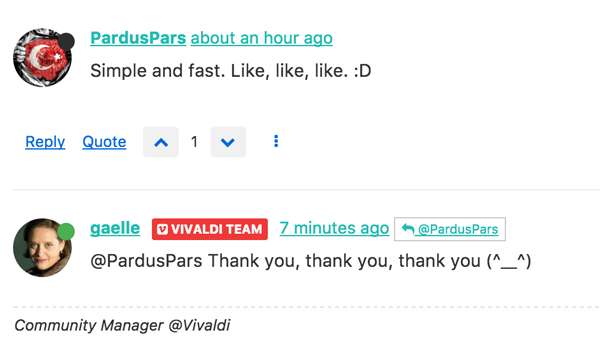 Chat functionality
You can now use our new chat for real time chats with other forum members. It's an easy way to connect with all your friends, and make new ones here in the Vivaldi community. (And all the links have in the meantime been redirected 😉 )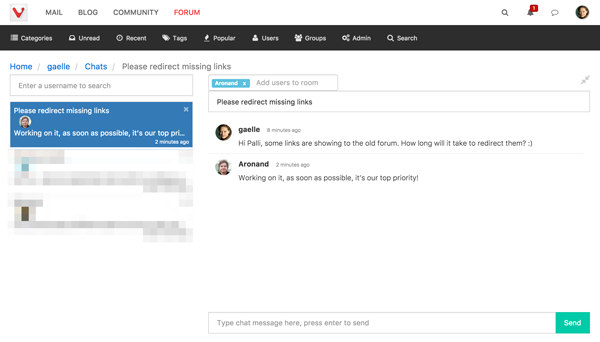 Voting
With the voting feature, you get to decide which posts are the most helpful, useful or entertaining. If you want to show your love for a post, simply upvote it! Then, sort posts in the thread by number of votes to see which posts are most relevant.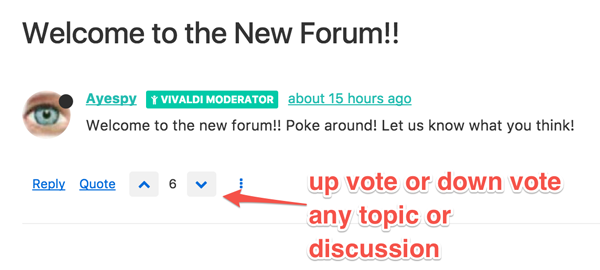 Flairs
Our Forum moderators and administrators get a special "flair" to make them easy to recognize.
To make all this possible, we needed a centralized user management and authentication system. This proved to be a big challenge, but we are proud to say it's finally ready for the public.
And please don't worry – all of our blogs will stay the same! You'll still be able to comment on them with your NodeBB account. We have already imported all the old forum threads along with your user accounts, so you can continue on with your discussions right where you left them.
Looking forward to seeing you on the forums!
GO TO FORUM
Ps: If you encounter any trouble, let us know about it via our contact form.