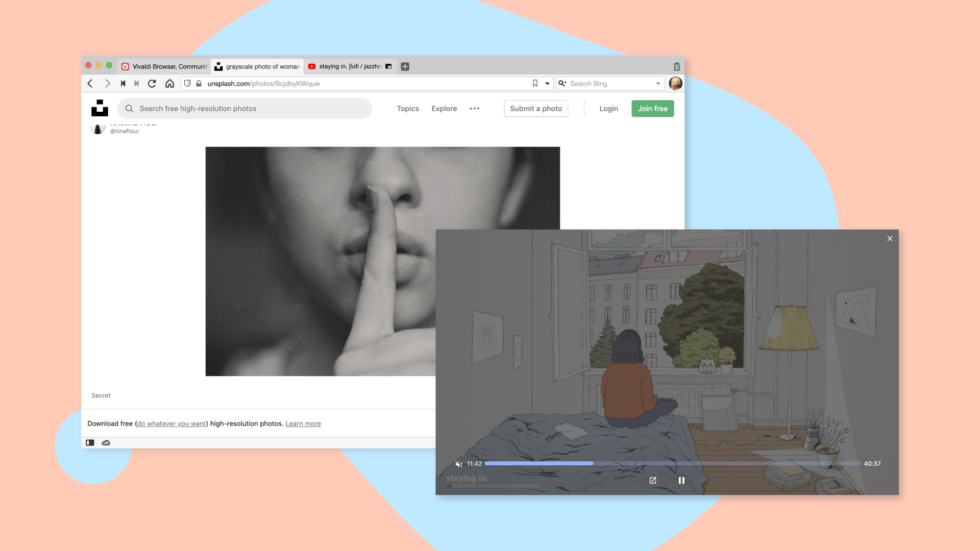 Read this article in Türkçe, polski, Español, Português Brasileiro, Français, Deutsch, 日本語, Русский.
We're happy to be back with a new version of Vivaldi after our summer break!
Vivaldi 3.2 adds a mute button to its popular Pop-out Video (picture-in-picture) mode, as well as includes overall improvements and security-related fixes.
You can now play, mute, and watch videos more intuitively outside of the page you found them – on your desktop and notebooks.
Pop-out Video more complete
Browsing habits and workflows of users vary, massively. And based on that, we strive to give you more different ways to browse with Vivaldi's wide range of features.
Making every aspect of the browser useful is part of Vivaldi's philosophy. Very recently, we transformed Vivaldi's basic note-taking implementation into a full-blown Notes Manager.
And Pop-out Video is no different.
Vivaldi's much-loved Pop-out Video has come a long way since it was first launched, hidden behind menus and extra clicks.
Pop-out Video allows you to watch HTML5 videos in a separate, movable & resizable floating window while you carry on browsing in other tabs. Catching a match while getting on with work has never been this easy.
Over time, we've added more functionality to Pop-out Video – thanks to your constant feedback it's now more discoverable and straightforward to use.
This latest version of Vivaldi gives you greater control over how you watch video content with any video provider, e.g. YouTube, Netflix, Twitch, and more.
Pop videos out easily: A single click on a small video box icon displayed in the center of the video will launch it in a separate movable, resizable, floating window.
If you wish to focus on another task, this feature can be disabled in the Settings under Webpages.
Mute and unmute: In the new version, a critical piece of the puzzle is added – the mute button.
This makes Vivaldi one of a few Chromium browsers to offer a user-friendly implementation of this functionality – users can mute and unmute with just one click while watching videos in picture-in-picture mode.
The mute button is a welcome addition in the current scenario of "work from home" or "stay at home". It comes in handy if users suddenly need to jump into an online meeting, take a phone call, or deal with other interruptions.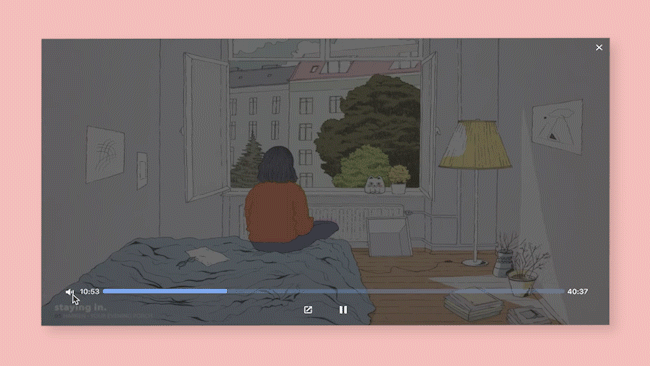 Video controls: There's a slider to seek specific positions in the video all from directly within the pop-out, with play & pause, and a "back to the tab" buttons to watch Pop-out Videos more intuitively.
Watching a video that's part of a playlist shows forward and back buttons and allows users to skip tracks or go back to something that caught their fancy.
Control sound in a Pop-out through Tabs and Quick Commands: Users already have powerful control of sound behavior in the Vivaldi browser through Quick Commands or Mute Tab Audio in Settings where they can turn off the sound when necessary.
Even though the sound can be turned off/on in the Pop-out Video directly, a simple right-click on the tab of the video in which it is playing is another convenient option to mute/unmute.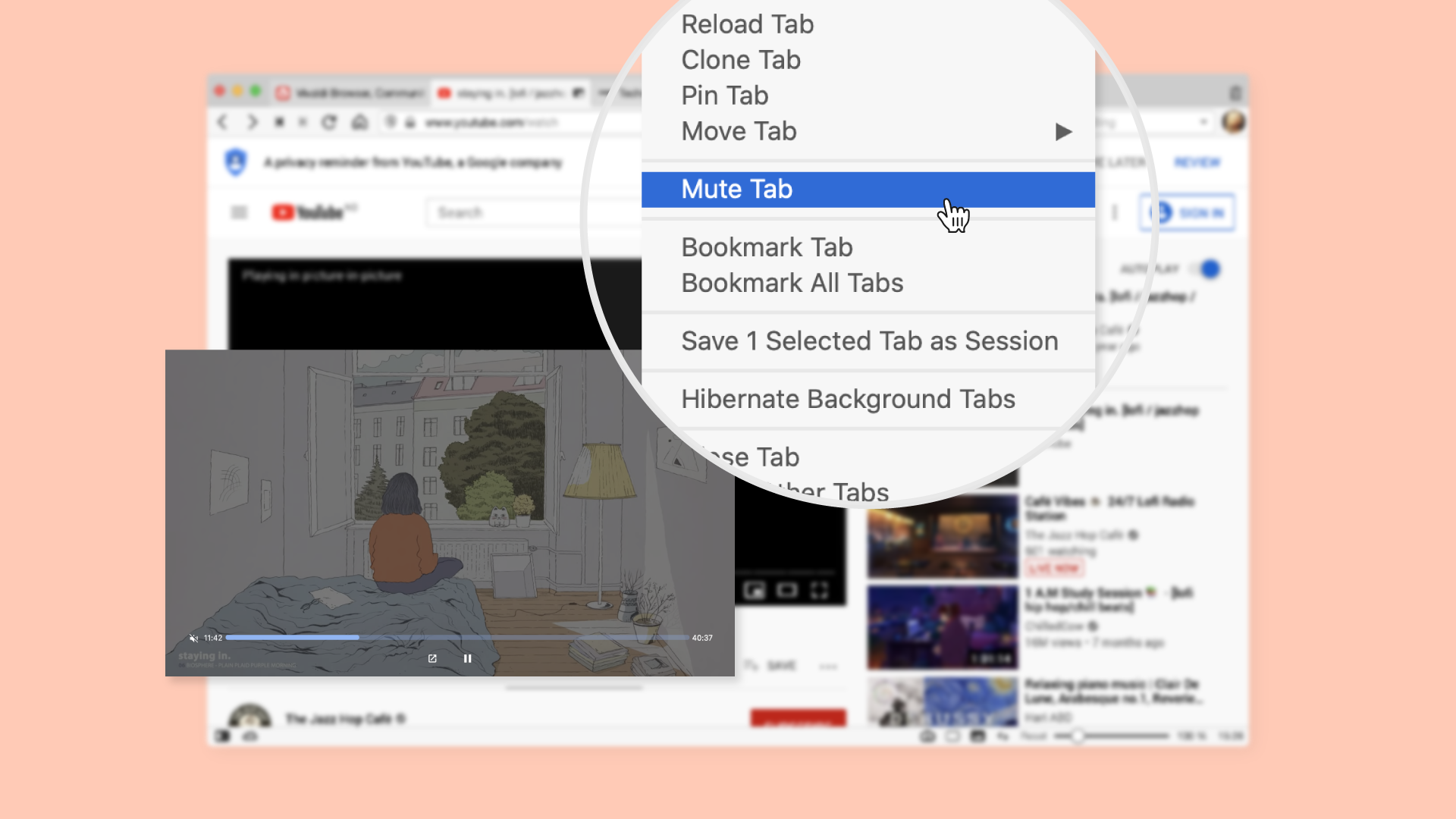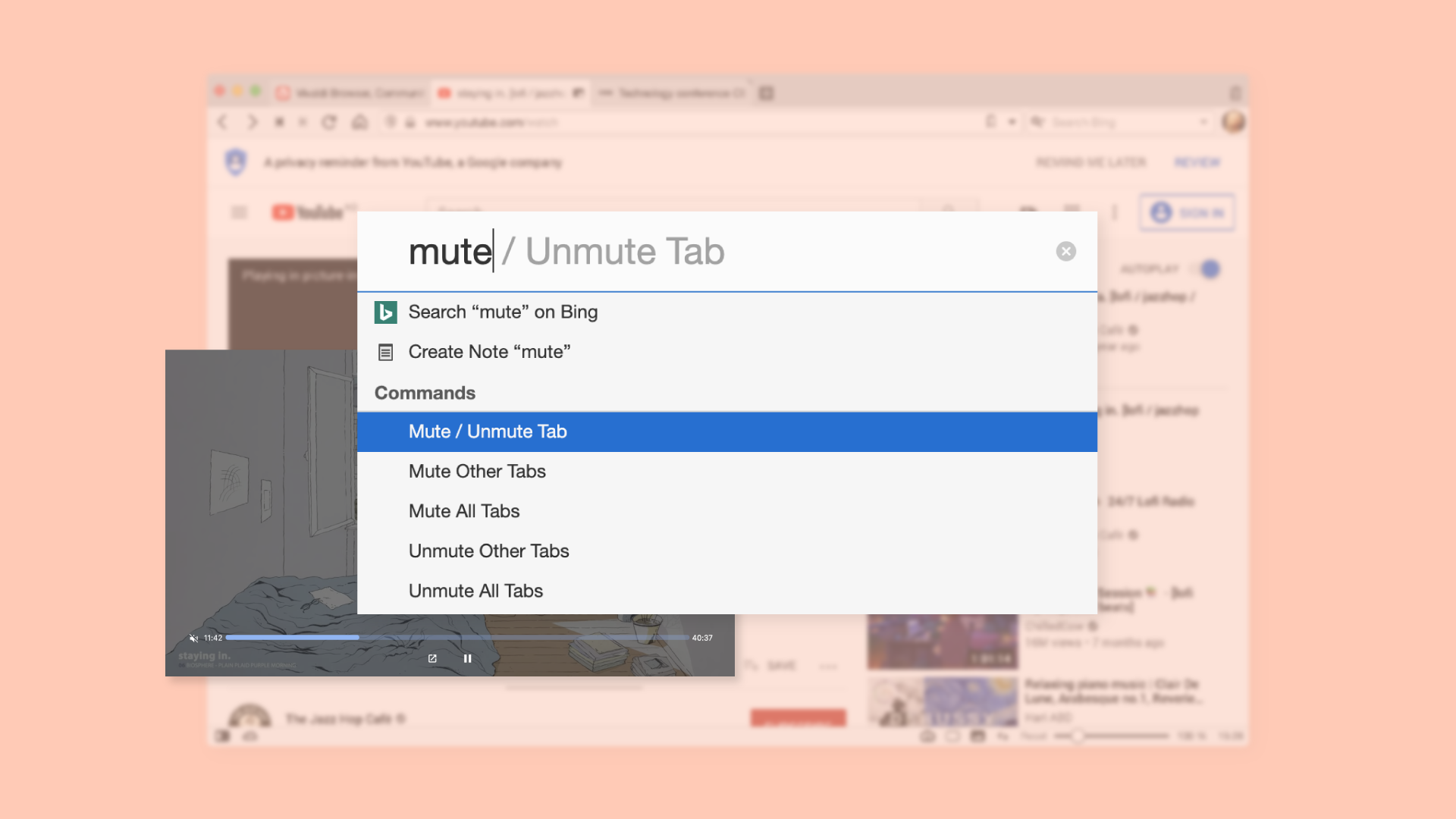 Stay ahead and multitask by using any of the above functionalities to mute/unmute Pop-out Videos depending on your workflow and the features that you prefer to use in Vivaldi.
Stay tuned for more
Going ahead, we'll continue to augment our features, introduce new ones, and ensure an even better browsing experience for you. That leads to more exciting offerings this fall. 😊
For now, take the new version for a spin – our first after the summer break in the Northern Hemisphere.
Take a look at the detailed changelog below. We hope we've managed to get most of your fixes in. If not, stay tuned for the next update.
As always, share your feedback and spread the word.
We do hope you are staying safe this summer!
Changelog 3.1 to 3.2
New
[New][Pop-out video] Add mute button to PiP window (VB-64762)
[New][Tabs] Option to change Close Tab button position (VB-7857)
[New][macOS] Use different installation profiles and directories for snapshots and finals (VB-10935)
Address Bar
[Address bar] Problem with POST search requests when selected from drop-down (VB-69143)
[Address bar][Search field] Does not remember custom size (VB-68737)
[Address bar][URL field] Search keyword should be percent-encoded (URL encoded) in the query (VB-41445)
Bookmarks
[Bookmarks] Always have a default name for folders (VB-68898)
[Bookmarks] Duplicated bundled bookmarks (VB-69168)
Menu
[Configurable menus] Enable automatic upgrading (VB-69114)
[Configurable menus][Settings] Menu items reverse when moving to/out of the folder (VB-68678)
[Configurable menus][Settings] Rename Reset Menu to Restore Default Menu (VB-68259)
[Menus] Horizontal menu doesn't respond to accelerator keys after being focused (VB-65978)
Dev Tools
[Developer Tools][Crash] When closing undocked window (VB-68433)
Extensions
[Extensions] Extension without icon shows as blank in the toolbar (VB-68442)
[Extensions] Icons of current window replicated in background windows (VB-52087)
Keyboard
[Keyboard] Support Alt+F4 to close Task manager (VB-69321)
Notes Manager
[Notes Manager] Rename 'Remove screenshot' to 'Remove attachment' (VB-68445)
[Notes Manager] Users can type text while the folder is selected (VB-68716)
[Notes Manager][Quick Commands] Add Notes Manager to Quick Commands (VB-68428)
[Notes Manager] Add "Write your first note" (VB-68431)
[Notes Manager] Capturing Notes Manager gives an invalid address (VB-68863)
[Notes Manager] Formatting can cause the removal of text (VB-68232)
[Notes Manager] Support indented lists in Markdown mode (VB-68623)
[Notes Manager] Turning a selection to a list, erases selection in text view (VB-68190)
[Notes Manager][Menus] Add to Tools menu (VB-66743)
[Notes Manager][Panels] Middle click notes button doesn't open manager in a tab (VB-62895)
Panels
[Panels] Cast incorrectly shown in the context menu (VB-69361)
Pop-out Video
[Pop-out video][macOS][Linux] Slider on PiP window is unclickable (VB-69378)
Settings
[Settings] Window is blank when opened from the private window (VB-65717)
[Settings][Blocker] Add a fetching state to list (VB-67493)
[Settings][Keyboard] Reserved shortcuts can be duplicated (VB-68389)
[Settings][Mouse gestures] Add "already assigned to "X" command" instead of "already exists" (VB-64683)
[Settings][Themes] Highlight gets cut off upon adjusting corner rounding on a theme (VB-66458)
Spatial Navigation
[Spatial Navigation] Can not open focused link in a new tab (VB-63939)
[Spatial Navigation][URL field] focus overrides address field input (VB-65314)
Sync
[Sync] Option Open settings in a tab should sync (VB-69563)
[Sync] StartPage background color should not sync (VB-69465)
[Sync] Sync error: Persisted access token data not found (400) (VB-51642)
[Sync] stays in "Upload: In progress…" for some users (VB-65568)
Tabs
[Tabs] Close button disappearing from tabs (VB-68729)
[Tabs] Each tab resizes separately when it gets activated (VB-51618)
[Tabs] Audio icon doesn't update after a theme change (VB-69077)
Themes
[Themes] Button badge foreground color should be calculated to avoid unreadable situations (VB-69061)
User Interface
[UI] Softer curves for collapse/expand arrows (VB-69155)
[UI] Can't input addresses in autofill (VB-68596)
[UI] Discord can have two video notifications (VB-69379)
[UI] Overlay status info covers tab bar on side (VB-68136)
Others
[Webpage] Tweak link text selection so it does not select as easily and add a setting to disable (VB-68358)
[Window Management] Unable to DnD (drag & drop) tabs between two private windows (VB-23116)
[macOS Catalina] Double click on the application title bar does not maximize (VB-59319)
[Crash] Loading a page that asks for clipboard access when run with –app parameter (VB-68824)
[Chromium] Upgraded to 84.0.4147.108