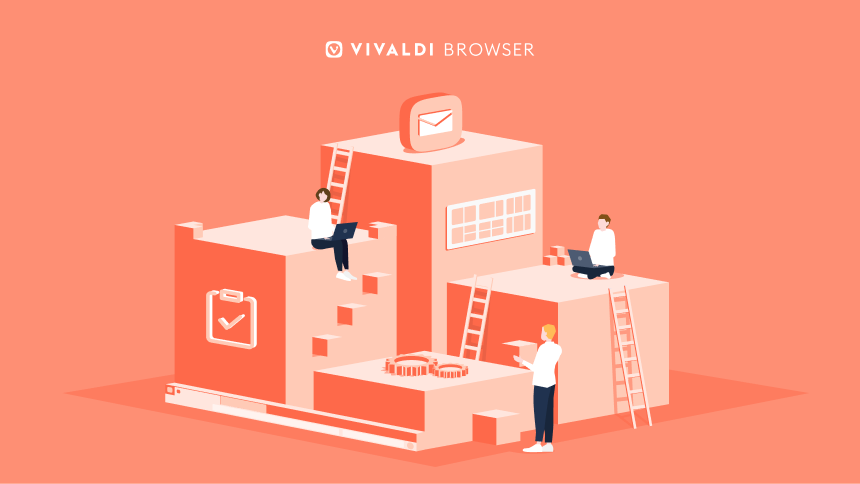 Read this article in Deutsch, Español, Français, 日本語, Русский.
Organize your days better and work or play faster. This is the new version of Vivaldi.
Vivaldi 5.5 comes with a handful of improvements across the board, including a new Tasks Panel in the sidebar of the browser, which will help you to keep track of your tasks and schedules more efficiently.
We have been working on improving the overall speed of the browser. So, you'll find a significant speed boost, especially when working with the Address Field. The new version also adds support to the Snap layouts available in Windows 11.
Our recent additions, the built-in Vivaldi Mail and Vivaldi Calendar are being fine-tuned at every step. As of this release, you can set up accounts much more easily and faster than before. We've also tackled the way we handle fake emails and scams, making warnings more visible.
Vivaldi 5.5 is ready for download on Windows, Linux, and macOS.
Get the job done with the Tasks Panel. Easy and efficient.
You don't need super sharp skills to keep your schedule running smoothly — Vivaldi's new Tasks Panel can help!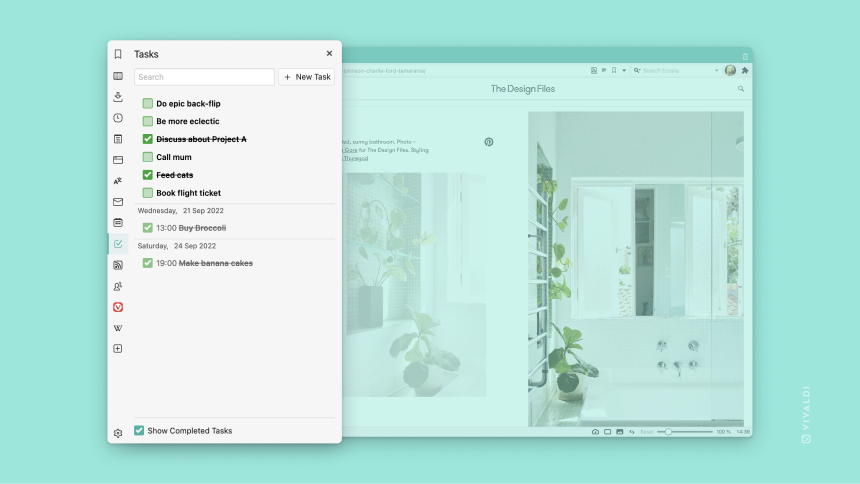 In this version, you'll find the handy, new "Tasks" panel in the sidebar. This lets you create and track your To-Do list without leaving the browser. How you arrange it is up to you. Add as many or as few details as you like, with the minimum being a simple title. You can also add the following:
Due date
Set repetitions
Location
Description (including any relevant URL)
Reminders
As you finish each task, you can just tick them off as complete, and the task will disappear from the default view. Although, you have the option to display your completed tasks, as well.
If you are new to Vivaldi and want to activate the Tasks Panel by default, choose the "Fully Loaded" option during the browser onboarding. Already using Vivaldi and want to activate the Tasks Panel? Simply enable Mail, Calendar, and Feed Reader in the Vivaldi Settings.
View your Tasks in the built-in Vivaldi Calendar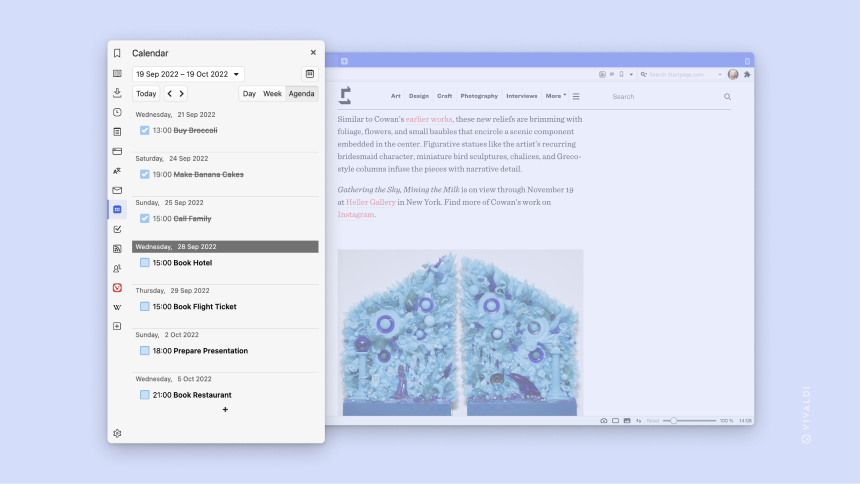 The new Tasks Panel allows you to view your tasks directly in your calendar. Tasks with due dates will appear in the main calendar view in the appropriate location. For open-ended tasks, without a set deadline, you can find them in the Agenda view.
Vivaldi Calendar offers different layouts and views with unique functionality. More about it here.
Discover enhanced speed with the Address Field improvements
The speed of your browser matters. And we have been working on a lot of under-the-hood changes. As part of this ongoing work, parts of the Address Field logic have been rewritten to improve speed.
If you are a fast typer and have encountered issues previously, this version is worth checking out. You may like it a lot better!
Vivaldi 5.5 with Snap support on Windows 11
Using Windows 11? Now you can use its Snap functionality.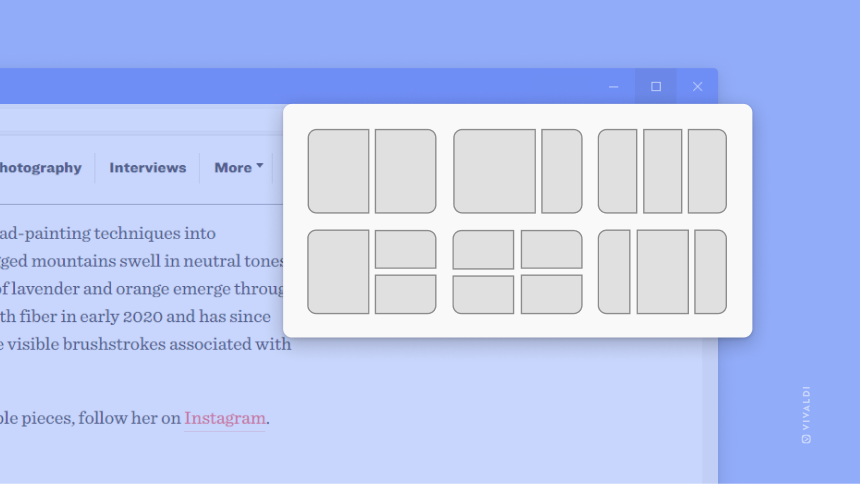 With the added support of Snap, you can automatically resize one or more windows to fill the screen upon dragging. You can choose from six different types of layouts to adjust up to 4 windows on your screen at a time. These layouts let you arrange apps on your screen in different ways. You can also choose which slot the current app should take in a layout.

Vivaldi Mail, Calendar, Feed Reader – Version 1.2

Vivaldi Mail, Calendar, and Feed Reader are being continually improved. With more and more of your feedback coming in, it is much easier for us to further improve Vivaldi Mail's functionality so that you can handle your emails better than ever.
Onboarding improvements for Mail and Calendar
We aim to make browsing fun, flexible and easy, even while setting up accounts for Mail and Calendar. That is why we have improved the workflow for setting up accounts.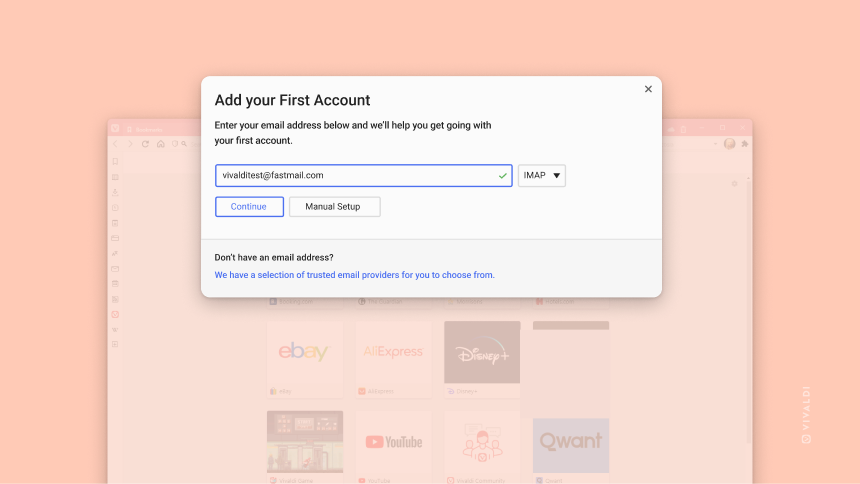 Before, some popular services (such as Fastmail) may have required detailed information to set up Mail and Calendar (CalDAV) accounts. Now in more cases, server details are automatically configured for you.
You just have to enter your login credentials, and Vivaldi Mail will do the rest. So if you found configuring an account overwhelming before, this is the time to try again and get all the benefits of fast mail clients right in your desktop browser.
Tip: Add multiple accounts to enjoy easy access to all your mail in a single inbox.
You can choose to use Vivaldi Mail with your existing mail and calendar services, set up an account on vivaldi.net, or even add a trusted third-party service. And you can use all these options individually or even together.
Mail forgery improvements
While fake emails and scams are an ongoing problem, we have been making changes to make it harder for scammers to pull off some types of fake messages.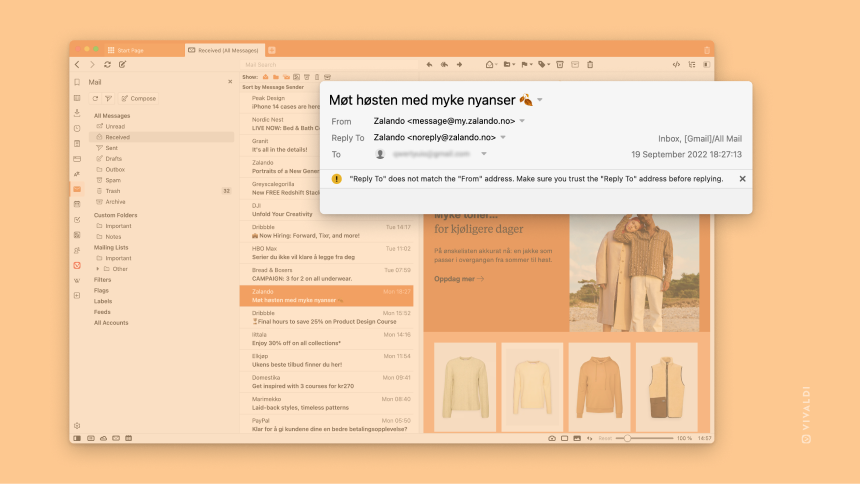 This is not a silver bullet and our work in this area will continue, but in certain cases where misleading emails appeared to be valid in the past, you will now get more visible warnings.
Download the new Vivaldi 5.5, right away
We love speed as much as you do, and we love developing and fine-tuning features and functionality for you. So, along with dreaming up new ideas, we'll continue our under-the-hood work to make Vivaldi better for you.
Let us know what you think about our new version. As always, we look forward to your feedback. For more details, head over to the changelogs.
Changelog
New
[New][Calendar] Add tasks panel (VB-89974)
[New][Mail] Use MX record for detection of mail server hostname (VB-43329)
[New][Calendar] Improve CalDAV service discovery (VB-91354, VB-91079)
[New][Windows] Snap layout menu on Windows (VB-82583)
[New][Address bar] Performance improvements (VB-91176)
Address Bar
[Address bar] Address field appears behind bookmark bar in full screen (VB-90484)
[Address bar] Can't close a site badge by clicking it again (VB-14343)
[Address bar] Display bookmark title when possible for default bookmarks (VB-91257)
[Address bar] Drag and drop selected text from end up with full URL (VB-90585)
[Address bar] Favicon in address field doesn't get updated once chosen (VB-88348)
[Address bar] Incorrect focus in URL field (VB-90430)
[Address bar] Issues when searching dropdown items (VB-91229)
[Address bar] Make sure IPv6 IP address brackets in URL aren't %XX escaped when copying the URL from the address bar (VB-79398)
[Address bar] Mouse focus color same as keyboard focus in drop-downs (VB-91091)
[Address bar] Typing fast makes characters disappear (VB-91114)
[Address bar] When adding a bookmark the popup moves (VB-90567)
[Address bar][Search] Search field history deletion not working for whitespace strings (VB-90697)
[Address bar][Search] Unwanted forwarding to standard search engine if url =http://localhost/ (VB-68853)
Bookmarks
[Bookmarks] Move Vivaldi Community Speed Dial bookmark to the top level (VB-91386)
[Bookmarks] Text only setting should only display folder icon (VB-91216)
[Speed Dial] Add Quant to defaults for France, Germany and England (VB-91655)
[Speed Dial] Adding by URL adds wrong one (VB-91286)
[Speed Dial] First thumbnail does not move (VB-91736)
macOS
[macOS] Add Share submenu to main File menu (VB-3072)
[macOS] Can't minimize browser window with ⌘+M (VB-89950)
[macOS] Changing the toggle images default shortcut to ⌘⇧i (VB-91462)
[macOS] Double-clicking window edge minimizes the window so much that the window becomes unclickable (VB-90981)
[macOS] In fullscreen, window controls are invisible but active (VB-90888)
[macOS] UI shifts on app menu hover in fullscreen mode on display with a notch (VB-84125)
[macOS][Keyboard] Share to email shortcut clashes with developer tools shortcut (VB-91462)
Menu
[Menu][Settings] Items not showing in preview box (VB-91292)
[Menus] Wrong Menu Shortcut Indicator after renaming a command (VB-90968)
[Menus] "Copy without parameters" item is invisible in the menu editor (VB-90986)
Notes
[Notes] Focus not moved to editor when creating new note in manager (VB-91373)
[Notes] Manager duplicates note after restart (VB-91133)
[Notes] Manager tab title is not updated when unselecting active note (VB-91379)
[Notes][Panel] Various issues (VB-91115)
Panels
[Panels] Dragging a web panel into the default panel section duplicates it (VB-90930)
[Panels] Unmute Panel tooltip says "Unmute tab audio" (VB-90869)
[Panels] Web Panels title not updating (VB-90975)
Search
[Search] Rewrite search engine preloaded favicons code (VB-91754)
[Search][Settings] Reset search engines dialog gets truncated in some languages (VB-89083)
Settings
[Settings] Option to disable autocomplete on all forms: under Security and Privacy (VB-17716)

[Settings][Menus] Display menu icons in settings (VB-90505)

[Settings][Privacy] Add setting for hyperlink auditing (VB-52073)
Tabs
[Tabs] Cancelled beforeunload handler blocks ever closing any tab (VB-92017)
[Tabs] Select next or tab select previous in a stacked tab selects all the tabs instead of just the next/previous (VB-83007)
[Tabs] Tiled Slack or Discord tabs flicker when switching (VB-56402)
[Tabs] Wrong tabs are selected on closure (VB-90597)
[Tabs] "Window with x Tabs" doesn't appear in trash (VB-91385)
Themes
[Themes] Change 'Vivaldi' and 'Dark' to have solid color backgrounds (VB-90782)
[Themes] Imported themes are duplicated in settings (VB-91579)
User Interface
[UI] Can not open folders with keyboard in sorted lists (VB-91325)
[UI] Tree item title ellipsis truncation is broken (VB-91101)
[UI] Use Alt key to expand/collapse all folders in a tree (VB-90540)
Windows
[Windows] Dragging a link to the desktop does not work correctly (VB-91068)
[Windows] Second click at Vivaldi menu doesn't close it (VB-90631)
[Windows] System Notifications does nothing when clicked (VB-89993)
[Windows][Crash][Media] WhatsApp web tab (VB-90720)
[Windows][Window Management][Settings] Use native Window causes two sets of window controls (VB-91935)
Crash
[Crash] After opening second profile (VB-91172)
[Crash] When opening new private window (VB-90970)
[Crash] When website changes to login screen (VB-91611)
[Crash][Commands][Settings] Related to "Keep last typed value" (VB-91516)
[Crash][Spatial Navigation] While moving focus and scrolling (VB-91019)
[Crash][macOS] A "Profile error occurred" error pops up (VB-91558)
Other
[Capture] Area selection is broken (VB-91868)
[Chromium] ASUS Router convenience hostname being automatically changed to HTTPS and failing (VB-91813)
[Chromium] Upgraded to 106.0.5249.91
[Extensions] Popup buttons gets covered by panel (VB-91376)
[Gestures][Settings] Preview animation speed depends on monitor refresh rate (VB-86745)
[History] Page history shows internal URLs (VB-90893)
[Keyboard] Tabbing gets stuck in the 'Set as default browser' toolbar (VB-90854)
[Languages] Aramaic numbers are used in Kurdish locale (VB-81478)
[Linux][Media] Change proprietary codecs to 106.0.5249.12-108653
[Sync] Initial notes sync can remove whole folder contents (VB-91260)
[Toolbar] Can not access toolbar button menu using up/down arrow keys (VB-82740)
Mail, Calendar and Feeds
Mail
[Contacts] Are not sorted by name (VB-91576)
[Contacts] Sorting does not include mail addresses (VB-79418)
[Mail] Account display name added in account setup interface (VB-36352)
[Mail] Add a setting to hide unread counter for junk
[Mail] Auto-linking of web addresses in plain-text mode is broken by some link contents (VB-90554)
[Mail] Date field not translated when forwarding e-mail (VB-89167)
[Mail] Disable compose action in menus when there are no accounts set up
[Mail] Expanding mail addresses in header is persistent and doesn't go away when switching messages (VB-91804)
[Mail] Filtering action: Move to archive (VB-88849)
[Mail] Import EML, MBOX formats (VB-89899)
[Mail] Import from Thunderbird stops on 2nd account (VB-90803)
[Mail] Incorrect background color for "Add your first account" dialog (VB-91077)
[Mail] Make email forgery harder (VB-48421)
[Mail] Open image on inline image breaks message view (VB-91679)
[Mail] Panel no longer respects order and visibility settings (VB-91490)
[Mail] Prefetching already imported bodies (VB-81283)
[Mail] Show different color for indented text in longer mail thread (VB-58432)
[Mail] Undo in Mail Composer only takes back one letter (VB-91117)
[Mail] "Focus Search Field" shortcut should also apply to mail Search (VB-91255)
[Mail][Keyboard] Add Crtl+k shortcut to add a link to highlighted text (VB-59321)
[Mail][Menus] Disable copy link to highlight in mail and feeds (VB-90885)
[Mail][Panel] After adding a second account, it does not always display immediately (VB-91659)
[Mail][Panel] Restart required to rename mailing lists folders (VB-82903)
[Mail][Panel][Performance] Speed up (VB-90858)
[Mail][Welcome] Buttons should wrap when there is no space available (VB-91081)
[Settings][Mail] Setting to hide counter on Archive folder (VB-90774)
Calendar
[Calendar] Accept and update calendar button in meeting invitation unresponsive (VB-90918)
[Calendar] Add to calendar button on mail view not working (VB-91569)
[Calendar] Calendar colors change with each server sync (VB-83419)
[Calendar] Change current date selection after midnight (VB-91581)
[Calendar] Connecting an iCloud account detects hidden calendars (VB-90409)
[Calendar] Consistent highlighting of current day (VB-62449)
[Calendar] Dismissing a reminder exits cancels maximization (VB-90202)
[Calendar] Error updating Google tasks (VB-91132)
[Calendar] Event editor dialog disappears past bottom window border (VB-90568)
[Calendar] Event rendering performance improvements (VB-90933)
[Calendar] Exporting local calendar is not working (VB-90972)
[Calendar] Google Calendar fails to load with the error (VB-90200)
[Calendar] Google Task's Description Sync from Vivaldi to Google fails (VB-91532)
[Calendar] ICS event accepted when pending, cannot respond to accompanying invite as it is already added (VB-66775)
[Calendar] Import status doesn't get cleared (VB-90516)
[Calendar] Impossible to remove date from a task (VB-91951)
[Calendar] Invites on Dark themes have poor contrast (VB-82618)
[Calendar] Marking repeating task complete marks all complete (VB-90143)
[Calendar] Problems Connecting to CalDAV with an etesync service (VB-91664)
[Calendar] Recurring event deleted item shows notification (VB-88383)
[Calendar] Return updated invite (VB-91554)
[Calendar] Switching tab with editor open clears title field (VB-90955)
[Calendar] Task with only due time incorrectly rendered in year view (VB-91780)
[Calendar] Text gets always pasted in title when it's empty (VB-90023)
[Calendar] Update styling of Add New Task (VB-92020)
[Calendar] When editing task it is not possible to toggle all day (VB-89976)
[Calendar] iCal remote import lets you select local file (VB-91879)
[Calendar][Linux] Date and Time in 24 Hour Format shows AM/PM (VB-79870)
[Calendar][Tasks] Add task button does not work when no task is found in search (VB-91912)
Feed Reader
[Feeds] Subscribe to Bikeradar feeds does not work (VB-90435)
[Feeds][macOS][Linux] Does not update due to caching (VB-91486)