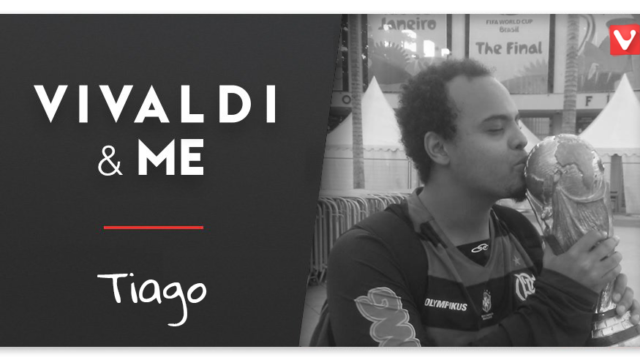 In this interview, we talk with Tiago, who joins us from Brazil. We'll let Tiago tell you his story in his own words here, and look forward to hearing from you about your experiences with Vivaldi too. He's happy to help you answer questions you may have in Spanish or English mostly about Vivaldi Browser on Windows.
Hi Tiago, Tell us a little bit about yourself!
Hello, guys! I'm Tiago, I'm from Rio de Janeiro, Brazil (yes, there are many geeks in Sambaland xD). A 25 years old guy, ex-Opera user, current Vivaldi user, eternally Jon's fan.
When and where did you get to know about Vivaldi?
I found Vivaldi, like some people here, when the Opera closed the old and loved My Opera. Vivaldi was only a community for My Opera windows and I loved the forum for 3 reasons:
– A real Opera fans forum,
– Jon was involved in it and
– The forum is Kunena, which is Joomla!! <3 (I had an Ayrton Senna fan site based on it).
I was happy again, at the same time I knew, I felt the community had a real reason by background. Like everyone, I was expecting a new browser, maybe with the name from a certain Italian artist, for power-users, for all users, a new Swiss Army knife, created by same guy who founded one of my passions of my life, at side soccer/football, anime, Netherlands, HUEHUE, cofcofgirlscofcof, games… And I was right in the end.
What features in Vivaldi do you especially like? 
Why do I like to use Vivaldi? Firstly Jon and I have the same vision about what a company has to offer to its users. The company staff are together with the users, listen to them, like friends. The company offering what the user need and will need and not dictating what they think we need to use, "teaching" as we should use their products. You offer a tool with many options, doing my mind, the user mind, be the limit. In other words, Jon kept Opera's values in the new company.
Second, part of the old Opera staff was with Jon. Those guys are my heroes, they're amazing on what they do, so my confidence was so high. They did the impossible become possible in Opera and could do it more times in Vivaldi.
Third, the Vivaldi community. That's the best one in the tech world, the fanbase is the biggest treasure which Vivaldi have. Or spreading the browser or finding new ways of making our daily browsing easier and funnier, Vivaldi has the best fans. I am proud of taking part in it.
You are helping Vivaldi through volunteer work. What inspires you to spend time helping grow the Vivaldi browser and our community?
I wanna help like I helped in Opera era. I wanna see Vivaldi getting bigger, on PCs and in the future on mobiles. I love Vivaldi so much, so much… when Football Manager 2016 was launched (another passion I have lol), I tested the new Create-A-Team mode and I edited my Flamengo (my love <3 What can I do? I'm a passionate man!) as "Vivaldi FC", named Maracanã as "Opera Arena" (don't worry guys, I intend to build a new stadium named "Vivaldi Arena/Stadium") and I replaced the original logo for Vivaldi one lol. In the last season (2019), Vivaldi FC dominated the Brazilian football with a finally Brasileirão championship, a Copa do Brasil, another Rio State Championship (about 6 in a row), Reserves and U20 national leagues and a U20 national cup.
See all my Vivaldi Football creations here.
And last but not least: Since its first alpha version I have Vivaldi as my main browser. I trusted you guys and you didn't fail, you didn't lie to me, you gave back the trust with hard and good work, a good relationship with the fans, like in old Opera. Thank you very much. Muito Obrigado!
Thank you, Tiago, from the entire Vivaldi team, for your enthusiasm, contributions, and positive attitude, which keeps us all working harder to build a browser – and a community – of trust and kindness!