The Vivaldi browser has had an exciting start to 2017, and we are proud to bring you our first release of the year, packed with new features and improvements. The 1.7 version focuses on various ways of working with screenshots, but there is also much more to it.
Show me what you see
If you want someone to see exactly what you're seeing on your screen – or part of your screen – you'd typically take a screenshot, open it in an image-editing program, make the necessary changes, save it and then send it. It could take some time and effort.
We have now simplified this process, making it easy for both advanced and less technical users to take screenshots right from the Vivaldi browser. I could easily explain this new feature to my mother! Let's say she has a question, and to help her, I'd need to see what she's seeing. All she would need to do is take a screenshot using the camera icon from the Status Bar.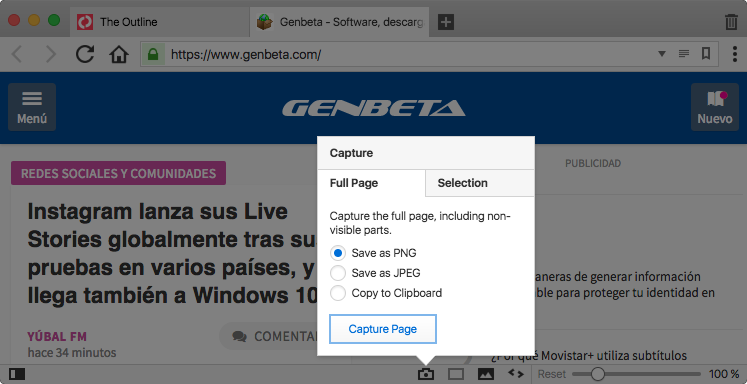 One click on the camera icon reveals a small pop-up window that shows all the available options for taking a screenshot. There, you can choose whether you want to take a screenshot of the full page or a selection of it – as well as whether you want to save it on your disk or store it to clipboard to be able to share it by simply pasting it into an application.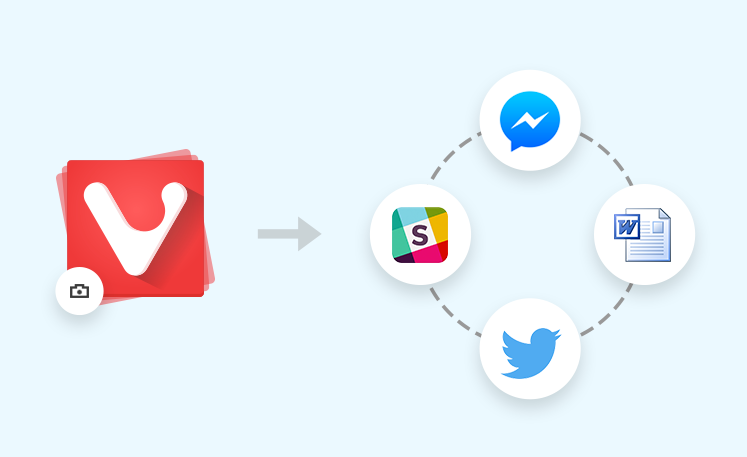 Screen capture is also accessible from the Tools menu, as well as through mapped keyboard shortcuts or quick commands. All you need to do is assign key combinations of your choice in the Keyboard Settings or call up the quick commands with F2/⌘E and typing "Capture".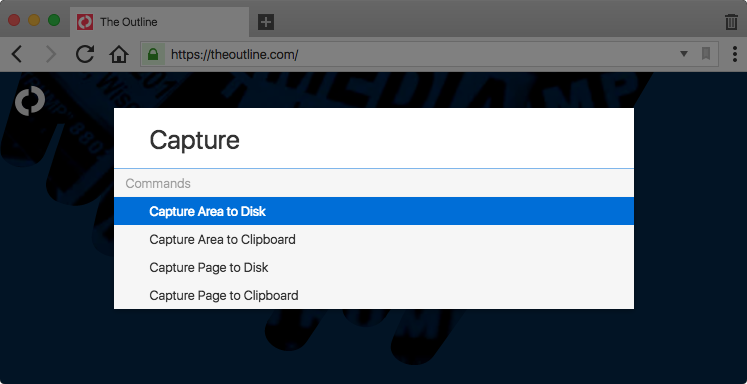 What also makes this new feature stand out is the ability to take seamless full-page screenshots. There are extensions available that allow you to capture an entire page, however, most of them would take multiple screenshots and put them back together. This may not be ideal as some pages change as you scroll through them.
For those of you that like working with the Notes panel, Vivaldi 1.7 has another neat feature in store. Notes, which you can find in the Side Panel, let you save comments to your favorite webpages, together with screenshots. With the latest release, you can also capture selected areas of websites and add them to Notes.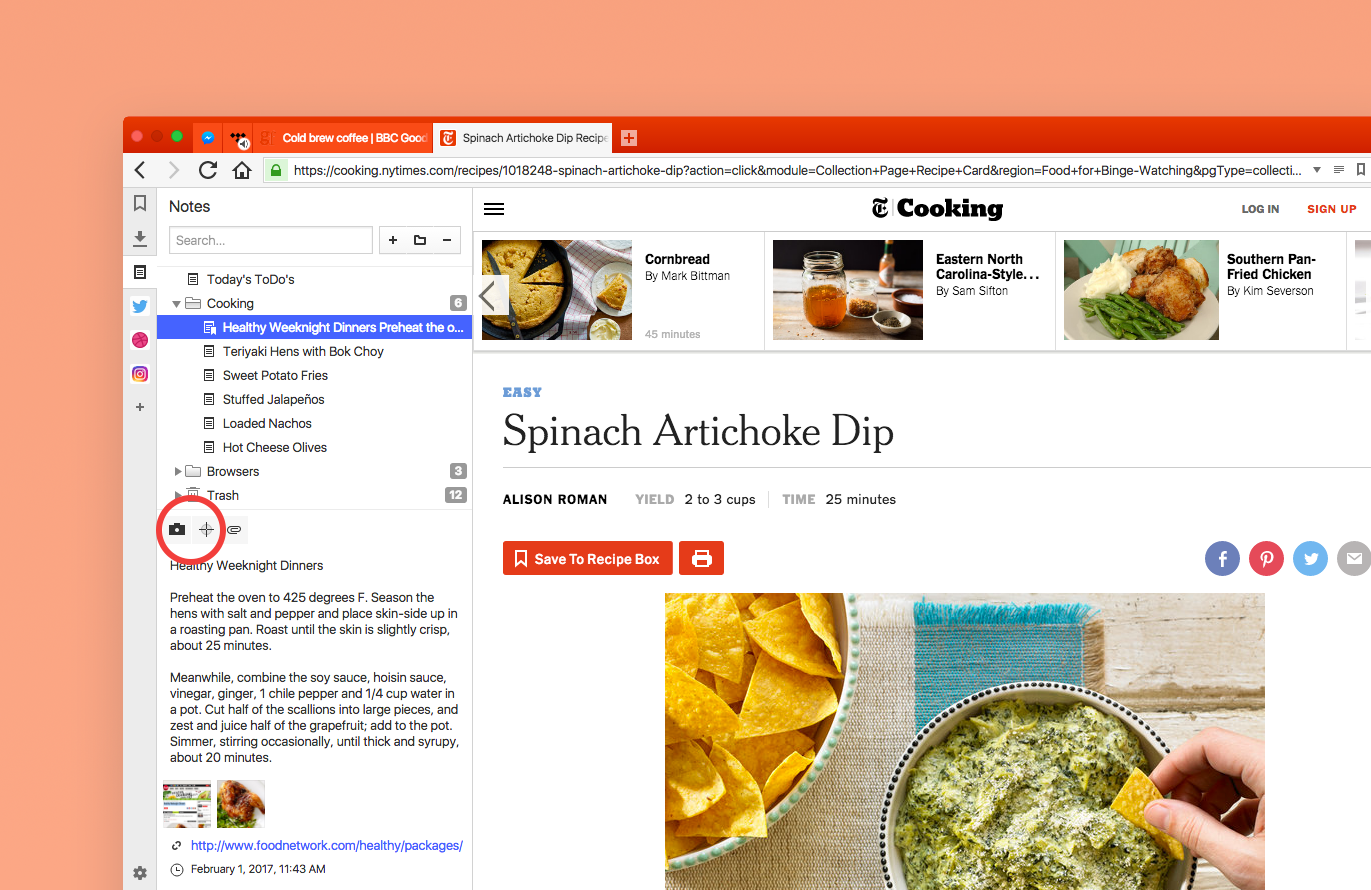 Powerful way of managing noisy tabs
Vivaldi is all about putting you in control of your browsing experience, and the latest release gives you more options for muting unwanted noise that's playing on the background.
Our popular feature, known by the name of "Silent Tabs For Users", has been improved even further. This feature identifies background tabs playing ads, videos or other multimedia content, and makes it possible to stop the unwanted noise with just one click.
With the latest release, you no longer need to look for that one tab that's causing all the noise – you can mute all of them at once. If you like to browse with many tabs open, this comes in very handy. All you need to do is map your keyboard shortcuts in Keyboard Settings or call up quick commands with F2/⌘E and type "Mute".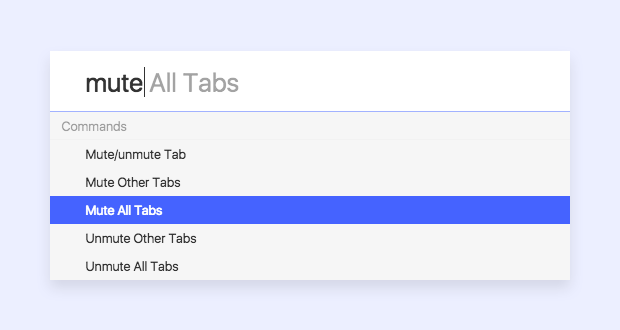 More choice, more control
As always, we want to offer you more for tailoring the Vivaldi browser to your needs. The 1.7 release also includes:
Mapped keyboard shortcuts for screenshots.
Configurable lazy loading for pinned tabs.
Native macOS notifications.
Addition of StartPage private search engine
Configurable top-level domain expansion.
Toggle extensions visibility option in the address bar.
Improved keyboard menu access on Windows/Linux for Chinese, Japanese and Korean users.
Which of these features you think you would use the most? We want to hear from you – let us know what you think.
Changelog since version 1.6 (689.40)
[New feature] Screenshot capture screenshot of entire page, selected parts of a page or the UI (VB-24136)
[New feature] Mute/unMute tab Quick Command actions and mappable keyboard shortcut, mouse gestures: "Mute/unmute Tab", "Mute Other Tabs", "Mute All Tabs", "Unmute Other Tabs" and "Unmute All Tabs" (VB-21377)
[New feature] Add an extra warning for http websites that request passwords (VB-23666)
[New feature] Pinned tab hibernation is separately configurable (VB-24675)
[New feature] Add more menu items to document context menu: Copy Page Address, Validate, Fullscreen, Bookmark Page, Bookmark Link (VB-25051)
[New feature] Add support for opening download images in the browser itself (VB-24069)
[New feature] Scrolling should zoom the page when mouse is over the zoom slider (VB-2119)
[New feature][Address field] Add setting to configure top level domain expansion with Ctrl+Enter (VB-24975)
[New feature][Bookmarks] Add support for displaying tree structure while searching (VB-24724)
[New feature][Bookmarks] Let it be possible to add bookmarks from open pages from bookmark tree context menu (VB-25095)
[New feature][Bookmarks][Notes] Make it possible to choose between flat and tree search in bookmarks and notes: change mode via panel context menu (VB-25091)
[New feature][Downloads] Transfer complete notification (VB-752)
[New feature][Extensions] Context menus for extension's buttons (VB-9681)
[New feature][Extensions] Component extensions can't be hidden and re-added in the same session (VB-25060)
[New feature][Notes] Add area selection capture to notes (VB-25162)
[New feature][Notes] Add support for displaying tree structure while searching (VB-24823)
[New feature][Notes] Ctrl+Shift+C should copy marked text to note (VB-4018)
[New feature][Search field] Add Paste and Go right-click in search field (VB-21366)
[New feature][Sessions] Allow to save only tabs from current window when saving Session (VB-14104)
[New feature][macOS] Enable native notifications by default (VB-15151)
[New feature][Windows][Linux]Let Ctrl+PageUp/Down select prev/next visible tab by default (VB-24877)
[New feature][Windows][Linux] Main menu is lacking keyboard accessibility for CJK (VB-24851)
[Address field] Google Maps URL not recognized and search opened (VB-24678)
[Address field] Hostname/path in address bar leads to default search instead of local domains (VB-5507)
[Address field] If the input contains a / but not a space, should navigate not search (VB-24979)
[Address field] Pointer cursor should shown when holding Ctrl (VB-24004)
[Address field] Top level domain removal with Ctrl clicking the URL (VB-23937)
[Address field] URLs with two spaces get searched instead of navigated to (VB-24320)
[Address field] Vivaldi freezes editing typed history URL in address bar (VB-25563)
[Bookmarks] Bookmarks lose title when dragged to Speed Dial (VB-24059)
[Bookmarks] Nicknames do not work in address field (VB-24231)
[Bookmarks] On entering Edit mode in the panel bookmark tree should scroll to show the added/edited item (VB-10406)
[Bookmarks] Sort context menu is mislabelled (VB-24801)
[Bookmarks] Vivaldi tries to import from Edge using a legacy method resulting in failure (VB-24743)
[Extensions] Badge text unreadable with some themes (VB-24126)
[Extensions] Buttons visibility Toggle (VB-24579)
[Extensions] Component extensions would execute actions with random results (VB-25081)
[History] Clear typed history not working on new dialog (VB-23084)
[IME] First character typed in address bar gets committed without converted to Japanese (VB-16325)
[Notifications] closes Vivaldi if in other full screen program (VB-24712)
[Panels] Position of notes and bookmarks view resets after changing the panel (VB-20332)
[Search field] Alt+Enter clones current tab and opens new search tab (VB-23982)
[Search field] Clicking in the field should mark text (VB-24688)
[Search field] Does not use available space for multi-word results (VB-24236)
[Search Field] Search "Always open in new tab" does not work when choosing a different search (VB-24813)
[Search field] Typed history button is unusable until something is typed into the field (VB-24090)
[Sessions] Excessive usage of resources when opening session through File -> Open Saved Session: now uses lazy load settings (VB-18923)
[Spatial Navigation] Doesn't work correctly with overflow:scroll (VB-6087)
[Spatial Navigation] Fails to select links, selects entire divs instead (VB-23393)
[Themes] Private window does not show any activity in the URL bar (VB-25435)
[Themes] The numbers and letters of the color code don't change when you select a different theme (VB-24209)
[Themes] Parts of Geolocation dialog are unreadable in private mode (VB-24134)
[Linux] Context menu show up when starting mouse gesture in reopened tab (VB-21862)
[Linux] Update the signing key: Remove the old BF1700F8 key and add another for future usage (VB-11533)
[Windows][Linux] Hide menu bar in UI-less, native window (VB-7812)
[Windows][Linux] Panel activated in fullscreen mode doesn't work back in window mode (VB-24843)
Add Startpage private search as a new default search engine option ((VB-25174))
Backspace and single-key shortcuts triggered on some HTML5 forms and forms with JS listeners (VB-15598)
Clicking typed history item doesn't update history (VB-24318)
Context menu doesn't always show on right-click (VB-20589)
Crash tab using AdminLTE (VB-24960)
Crash while trying to hide Google cast button from address bar (VB-24947)
Download Panel doesn't get focus if other panel is open (VB-11002)
Further work on menu accelerators for CJK (VB-24645)
Grayscale the favicons on tabs that are hibernated (VB-24223)
Links opened in private in new window are not private windows anymore (VB-11809)
Search text in PDF file doesn't increment counter (VB-4687)
Site info position does not take UI Zoom into account (VB-23997)
The audio icon still animates when tab is hibernated (VB-19243)
Typing 'vivaldi:' doesn't show autocomplete options (VB-13738)
Wrong title of Chinese language (VB-25147)
Updated Chromium to 56.0.2924.88