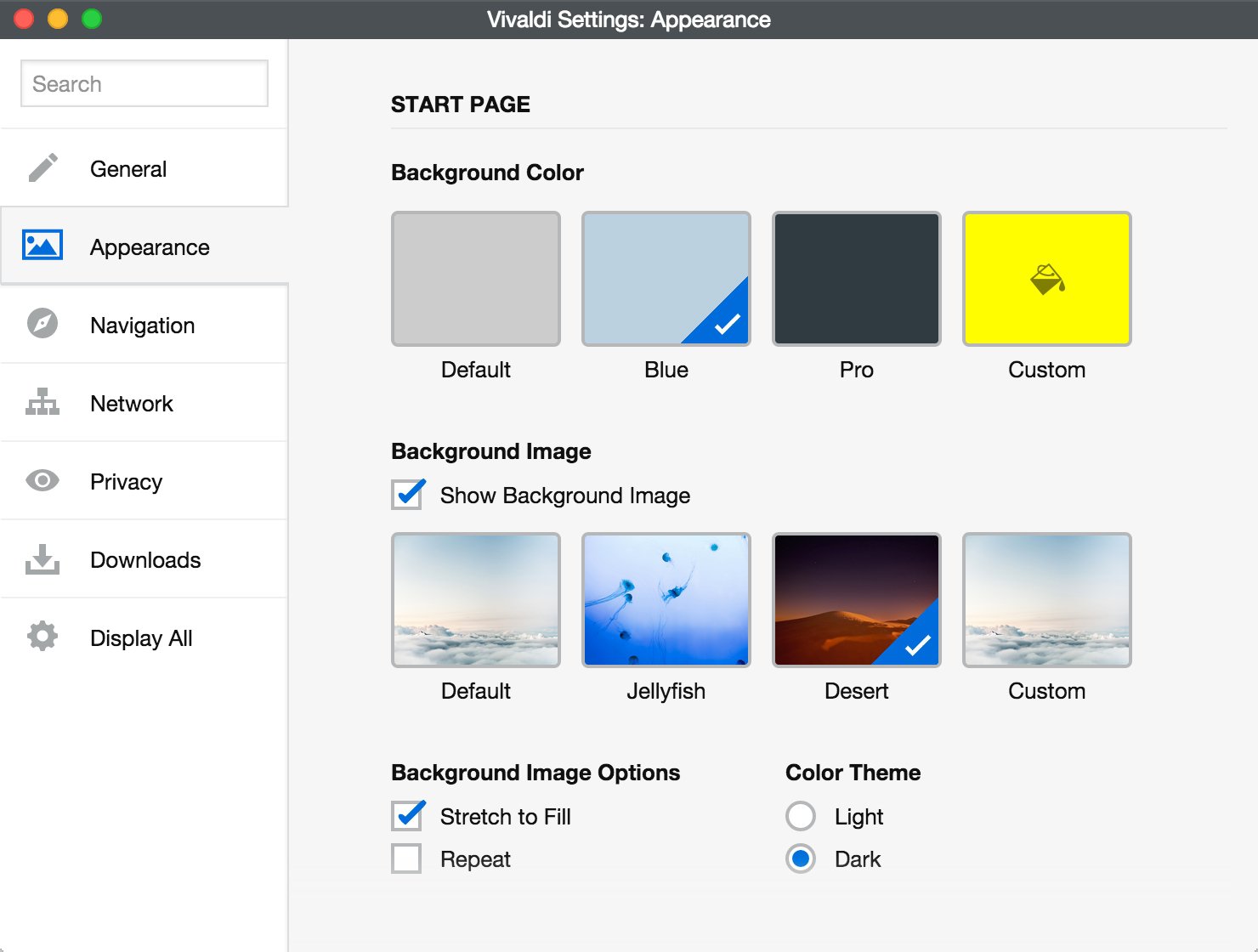 Vivaldi is to be a very (dare I say the most) customizable browser, and a big part of that will be our UI. With this snapshot you will be able to change the Startpage background image, or pick a solid color. You can also choose if you want light or dark foreground elements, to better match your new background. Some truly creative uses are possible, and people have been seen sporting animated backgrounds for their Startpage in the Oslo office.
Another new feature is the ability to scale the UI. This will resize the Vivaldi user interface without touching web pages themselves. Hand-in-hand with this we are also converting our UI to use SVG icons. This means that icons will be as crisp as possible in any size. We already support HiDPI, but once this work is completed we will handle the in-between states much better.
Another requested feature that made it this time is being able to hide Tab thumbnails when Tabs are placed on the left or right. If you display thumbnails with Tabs at the top, this preference will carry over when you switch them to the side.
All these new shiny things are available in the Appearance part of Settings. Go check them out!
If you are on mac you will also note we have a new entry in the Vivaldi menu called "Check for updates".
Download (1.0.90.2)
Changelog:
VB-5717 – Select in searchfield dropdown should invoke search
VB-5716 – Not whole urlstring selected when focusing addressfield
VB-5666 – Fast-forward does not always activate when supposed to
VB-5593 – Settings page navigation menu doesn't work
VB-5043 – View-source urls doesn't work in Vivaldi
VB-4992 – Inline search doesn't globally register esc
VB-4284 – Disable url prediction service break keyword search in url bar
VB-3878 – Vivaldi can't be installed without admin privileges
VB-1489 – Autocomplete on URL instead of nickname
VB-5709 – Can no longer set new single-key shortcuts while they are disabled
VB-5559 – Use tab "thumbnail" instead of "tooltip"
VB-5446 – Add zoom UI slider to settings
VB-4756 – Add option to disable mouse-gesture
VB-5829 – Space does not work in settings search
VB-5816 – Use vivaldi:settings URL instead of vivaldi:settingspage
VB-5766 – Tab stack tooltip not highlighted on hover
VB-4175 – Add support for changing start-page background
VB-5922 – It is impossible to make form widgets focused with SpatNav active
VB-5920 – Spatnav doesn't fire mouseleave event
VB-5891 – Make tabs on the sides resizable
VB-5373 – Auto-update for Vivaldi, on Mac OS