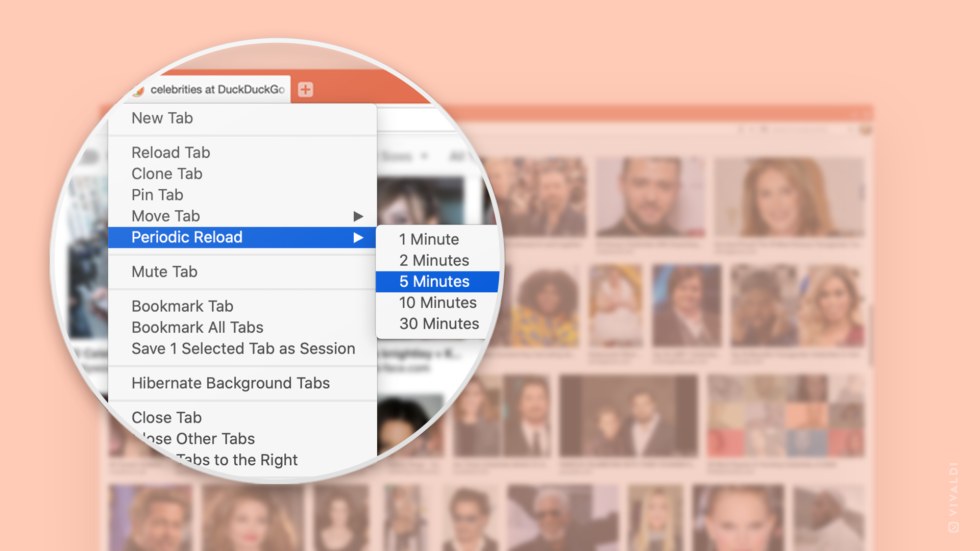 D-list celebs. You know who you are. You've been on local versions of Celebrity Big Brother, I'm a Celebrity, Get Me Out Of Here or Celebrity MasterChef. You've had a one-time hit single and now you find yourself starring in an adult film. Or you've wondered what happened to your acting career after being a child star on TV in your younger years.
You come in all shapes and sizes, but one thing unites you: You want to be A-list. You dream of the fame, the money and the influence of the likes of Kim Kardashian, Tom Cruise and Ariana Grande.
The Vivaldi browser, named after a composer who certainly made an A-list name for himself for eternity, now introduces the tool all D-list celebs have been waiting for. It's called Periodic Reloader.
Periodic Reloader is a feature, only available in Vivaldi, which allows D-list celebs like you to continuously monitor whether your name gets picked up by search engines or if your latest swimwear pic got profiled in People Magazine or Entertainment Weekly. Want to know every 10 minutes? Or every minute? Vivaldi delivers the automatic reload. Hands down.
More importantly, this continuous monitoring happens without needing to touch a button (handy if you want to keep your hands free for other activities).
All you need to do is open Vivaldi browser, type your name in a search engine like DuckDuckGo, Startpage or Google. Or you can open celeb news sites like Us Magazine or TMZ. Now, right-click on the tab and set Periodic Reload for 1, 2, 5, or 30 minutes.
Vivaldi also recommends Periodic Reloader for A-list celebrities wanting to continuously watch money flow into their online bank accounts. They can simply log in to their online bank, set Periodic Reload to <1 minute and watch the dollars rush in from their variety of acting gigs, sponsorship deals and licensing arrangements. All the while keeping their hands free to sign that contract for a new Porsche or put their autograph on fan merchandise.
How it works
Are you a no-list celeb and just want to understand if this feature can work for you?
Periodic Reloader is an addition to Vivaldi browser's awesome Tab Management. It simply ensures that – when you switch tabs – you are on the latest version of a site.
Periodic Reloader works best on websites where pages are often updated, but new content isn't automatically displayed.
To reload a tab every X minutes:
✔️  Right-click on the tab.
✔️  Select Periodic Reload.
✔️  Pick an interval between 1 and 30 minutes.
Below the page's favicon and title, you'll see the countdown until the next reload.
Alternatively, you can go to the tab you want to periodically reload, open Quick Commands, type "Periodic Reload" and the time interval in seconds. For example, type "Periodic Reload 180" to reload the tab every 3 minutes. The minimum value that can be used is 60 seconds.
To disable Periodic Reloader, right-click on the tab and select Periodic Reload > Disable or Disable all, if you have multiple active timers. In Quick Commands, type "Disable Periodic Timers".
Good luck! We are cheering for you!