In today's snapshot we introduce a fantastic new first run Welcome page, fix some annoying bugs and provide an alternative Windows installation package for antivirus vendors who like misspe0lled wrds!
New Welcome page
Those of you who regularly read this blog are hopefully aware of our vast range of features. As we get closer to a final release, we are hoping to attract an additional group of users. People who want more from their browser but are not willing to try out every beta or snapshot. These new users may not immediately detect the full power of Vivaldi, hidden under the sleek and simple design. Therefore we have introduced a new welcome page that shows on first run (vivaldi://welcome). This page not only introduces some of our nice visual features but even allows you to tweak them to suit your own, specific needs. It does not showcase every feature of the browser but rather helps users setup some nice basic defaults and gives a hint as to the full power of the browser, hidden under the hood.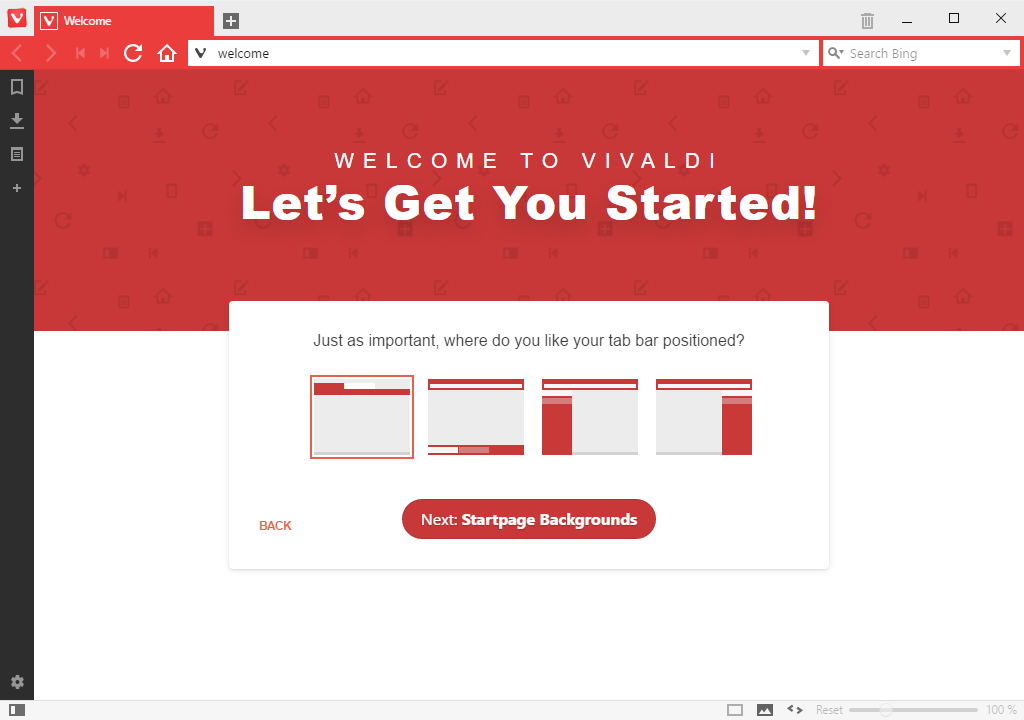 If you are new to Vivaldi and want to get some more ideas about what we have to offer, visiting our Help Pages is a great place to start.
False positives with some antivirus software
We have seen a few of you reporting that Vivaldi might contain a virus. Firstly don't worry, it doesn't! This is a false positive. We have done a little investigation of our own and it seems that the various antivirus software companies are triggering a response on our company name within the installer. If we misspell it slightly, e.g. by removing a letter in "Vivaldi Technologies" and making it "Vivaldi Technlogies", the issue simply goes away. If you have an antivirus software that is making this mistake and would like to test this for yourselves, we have made you a special build (linked below) that has just that single change.

We hope that the antivirus companies that are incorrectly labelling us, will update their definitions soon, so that are common user base do not have to deal with this extra headache. We would really prefer not to have to permanently change our company name! 😛
Known issues
Dragging Speed Dials inside folder reloads start page (VB-14319): use the Bookmark manger for now
There are spelling mistakes in this blog post
Download (1.0.425.3)
Changelog
Set new Welcome page for first run (VB-13886)
[Regression] Offscreen thumbnails used by Speed Dial are never generated (VB-13085)
[Regression] New window opens always with web panel open (VB-13958)
[Regression] Not possible to add URL to Speed Dial without http:// (VB-13897)
[Regression] RMB+Wheel on SD trigger the context menu (VB-13699)
[Regression] Sometimes going to wrong URL while selecting item in omnidropdown via keyboad (VB-14235)
[Linux] Let settings window stay on top of browser window (VB-14232)
Some shortcuts don't work under Chinese/Korean and Cyrillic (VB-10624)
New blank tab when adding new login based site in Lastpass (VB-13709)
First character will repeat when use Chinese input to type in addressbar: Should be fixed but let us know (VB-11715)
Loudspeaker symbol or favicon prevents clicking on close X with many tabs (VB-8998)
The audio icon still plays when all tabs are hibernated. (VB-13082)
Add setting for opening bookmarks in new tab or current tab for panel, manager, bookmarks bar (VB-14218)
Bookmarks sorting should not mix folders with bookmarks (VB-9288)
Clean up Search Suggest setting styling (VB-14230)
Flickering while typing in Notes (VB-13498)
Missing exclude tab from tab stack action on a tab (VB-14299)
Missing space between auto inserted ellipsis and text in menus (VB-14309)
Speed Dial doesn't allow adding bookmarks (VB-10623)
Tab Tiling button should be active also when no tabs are selected (VB-8803)
Trashed folders visible in address field's Add bookmark dialog (VB-12501)
UI element resizing not responding to touch (VB-14286)