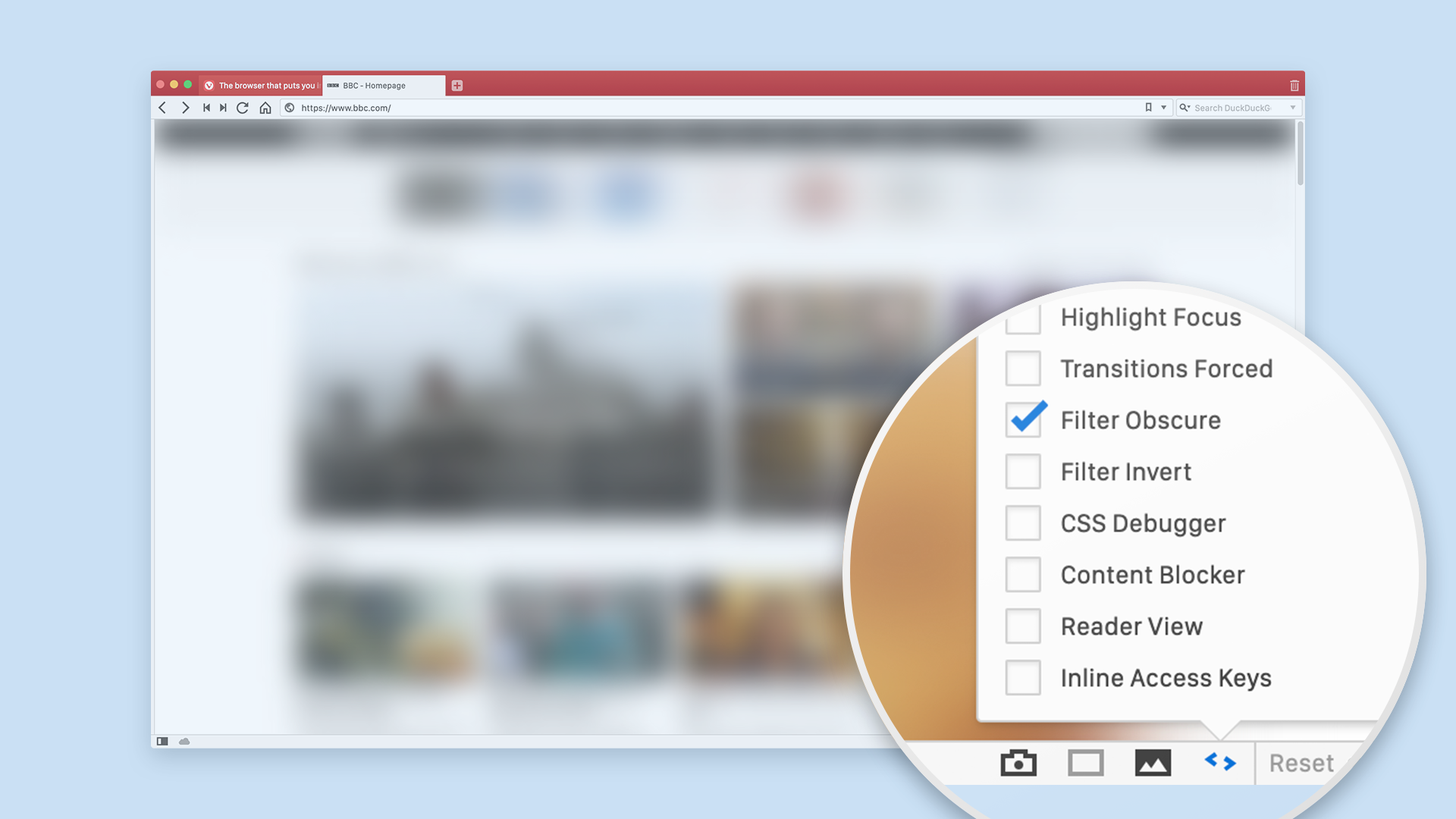 Use Page Actions to hide private content from your screen
We view a lot of private information in our browsers. From bank details and health records to private emails and messages, that information is often on our screens.
But what do you do if someone walks into the room while you're viewing strictly private content? Or you notice that someone is staring at your screen while you are working on your laptop in a local cafe?
Maybe you go straight to your desktop or switch tabs quickly?
In Vivaldi, there's a more clever way to keep that content to yourself. And you don't even need to click a button!
With the browser's Page Actions you can obscure the content of any page by applying a filter to it. It's called Filter Obscure. Once turned on, all you need to do is move the mouse cursor out of the browser window and the page content you want to hide will get blurred.
For some of our users, this is the best feature in Vivaldi! 😊
Hi there! I'm Nick and I hail from the deserts of California. I have been using Vivaldi for over a year now. My favorite feature of all is the CSS modifications via Page Actions. I use Filter Obscure when I am at work often. This usually is my email. In my opinion, Vivaldi's best feature is Filter Obscure. When I am pulled away by a team member and forget to lock my screen, I don't have to worry because Vivaldi blurs my private emails and more. If people are walking behind me, I don't have to worry as I can easily move my mouse off. Thank you for this amazing feature!
@ashkir on the Vivaldi forum
How to set up Filter Obscure
Here's how it works.
To activate Filter Obscure you need to be on the page that you'd like to hide, e.g. your bank or email webpage. Go to the Page Actions menu in your Status Bar (bottom right of your browser window) and enable Filter Obscure.
Now move the mouse cursor out of the browser window any time you like to hide the content of the webpage. It's that simple!
You can enable Filter Obscure on as many webpages as you like.
If you tile pages with Filter Obscure enabled, you'll notice that when you move between the tiles, the one not in use will get blurred. If you'd like to blur both, just move the mouse cursor out of the browser window as usual.
With Filter Obscure, you can work just about anywhere without worrying that your private data will get exposed. You're in control of how your webpages are displayed at any given time!
More filters at your service
While we are on the subject of filters, we just have to mention the rest of our super cool and useful filters that you can activate when viewing webpages in Vivaldi.
Filter Intensify makes colors sharper and brighter and will help you view webpages more clearly. As filters also work for video, you may find that this filter improves contrast on YouTube.
Filter Invert comes in handy when you browse white pages in the dark.
Filter Greyscale is just what you need for a digital detox. It will make the Internet a lot less flashy.
Filter Sepia displays webpages in even colors and is also very helpful for a digital detox.
Filter Black and White gives you a more artistic (contrasty) version of the web.
Do you use the filters in Vivaldi? What are your use cases for them? Let us know in the comments. 😇