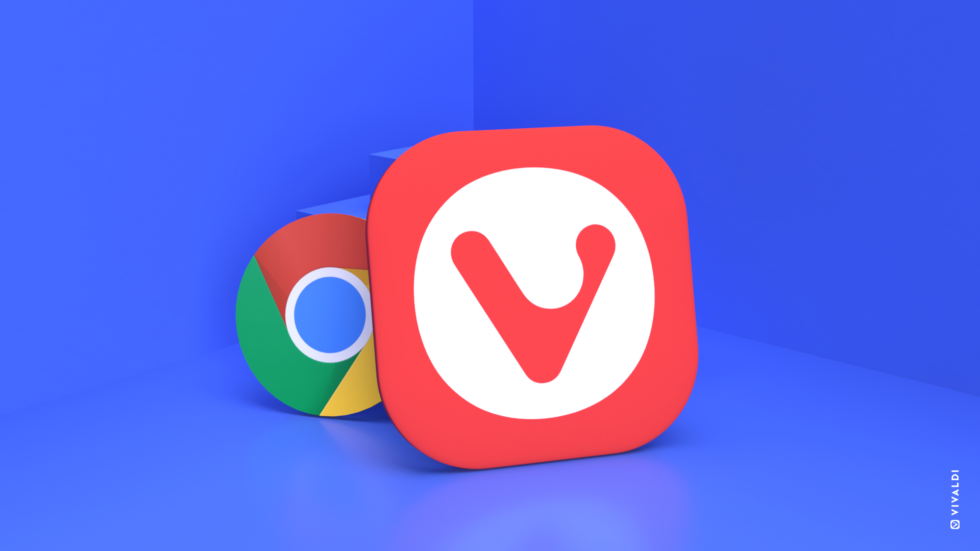 Read this article in 日本語.
As human beings, we don't like change. The feeling of uncertainty, of not knowing what's to come worries us. Especially if we are already satisfied and comfortable in the situation we're in.
If there's one thing I've learned in life and in my basketball career, it is that change is inevitable, but growth is optional.
Making a change in life can make a big difference and really help you grow.
Switching browsers may not be a life-changing decision. However, just like with any change, if you are willing to make it, you might discover that this is your path to growth.
Luckily, trying out a new browser is a pretty low-risk change to make. If you don't like it, don't use it. But I want to see you give it an honest try!
You can switch from Chrome to Vivaldi in no time. Below, I will share some quick steps.
How to switch from Chrome to Vivaldi browser
Up until recently, Google Chrome was the only browser I knew. It was also my trusted companion throughout my studies.
I discovered Vivaldi browser when I started working for Vivaldi as an intern.
Over time, as I keep using Vivaldi, I discover new settings and features that make my browsing more pleasant and efficient (just like it says on the label).
The process of switching from Chrome to Vivaldi was quick and easy.
Follow these simple steps to switch in under five minutes.
Download and install
Go to Vivaldi.com and download. The browser works on Windows, Mac, and Linux. You can also get it for your Android phone.
Make it yours
What I love the most about Vivaldi is the ability to customize it.
On installation, you can pick a theme for your browser.
With eight predefined themes, including a dark theme, Vivaldi is not short on options.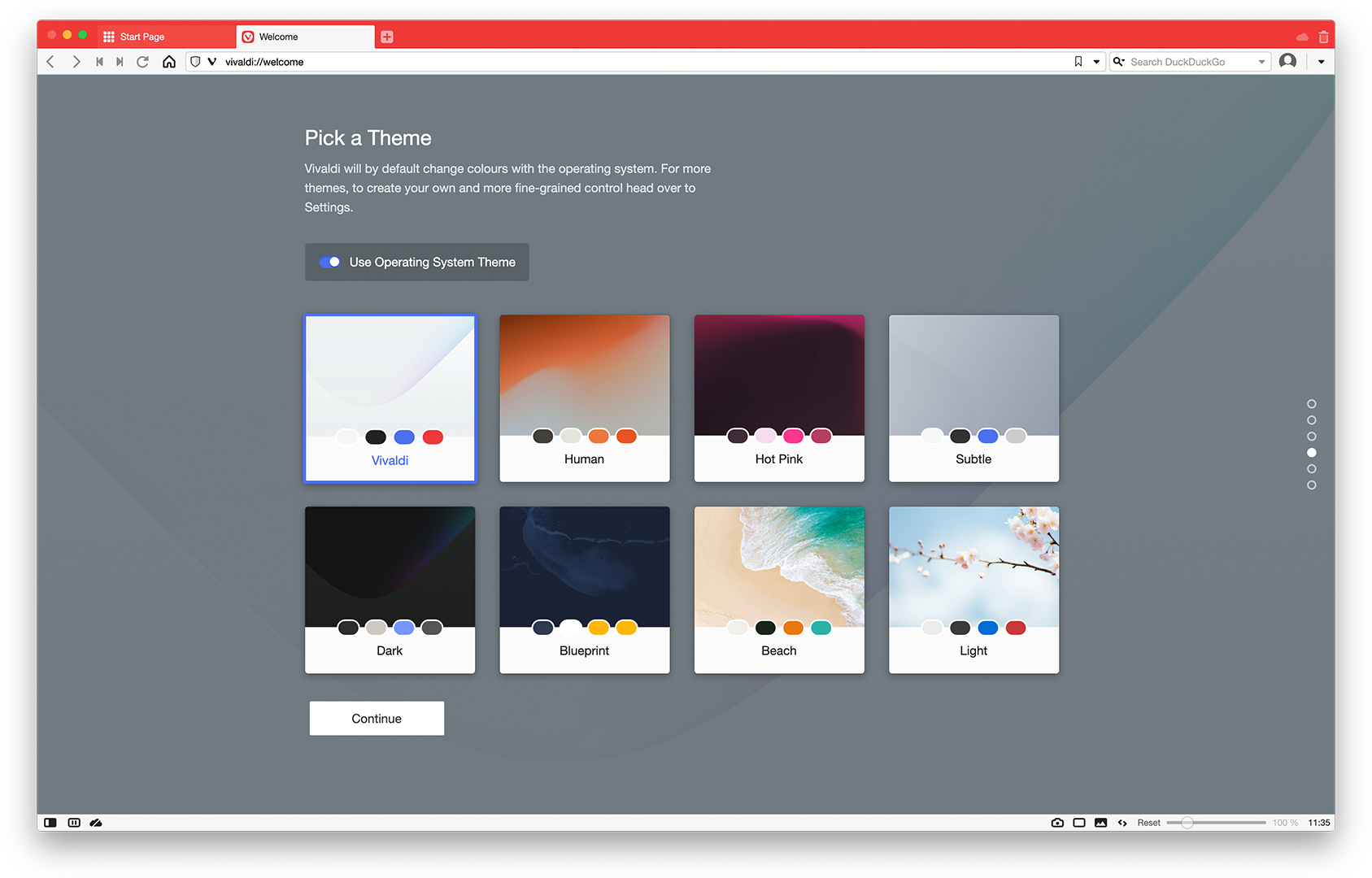 If the themes aren't to your liking, you can create your own theme later with the help of a great built-in tool. Experiment with combinations of background, foreground, highlight, and accent colors, and soon enough you'll land on what you're looking for.
Speaking of themes, I especially like a feature that changes the color of your UI based on the colors of the website you're visiting. That will give you that "Wow" factor right there!
But now back to switching.
With Google Chrome, I got used to displaying the tabs at the top of the window, as that is the only option. Having the tabs on top is completely fine, and I had never felt the need to have them any other place. Because I didn't know that was an option. Vivaldi actually lets you choose where to position your Tab Bar, whether it's on the top, left, right, or bottom.
Import bookmarks and settings
Before switching to Vivaldi, I asked myself why I would switch or what would keep me from switching. Not being able to import bookmarks and passwords would have definitely made the decision tougher for me.
Luckily, this is a no-brainer when you switch from Chrome to Vivaldi.
You can do this when you install the browser or later by going to Menu > File and selecting "Import Bookmarks and Settings" from the drop-down menu. There you will find a list of browsers to import from. Select Start Import.
Import open tabs
What if you want to migrate from Chrome to Vivaldi but you have an awful lot of open tabs that you want to move at once? I can see how this can be a deal-breaker for some.
In order to do this, I had to install an extension called Session Buddy in Chrome, go to the extension's page and click 'Export' while on the active session. Then I installed Session Buddy in Vivaldi (yes, Vivaldi is compatible with Chrome extensions), and imported the tabs. This worked like a charm.
Session Buddy is also a good way to keep a backup of your tabs. But do check out their privacy policy before you decide to use this extension.
Set up your Start Page
Your Start Page in Vivaldi is like a dashboard that gives you easy access to your favorite websites, bookmarks, and history. The Start Page is organized around Speed Dials – bookmarked links shown as thumbnails.
Vivaldi comes with a set of carefully selected Speed Dials, which you'll see when you first download the browser. Feel free to edit them if they aren't websites you would use. Just replace them with your favorite bookmarks.
This is where I keep all my favorite sites and I can even place them into folders, which makes it less messy. You can import your favorite sites from Chrome easily.
You can also personalize the look and feel of your Start Page by uploading a new background and customizing the Speed Dial thumbnails.
Everything you need to know about Vivaldi's Speed Dials is in the Vivaldi Help Center.
Explore the user interface and features
Once you switch to Vivaldi, set some time aside for exploration. I promise you, it's worth it.
Vivaldi is all about customization. And it offers more features than any other modern browser. To get the most out of your new browser, keep exploring!
Did you know that in Vivaldi you can move the address bar around, switch on and off other navigation bars, play around with the search engines, and search quickly with Quick Commands (yes, did I mention Quick Commands?).
If you use a lot of tabs, Vivaldi is for you. It has so many advanced tab management features, you'll never be short of options – whether you want to group, tile, move, or pin tabs.
Web Panels are another unique feature in Vivaldi, and maybe one of the features I use the most. It's a sidebar on one side of your browser window that gives you quick access to Bookmarks, Downloads, Notes, and browsing history.
To add a new "custom" Web Panel, you click the ´+´ icon in your sidebar and type in the URL you want to add.
I really enjoy having social media here, as it gives me easy access to Instagram or Twitter for example. I also recommend having news websites and messenger apps on there as well.
* * *
Vivaldi is different from Google Chrome in many ways, mostly because of its cool, unique features and customization.
It's been almost two months since I switched, and I still discover new things every day.
I wrote about three things that work better in Vivaldi compared to Google Chrome – Tab Stacking, Page Tiling, and Notes.
Also, don't forget that Google Chrome wants to gather as much information about you as possible to further their business. That's the cost of using Google Chrome for "free".
But Vivaldi doesn't track you. The sites you visit, what you type in the browser, your downloads – Vivaldi has zero interest and zero access to that data.
Ready to make the switch? 💪