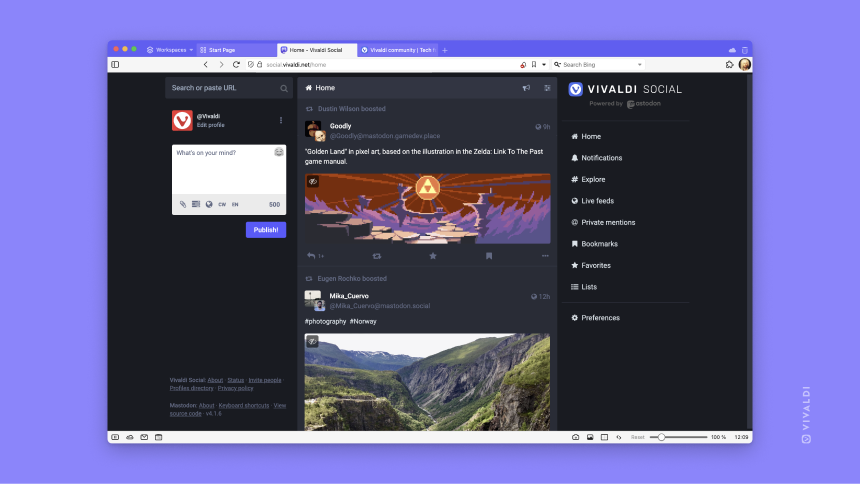 Today, we've updated Vivaldi Social to Mastodon's latest version of 4.2. The new version will enable you to have full-text search, improved live feeds, a new way to display hashtags, and more.
For the uninitiated, our Mastodon instance – Vivaldi Social – is a federated social network alternative to those networks controlled by large corporations. It is part of our various services that offer better alternatives for people to communicate in an algorithm-free environment with no surveillance capitalism, devoid of tracking or data profiling.
Why Vivaldi Social?
Popular social media platforms have moved towards the ad-revenue way that rely on data collection and profiling, and in the process, they have started to lose the real sense of community. This has got people to rethink their choices and look for new and better online communities.
Looking at this uneasiness in the world of social media, we realized quickly that we could offer more to the decentralized world of the Fediverse. With our server capabilities, plenty of know-how and enthusiasm in the team, it was easy yet challenging to host our own server to accommodate people migrating to Mastodon, the most popular Fediverse server software. Thus, our Mastodon instance, Vivaldi Social was born. And we did it in record time too.
With Vivaldi Social, we want to offer 'the good old days of the Internet', where the sense of community is a lot stronger with people. The platform is a meeting place for a lot of Vivaldi browser users and more people from various walks of life. The advantage of the decentralized network of Fediverse is that people from specific craft lovers to local governments can host their own platform, which by using the same Activity Pub protocol, can all interact with each other.
If you already have a Vivaldi Account, you can use your credentials to log in to the Vivaldi Social instance on https://social.vivaldi.net/. Or, head to vivaldi.net to sign up for a free account.
Vivaldi Social, updated to Mastodon's latest version
Now Vivaldi Social has been updated to Mastodon 4.2.
Let's find out what's new:
Revamp of the search interface. The search field's dropdown menu now includes recent searches, quick actions (e.g. Go to hashtag/profile/etc.), and the possibility to use new search operators (e.g. from:me, before:2023-04-18, language:ja, has:poll, etc.). Search results support infinite scroll like other feeds and results should be generally more relevant. In addition, Search is now more visible on smaller screens.
Full-text search. Until now you could search hashtags, users, and posts by URL, as well as content you had created, interacted with or were mentioned in, but aside from that the results were quite limited. The new version introduces searching through all public content making finding interesting posts and users even easier. Each user needs to opt into their content being searchable, though.
You can enable it for your account from Preferences > Public profile > Privacy and reach > Search.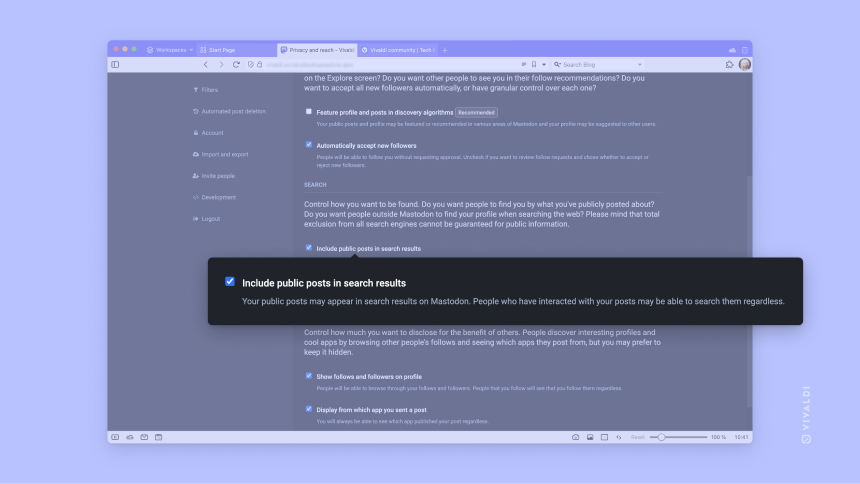 Preferences revamp. Descriptions of many of the settings and labels have been improved to make them easier to understand. Also, some settings can now be found in new locations. For example, all privacy and reach-related settings have now been collected onto one page in Preferences > Public profile > Privacy and reach.
Hashtag display. You can blend hashtags into your post text or you can add them on a separate line at the end of the post. When you do the latter, the hashtags will now be displayed separately from the post (e.g. below the image or link you're sharing).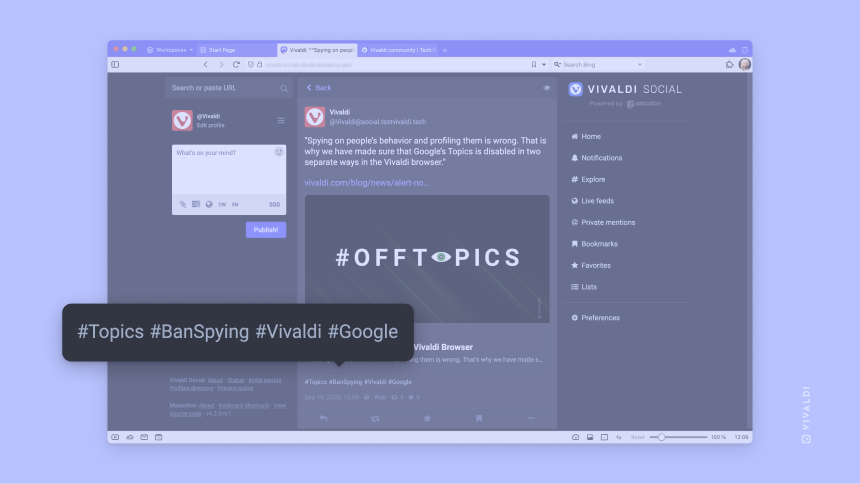 Introducing Live Feeds. Previously known as Local and Federated timelines, posts from people on your instance and from the ones on other instances your instance people have interacted with can be now found on the Live Feeds page. You can view them separately or together.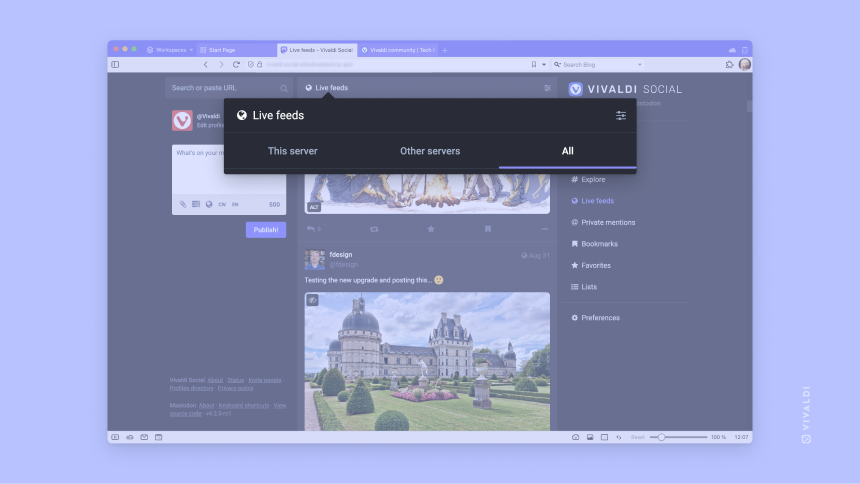 Other notable changes
New design for link previews.
"Direct messages" have been renamed to "Private mentions".
More support for hashtag display for content from other Fediverse services.
Improvements to content import and export.
Boosted content no longer shows up in the "Posts and replies" tab on the user's profile.
Reply chains are now more visible.
Possibility to exclude posts from Lists on your Home feed.
Read Mastodon team's release post here.
Sign up here https://social.vivaldi.net/ and enjoy the new Vivaldi Social.