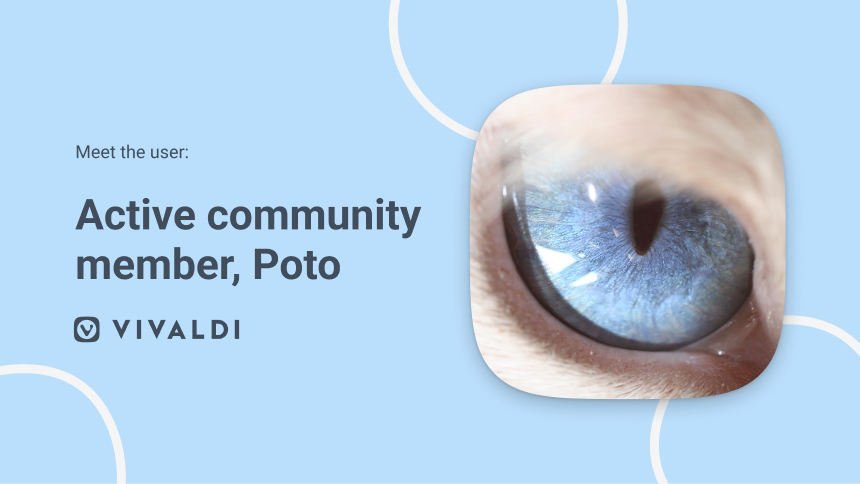 Who are you?
I'm Poto from China. I am running a small business. Enjoy reading in general. I'm using Vivaldi on my laptop and Android phone. I really like Vivaldi browser, it makes me feel very comfortable and I am able to use the browser the way I want to.
When did you first get to know about Vivaldi, and what was your first impression?
I got the first computer of my life in the summer of 2016, and then I looked for a browser for my computer. At that time I heard that Jon had left Opera to start Vivaldi, so I installed Vivaldi without much prior knowledge about the browser.
I started using Opera Presto on a public computer at the Village Library in 2011, and that's when I heard Jon's story. I was impressed by the Opera Presto experience at that time. So when I knew that Vivaldi was Jon's work, I knew that this was the browser I wanted.
My first impression about Vivaldi is that this is a continuation of the spirit of Opera Presto. Highly customizable with familiar features. Almost all browsers are Chrome-like designs that teach you how to use the browser. But Vivaldi lets you decide how to use the browser based on your own ideas. There are a thousand versions of Vivaldi in a thousand people's eyes.
When and how do you usually use the Vivaldi browser?
I mainly use Vivaldi browser because I have watched Vivaldi grow, so I have built up a familiar habit of using it. When I use other browsers I find them a little hard to use. This is a good thing because Vivaldi gives you the features you need and then you form your own habits as well. You will find that other simple browsers only give you the standard usage, instead of thinking about what the user really wants from their point of view.
I usually use the Quick Commands to enter a URL or search for a keyword. Of course Quick Commands does more than these functions. I also use it to search bookmarks, start composing an email, and search on a given website.
I have added some tool pages as Web Panels. For example, programming related documentation, exchange rate queries and white noise online sites. When I'm cooking, I use the Status Bar Clock to set a countdown alarm, say 10 minutes, so I can use the computer briefly while I'm steaming food. Healthy cooking, healthy living.
I often need to tile two tabs from different Tab Stacks in order to compare the content of both. So I will use a Mouse Gesture to tile the two selected tabs vertically.
I often organize the content from the pages into Vivaldi Notes. The Notes Panel is very handy for shorthand. I will simply copy the content from the web page or summarize the content. Then further organize these notes in the full tab Notes Manager.
I often encounter websites that I have to visit regularly in my study and work, such as the student website of a school and the Web management system of a company. These sites are usually multiple pages with their own roles. I don't want to open these pages one by one every time I need them, I want them to be opened in batch with one click. So I will save them as Sessions and select different sessions according to different task scenarios to get into the role.
I also customize all menus to keep only the functions I need and put the frequently used ones on top. For example, I right-click on a web page usually to copy the URL, right click on a Tab Stack to close the stack, and right-click on a tab to clone it.
So I put those functions first. The functions I don't use I delete, and some functions I'm not sure about I create a new submenu to put them in.
I am using Vivaldi Mail to manage my emails. When I receive an email, I can view it for processing by simply clicking on the notification bubble in the bottom right corner. Emails that are not read are automatically categorized in the unread messages folder (this folder only shows unread emails). When I read or process the unread emails, the unread messages folder is automatically emptied.
I can also mark emails based on importance as well as type so I can organize my tasks based on these filters.
Vivaldi organizes my emails and presents them to me, so I only need to focus on the content of the emails themselves and don't have to waste time managing them. It's like I forgot the existence of my email account and it feels like an assistant is managing my emails for me
Which websites, services and games etc. do you use most?
I mainly browse some industry websites. Also, Lürzer's Archive, Pinterest and The SiYuan Note. I don't use many services. I prefer my e-ink reader Moaan inkPad X. I don't play games, I think games waste time and energy. I prefer to spend my time in real life and in creation. Spending time with family and friends, sports and traveling. I like to read in general.
How do you customize Vivaldi?
I moved Vivaldi's Address Bar to the bottom and made the Status Bar appear on hover. I use compact tab stack. I've kept only the alarm clock and have removed other browser buttons.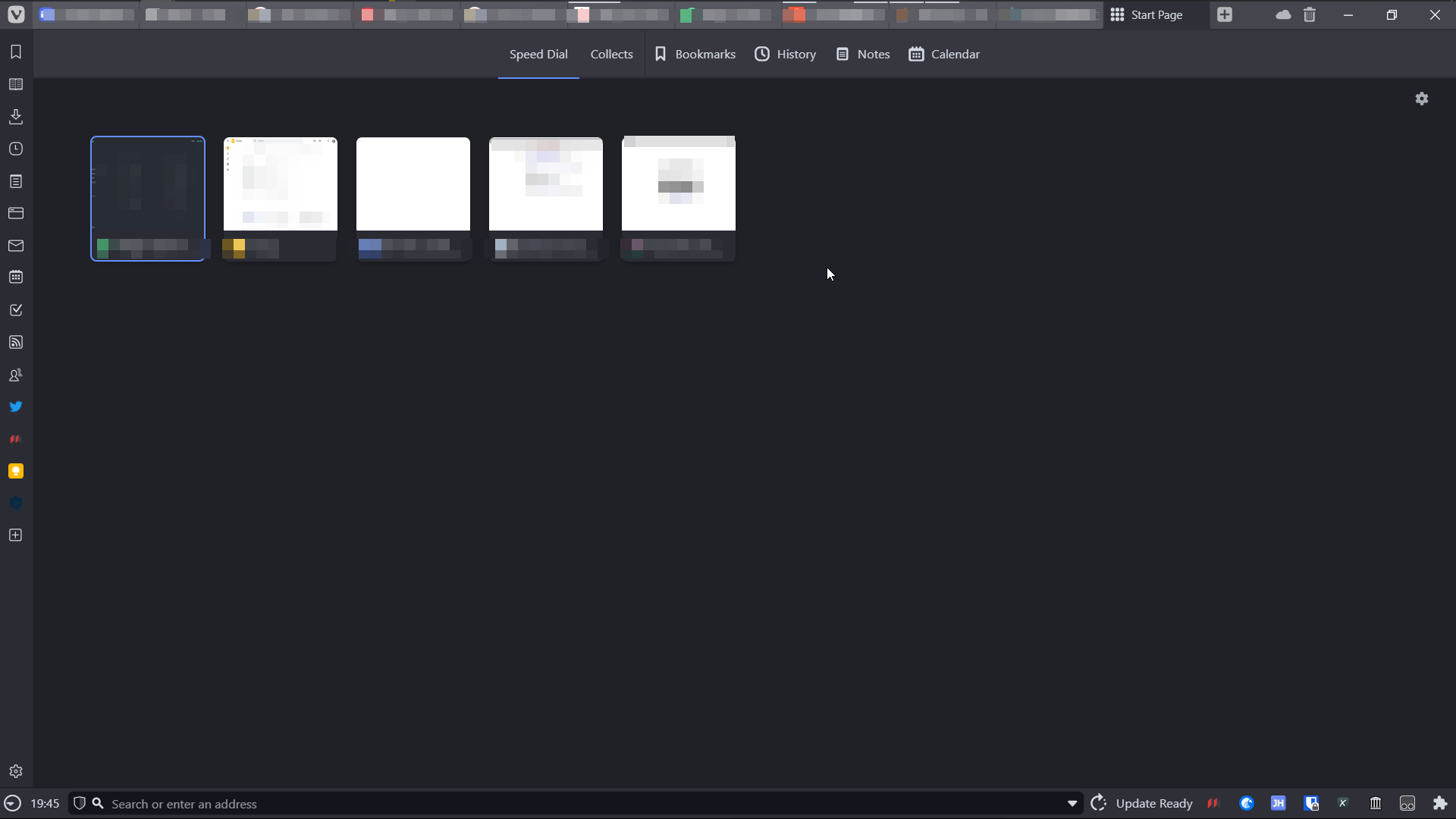 When we read, our eyes move from the top to the bottom, just like an F shape. So the space at the top is the most valuable. Too many interface elements piled up at the top will cause eye fatigue. Since the value of the browser is to present web pages to the user, and the user starts reading from the top, there should be no infrequent elements like the Address Bar at the top.
I moved the Address Bar to the bottom so that it would feel open to the view, especially when starting to browse each page. This way the whole browser window will not give you a top-heavy feeling.
I use some Mouse Gestures, not many, focusing only on commonly used features, such as Tab Tiling and moving tabs out of Tab Stacks.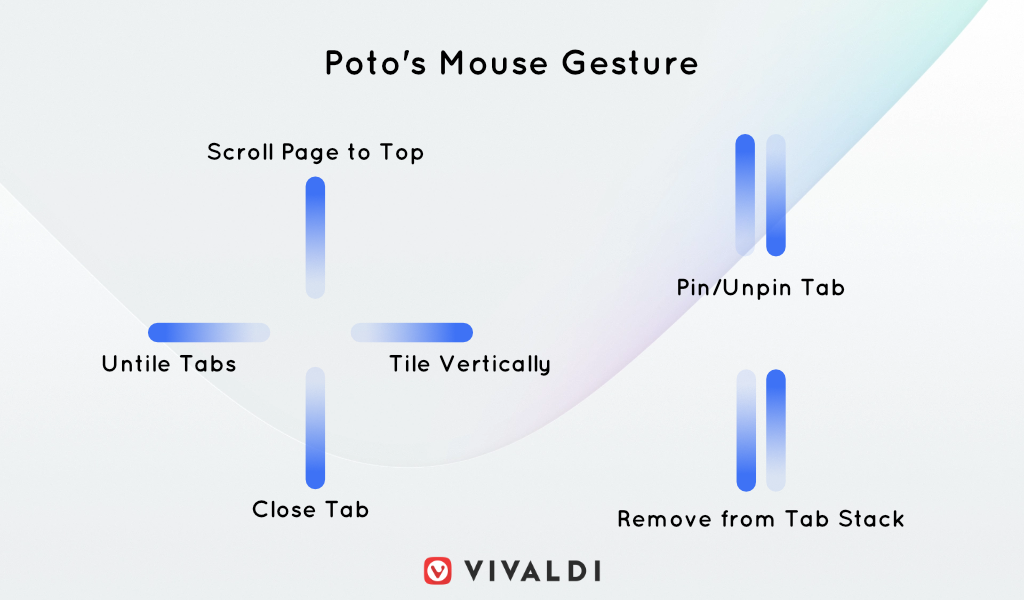 I use the Tab Cycling to switch tabs. This is the feature I use the most and the one I like the most. No matter where your mouse is, hold down the right button and scroll the wheel to switch between tabs.
The Status Bar Clock is the feature I need most. I hide the taskbar of Win10, so I need the clock to show me the time.
In Vivaldi on Android, I have moved the Address Bar to the bottom of the screen and enabled swipe gestures on it to quickly open the Tab Switcher. I've also chosen to hide the Status Bar. In addition, I've set the minimum tab width to 105 pixels and opted for the small Speed Dials.
Furthermore, in Vivaldi on Android I can swipe left and right on the Address Bar to switch tabs. I like this feature, because I can easily switch between tabs without needing to click anywhere.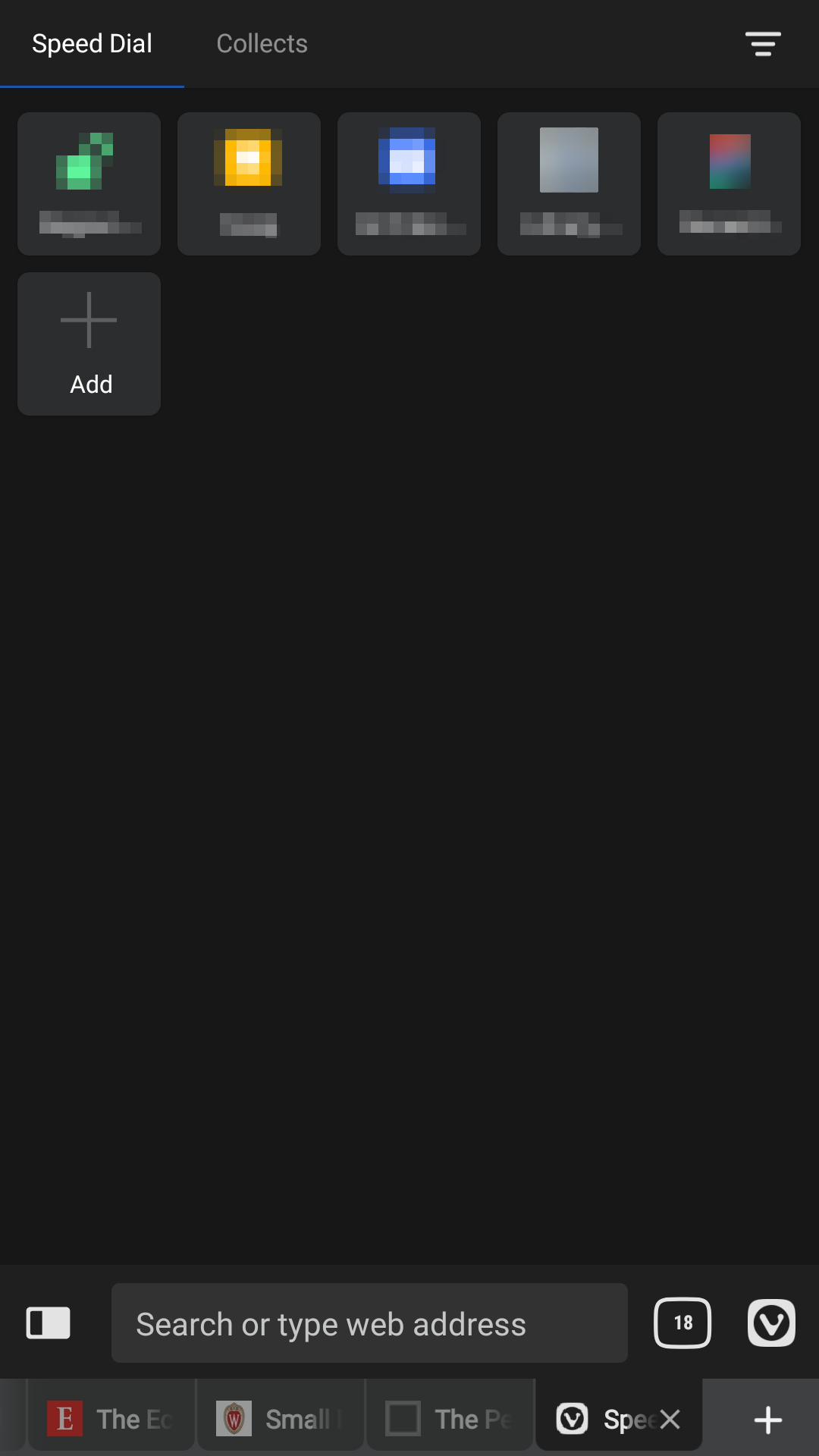 Which are you favorite Vivaldi features?
My favorite Vivaldi features have got to be Vivaldi Mail, Tab Tiling and Tab Cycling.
Can you give us a few, final words about Vivaldi?
Vivaldi lets me use it the way I want to. It's the only browser on the market that does this. Is a simple browser really what we need? Obviously not. Simplicity and functionality are not incompatible, Vivaldi can be very minimalist, with only the title and the page, no other elements. But Vivaldi also offers enough features to meet your needs, and they are not complicated but helpful.
Jon sticks to his philosophy so I can experience Vivaldi's charm. Thanks to Jon's understanding and paranoia about browsers. Without Jon, we wouldn't be seeing an independently thinking browser that thinks about the user right now.
You can use Vivaldi like the browser you're using, and then you'll slowly get your own ideas on how to adapt Vivaldi to fit your needs better. At some point in the future, maybe you will be surprised that the browser can be used in this way.
I learned a lot from Jon's case, Vivaldi can't be controlled by businessmen, otherwise it will become another Opera.
---
A big thanks to Poto for sharing his story with us. Want to share your Vivaldi story? Get in touch with us via [email protected].