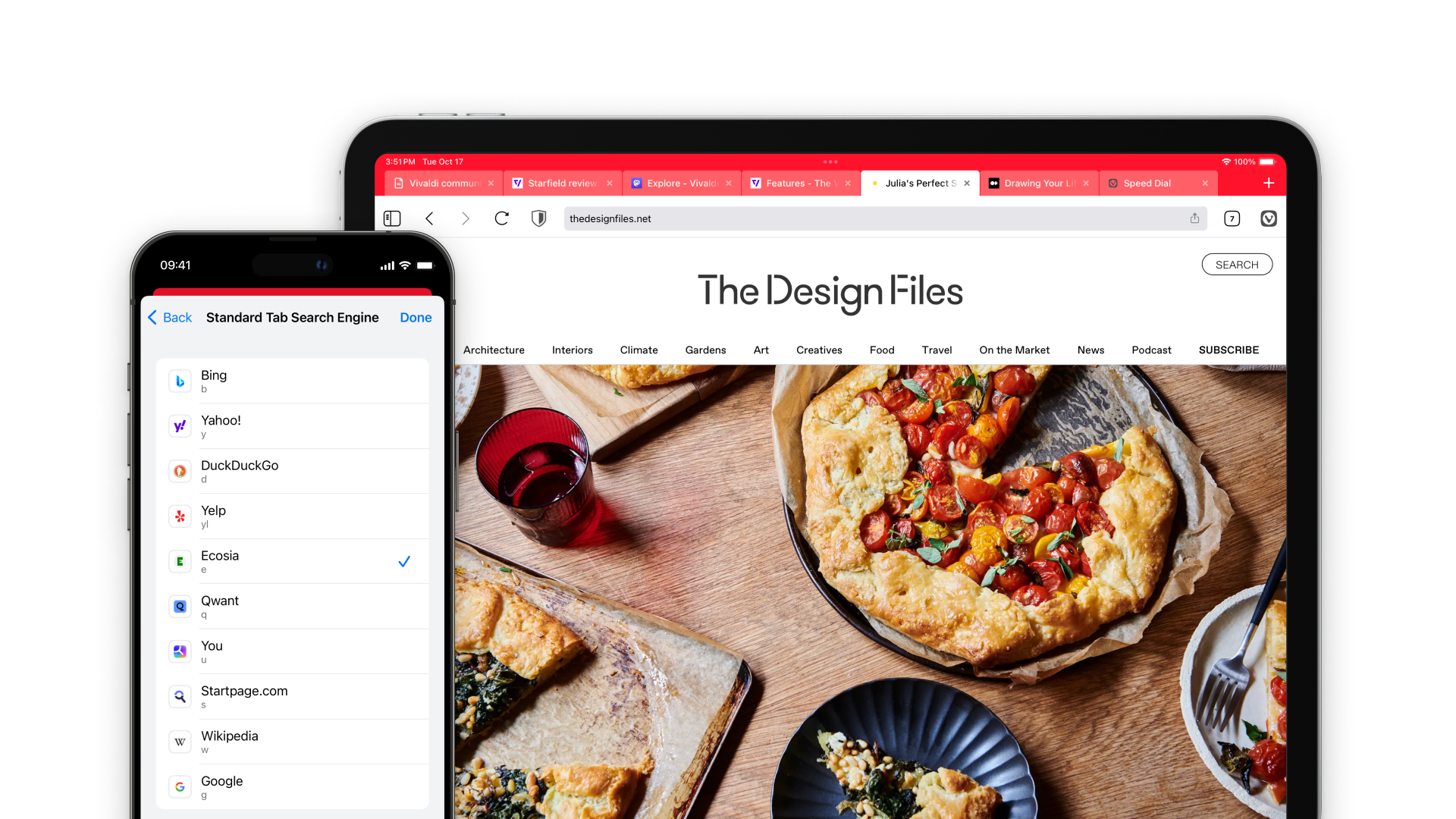 Read this article in español, 日本語, język polski.
We've released a new update to the Vivaldi browser on iOS – Vivaldi 6.4.
Earlier, this September we launched our browser on iOS, and we're overwhelmed with the positive responses about Vivaldi's unique features on your iPhone and iPad.
What stands out in Vivaldi is its powerful feature set and useful built-in tools, that make your browsing more personal and private. We are proud of the unique user experience we've brought to iOS and are motivated to fine-tune the browser into an even better version today.



Get more of Vivaldi in its new version
In this update, we've added new functions such as pinning tabs and shortcuts to search faster, rounded a few rough edges, squashed some bugs, and polished the browser with under-the-hood improvements.
Strong focus on iPad
We have designed the browser's functionality for larger mobile screens so that it suits your iPad. Just like Vivaldi on desktop, you can optimize the available screen space because the sidebar – Panels – pops up on the left of the screen.
We've also made your go-to tools – Bookmarks, History, Reading List, and Notes – within easy reach in the browser's sidebar.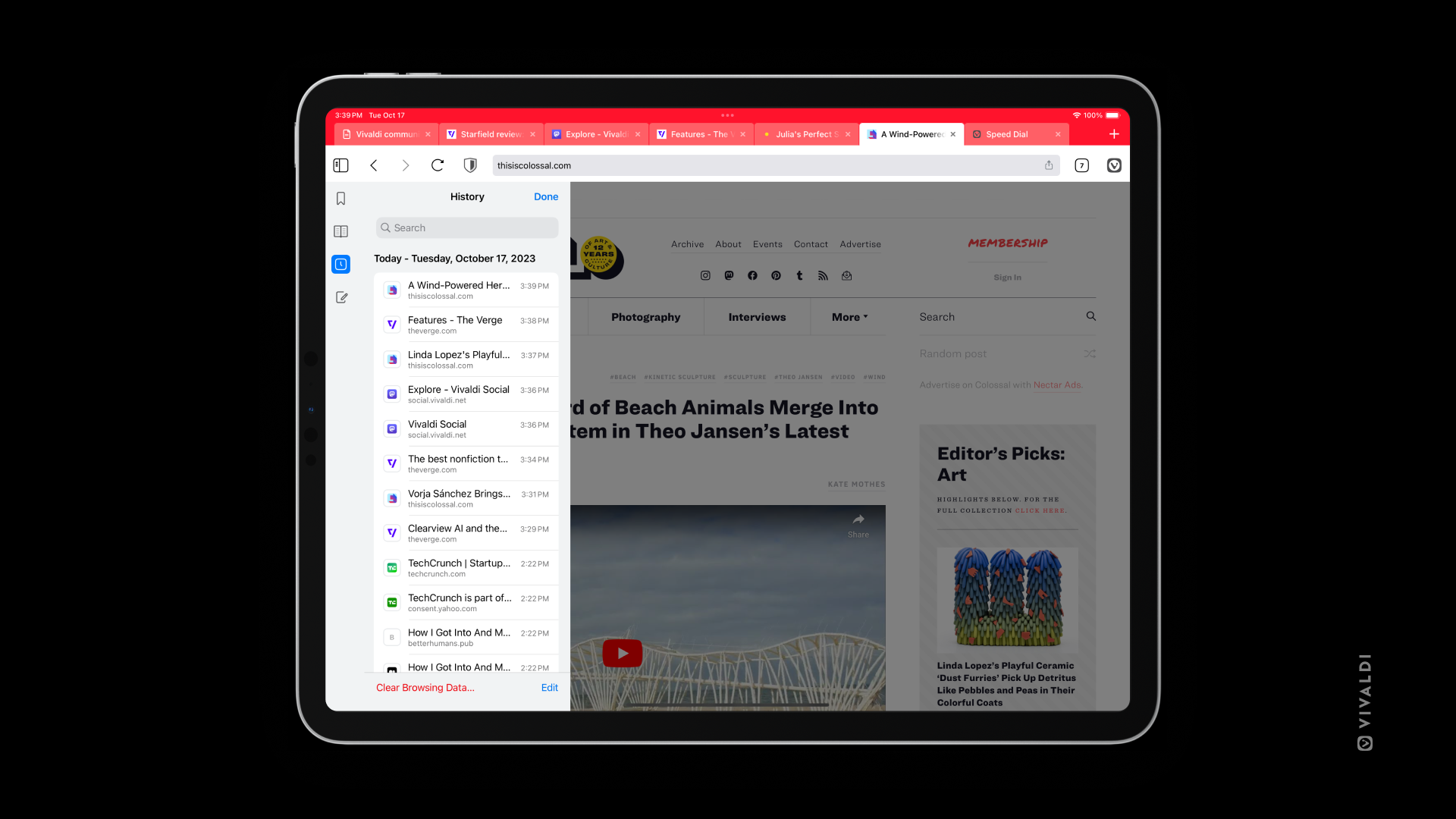 Improved Tab features: Pin the tabs
Across platforms, our tab features differentiate the browser from the rest of the pack. That is why we integrated the unique desktop-style Tab Bar which makes it easy and fast to switch tabs in a way familiar to most from their computers.
We continue to improve the way you handle tabs. Now onwards, you can easily pin tabs and keep your most important tabs easily accessible. Pinned tabs are a great way to ensure that your favorite websites are just a tap away, helping you have a more organized and efficient browsing experience.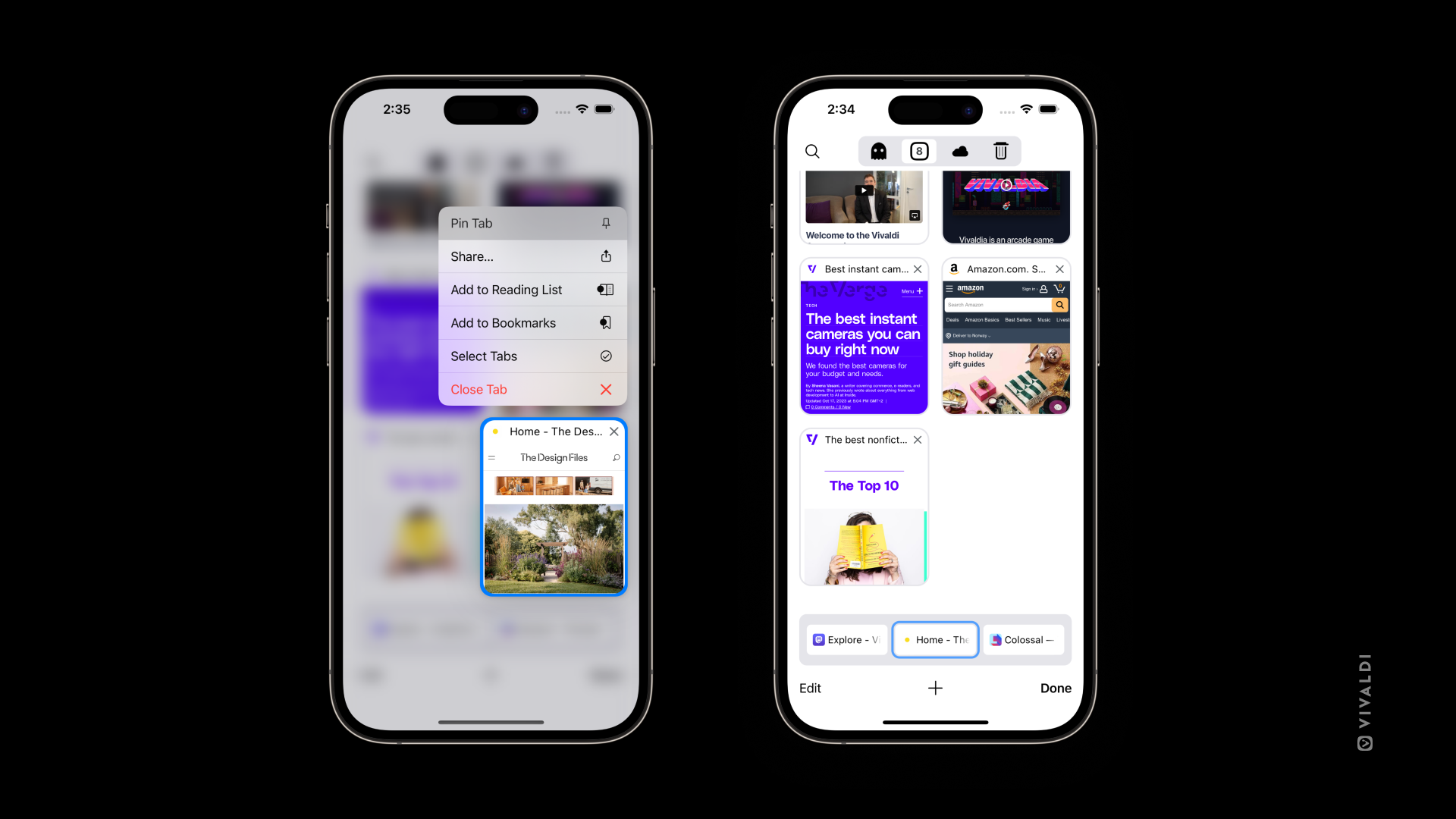 Tabs can be pinned from their context menu in the Tab Switcher.
With the Tab Switcher, you can find open, private, recently closed, or synced tabs in a breeze.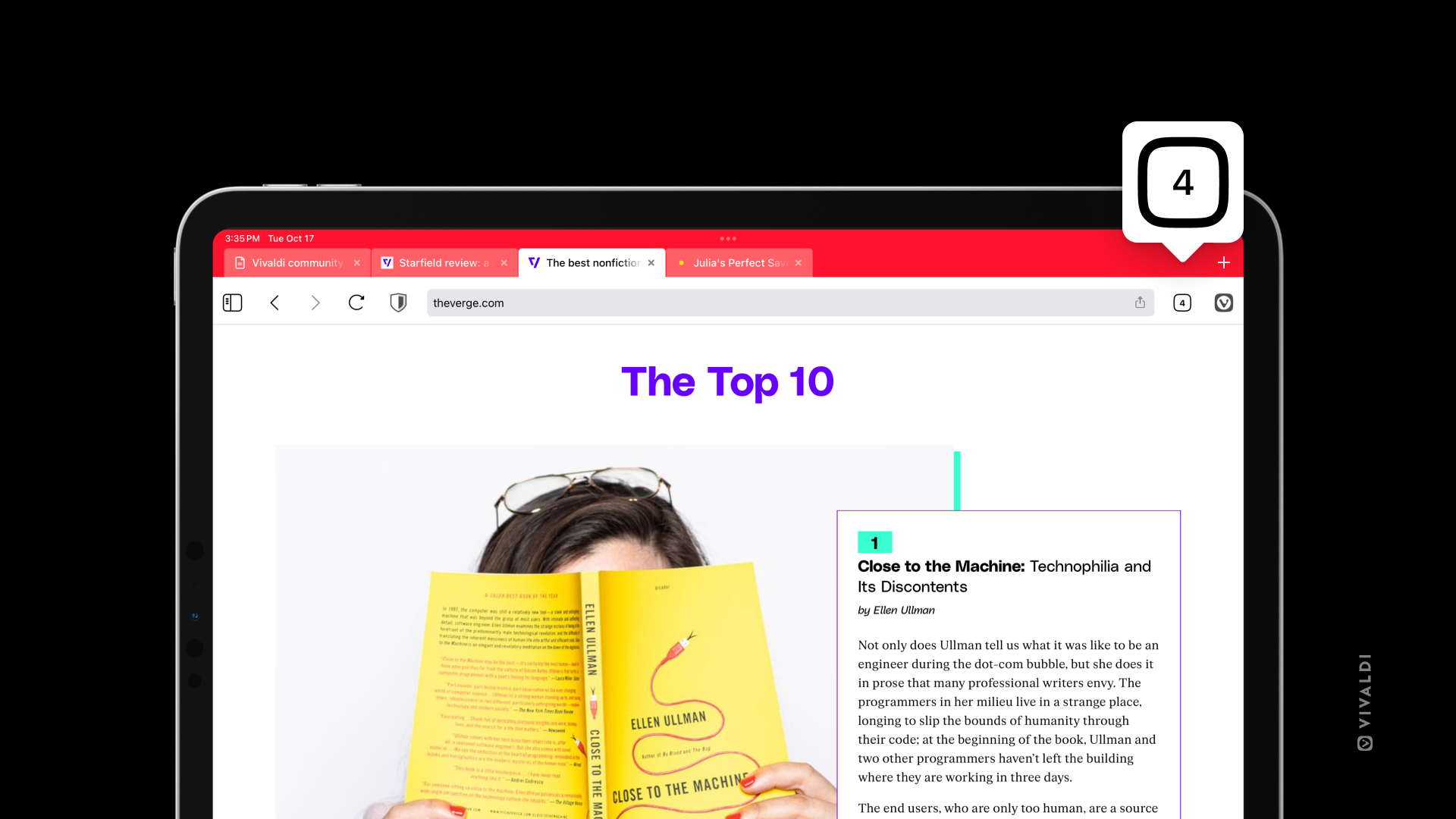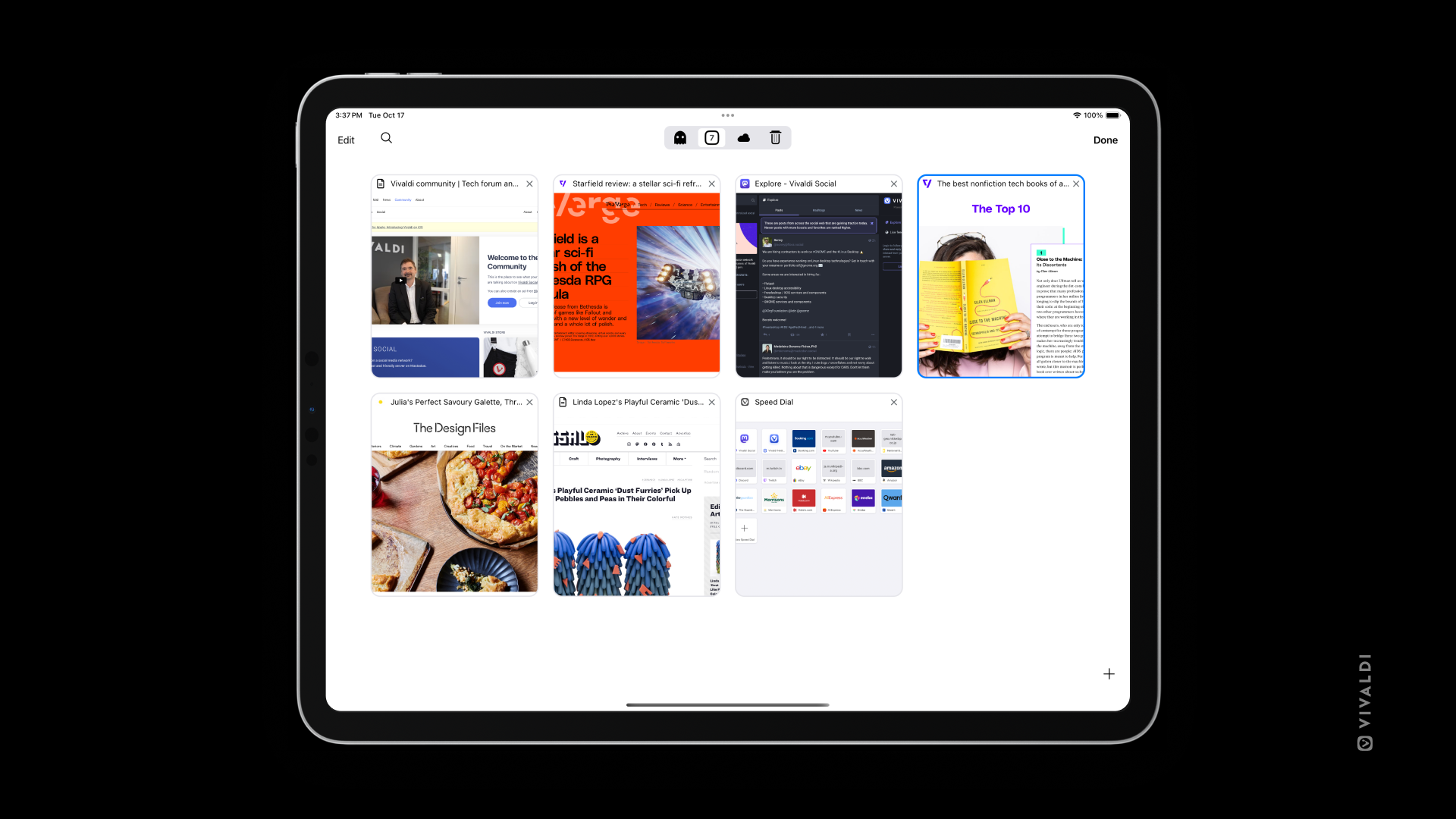 Search Engine Nicknames: Save time with shortcuts.
With the help of Search Engine Nicknames, you can easily search with any of the included search engines in Vivaldi.

Simply type the nickname followed by the search term to search with the selected search engine. Often, you'll end up getting better search results by using different search engines.

Similiar to Vivaldi on desktop, you can also set different default search engines for regular and private tabs.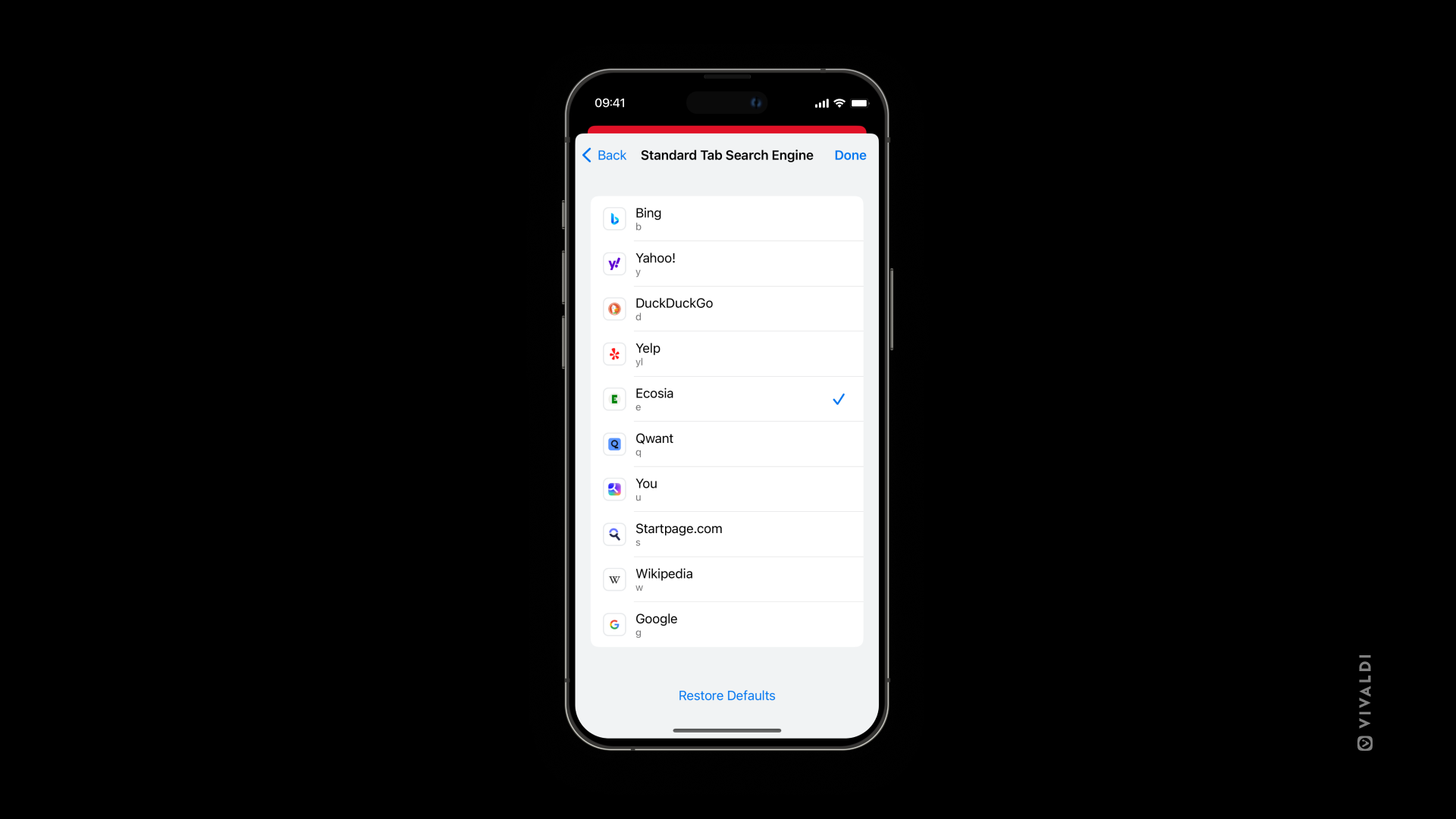 Discover more unique features of Vivaldi on iOS
Notes: Save your thoughts on the go.
With Vivaldi's built-in Notes functionality, you can jot down ideas, to-dos, and inspirations while browsing. You can also highlight any text and "Copy to note" at which the text gets copied into the Notes section of the browser.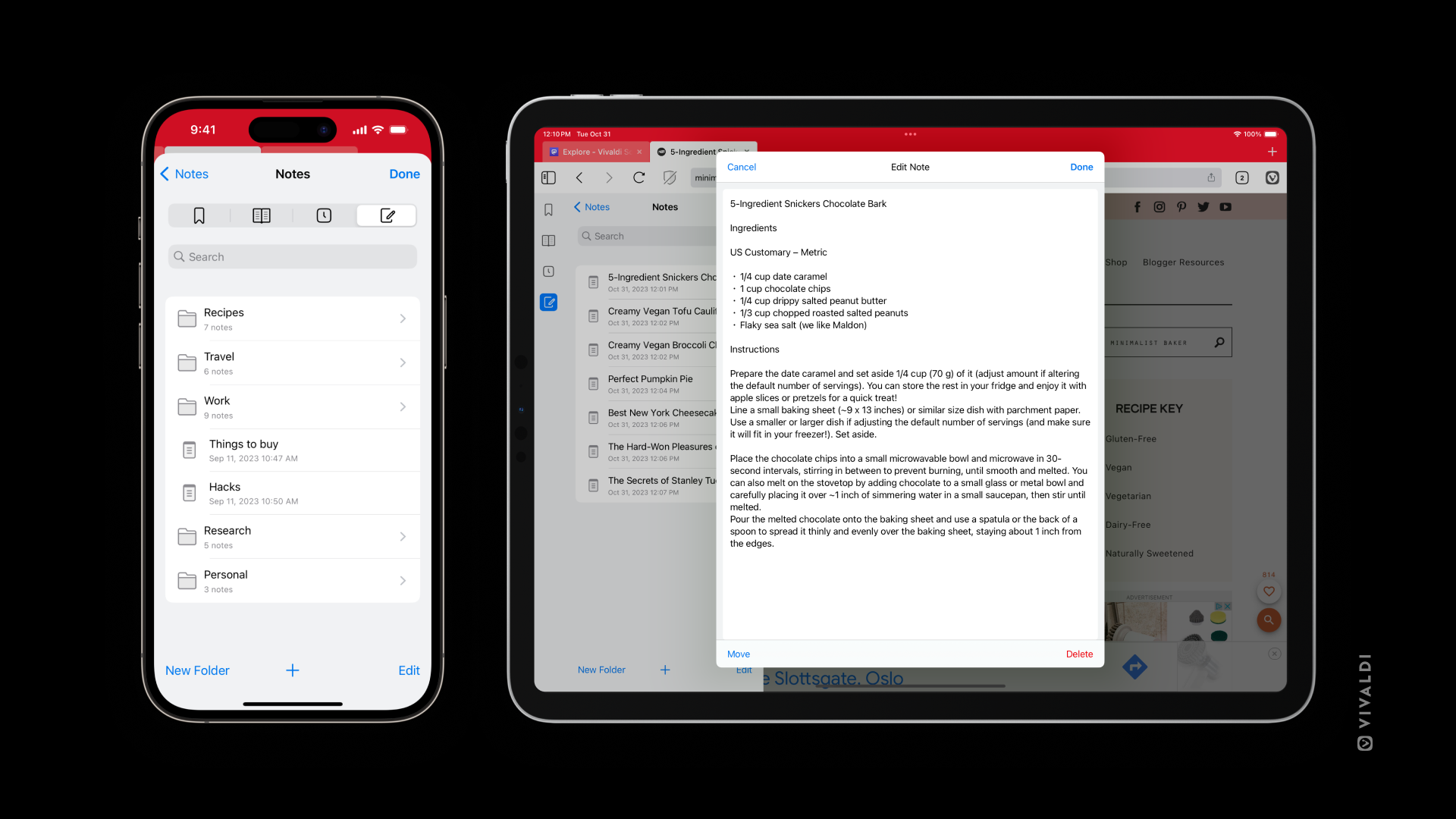 Reading List: Save your favorite stories to read later.
You can save web pages to read them later with its Reading List. With the Reading List, you no longer require an external app.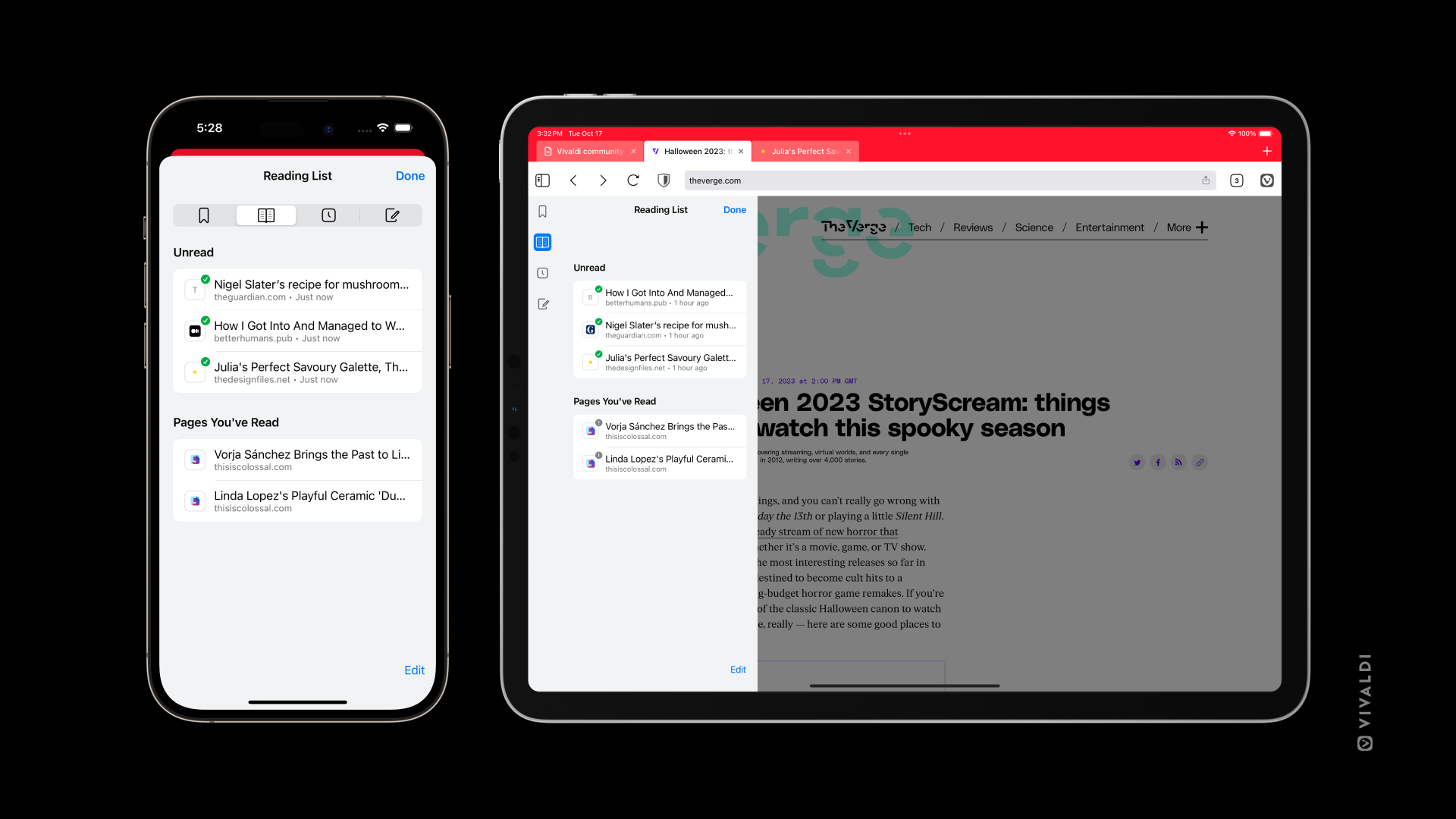 Speed Dials: Browse smart with visual bookmarks.
Vivaldi's signature feature, Speed Dials, helps you access your favorite sites via visual bookmarks. You can create Speed Dials based on site categories or your interests.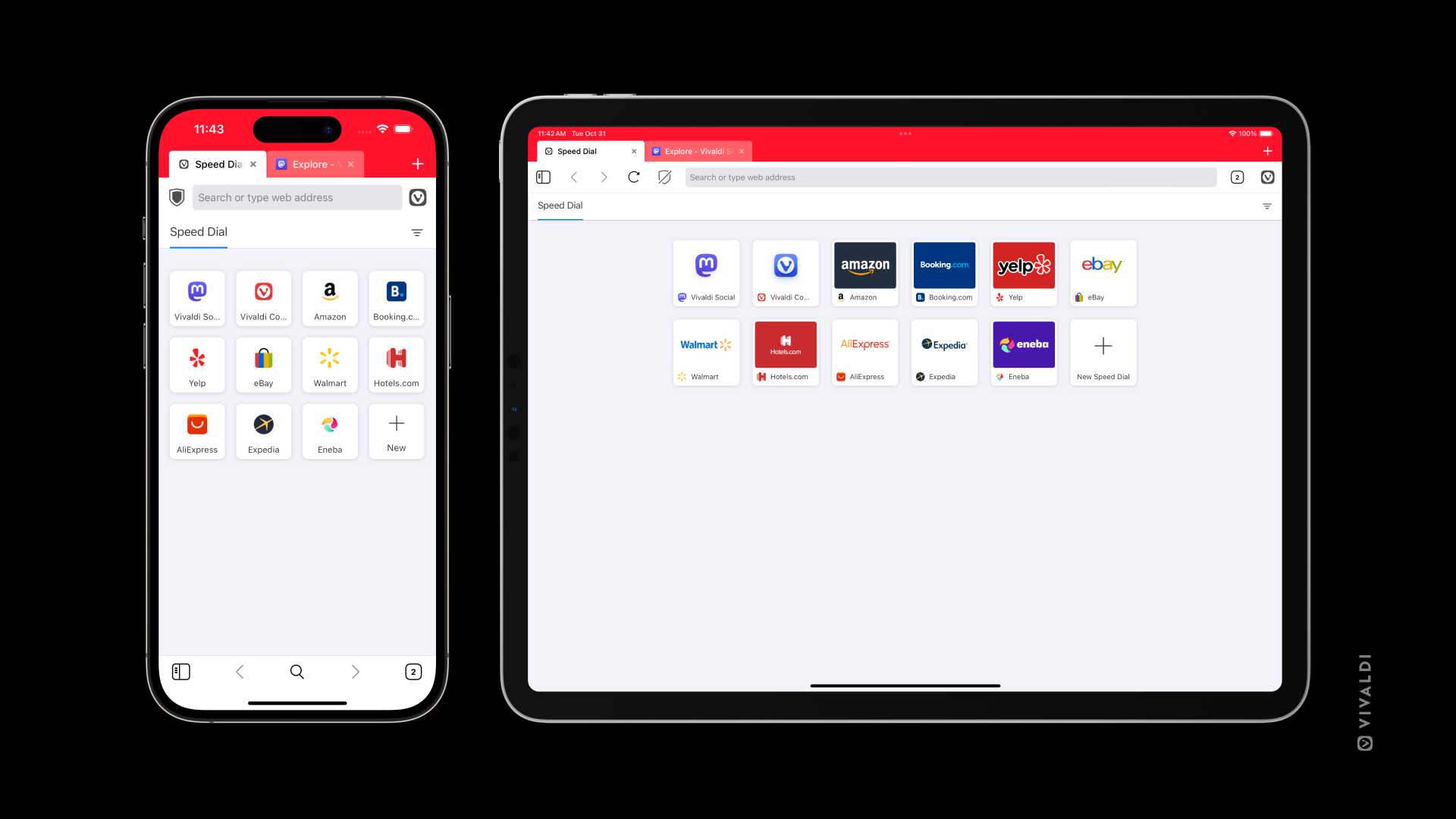 For example, you can group all your favorite news-based websites into a single folder named News, and do something similar for Social Networks and others.
Sync: Take your browsing data anywhere and everywhere.
One of our distinguishing features is our end-to-end encrypted Vivaldi Sync.
Now that Vivaldi is cross-platform, you can sync your browsing data – Bookmarks, Speed Dials, saved passwords, autofill information, typed History, Notes, and Reading List – securely between installations of Vivaldi on different devices.

Vivaldi is available on Desktop, Android, and in cars.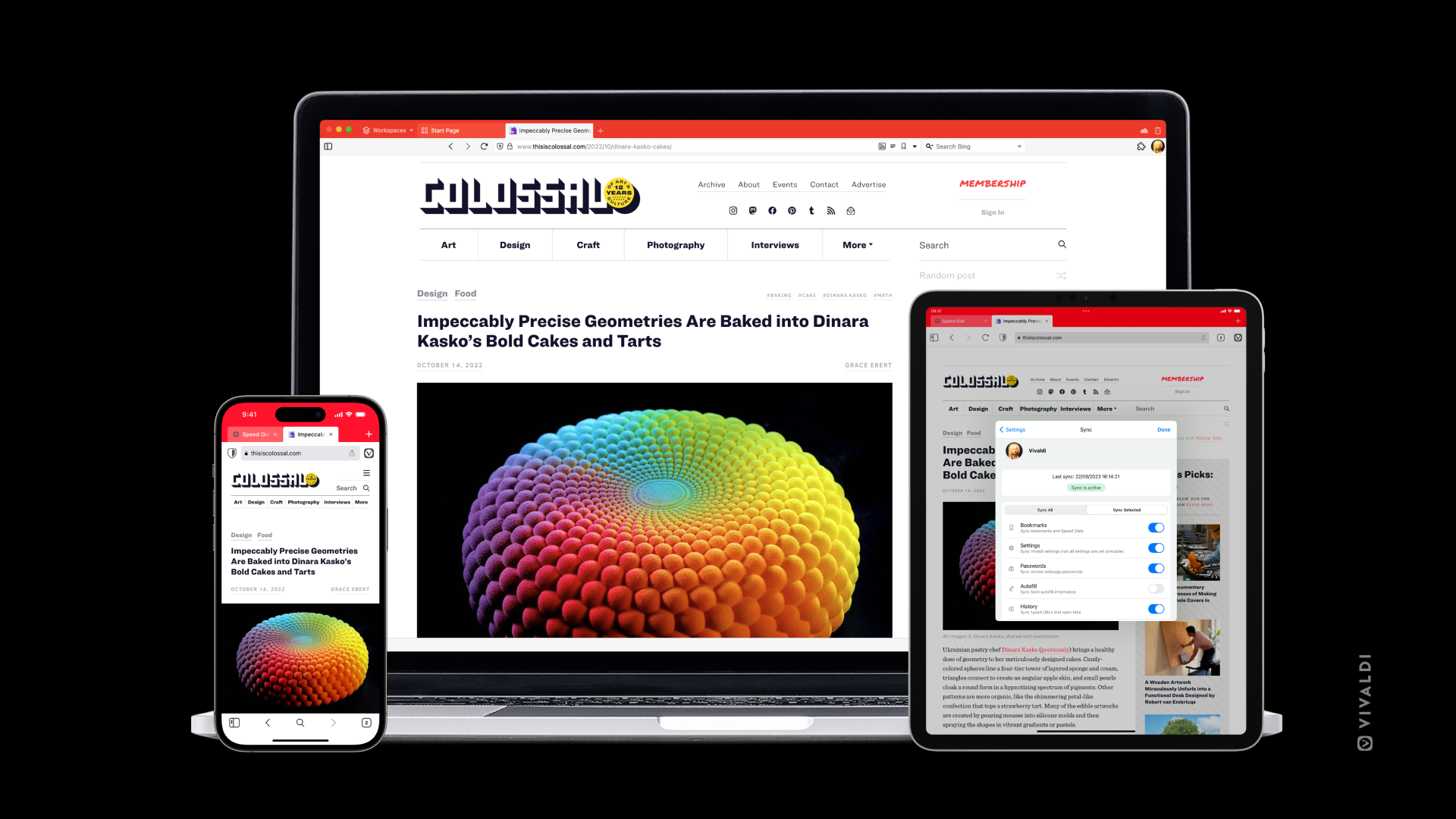 Your data is extremely important to us. We believe everything that you store in your browser belongs to you — which is why we'll never sell your data or willingly compromise your privacy. Data is encrypted on your device using a password that is never sent to us. We do not use any third-party servers.
Download Vivaldi on iOS and share your feedback on the App Store.
For now, we can't wait to hear what you think about Vivaldi 6.4. We look forward to more versions of Vivaldi on iOS in the coming months with the help of your feedback. Do send them in! And don't forget to rate us and leave a review on the App Store.



For more news on Vivaldi on iOS, subscribe to our newsletter, and if you'd like your favorite features to be included in the future, head to our forum, tag "iOS" and vote for them.
Head to the changelog for more details.
Changelog
[New] Add ability to pin tabs (VIB-317)
[New] Add private tab search engine settings (VIB-382)
[New] Implement search engine shortcut (VIB-131)
[Ad Blocking] Apply ad blocking rule to incognito tabs (VIB-393)
[Ad Blocking] Delete leaked ad block compilation results (VIB-273)
[Ad Blocking] Filter file name becomes lowercase (VIB-447)
[Address Bar] URL with chrome replaced by Vivaldi in on address bar (VIB-418)
[iPad] Fix pinned tab area position (VIB-471)
[Settings] Sync button from Privacy settings shows Chrome Sync UI (VIB-395)
[Sync] Sync encryption link goes to Android help files (VIB-443)
[Tabs] New private tab title is incorrect (VIB-436)
[Tabs] Tab bar glitch in onboarding flow if app is sent to background (VIB-433)
[UI] Update strings on sad tab page (VIB-449)
[UI] Unify tracker and ad blocker settings title with other platforms (VIB-387)
[Chromium] Upgraded to 118.0.5993.122
Updated translations