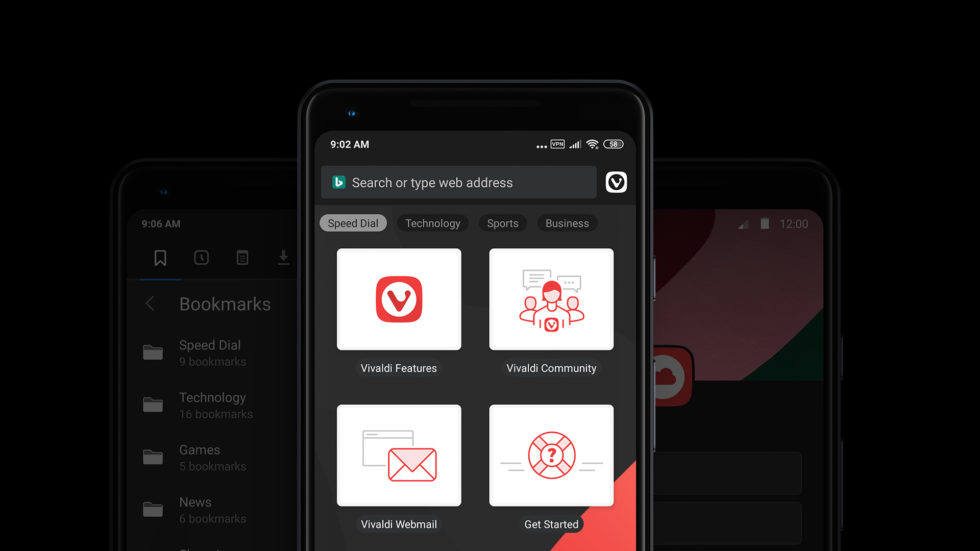 Read the news in French, German, Japanese, Russian, or Polish.
Today, we are excited to release an improved version of Vivaldi on Android – Beta 2. There are fresh additions to its features and variety of fixes so you can now navigate the Web better on your mobile devices.
What's new in Beta 2
A lot of tinkering has been done with every aspect of the browser so that you can get the most out of your browsing. Some of the areas where we've made great progress include:
Enhanced Vivaldi Settings: You'll find new useful additions to the Settings window that can be accessed through the Vivaldi menu:
Swipe to close tabs: One of the top feature requests that lets you get a clean house with a quick swipe by enabling Swipe to Close Tabs in Settings. To see it in action, open the Tab Switcher and swipe left or right on a tab to close it.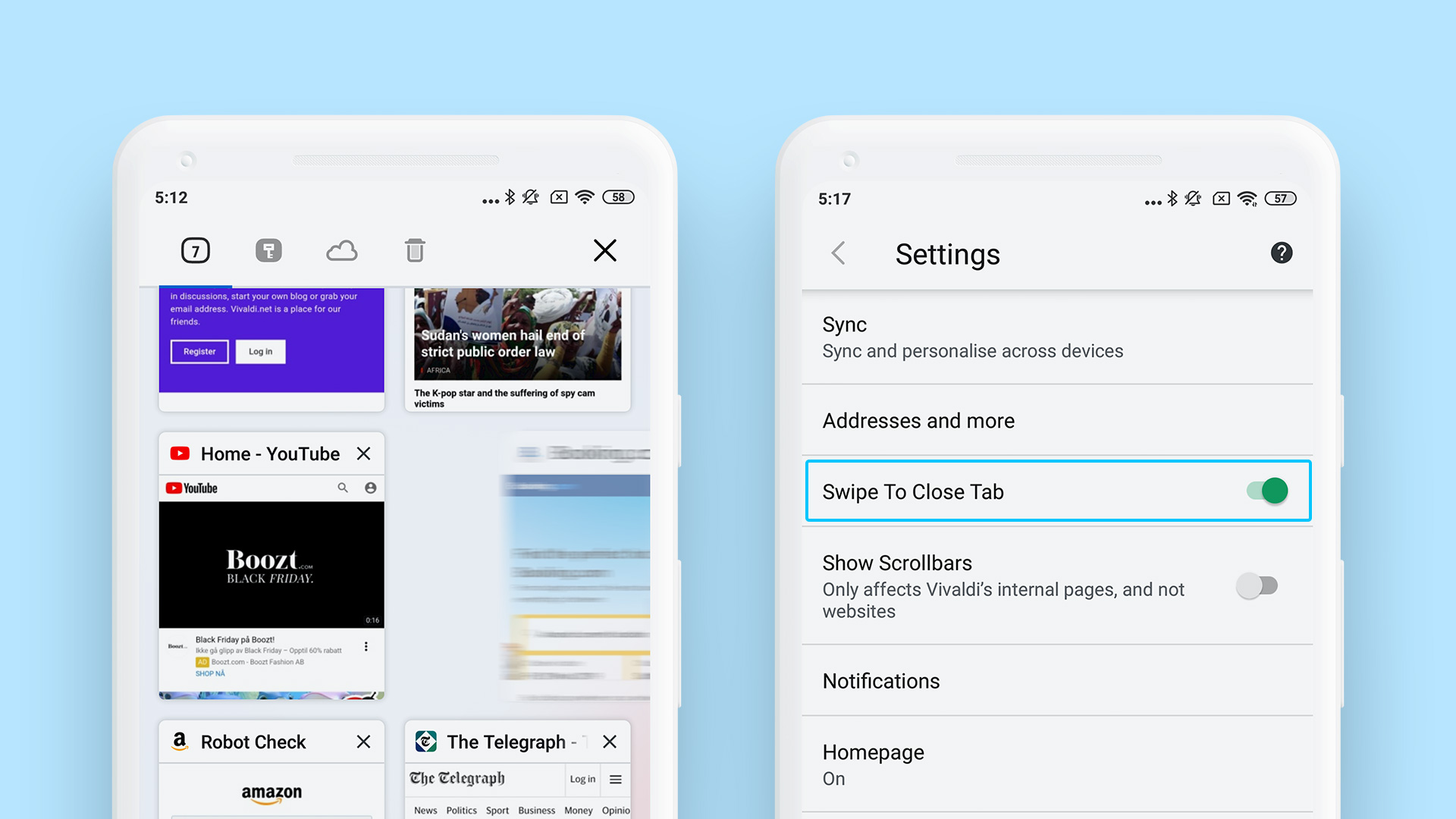 Show scrollbars on internal pages: By enabling this option in the Settings, you can visually see how far down the page you are.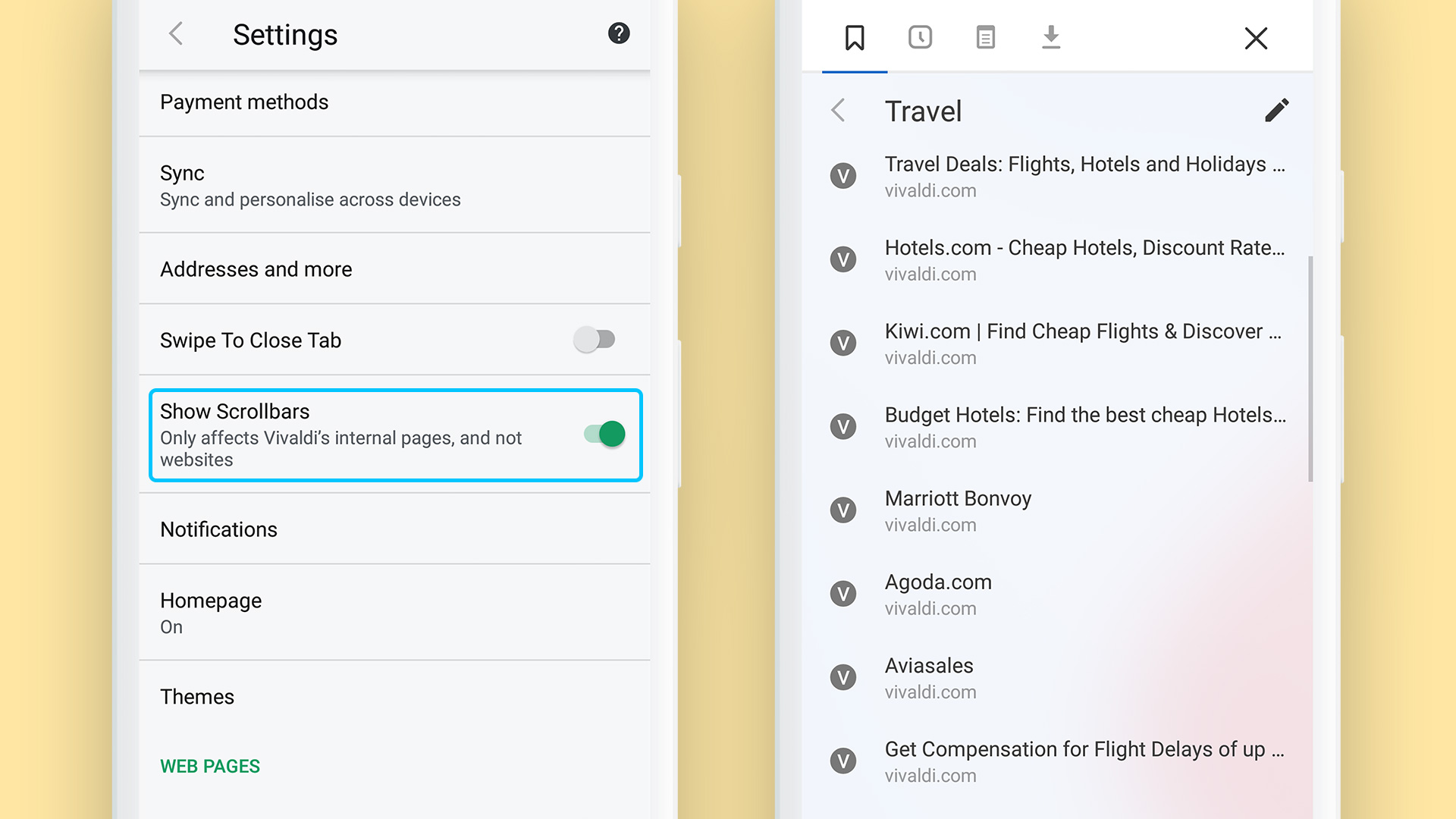 Greater customization of Start Page: Vivaldi's Start Page allows you to access your favorite sites and organize bookmarks quicker using Speed Dials. Now you can do more with the following:
Drag and drop to rearrange your Speed Dials and get to your sites even quicker.
Add and edit Speed Dials with a long-press to see the context menu with options to "Edit" or "Delete" that Speed Dial.
Add a new Speed Dial to the current folder with a tap on the + button. Or, long press the + button to either add a new Speed Dial or a new Speed Dial folder.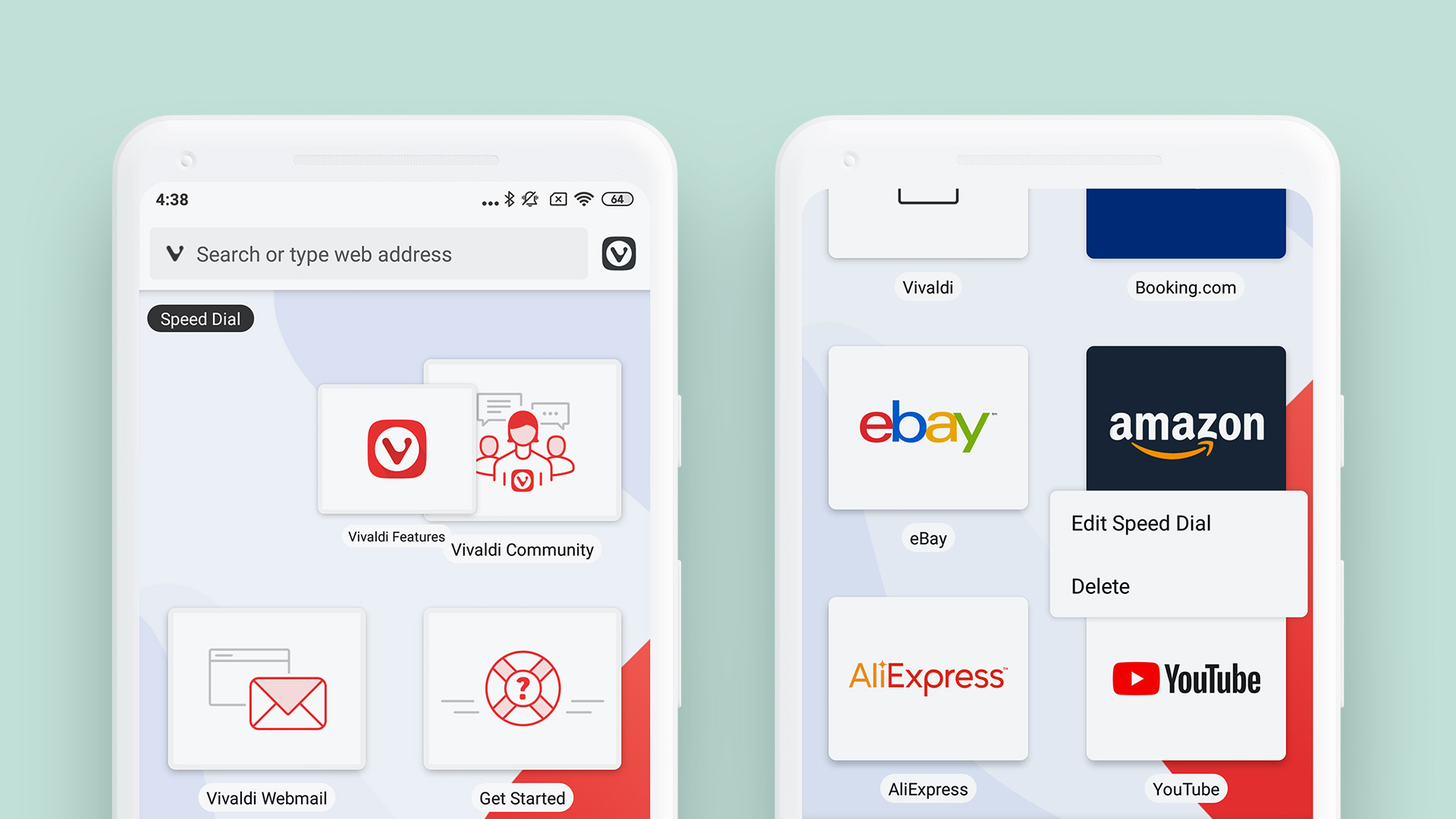 Browse with 'Always Show Desktop Site': Once enabled in the Settings, any new tab that you open (or currently have open) will display the desktop version of the site being visited.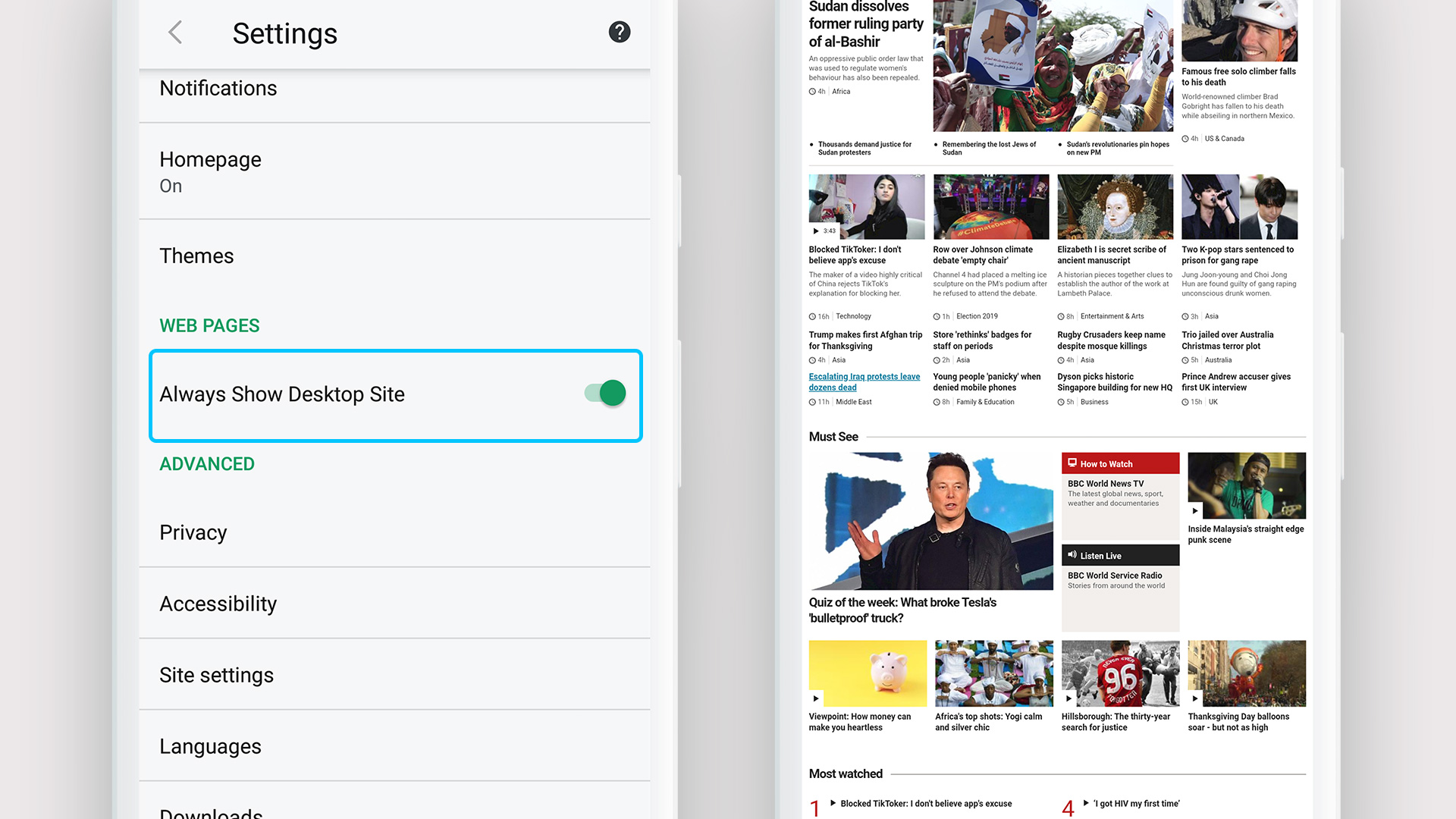 Take out the Trash in one go: Delete all "deleted" Bookmarks and Notes with a single tap. Use the Empty Trash button on the right side of the respective trash screens to clear all deleted items at once.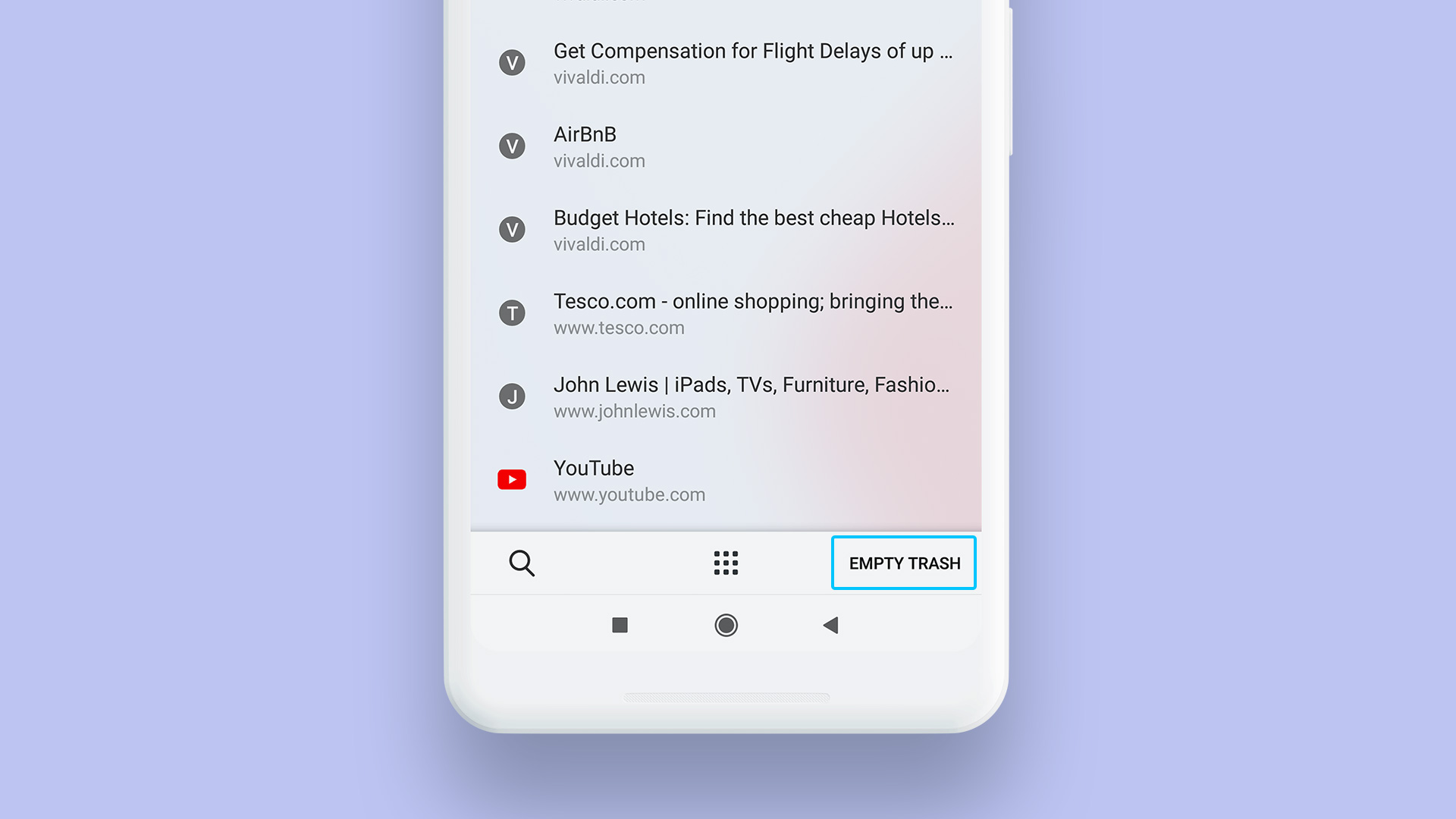 Search more creatively: Vivaldi's search widget lets you use the default engine of Vivaldi from your device's home screen.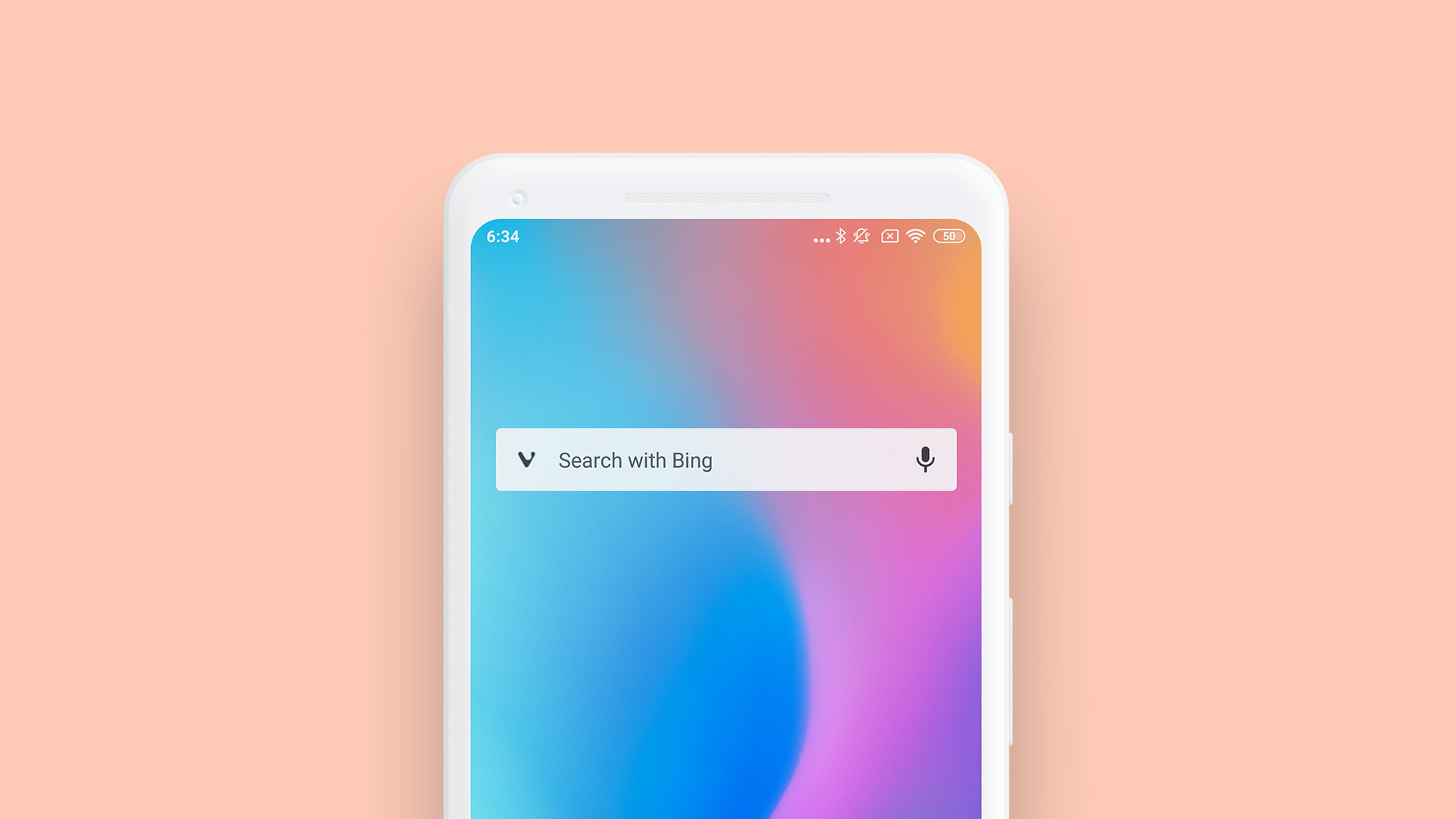 Refreshed User Interface: We've refined the icons for the main toolbars and background by making them thinner, adding more consistency across the User Interface.
Better Stability: In addition to plenty of bugs being squashed and rough edges being polished, a lot of 'under the hood' changes complementing the code has been implemented
Hello, Chromebook!: Vivaldi now runs on a Chromebook. This is just the beginning as there is more work to be done on the User Interface.
Still more to come
We want Vivaldi to be a great experience for you on your mobile devices. And we are working towards creating more functionality based on your invaluable feedback.
Vivaldi on Android is a better browser today thanks to the many users who have sent their feedback and many more who enabled crash reports, helping us fix issues.
We hope that you'll enjoy our new updated beta. Get our latest version on Google Play, and don't forget to rate us there. And we'd love you to tell a friend or two about us.
Take a look at the detailed Changelog below! And yes, keep the feedback coming!
Changelog from Beta 1 to Beta 2
New 
[New][Start Page] Add popup menu to add a folder or speed dial for Speed dial plus button (VB-57631)
[New][Start Page] Drag Speed Dials around to change order (VB-57995)
[New][Start Page] Make it possible to edit and delete speed dials (VB-57597)
[New][Bookmarks][Notes] Make it possible to delete all items from trash (VB-56624)
[New][Settings] Add an option 'Always Show Desktop Site' in Settings (VB-59366)
[New][Settings] Add scroll indicators to Speed Dial and Tab switcher (VB-55260)
[New][Settings] Swipe to close tabs (VB-57094)
[New] Vivaldi does not work on Chromebooks (VB-59995)
Accessibility 
[Accessibility] Tab view menu cannot be chosen by finger-sliding (VB-58585)
Bookmarks 
[Bookmarks] Adding a new speed dial in a sub-folder is not immediately visible (VB-57622)
[Bookmarks] Deleted bookmark from edit dialog does not move to trash (VB-58356)
[Bookmarks] Hide separators in bookmarks (VB-59218)
[Bookmarks] Speed dial edit folder issue (VB-60429)
[Bookmarks] Taping back should save bookmarks (VB-60619)
Crash
[Crash] Crash on the low-end device (Nokia 1) (VB-55424)
[Crash] Vivaldi crashes in going to Android 10 settings (VB-60007)
Downloads 
[Downloads]"Download site" button is missing (VB-60256)
[Downloads] Files go to wrong Download folder on Android 10 (VB-58227)
Menu 
[Menus] Changed order of copy to note the item in the context menu (VB-58484)
Notes 
[Notes] Cannot edit notes folder name (VB-60006)
[Notes] It is too easy to accidentally not save a new note (VB-60099)
[Notes] Hide separators entries synced from desktop (VB-59216)
Settings 
[Settings] Add summary for "Show Scrollbars" preference (VB-58910)
[Settings] Disable enabling Developer options (VB-59279)
[Settings] Not every dialog follows the night mode (VB-58889)
[Settings] Toggle buttons are blue (should be green) (VB-58947)
Start Page 
[Start Page] Long tap on Speed Dial doesn't work well (VB-58596)
Sync
[Sync] Disable notes or bookmarks in sync settings make the sync(cloud) tab empty (VB-58888)
[Sync] Empty sync tab (VB-60165)
Tablet 
[Tablet] Incognito icon does not show when making a new private tab (VB-56399)
[Tablet] Speed Dials listed in one column (VB-57212)
Tab Switcher
[Tab Switcher] When a private tab is open from the menu, the wrong view is shown (VB-57775)
User Interface
[UI] Scrollbar position on the Start page is a bit off (VB-59363)
[UI] Unify icons stroke width and remove text buttons (VB-58638)
[UI] Vivaldi icon for offline page (VB-60371)
Others 
Lag after closing the last tab (VB-58140)
Sometimes, the cogs in download panel display new bookmark dialog (VB-57649)
Swipe causes selections to be lost (VB-58957)
Upgraded Chromium to 79.0.3945.61
Updated translations