Read this article in Deutsch, Español, Français, 日本語, Русский.
Vivaldi on Android has different options and features that make browsing flexible, efficient, and more enjoyable. They're all sitting there waiting to be discovered — so, why not dive in and take advantage of what we have to offer?
If you are a first-time user, our new version Vivaldi 5.5 makes it easier for you to get started and discover its customizable features, with a new and improved welcome flow.
We've regularly been adding more options to the way you handle your tabs. And this update is no exception. You'll find a new setting for automatically closing inactive tabs.
There are also overall improvements across the board, particularly in the user interfaces for the Panel and Themes.
Download it for free on mobile phones and tablets running Android 5 or higher, as well as on up-to-date Chromebooks and in cars.
Recently, Vivaldi also released a new version on desktop computers that helps you organize your schedule with a new Tasks Panel and offers significant speed improvements.


You're welcome!
Discoverability and user experience are areas that we constantly strive to improve. That is why we have reworked our welcome flow (onboarding), so you can get to know our features from the word "go" and customize your Vivaldi just the way you like.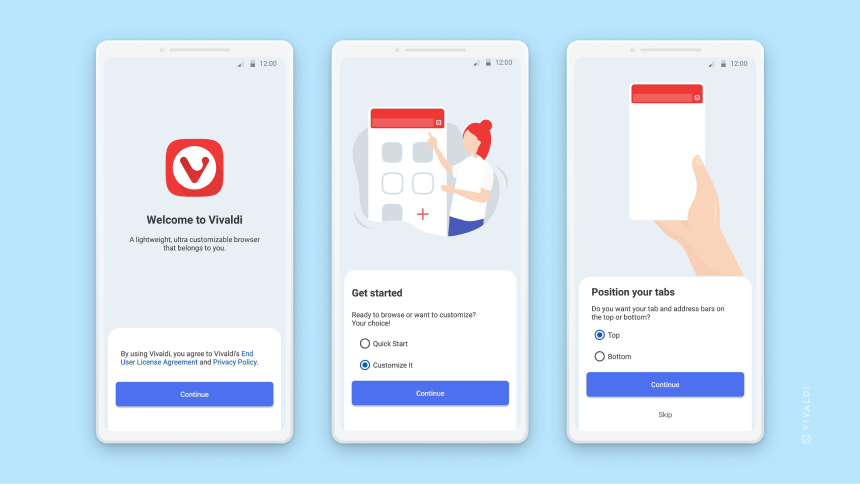 This is intended for brand-new Vivaldi converts, not those of you already happily using Vivaldi. So, if you are about to download the browser, we have made it easier for you to feel at home right away.
When launching Vivaldi for the first time, you will meet seven quick steps for setting up your browser. Because Vivaldi is all about options, even at this early stage of the process, you will discover a lot of them.
At first, you will be greeted by the Welcome screen that will take you to the second step asking you to choose whether you want to kickstart your Vivaldi experience and get browsing or to customize Vivaldi and start making it your own.
Our goal is to provide flexibility in the way you browse. Instead of confining you to pre-determined and locked settings, the browser adjusts to your workflows and preferences. So the third step lets you play around with tabs. And, if you prefer to position your tab and address bars at the top or bottom, you can easily do that.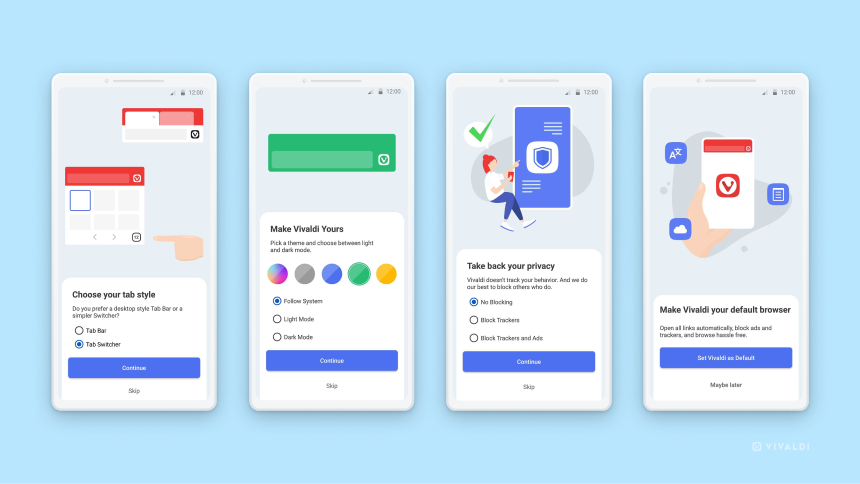 Moving on, the fourth step allows you to view your tabs, your way. Either through Vivaldi's Tab Switcher or the real desktop-style tabs. Vivaldi's flexible Tab Bar offers unconventional, true desktop-style tabs, a fan favorite of Vivaldi veterans, which gives the same look and feel as Vivaldi on the desktop.
The fifth step allows you to add some personality to your browsing by picking the colors you want to see. You can choose from dark or light modes or system default themes. But you can also opt to move beyond the usual to make Vivaldi more colorful, more yours.
And, the more you get into Themes, you can pick from adaptive, 4 presets, or your own custom color. So you can change the accent color to suit your mood or just keep things interesting. Let your imagination go wild.
As you move along to the sixth step in your browser set-up, you'll meet Vivaldi's Tracker and Ad Blocker. This powerful feature helps you avoid annoying ads and unnecessary tracking. You can choose to block only trackers, or trackers and ads.
And remember because we take your privacy very seriously, we do not track you or profile your behavior while you browse with Vivaldi on Android or a desktop.
In the last step, you'll have the option to make Vivaldi your default browser.

Better performance with the new option to 'Automatically Close Tabs'
Some of us tend to open a lot of tabs and forget to close them. For those of you in this position, we have added a setting that will automatically close inactive tabs. No more need to cycle through your different tabs and close them one by one.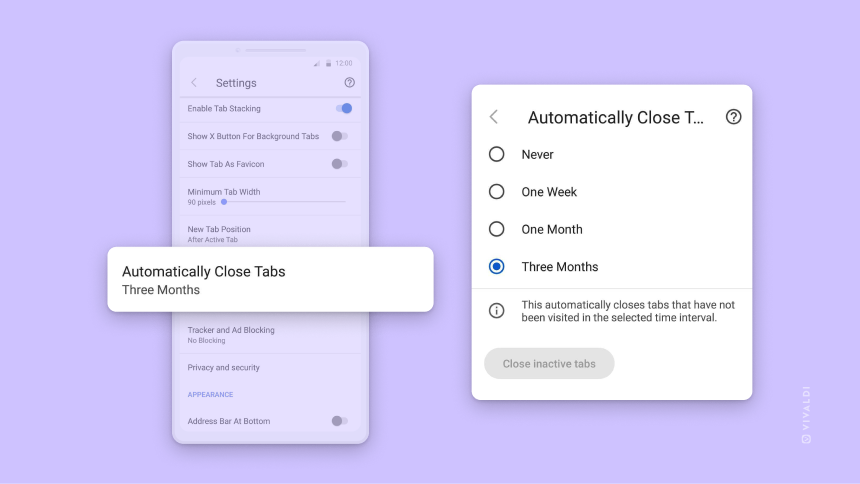 You'll find this new "Automatically Close Tabs (Never, One week, One month, Three months)" option in Settings – Tabs.
Vivaldi will also initiate a new check for inactive tabs when one of the settings (Never, One Week, One Month, Three Months) is changed.
You can also close inactive tabs simply by tapping on the "Close inactive tabs" button without waiting to be notified. To inject some fun into your browsing, a snack bar pops up when you have closed inactive tabs. 😀
But Vivaldi is not only about flexibility and features that improve the way you browse, it is also about how much control you have over your browsing.
So, even for this new option, how you handle your tabs is up to you — close them or simply keep them the way they are. That said, we recommend closing all inactive tabs to improve performance and extend battery life.
More improvements
At every step, we are improving Vivaldi by polishing existing features. In this update, you will find user interface improvements in Themes. Also, the floating buttons in the Panel have been improved.
Vivaldi 5.5 is ready for you to download on your Android.
Vivaldi sets itself apart from other browsers, with its customizable features and ever-improving user interface. And we have come this far because of great feedback from users like you.
And the more you use Vivaldi, it only gets better! So, if you are trying it for the first time, please share your experience. And, if you are already with us, let us know what you think of our new version. For more details, head over to the changelog.
Changelog 5.4 to 5.5
[New] Updated Onboarding design (Welcome flow) (VAB-5661)
[New] Options to automatically close tabs (VAB-1060)
[New][UI] Updated Theme Settings UI (VAB-5818)
[New][Phones] Add floating action buttons to Panels (VAB-6343)
[Settings] Serbian (Latin) is missing in App language settings (VAB-3887)
[Tabs] Tab-stack appearance doesn't get updated upon Close other tabs (VAB-6212)
[UI] Capture dialog doesn't follow the dark theme (VAB-6467)
[UI] Remove excessive buttons in Ad/tracker blocker dialog (VAB-6464)
[UI] Tracker blocker polish (VAB-6268)
[UI] Update folder icons and add SD folder (VAB-6473)
Upgraded translations
[Chromium] Upgraded to 106.0.5249.113
You're invited!
Our Vivaldi Android Team will host a livestream on YouTube this Friday, October 14th at 15:00 CET. Join us to hear what we've been up to and bring your questions (or add them on the Forum).